Lancer India Pale Ale
| Pints Pub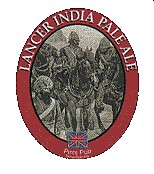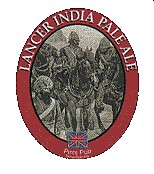 BEER INFO
Brewed by:
Pints Pub
Colorado
,
United States
pintspub.com
Style:
English India Pale Ale (IPA)
Alcohol by volume (ABV):
5.80%
Availability:
Year-round
Notes / Commercial Description:
No notes at this time.
Added by BeerAdvocate on 12-09-2004
HISTOGRAM
Ratings: 13 | Reviews: 11
Reviews by gueuzegeek:
4.35
/5
rDev
+20.8%
look: 4 | smell: 4 | taste: 4.5 | feel: 4.5 | overall: 4.5
Oh MAN is this a really great traditional style hand pumped Ale!! The color was a nice hazy dark gold. The head was typlical of a hand pump--not much, but who cares--it was a hand pump. If you have ever been to England and had ales there, you will feel like you are back. This is a must have for anyone who appreciates that style. The aroma was a beautiful mellow hops and malt aroma that just blended perfectly. The taste was as true to style as I could imagine. Clearly not overhopped like american IPAs. Do not fear, though, if you like the american IPAs, simply look at this as a really nice change. Overall, I cannot wait to go back--oh yeh, and get a nice single malt scotch when you are there to sip along with it!!
722 characters
More User Reviews:
4
/5
rDev
+11.1%
look: 4 | smell: 4 | taste: 4 | feel: 4 | overall: 4
(Served in an American pint glass)
A- This beer has a dense opaque aged copper body with a sticky light tan head with big bubbles that last and last.
S- The smell of green pungent hops with a slight earthy note has a slight yeasty note to it.
T- The taste of earthy pine hops with a big bittern bight has a slight mint quality to it. There is a fresh pale malt flavor with a slight woody note and a fruity quality to it. There is a very light toasted or floor malted quality to the malt but it fades quickly into the hop flavor.
M- This beer has a medium mouthfeel with slight slippery smooth finish. There is a very light alcohol note in the finish that is a bit fusel in flavor.
D- Full hop flavor is not huge and not complex but it is very quaffable.
769 characters
3.82
/5
rDev
+6.1%
look: 3 | smell: 3.5 | taste: 4 | feel: 4 | overall: 4
A: Pours a slightly hazy red color. At first a two finger bubbly white head forms, and recedes in a second. No lace.
S: Fruity citrus hops with a really strong fig and raisin aroma. Plenty of caramel malt.
T: Follows the nose. At first citrus hops and well balanced with caramel malt. An interesting peppermint flavor as well.
M/D: A medium body that is creamy and smooth. Easy to drink, I can quaff several with ease.
A good beer. Nothing special. There are some hops initially, but a malty sweetness takes over quickly. I would like a bit more hops for an IPA (even an English variety). Though it is still very enjoyable.
624 characters

3.95
/5
rDev
+9.7%
look: 4 | smell: 4 | taste: 4 | feel: 3.5 | overall: 4
Caramel, tawny body with a light ring of bubbles around the perimeter.
Malty aromas turn yeasty, doughy, medicinal and earthy with a sweetness I can't place.
Doesn't taste like anything I have had before. Toffee upfront, but allthe complexity is saved for the finish. Herbal, medicinal hops, doughy malt sweetness remeniscent of uk barleywines. Yeasty, funky and 100% english.
This truly is a live ale served @ cellsr temp. Hell yeah!
A subtle and authentic beer my wife and I loved.
488 characters
4.25
/5
rDev
+18.1%
look: 4 | smell: 4 | taste: 4.5 | feel: 4.5 | overall: 4
A nice presentation of a dark gold body and 'soap suds' head. Head held the aroma well; citrus hops, some roasted malt and a hint of tea.
served just below room temperature, I would have liked it colder. The flavors came out better this way, I s'pose. Good balance of malt and hops that teeter back and forth. Little carbonation, good strong aftertaste bite that fades quickly
377 characters

2.91
/5
rDev
-19.2%
look: 4 | smell: 3 | taste: 2.5 | feel: 3.5 | overall: 3
Poured a very nice semi-dark copper color with good head and lacing. It had a slight floral scent, although the scent was very weak. Nice hoppy taste, with a bit of beef jerkiness to it and an odd aftertaste: part hoppy-bitter and part burnt grass. It was fairly smooth, though.
278 characters
2.33
/5
rDev
-35.3%
look: 2.5 | smell: 2 | taste: 2.5 | feel: 2 | overall: 2.5
Poured at Pints Pub in Denver.
Dark brown/red - zero head, zero lace. No bubbles visible.
Smell is doughy and weak. It is described on the menu as "well-balanced, hoppy, floral nose". No it isn't. Not the one I had.
Taste- unlike anything I've had before. Very buttery, bland, tea-like. Served at room-temp. There might be a slight weak toffee flavor here.
M & D - slippery, buttery, bland. Not my cup o tea/beer.
413 characters
3.06
/5
rDev
-15%
look: 4 | smell: 3 | taste: 3.5 | feel: 3 | overall: 2
Mainly amber, a little golden in color, nice frothy off white head. The aroma is very like a biscut and/or tea. You have to look for them, but there are some hops there, mainly floral, a little citrus. The taste is dominated by the malty caramel, biscut/tea flavor. As that fades some hops come to light. Mostly they are perfumey and floral, but there is some musty and resinous flavors as well, and quite a bit of orange and citrus flavor as the beer went down. This beer is classified wrong on this site, it is most definitely an English style IPA. I was not the biggest fan, not enough hops, too much biscut and tea. But if you like the style, it was high quality.
667 characters
4.11
/5
rDev
+14.2%
look: 3.75 | smell: 4 | taste: 4.25 | feel: 4.25 | overall: 4
this is really great beer, i am not sure why it is rated so poorly here, i can only assume folks must have been expecting american ipa instead of cask served english ipa, but this is a knockout example of the style and without a doubt the best beer i have had in here. a little hazy and with a bit of a red hue, short airy head from the hand pump. smells great, light citrus and berry jam, with a sweet bakery malt base and a classic strain of english ale yeast. the flavor is plot twist, like nothing i have ever had before, out of nowhere, right after it hits my tongue i get fresh blackberries, and i get loads of them. must be a product of the hops right? never had a flavor like this in a beer before, but its really intense and awesome, juicy and even a little tangy for a second, awesome with the malt too, like a fresh muffin or something, amazing. moderate bitterness but plenty of grain character to balance, none of the normal english hop profile here, this is totally different and really quite profound! blackberry flavor is strong and distinct, where does it come from? absolutely loved this one, and the subtle lively mouthfeel from the engine is just right. woefully underrated, this beer is really great!
1,221 characters

3.57
/5
rDev
-0.8%
look: 3 | smell: 3.5 | taste: 3.5 | feel: 3.5 | overall: 4
As with everything from this brewery, this is a strange beer and may take a bit of getting used to. And yet it is pretty good.
It pours deep amber with a thin bubbly head. The aroma is huge, with buckwheat honey and a little raspberry. The flavor is strong, and strongly bitter, with a dose of raspberry. The mouthfeel is thin on the front but clings a bit on the back.
370 characters
4.72
/5
rDev
+31.1%
look: 5 | smell: 4.25 | taste: 5 | feel: 5 | overall: 4.5

3.7
/5
rDev
+2.8%
look: 3.5 | smell: 3.5 | taste: 4 | feel: 3.5 | overall: 3.5
Served from cask to pint glass at Pints Pub. The beer arrives an opaque copper/brown color with a light filmy head without much retention but a good amount of lacing. The nose has a slight yeast character to it but is mostly earthy hops. The flavor continues on the nose: upfront earthy and piney character of the hops, medium bitterness, a faint crystal malt background. Finishes with an almost minty flavor with the hops, light crystal malt, and mildly bitterness on the tongue. Medium mouthfeel and slightly oily finish. Overall, the hops aren't as dominant as anticipated but not a bad English IPA. Easy to put down.
620 characters
Lancer India Pale Ale from Pints Pub
Beer rating:
3.6
out of
5
with
13
ratings