Pietra De Noel
| Brasserie Pietra
BA SCORE
83
good
10
Reviews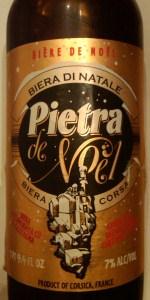 BEER INFO
Brewed by:
Brasserie Pietra
France
brasseriepietra.com
Style:
Bière de Garde
Alcohol by volume (ABV):
7.00%
Availability:
Winter
Notes / Commercial Description:
No notes at this time.
Added by mwilbur on 12-28-2010
Reviews: 10 | Ratings: 17

4
/5
rDev
+12%
look: 4 | smell: 4 | taste: 4 | feel: 4 | overall: 4
Described as a Farmhouse Amber and best placed in the biere de garde category due to its make up...Pours a murky amber color with varying degrees of color shifting in the light, minimal off white head, some light lacing. Scent brings some light funky musty earth, hay and wood qualities with a decent background of watery fruit and roasted nuts and a light touch of biscuity and bready malt sweetness. Taste brings the components of scent together nicely, slightly muddled at times behind the thin veil of earthyness, but pleasent none the less. Noted eathy hop bitterness not picked up in scent. Medium bodied, perfect level of carbonation for the beer, very faint dryness on the tongue but expected more. A nice suprise of a beer that sticks to its earthy farmouse roots.
773 characters

3.97
/5
rDev
+11.2%
look: 3.5 | smell: 4 | taste: 4 | feel: 4 | overall: 4
B+
750ml into a tulip. Pours a crystal clear deep copper cola, minor head even with an encouraging pour, minor lacing.
Aroma is sweet and vinous with a touch of red jello powder. I'd guess pecans.
Taste too is sweet with jello notes. Nice dry aftertaste fades pleasantly. The bitter in the finish is mild and nutty. Delicate twiggy final flavor as if a scotch ale. Thin to medium bodied lively mouthfeel. Interesting complexity.
cheers
jd
441 characters

3.56
/5
rDev
-0.3%
look: 4.5 | smell: 3.5 | taste: 3.5 | feel: 3.5 | overall: 3.5
Poured from a 750 ml bottle into a Duvel tulip glass.
A - Beer is a medium brown color with red highlights and is crystal clear. It reminds me visually of Newcastle Brown Ale. The head initially stacked 3/4" high with large off-white bubbles. It fades, but remains at least a thin layer throughout. Strong lacing on the glass.
S - The aroma is like a nut brown ale with very earthy, slightly spicy noble hops. Given the hops and the nutty malt behind them , the impression I get is of a strong German lager more than an ale.
T - The taste is very nutty, with big emphasis on malt. There is some oak and smoke in the taste and a bitter aftertaste that is different from hops (perhaps the chestnuts). The noble hops contribute some flavor as well.
M - Medium bodied. Very fizzy carbonation that spritzes on the tongue. Moderate hop bitterness. No alcohol burn.
D - An enjoyable beer, but not great. The sharpness from the chestnuts and the noble hops combine to make this seem like an overly-astringent lager.
1,013 characters
3.56
/5
rDev
-0.3%
look: 3.5 | smell: 3.75 | taste: 3.5 | feel: 3.5 | overall: 3.5
750ml bottle poured into a chalice.
A: Pours a muddy brown color with lighter orange hues. A little cloudy. Head dissipates quickly. A thin, broken ring of lacing remains.
S: very nutty, lots of toffee, medium roast coffee, touch of cola, pinch of cocoa. Musty with a mild cinnamon-like yeasty spice.
T: Caramel, cola, and toffee. Medium roast coffee. Very nutty. Golden raisin, fig, and perhaps some red berries. Fleeting tropical ester. Grassy hops actually carry a modest bitterness. Some musty yeast and light clovey phenol. Brush of alcohol. Yeasty and nutty finish.
M: Medium bodied. Light on the palate, but with a creamy and powdery feel. Modest scrubbing carbonation. Hint of alcohol warmth. Still feels a bit thin.
O: A little more body and malt substance might go a long way. Pretty average.
808 characters
3.53
/5
rDev
-1.1%
look: 4 | smell: 3.5 | taste: 3.5 | feel: 3.5 | overall: 3.5
A: The beer is clear dark amber in color and has a light amount of visible carbonation. It poured with a thin off white head that died down and consistently left large wispy lacing on the surface.
S: There are nutty aromas of chestnuts in the aroma along some hints of floral hops.
T: Like the smell, the taste is very nutty and has strong flavors of chestnuts and hints of dark hops.
M: It feels medium-bodied on the palate and has a moderate amount of carbonation.
O: This is an interesting beer in the style, particularly due to the chestnut aromas and flavors.
564 characters

3.53
/5
rDev
-1.1%
look: 4 | smell: 3.5 | taste: 3.5 | feel: 3.5 | overall: 3.5
Poured from 750 mL bottle into cervoise.
A: Pours a clear amber (the light even plays through it like amber--an oily distortion of red, orange, and yellow hues--which is neat) with moderate carbonation producing a 1/2 light tan head. Fair retention and a hint of lacing.
S: A burst of funk and mustiness up-front. Some citrus hops and light caramel malt. A sharp note of astringency. Faint notes of nut (chestnut I guess) and wood.
T: Sweet caramel malt, chestnut, smoked oak, and a definite lager-like quality too (musty as if from a pilsner yeast). Mild fruit and honey notes as well. Interesting.
M: Sweetly oily. Light-medium body. Slight effervescence from carbonation is pleasant. More bitter and dry in the finish.
D: This one is certainly interesting...and in a way that makes it tough to rate numerically. To start, trying to determine the style threw me. The bottle says it is an "amber ale brewed with chestnut flavor" and the info sheet that came with the beer says it is a holiday amber farmhouse ale. This just doesn't seem like a saison, so I'm going with labeling this one an amber ale. I enjoyed this one, but it was certainly not a great brew. There is some degree of interesting depth here, but more of an easy drinker than a slow sipper.
1,262 characters

3.53
/5
rDev
-1.1%
look: 4 | smell: 3.5 | taste: 3.5 | feel: 3.5 | overall: 3.5
Clear deeply amber colored beer with a small off-white colored head. This is very dark you could call it brown.
Smell is spicy and nutty with a little smoke. Chestnut is easy to pick up in this beer. Slight sour scent.
Starts out malty and a little sweet with nutty and slightly bitter aftertaste. A bit sweeter than expected with a bit of smoke. That said not a lot of subtle flavors to discover in this one.
Mouthfeel is good.
Overall this is good. I expected a drier beer, this is like sweet Saison.
506 characters

3.53
/5
rDev
-1.1%
look: 4 | smell: 3.5 | taste: 3.5 | feel: 3.5 | overall: 3.5
Poured into snifter glass.
A - Poured mahogany brown color with medium head that quickly dissipated leaving thin lacing around the glass.
S - Slight malts with roasted nuts and slight spiciness to it.
T - Just like smell the taste is somewhat nutty with some earth taste to it and lots of malt. Has a slightly dry hoppy finish.
M - Medium bodied with medium carbonation.
O - Not bad overall, just average. I would recommend it but don't go out of your way to get it.
471 characters
3.48
/5
rDev
-2.5%
look: 3.5 | smell: 3 | taste: 3.5 | feel: 3.5 | overall: 4
Pours a good clear brown. Not the most robust foam, but enough.
I get some graham cracker and ginger in the nose, with a touch of soapy detergent note, Yes, I did a good job of washing out my glass. OK, the detergent note is subsiding; I think it smells a bit like ginger ale.
Up front it comes off as a standard American brown. Caramel malt, mild hop noticeable. It does, however, finish with some well-balanced spicing and nutty character from the chestnut flour, as well as some smokiness. This beer has plenty going on, but it's all a bit too subtle for me, that would be my complaint. Brewing this with chestnut flour is a cool idea; I would just like to taste this beer being a bit more assertive.
That said, this would be an outstanding food beer, as I imagine a wide variety of foods would latch on to some of the subtle flavor hooks in this beer.
861 characters
3.08
/5
rDev
-13.7%
look: 3.5 | smell: 3 | taste: 3 | feel: 3.5 | overall: 3
Amber color head disappeared quickly. Minimal lacing.
Musty smell. Doesn't bode well for flavor.
Kinda tastes musty too. Not what I am looking for in a beer
]
Nice mouthfeel. Clean finish. goes down smooth, but wouldn't want to buy this again. Interesting to try once, but not a great beer.
292 characters
Pietra De Noel from Brasserie Pietra
3.57
out of
5
based on
17
ratings.