Jacaranda IPA
| Claremont Craft Ales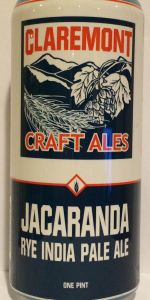 BEER INFO
Brewed by:
Claremont Craft Ales
California
,
United States
|
website
Style:
American IPA
Alcohol by volume (ABV):
6.70%
Availability:
Year-round
Notes / Commercial Description:
No notes at this time.
Added by womencantsail on 08-23-2012
Reviews: 12 | Ratings: 64
4.24
/5
rDev
+9%
look: 4 | smell: 4.25 | taste: 4.25 | feel: 4.25 | overall: 4.25
On tap at Eureka in Claremont Village. Nice head and aroma looking more orange than light to the eyes. Didn't get as much rye but very decent IPA almost a pale ale. Wanting to try more seeked a store for 2 16 oz cans to retry.
★
226 characters

4.33
/5
rDev
+11.3%
look: 4.25 | smell: 4.25 | taste: 4.5 | feel: 4 | overall: 4.25
Great rye IPA and way better than I was expecting. Nice amount of rye in aroma and flavor complimented with big pine, a rich medium-full body, balanced bitterness, and medium carbonation. The "body" was the only feature preventing this beer from being phenomenal , in my opinion. Cheers!
★
290 characters

4.3
/5
rDev
+10.5%
look: 4 | smell: 4.5 | taste: 4.25 | feel: 4.25 | overall: 4.25
Poured from 16 oz can into tulip glass.
Whole can fit, with about 2 inches of creamy white foam building up to the construction point.
Warm reddish gold color.
Smells of spice and peppercorn. Dank pine resin. Quite a bit going on...the rye is really the showpiece.
A bit of citrus/grapefruit joins the party on the sip.
Pleasant level of dryness, light carbonation. Really well balanced, not overly malty, or sweet, but it does a great job showcasing the rye.
Well crafted, will have again. Nice change of pace.
★
517 characters
4.35
/5
rDev
+11.8%
look: 4.25 | smell: 4.25 | taste: 4.5 | feel: 4.25 | overall: 4.25
16 ounce can poured into a tulip glass
A: Pours a hazy copper orange with a bright white head, low carbonation, lots of lacing, decent retention on a creamy, soapy looking head, looks pretty good, looks unfiltered.
A: Very aromatic, lots of grapefruit peel, touch of orange sweetness, hint of pine and resin, garlic funk, some spice, some malt, this smells really good, lots going on.
T: Hit of grapefruit peel/rind, citrus, not as sweet as the nose, hint of pine and resin, moderate amount of bitterness, some rye, some malt sweetness, big lingering flavor of grapefruit peel dryness, very drinkable, balanced, very tasty.
M: Full bodied creamy, smooth, dry finish.
O: I like a good rye IPA and this falls into that category, citrus, hint of resin, moderate amount of bitterness, rye, a balanced IPA, very grapefruit forward. Very enjoyable. The can says 12/8/15, and from the taste I think I scored a really fresh can.
★
928 characters
4
/5
rDev
+2.8%
look: 5 | smell: 3.75 | taste: 4 | feel: 4 | overall: 4
Serving type: on tap at the brewery
Pours a golden honey. Smells of small citrus rind, slight biscuit, and a slight doughy scent. Taste reflects the smell though with a greater juicy hops flavor and a slight alcohol warmth. Texture is medium thick, with lower carbonation, that works well with the bready notes. Overall, this is a pretty good beer with great biscuit bread like notes that doesn't sacrifice in the hops department.
★
431 characters
5
/5
rDev
+28.5%
look: 5 | smell: 5 | taste: 5 | feel: 5 | overall: 5
I feel sorry for people who don't get to try this beer, it is definitely a great ipa, I love it. I get to have it whenever I want because I live right by the brewery. Great ipa
★
176 characters

3.85
/5
rDev
-1%
look: 3.75 | smell: 3.75 | taste: 4 | feel: 3.75 | overall: 3.75
Thanks to Orthodoxkardia for this beer.
16oz Tall Boy pours a murky orange with a 1/4 inch of head. Lots of lacing. The aroma is honey and rye with some light floral hops. Sweet and spicy. The taste is more of the sweet malts and honey as well as some spicy rye. Some orange and lemon zest. Finishes with more of the spicy rye with some floral hops. Lightly carbonated with a slightly oily mouthfeel. Very drinkable with not much of an alcohol presence. Overall, pretty decent Rye IPA.
★
487 characters
4.73
/5
rDev
+21.6%
look: 4.5 | smell: 4.5 | taste: 5 | feel: 4.75 | overall: 4.5
Great clean tasting rye IPA that's very drinkable. Jacaranda is Claremont Craft ales flagship brew and is extremely drinkable. Pours a light golden color with a nice full head.
★
176 characters
4.25
/5
rDev
+9.3%
look: 4.25 | smell: 4.25 | taste: 4.25 | feel: 4.25 | overall: 4.25
Originally had this on tap at the Claremont beerfest 2013. Rated 4.25 on the old, single-measure rating system for 'hads', so for consistency all metrics were set to 4.25. This is reviewed from 16 oz can, poured into a pint glass
A: Copper-orange in color, the pour produces a small wispy head that quickly dissipates. Slightly opaque with a bit a lingering chilled-haze.
S: Sweet, malt-forward nose. Hops are more floral than bitter and piney, with suggestions of fresh citrus.
T/M: More hop-forward on the palate, with a nice hoppy snap right at the front of the sip yielding notes of citrus pith and lemon-pepper. Malted rye offers sweet balance as well as spicy nuances, perhaps mint and coriander. Medium finish with a fairly oily mouthfeel.
I remember going back for multiple refills at the festival, and I can see why. This is a solid, satisfying IPA.
★
878 characters

3.54
/5
rDev
-9%
look: 3.75 | smell: 3.5 | taste: 3.5 | feel: 3.75 | overall: 3.5
A a light hold with a hefty, fluffy head--decent head retention 3.75
S a little piney with some lemon zest 3.5
T the taste follows the nose--very mellow pine and lemon with a zest, slightly spicy rye kick 3.5
M easy drinking--not too bubbly but not flat 3.75
O decent easy drinker--not too complex but it is satisfying 3.5
★
322 characters
3.34
/5
rDev
-14.1%
look: 3.25 | smell: 3.5 | taste: 3.25 | feel: 3.5 | overall: 3.25
On tap at Claremont Craft Ales in Claremont, CA.
Pours a murky orange with a foamy bone head that settles to wisps of film on top of the beer. Small dots of lace form around the glass on the drink down. Smell is of malt, rye, and citrus zest aromas. Taste is much the same with citrus zest and spicy rye flavors on the finish. There is a mild amount of hop bitterness on the palate with each sip. This beer has a lower level of carbonation with a slightly crisp mouthfeel. Overall, this is an above average beer that has a better rye presence in the smell versus the taste.
★
575 characters

2.84
/5
rDev
-27%
look: 4 | smell: 2.5 | taste: 2.5 | feel: 4 | overall: 3
On-tap at Claremont Craft Ales
The pour is a hazed amber color with an off-white head. Some definite butter on the nose followed by citrus peel, mild pine, and bread. Additional sweetness of toffee and caramel on the aroma. A halfway decent amount of grapefruit, too. The flavor is also buttery. Decent orange and grapefruit hops, moderate bitterness from some pine notes as well. There is a fair amount of sweetness of caramel and toffee. The beer is really just ruined by the diacetyl.
★
490 characters
Jacaranda IPA from Claremont Craft Ales
3.89
out of
5
based on
64
ratings.