Two Stones Pub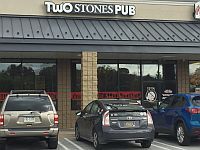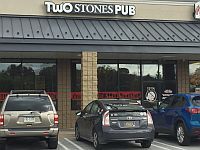 Bar, Eatery
2502 Foulk Rd
Wilmington
,
Delaware
, 19810-1420
United States
(302) 439-3231 |
map
twostonespub.com
Notes:

jglenn73 from New Jersey
4.39
/5
rDev 0%
vibe: 4 | quality: 4.25 | service: 4.75 | selection: 4.5 | food: 4
I've been here probably close to 100 times. Most of my visits have been at lunch so its pretty quiet unless its the end of the week. First the beer: they recently dedicated about half of the tap lines to 2sp beers, which isn't a bad thing. The rest is a good mix of seasonals and some local favorites. Bartenders (Jaime is the best!) are always willing to give a sample before deciding what to drink. The food: consistently good, slightly modern pub fare mixed with the usual wings and such. Never had a bad meal here. They do switch up the menu at least once a year.
Overall this is a great place for food and drink at a reasonable price. Highly recommend!
Jan 14, 2020

zekeman17 from Pennsylvania
3.9
/5
rDev
-11.2%
vibe: 4 | quality: 4 | service: 3.75 | selection: 3.75 | food: 4.25
Stopped here for lunch after stocking up at Total Wine 2 miles down the road. Small place tucked in a small strip of shops connected to a food store. There are a bunch of high top tables in the bar area as well as 5 or 6 booths along the side. It was bust at the bar (March Madness) but we were quickly seated at a booth.
They had 5 or 6 beers from 2SP Brewing in Aston, PA on tap, a sister venture of theirs, as well as an impressive assortment of other beers. I had a '14 Sucaba and one of the 2SP Delco Lager. Also an extensive list of bottles and cans available.
Their menu isn't huge, mostly sandwiches, salads and bar food, but both our meals were very good. The pickles were fantastic.
While the place was clean and nicely decorated, there were probably 70-80 kegs stacked up anywhere they could fit them that cluttered up things a bit.
All in all a nice meal with a great beer selection, we'll probably make it a regular stop when going to TW.
Mar 21, 2016
coldriver from Texas
4.06
/5
rDev
-7.5%
vibe: 4 | quality: 4 | service: 4 | selection: 4.25 | food: 4
Stopped in for dinner on a Friday night. Since I was by myself I blew past the waiting list and found a seat at the bar. They had 8 taps of their own beer and 16 nicely selected guest taps with a large digital menu over the bar displaying the choices. I tried a few 2 Stones beers and found them to be very solid. Service was good, atmosphere noisy but fun, and decent food. Overall a stop well worth it.
Mar 07, 2016
stevoj from Idaho
4.14
/5
rDev
-5.7%
vibe: 4.25 | quality: 4.25 | service: 4 | selection: 4.25 | food: 3.75
Nice neighborhood bar/restaurant with excellent beer selection and great food. Beer menu is quite extensive. Firkins and randalls available on special nights
May 21, 2015

roan22 from New Jersey
4.29
/5
rDev
-2.3%
vibe: 3.75 | quality: 4.25 | service: 4.5 | selection: 4.25 | food: 4.5
10 minute drive from my Mom's off Smithbridge in PA. My mom prefers going here and tells all of her friends about it.
The other location of Two Stones has better atmosphere but this area of Delaware is very boring so its pretty cool considering. The bathrooms were large and clean and with neat sinks.
Service this time was better, our waiter was really enthusiastic and had a great personality.
Selection is very good. I had an Elysian IPA that is new, 50 Shades of Green. I am a fan of Elysian, I have been to Seattle recently and I had a lot of great Elysian beers there. My parents were happy with their choices too.
Food is very tasty I had one of their specials, Shrimp and Grits; my parents raved about their food non-stop.
I highly recommend this place if you are near the Concord Mall or other plethora of shopping plazas on Rt. 202
Dec 10, 2013

dgherm from Pennsylvania
4.23
/5
rDev
-3.6%
vibe: 3 | quality: 4.25 | service: 4.75 | selection: 4.25 | food: 4
First visit. Right down the road from where I went to high school. Kids at a sleepover so it was a good night to use a gift card we received. Weird when we walked in, curtain half drawn, but it blocked the sun at time of day. The wall that divided the tables from bar area seemed awkward as well. The rest of the place was nicely attired. Food was great, server awesome, extensive beer list. Flight of the Day seemed like a good deal. Four 9 oz pours for $15. Saisons were the selection last night. Beer prices seemed in line. Food maybe a little high, but I don't go out much so maybe ok. If this was closer it could overtake TJ's for my beer and dinner out place.
Aug 25, 2013

rodlavers from Maryland
4.3
/5
rDev
-2.1%
vibe: 3.5 | quality: 4.25 | service: 4.75 | selection: 4.25 | food: 4.25
My parents live in Wilmington and have been here twice, the most recent time just the other day with my father. I visit Wilmies several times a year and try to stop here each time I'm back home. On this vist to 2Stones, mind, it was about 130 in the afternoon on a Tuesday, so the "atmosphere" was not ripping by any stretch of the imagination. Perhaps that's a bit unfair; I can totally see myself, however, heading here after work for a sick happy hour and calling a cab home.
I'd say the quality of the place is high, especially for Wilmington, DE. Location is a bit weak, as it's off the beaten path (perhaps Trolly SQ. would be a better location, or even up 52?). Anyway, the place is legit.
Service was impeccable. I forget the name the gentleman who waited on us, but he was patient and knowledgeable, and never pretended to know what he didn't.
Good selection of beers, both draft and bottle. Seems to be rotating and whoever's in charge over there does well to branch out and get what he can get. You have your typical DFH beers, but also what's generally available around town (Green Flash, Stone) and in some cases what's not quite yet (Goose Island).
Food was good, had a great salad, although I was really really tempted by the wings/roast beef sandy.
Overall I'd say if you live in Wilmington or south eastern PA, check this place out. Great selection of beers, fairly knowledgeable staff, and decent atmosphere. Lunch on a weekday is nothing special, but I'd check it out for happy hour or later.
May 31, 2013

sholland119 from Pennsylvania
4.1
/5
rDev
-6.6%
vibe: 4 | quality: 4.25 | service: 3.75 | selection: 4.25 | food: 4.25
We stopped in at happy hour after a meeting in our Delaware office. We were not aware of this place existing until a few weeks ago.
The pub is set in the corner of a nondescript shopping center at the busy intersection of Naamans and Foulk Roads. Good sized long bar on the left with about 20 stools. Comfortable except that the tap towers were boxed in by wood on three sides, making them encroach on the bar area.
Very nice tap list, with $2 happy hour specials on standard Philly brewed beers. A nice selection of Delmarva area beers, which is cool since many are not distributed in PA. Tap selection was very heavy on big beers (lots of old ales and barleywines) but maybe they had an event or something right before.
Food was really tasty. Well made, promptly served, great menu. definitely above average for the type of place it is. Service was what you often get from a weekday bartender in late afternoon, but she was nice at least.
I'd go out of my way to hit this place up again.
HV
May 24, 2013

warriorsoul from Pennsylvania
4.43
/5
rDev
+0.9%
vibe: 4 | quality: 4.5 | service: 4.25 | selection: 4.75 | food: 4.25
Stopped in solo on my way back home from a quick trip to DC.
Very easy to locate just off Naaman's Road, tucked inside a small shopping center.
Quickly greeted and seated in the bar area (not seat yourself as you see in many other bar-side seating areas). This was Tuesday around 6:45pm and the place was not even half full and remained fairly quiet during my hour there. The bar was mostly occupied, but only seats a dozen or so.
Excellent tap list, on paper and well displayed on those digital chalkboards that are becoming popular. Well rounded offerings with smaller pour (9oz.) to allow you to sample 2 or 3 and not break the bank. The two beers I enjoyed were very fresh and served in decent glassware.
Tuesday night is an appetizer and entree for $22, so I opted for the braided pretzels w/ cheese dip and a honey mustard. Warm and delicious. Two nice sized pretzels and plenty for 3-4 people.
Opted for the crab cake, which was enormous and loaded with crab meat. Potatoes a bit heavy on the mayo, but not undercooked and complemented with bacon bits. Green beans for the green, with a bit too much butter, but also cooked perfectly.
As I was eating, I perused their craft beer bottle list and I could not stop shaking my head at some of the prices they were asking for bottles. I am not sure if their grand scheme is to not sell bottles, but as a knowledgeable craft beer knurd, the pricing is so far off and I would NEVER buy a bottle and ANY of the prices they were displaying.
Uinta Big beers at $35 to $38! I can buy them in any store for under $15. Locals like Yard's Chocolate Love Stout...$26, where I just bought it for $8. Victory's Oak Aged Barleywine, less than a half hour from the place....$40! Again, you can grab nearby for under $15. Listen, I am all about accepting mark-up in a craft beer bar for buying something special while out, but this is just flat out price gouging and I cannot stand it.
I am still giving this place a solid review b/c their food was excellent, staff friendly, clean, comfortable and a kick ass draft list, but you are not going to sell your bottles at these prices. If they do, shame on the customer for not knowing any better.
Mar 13, 2013
nuggetlover from Pennsylvania
4.7
/5
rDev
+7.1%
vibe: 4 | quality: 4.75 | service: 4.75 | selection: 4.75 | food: 5
I was a big fan of the Newark, DE location, and was thrilled when this spot opened just few miles from home!
The vibe is great if you get a seat at the bar or one of the tables up front. However, it is kind of like being stuck at the kids table if you are in the back by the kitchen. They could use a couple of flat screens back there... And that is my only real gripe about the place.
The quality of beer pouring from their 32 taps / 2 cask engines Is always excellent. They could be a little more timely / punctual in terms of keeping their FB tap list pic current.
The servers are knowledgeable and friendly.
The selection is diverse, and changes fairly regularly. I'd prefer if you could create your own flight vs the single daily designated 4 (9 oz ea)
Food is great. Chefs burgers are always first rate, tacos are tasty... And the entrees have all been home runs for me... Hangar steak w/ blue cheese butter, panko pork cutlets... oh! And their fry piles are tremendous, as well.
The prices aren't cheap, but certainly not unreasonable. Good value. I keep going back!
Big fan, big fan!
Feb 19, 2013
lackenhauser from Maryland
4.68
/5
rDev
+6.6%
vibe: 4 | quality: 5 | service: 5 | selection: 4.5 | food: 4
Nice open area with a larger bar then the other locale. All top shelf brews here and 9 or 10 more taps then the other location.
Service was just great and the bartender knew his beers. Offered some samples of bottles from the Crown Valley brewing Company that is getting ready to roll out in DE. While not always right there he certainly kept a close eye on the 4 of us.
Great selection-Allagash, Stone, Evo, Duvel, etc. Pours are available in 3 sizes just like the Newark location. A few more hard to find or choice brews would really raise the bar. Impressive bottle selection though some of the prices say for Bitches Brew and Sierra Brux are downright obscene.
Had a great Cuban sandwich. Everyone in my party thought the food was good. I am hesitating to say it is outstanding due to having only had the one menu item. Looking forward to eating my way thru the menu.
A great place for the most part. The higher prices for some of the beers bothers me. Nice to go have 3-8 ounce samplers at $4 each but when you want a pint and it gets to 9 and 10 dollars well...this is not NYC.
Will be a treat for me, just not a regular stopping point.
Oct 28, 2012

NoLeafClover44 from Delaware
4.23
/5
rDev
-3.6%
vibe: 3.5 | quality: 4.5 | service: 4 | selection: 4.5 | food: 4
I have been anticipating the opening of the Wilmington location for quite a while. This week I stopped in with a few co-workers for a happy hour. The happy hour special was $1 off drafts and most apps $5 4-6. Reasonable, but with $8-11 for 12 oz. pours of good beers, $1 off is hardly a bargain. Lacks in atmosphere, as it feels confined and warehouse-y. Living in Delaware, you can't be put off by good restaurants in strip malls, but the feel inside leaves something to be desired.
The draft list was pretty impressive with several local and non-local offerings. Some highlights of the list were Allagash Interlude & Confluence, Gnommegang, Stone Epic 11 & IRS, NC Grand Cru, and pretty much all of the in-season DFH specialties (Bitches Brew, WWS, Olde School, Urokontinent, Red&White, etc.). The servers were pretty knowledgeable about beer, but anyone who frequents this site would have little to learn from them. They offer each beer in two sizes (depends on ABV but either 8/12 oz. or 12/16 oz.), which is a nice touch if you want to try several beers.
The food was very tasty (I recommend the "pork wings") and the $5 apps were a pretty good deal. My only knock on the place is that they take advantage of what they have and charge a large premium for the beers. Two apps and three beers during happy hour for $40 with tip is a bit much. I will definitely be going back, but not too often with the high prices. It is worth noting that this place is almost identical in quality/price/draft list to Ulysses right down the street.
Oct 04, 2012
Two Stones Pub in Wilmington, DE
Place rating:
4.39
out of
5
with
28
ratings