Growler & Gill Craft Beer Shoppe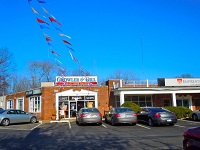 PLACE INFO
Type:
Bar, Eatery, Store, Homebrew Store
148 E Route 59
Nanuet
,
New York
, 10954-2910
United States
(845) 507-0899 |
map
growlerandgill.com
Notes:
No notes at this time.
Added by Mkfitz on 08-27-2012
Reviews: 13 | Ratings: 40
4.15
/5
rDev
-3.9%
vibe: 4 | quality: 4.25 | service: 4.25 | selection: 4
I've been through a few times before, usually before Boo's 4th of July party or en route to Kally's in Kingston; convenient, this. A welcome damned addition to this beer lacking and lagging county. I've come for the growler, but have stayed for the Gill or full pour as has happened. Sunday, in the opening hour…
Okay, so some things have changed, we'll get to that. Something of a triangular space, widening to the rear. Long straight tree slab bar in the left rear corner, wood panel base, & foot box; seating for none by design (get your beer, then stand clear) and glassware stacked there. Barback holds a row of 2 dozen blackboard head handles for the writing on, on a stainless steel panel. Blackboard above lists draft selections by style first, then brewery, beer, origin, ABV, & growler pricing in half & full. Pricing for the drink is mostly the same; dealt by size (pints & goblets for $7, shortys are $4, and a single 'rare/exclusive' item done 9oz for $9). Flights for $9, listed 'Hoppy hours' offering $2 off for pints, and notation of 7% and over beers not served in pints done in colored chalk. Another board lists reserve beers by the glass, wines, & specials. Flats in the corners of the bar, one of them showing the Yankees, the other showing the stupid Mets. Dead soldier tap handles lining the beam above the barback. Spots on the boards and drop bell lamps over the bar.
A pair of shelving units 6 wide run the far wall with bottles bottles bottles, and a shorty 4 shelf unit up front with glassware & board games, fronted by a cushy couches and a table. Ciders and gluten free beers housed here, too, below the big board listing beer tastings & events. And 4 coolers to the rear holding cold offerings.
Wood slat floors, white painted ceilings with phat wood beams & massive ductwork, dark tan walls with brick pillar accents, and front & side logo windows. Track spots in rows throughout. There used to be a divider between beer and here, but it's gone now, replaced by additional seating; it really opened up the room some. 3 hightop shared tables adjacent to the shelving units, 5 smaller hightops, some barrel raised roundies, and some squared, and then 10 square low boys and a pair of covered rectangles. And it seems they've converted the front corner into a mad coffee zone (slave to the bean).
24 taps; a mix of lower Hudson Valley (Rushing Duck Zingerbier Berliner & Panic on Planet Funkotron, Sloop The Red C, Kuka Ginger Mango IPA & Ales for ALS 2IPA), NY metro (Other Half Micro Green, War Flag American Pilsner, Carton nitro Carton of Milk, River Horse Belgian Freeze), regional (Southern Tier Pumping, Sly Fox Grisette, Troegs Perpetual IPA, DogFishHead 90 Minute IPA, Festina Peche, & Namaste, Narragansett Lemon Shandy), craft beyond (RJ Rockers Son of a Peach, New Holland Dragon's Milk, Almanac Golden Gate Gose, Ballast Point Calm Before the Storm), a single import (Pilsner Urquell), and a trio of ciders (1911 Cider Original, Citizen Cider, Badass Pear Cider). Sampled a couple of things (thank you for offering) and opted for the Rushing Duck Zingerbier Berliner & Other Half Micro Green as one does in the summer months.
They do food, dood. Chili, wings, sangwiches, and pizzas, too. Lots of goddamn pizzas. They're everywhere. Bottle pricing seems reasonable, I suppose. $30 something for the Cascade bottles, et al. And beer festivals in the parking lot, too.
Now…
It used to be they didn't carry (lovely) Orval. How the fuck are you a beer store without Orval? Fo'. Real. I'm pleased to say that this has been remedied. On previous Summer visits, the tap list held nothing session anything or easy drinking Pils. This is no longer the case as I'm looking at 5 beers under 4.5%. And it used to be that they only filled 2L growls; that, too has changed. I'm glad they got their house in order.
One of the top 5 best beer bars in the North East, Craftbeer.com? No, not really, and shouldn't even be in the running, but a solid bottle shop slash growler house? Oh, hell yes! And given what choices they are in Rockland, it's a no-brainer.
4,137 characters

4
/5
rDev
-7.4%
vibe: 4 | quality: 4 | service: 4 | selection: 4
Nice new addition to the Rockland county beer world. This spot is just a few minutes from the Tappan Zee Bridge, the Palisades mall and downtown Nyack.
They are filling growlers from 16 taps, offering a boat load of the usual craft bottle options available in the area, and have a nice casual space to enjoy a pint and relax with other beer lovers. Expect to find a lot of what is generally available in the area.
Most of the bottles are kept warm, but there is a mid sized cooler unit or two towards the rear of the place.
Good option for people travelling through the area on the NYS throughway to pick up NY state options. Also, I'd be here regularly to fill growlers if I was more local.
697 characters
4.01
/5
rDev
-7.2%
vibe: 4.5 | quality: 4.25 | service: 3.75 | selection: 3.75
Caught them just as they were opening so they weren't quite ready but it gave me time to browse. Most of the space is a roomy bar with lots of tables and the bar in the back. The far right wall is lined with shelf space for beers to go. Beers are classified by region, good selection though not as good as Cable. They had the CC/Evil Twin collab as well as some Midnight Sun brews. Prices for the Belgians were very expensive i found. Overall good but i prefer Cable Beverages about 10 min away.
495 characters
4.29
/5
rDev
-0.7%
vibe: 4 | quality: 4.25 | service: 4.5 | selection: 4.25
Nice new option for the area. Lots of bottles, decent array of limited releases, everything you'd expect to find on shelves and more. All the latest arrivals and fair, competitive pricing.
Nicely appointed room. 16 taps, cold bottles for on premise consumption, in store tastings, good looking and smelling food, although I didn't have a chance to order anything. The place was jumping on a late Saturday afternoon, youthful college-y crowd that was exuberant but not obnoxious.
Homebrew kits from brewer's best as well as a decent assortment of homebrew essentials. A few shelves dedicated to glassware as well. Service was exceptionally friendly and accommodating, memorably so, particularly in light of the fact that they were so busy.
I left with a homebrew recipe kit, a bomber of Evil Twin Femme Fatale Noir, a 750 of perennial's black walnut dunkel, a goose island tulip, and a case of empties for my homebrew. 70 bucks. More than reasonable; the kit was almost ten dollars cheaper than in other stores and ten dollars for an Evil Twon bomber is about as nice a price as you'll find.
Definitely worth checking out of you're in the area. Looking forward to coming back soon!
1,184 characters
4.29
/5
rDev
-0.7%
vibe: 4.5 | quality: 4.5 | service: 4.5 | selection: 3.75
I work in Orangeburg in Rockland county so when I heard about a beer place dedicated to craft beer, I knew I had to stop by.
As I entered the store, the first thing that hit me was the size of the place. Like a combo tasting room/craft beer store, the area is really large. There's a bar, a growler fill station, and a number of tables for customers to sit and eat/drink. On top of all that, there are shelves and shelves of nice offerings.
Quality is really nice and the place struck me as an upscale lounge-type bar, which I really like.
There seemed to be almost too many people working there as the staff was really attentive and knew what they were talking about. The owner has some connections with a couple of different brewers across the country so he was well versed in his limited release/sought after beers which is always appreciated.
Selection is decent though not over the top. Comparable to any bottle shop in the city though this place is still a bit behind Decicco's in the selection category.
Overall, definitely worth a visit and I wish that when I stopped in, I had time to sit down and enjoy the ambience and atmosphere of the place. A bit pricey overall but good beer places are pretty few nad far between in Rockland so you get what you pay for.
1,278 characters
4.6
/5
rDev
+6.5%
vibe: 4.75 | quality: 4.5 | service: 5 | selection: 4.5 | food: 4
Great new addition to the sorely lacking rockland county beer scene. Amazing selection of 16 rotating and frequently changing taps. Free Samples of anything you want. They also sell bottles and have some small plate sekections for food. Staff is very knowledgeable, helpful and friendly. They do tastings every Thursday, events most nights of the week. I know I'm going to be here more than my wife likes.
405 characters
4.47
/5
rDev
+3.5%
vibe: 4.25 | quality: 4.5 | service: 4.5 | selection: 4.5
My first time here and I was able to have something from Hill Farmstead and a Sam Adams Utopias. That was the primary reason for stopping in. Unfortunately we arrived fairly close to closing time so we were only able to have the two beer (the Utopias being a one oz. pour). Next time we will get there earlier.
310 characters
4.27
/5
rDev
-1.2%
vibe: 4.5 | quality: 4 | service: 4.75 | selection: 4
Walked in for bottle shop. Was a slow time so an employee (i think Peter) gave me full attention for over a half hour. I got to taste from a couple of their twenty plus brews on tap. I then walked along the length of their bottle wall discussing the different beers which is divided up by region. The selection is pretty nice though they told me its rotating. Overall good vibe, great service with nice selection plus all those beers on tap for which you can take home in growlers.
481 characters
4.73
/5
rDev
+9.5%
vibe: 4.5 | quality: 5 | service: 5 | selection: 4.5 | food: 4
Very nice *new* store! The business model is remarkable from the perspective of it being a store, bar, small plate cafe, and home brew store.
There is a wide selection of beers from around the world, though some are not represented (Murphy's).
There are 16 taps on the wall with options for pints and flights at a reasonable price point. I did enjoy beers from Captain Laurence - specifically the Imperial IPA! Very nice with Simcoe hops.
I'm sure this unique store with it's mix of business types will do very well.
522 characters
5
/5
rDev
+15.7%
Excellent place for craft beer lovers. Here are the highlights:
1. The staff is excellent and very knowledgeable about craft beer
2. There are about 20 taps that are always rotating. You can get growlers for most of them
3. Huge selection of craft beers. My guess is around 400-500 beers. Plenty of bombers are rare finds
4. Every Thursday night there is a craft brewery coming in and offering tastings. Not just local NY/NJ
brewers, but from all across the US. Firestone Walker, Bell's, Stone.
Best place for craft brew fans in the Lower Hudson Valley in the NYC metro area.
590 characters
4.9
/5
rDev
+13.4%
vibe: 5 | quality: 5 | service: 5 | selection: 5 | food: 4
I've been to this place several times since it opened. There's no other place like it in Rockland County. They have 16 rotating taps of top notch beers and they have a cooler with dozens of different bottles and cans along with a huge selection of warm bottles and cans for carry out. The food menu is very limited, it's good, light fare, but this not someplace you go to especially for the food, most people who come in are here for the beer. The staff is very knowledgeable and all around very pleasant, always ready with suggestions. The atmosphere is great, it's decorated and designed beautifully and it's great to have a place to go where I can meet up with other lovers of great beer. They do tastings at least once , sometimes twice per week.
I can't say enough good things, the place is great.
802 characters

4.85
/5
rDev
+12.3%
vibe: 4.5 | quality: 5 | service: 5 | selection: 5 | food: 4
Great new place in town. I live 1/2 mile from my house, so it is my local hangout. 16 rotating taps and a fully stocked retail store. They have a great stock that is always changing. If they don't have it, they get it for you; quick!
Small plates of food, but all high quality. Staff is very knowledgeable and is always giving you the full description of every beer and of course will always let you taste anything before you buy. They fill growlers from the 16 taps that they always switch up. They have free tastings every Thursday from different breweries. And, every $100 you spend, you get $5 off.
It's an all around great place and definitely worth a trip to check it out.
679 characters
4.9
/5
rDev
+13.4%
vibe: 5 | quality: 5 | service: 5 | selection: 5 | food: 4
Great craft beer shop. Not only do they have rotating taps constantly featuring different craft beers, they've got bottles from all over the world for sale as well. It's fun to mix and match 6-packs and try lots of new beers. A small bar menu, including some truly awesome bavarian pretzels! The staff is friendly and extremely knowledgeable. I wish I drank beer more often! They also host craft beer festivals.
411 characters
Growler & Gill Craft Beer Shoppe in Nanuet, NY
4.32
out of
5
based on
40
ratings.