Yellow Wolf Imperial IPA
| Alameda Brewhouse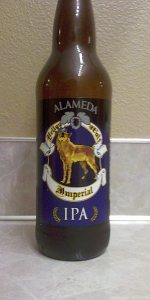 BEER INFO
Brewed by:
Alameda Brewhouse
Oregon
,
United States
alamedabrewhouse.com
Style:
American Double / Imperial IPA
Alcohol by volume (ABV):
8.20%
Availability:
Rotating
Notes / Commercial Description:
No notes at this time.
Added by HumuloneRed on 08-11-2009
Reviews: 82 | Ratings: 209
4
/5
rDev
+4.2%
look: 4 | smell: 4 | taste: 4 | feel: 4 | overall: 4
22 oz bottle from Whole Foods Hollywood PDX poured into Delirium Tremens tulip 9.2.2010.
Deep gold body, a bit hazy, good streams of carbonation rising from bottom of glass. 3/4 finger white head, quick dissipation, a thin layer of head retained on top of body. Pretty tropical nose, some sweetish malts for balance. Taste mirrors nose, good dose of tropical sweetness leading to a fairly bitter lingering finish. Pretty significant dose of yeast, re bottle conditioned, be careful pouring towards bottom of bottle. Mouthfeel is medium full with average effervescence. Not a real palate wrecker, but much different than El Torero. A pretty tasty brew from one of PDX most under-appreciated breweries.
★
701 characters

4.24
/5
rDev
+10.4%
look: 3.5 | smell: 4.5 | taste: 4 | feel: 4.5 | overall: 4.5
Poured into a snifter. Big thanks to psiweaver for this.
3.5 A: Hazy brownish light orange. One finger of creamy off-white head with not so great retention and just touches of lacing.
4.5 S: Floral, citrusy, and grassy hops. Plenty of orange and a bit of mango. Malts are neutral, but have a good strength to it. Despite the haziness, this isn't too yeasty. In fact, it's really clean, which I like.
4.0 T: Interesting. Never had a DIPA quite like this. It isn't infected, but it has a sourish sweetness to it. I'm not sure if this comes from a combination of hop flavor, booze, and malts or if there is some sort of independent sourness to it. Mild bitterness. Orange, pine, and lemony hop flavor. Malts again add a nice complexity with some caramel.
4.5 M: Heavier medium body. Good moderate carbonation. Good creaminess and super smooth. Touch of warming booze on finish.
4.5 D: Unique and pretty good. I'm really digging the sour maltiness. I think I may put a pound of lactose into my next DIPA. Anyway, this is a good choice for a hoppy beer and not a bad choice for a malty beer either. I recommend it.
★
1,114 characters
4.07
/5
rDev
+6%
look: 4 | smell: 4.5 | taste: 4 | feel: 3.5 | overall: 4
On tap at Apex. Served extra cold in a shaker pint.
A- Pale gold to gold with a white frothy head that holds large bubbles on the surface and at the collar. Hazy to milky at first, but loses its chill haze with warmth. Some beading on the sides of the glass, especially near the surface. When held to light, the beer glows, but loses its haze at the edges. Latticed lacing sticks throughout the glass. Probably served too cold to knock it much for the chill haze.
S- Intense orange pith and grapefruit rind when presented. American citrus hop dominant with some background floral notes. Bitter when cold, without much of a malt backbone. What malt is present leans toward Vienna and very light carmel malts, giving a biscuity underbelly. Some fruity esters from yeast when warmed. So far, seems like a great change of pace Imperial.
T- Much more malt balanced than the aroma lets on. Vienna and light carmel malts, with a very pleasant and intense orange, grapefruit citrus hop flavor, with an underlying grape. Some herbal or flowery hops. Bitterness is pronounced, but well balanced, and decreases with warmth. Alcohol comes on slow and steady. Some grassy flavors don't blend well, increasing with temperature. At its warmest, quite sweet in the finish. Quite the ride from cold to room temperature, but great Imperial IPA, except for the grassy tones.
M- Medium carbonation: could use more to lighten the body and increase drinkability and boost the perception of bitterness. Medium bodied, with a slightly dry finish. A drier body and more carbonation could really boost this beer into the top tier.
D- High drinkability with emphasis on imperial flavor rather than imperial bitterness. The alcohol is well hidden and the beer has a nice blend of different flavors that don't overwhelm one aspect of your palate. One of the best beers from Alameda that I've had.
★
1,873 characters
4.45
/5
rDev
+15.9%
look: 4 | smell: 4 | taste: 4.5 | feel: 4.5 | overall: 5
Yellow Wolf Imperial poured a modest head from a growler filled this same evening at the Alameda Brewhouse. The lacing is likewise moderate; the color is hazy shades of amber and yellow. It smells predominantly of citrus fruit, grapefruit being the most pronounced, though there are some sweeter fruits in the background, such as a fitting summer peach. The carbonation level is perfect with this one, yielding a supple, full feeling to the mouth, matched by the taste of tart hops, baked bread, and a very subtle sweetness, adding a level of depth and interest to the brew. This is a great offering from Alameda, and from what I've tasted from their beers, it's one of their highlights, and a step above most of the Double IPA's making the Portland brewhouse runs this year.
★
775 characters
4.42
/5
rDev
+15.1%
look: 4 | smell: 4.5 | taste: 4.5 | feel: 4 | overall: 4.5
Sampled on draft at the Imperial IPA Fest at Saraveza. Pours a slightly cloudy pale yellow with a sizeable creamy white head that leaves some nice lacing on the glass. Aroma of nice, floral hops with a hint of grassiness and grapefruit, balanced by some light biscuity malt.
Palate is well-balanced, but definitely hop-forward. Notes of grass, grapefruit, and a touch of pine, along with bready, biscuity malt. Tangy bitterness looms after the swallow, giving a long-lasting hoppy bitterness. Body is substantial but not big, sticky but not cloying. For a big IPA, it goes down pretty easily. This was definitely the standout at the IIPA Fest tonight.
★
652 characters

4
/5
rDev
+4.2%
look: 4 | smell: 4 | taste: 4 | feel: 4 | overall: 4
It appears an orange color with a thin white head.
It smells of very fruity and citrusy hops. I smelt hints of oranges, pineapple, berries, pineapple, apricots. Also a bit of a pine smell as well.
The taste is similar to the smell it has a very fruity flavor. There is minimal malt flavor. Maybe a bit of sweetness is added from the malts. After the fruity, citrusy and slightly pine like flavor of the ale there is a subdued by nice bitterness. Hops are the main force of the ale but they have a very integrant and multilayered flavor to them.
The carbonation is moderate. I find the beer to be very drinkable because the amount of malt used is fairly light and the use of hops is a perfect balance of sweet fruitiness and bitterness. Recommended if you can find it
★
771 characters
4.48
/5
rDev
+16.7%
look: 4.5 | smell: 4 | taste: 4.5 | feel: 4.5 | overall: 5
The beer pours a dark straw color with a white head and soapy lacing.
The nose is more fruity than hoppy although it has good hop and malt aroma.
The flavor has a big juicy fruit quality with a whole mess of citrus/apricot up front with a big sweet malt backbone for balance.
Very tasty and very drinkable. This is a well made beer.
★
340 characters
Yellow Wolf Imperial IPA from Alameda Brewhouse
3.84
out of
5
based on
209
ratings.