Fort Lapin 8
| Fort Lapin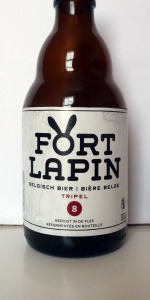 BEER INFO
Brewed by:
Fort Lapin
Belgium
fortlapin.com
Style:
Tripel
Alcohol by volume (ABV):
8.00%
Availability:
Year-round
Notes / Commercial Description:
No notes at this time.
Added by BlackHaddock on 06-27-2013
Ratings: 14 | Reviews: 3
Reviews by jazzyjeff13:

3.67
/5
rDev
-0.8%
look: 4 | smell: 3.75 | taste: 3.5 | feel: 3.75 | overall: 3.75
A 330ml bottle with a BB of July 2013. Picked up from de Bierboom in Bruges last year and stored in my garage since.
Poured into a Delirium chalice. Bottle conditioned. A hazy golden-amber hue with a column of bountiful carbonation rising through its centre. Produces a large head of creamy white foam that lasts for a few minutes before reducing to a thick surface layer. Aroma of fruity yeast with hints of banana, mild bubblegum, coriander, pepper, faint clove and earthiness. Slightly sweet, with a twinge of warming booze in the background.
Tastes of fruity yeast esters with a dry finish. Notes of banana, mild bubblegum, coriander, pepper, clove, earthy yeast and stewed hops. Highly attenuated and slightly sweet, accompanied by a touch of warming alcohol in the background and a mild bitterness upon swallowing. A subtle nuttiness lingers on the palate. Mouthfeel is smooth, dry and tingly, with pleasant carbonation and good body. Rather astringent, with an aftertaste of fruity yeast esters, spice and faint booze.
Pretty good - a well-crafted tripel. Perhaps not a world-beater but it slides down easily enough. Looks the part, crazy carbonation included, and the aroma/flavour are yeasty, spiced and balanced. Nice body for the style. I'd have it again if it crossed my path - worth sampling if you have the chance.
1,331 characters
More User Reviews:
2.83
/5
rDev
-23.5%
look: 2.25 | smell: 3 | taste: 3 | feel: 2.75 | overall: 2.5
17 Dec 2012: in Daisey's, Bruggge.
Hazy light yellow with a small covering of white bubbles for a head: looked like the sort of thing you don't want see in a urinal after using it.
Too citrusy for me: toilet duck lemon flavoured brew that didn't improve as it warmed in the glass.
Can't say I really enjoyed this, but I've tried to score objectively.
359 characters
2.03
/5
rDev
-45.1%
look: 2 | smell: 1.5 | taste: 2.25 | feel: 1.5 | overall: 2.5

4.1
/5
rDev
+10.8%
look: 4 | smell: 4 | taste: 4.25 | feel: 4 | overall: 4


4.55
/5
rDev
+23%
look: 4 | smell: 4.5 | taste: 4.75 | feel: 4.25 | overall: 4.5
Got the bottle in bottle in Brussels 2 months ago, just now drinking it in Germany at home.
Appearance: Cloudy yellowish with orange tints over a nice white head, which dissipated quickly, leaving what looks like a thin, almost Wit-like looking beer.
Aroma: Citrus jumps out at you, a thin, wheat-like smell with hints of floral, too, mixed in with a spiciness like pepper or coriander in the nose, along with a Belgian-yeast note going in and out through all these aromas.
Flavor:
Up front: Heavy dose of citrus, almost like lemonade but not, spiciness, tart, slightly bitterness present but just enough. In the front it comes across like a Wit.
Middle: Here's a lot less citrus, but it's got lots more tartness, bitterness, more a Wheat and sweet Pils malt on top of that. You can taste the alcohol here, but it's not a burning, hot flavor, rather, a heady, intoxicating rush of a note on the tongue.
Back: Here the alcohol is much more pronounced, but it's accompanied by even more sweet Pils and More Wheat like flavors. You still get lots of citrus, lemonade almost, sweet but still tart and nice layer of hop bitterness over it. Add to that a hint of bubblegum and hazelnut to intrigue and yeastiness to boot.
Aftertaste: Both sweet, citrus tartness and some bitter linger a long time after the swallow.
Mouthfeel: Here's where I feel the wheat influence most. It's somewhat thin and has the feeling you'd get in a Wit, making it very smooth going down, but it's not too thin - still hearty enough to be a warm, creamy feeling going down.
Overall, I can't say I've had a beer like this before. It's really refreshing on a hot summer day like today It's kinda a combo of a Wit, yet without coriander, but lots of citrus and thin wheat-like flavors and aroma. It's got lot of citrus, nice and hoppy in a Noble hop way, but also strong on the alcohol side, making it a Trippel. I like this beer. It's got its Noble hop bitterness reward, but super refreshing citrus and lemon flavors, but also a complex mix of tart, bitter, sweet Pils malts and punch of alcohol to give it a heady rush. It's not at all like your average, thick, brown and sweet Trippel, nothing like a Trappist or Abbey Trippel. Rather, it's an interesting blend of Wit blended with a Noble hopped Pils and almost like a citrus IV drip all intermingling in flavors. Not bad at all. I have to give it a 4.5.
2,386 characters

4.65
/5
rDev
+25.7%
look: 4.5 | smell: 4.5 | taste: 4.75 | feel: 4.5 | overall: 4.75
A bottle at "La Gondola" restaurant in Brugge.
46 characters
4.08
/5
rDev
+10.3%
look: 4.5 | smell: 4 | taste: 4 | feel: 4 | overall: 4.25

3.99
/5
rDev
+7.8%
look: 3.75 | smell: 4 | taste: 4 | feel: 4 | overall: 4

3.9
/5
rDev
+5.4%
look: 3.25 | smell: 3.75 | taste: 4.25 | feel: 3.5 | overall: 3.75

Fort Lapin 8 from Fort Lapin
3.7
out of
5
based on
14
ratings.