Rock Bottom Restaurant & Brewery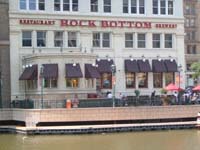 PLACE INFO
Type:
Brewery, Bar, Eatery
740 N Plankinton Ave
Milwaukee
,
Wisconsin
, 53203-2403
United States
(414) 276-3030 |
map
rockbottom.com
Notes:
No notes at this time.
Added by Winter
Reviews: 25 | Ratings: 53

3.73
/5
rDev
+5.1%
vibe: 4.5 | quality: 3.5 | service: 4 | selection: 3.5 | food: 3.5
My girlfried and I decided to stop by this place while on the River Walk in downtown Milwaukee. I really enjoyed sitting outside along the river. Tried the cheese curds for an appetizer which were very satisfying. Our waiter was friendly and helpful. He explained the menu and the knew a thing or two about the beer. Not too many options on the menu but what they had was solid. I tried the texas fire steak which turned out to be rich in flavor and a tad spicy. The peppers and onions blanketed the outside of the steak which added an unpleasant texture, however, it paired well with the smoky flavor of their chocolate stout. Overall, it was a nice experience.
662 characters

4.28
/5
rDev
+20.6%
vibe: 4 | quality: 4.5 | service: 4 | selection: 4.5 | food: 4
Really good, for a brewpub chain.
Pretty robust menu with lots of choice between apps, sandwiches, and entrees. I had a barbecued burger which was tasty, even though the sauce ultimately didn't agree with me. The hot pretzel app was really good.
Good selection of beers on tap - I had the hefe, which was much muhc better than I had expected. Very tasty. My wife had a lighter lager, which was run of the mill, but still drinkable.
Nice location in Milwaukee, right on the river. Good outdoor seating available.
514 characters
3.3
/5
rDev
-7%
vibe: 4 | quality: 3.5 | service: 3 | selection: 3 | food: 3.5
This one has a great location; the best one from their chain I know, and the best location in town. Right in front of the water, in a sunny afternoon, a nice place to have a beer, and watch the boats and people passing.
The place inside is quite standard, and I am not sure I would go on a rainy or cold day.
Usual pub fare, nothing special. Decent beer selection covering most major styles, not bad, not great either. Otherwise, a mediocre selection.
Staff has memorized the beer descriptions, but really know nothing about it.
Worthwhile for the location.
561 characters
4.8
/5
rDev
+35.2%
vibe: 4.5 | quality: 5 | service: 5 | selection: 4.5
For a chain restaurant thats also a brewery is really good. I hear their food is really good but i didnt have any, but i most certainly had most of their beer-in fact i had all of them (i was feelin really good when i left). They have an excellent Belgian double and triple that are just amazing. I lived in Belgium for a while and these beers are comparable to the real thing. Also, i recommend their sampler tray. It is very inexpensive and you get all their beers. Best way toget the full range of their beers.
513 characters
3.56
/5
rDev
+0.3%
vibe: 4 | quality: 3.5 | service: 3 | selection: 4
My girlfriend and I stopped by Rock Bottom on a recent trip to Milwaukee to spend a long weekend. The location of this one is really nice right on the river with a decent view of the Milwaukee skyline. It's a fairly big place as well.
When we showed up we were promptly seated out on the patio at a nice table right by the water (got lucky because it was busy). The server was really busy as well though so I had to go up to the bar to order our beer. Like all the Rock Bottoms they had the whole gamut of beer styles and I got the Scotch Ale which was just average. My girlfriend got the American Wheat which was much better. Then it started raining and we went inside for one more beer before our dinner reservations. The porter that I got inside was darn tasty and the service was really good. They seemed to be understaffed outside and overstaffed inside. All in all it was pretty good and much better to have an average craft beer than no craft beer.
955 characters

3.53
/5
rDev
-0.6%
vibe: 4 | quality: 3.5 | service: 3 | selection: 3.5 | food: 4.5
We were in town for a concert and this spot was less than a block a way. The location right next to the river is great, we had a nice view of great architecture and pleasure boats. The food is really delicious--it defies you're inclination to write it off as a kind of a typical bar&grill chain. I had smoked salmon fish and chips that were bursting with flavor! The wifey liked her mahi mahi tacos that were authentically wood grilled. I had the lager and the red ale. Neither blew me away but neither were all that bad either. Service was a little unremarkable.
Come for the food and wash it down with decent beer, but don't expect mind blowing brews.
654 characters
3.1
/5
rDev
-12.7%
vibe: 4 | quality: 3.5 | service: 2 | selection: 3 | food: 4
rock bottom is a notable stop in downtown milwaukee.
atmosphere was pretty good. the place has good character, with a pseudo-sportsbar/irish pub feel. if this place gets full during a sporting event, it would be wonderful.
quality was decent. the brews were above average and the food was great.
service was sub-par. the server was slow and unfriendly, without any knowledge of beer.
selection was normal. six or seven brews on tap and a few stales in bottles.
food was the best attracter to this place. great quality and perfect portion size.
548 characters
4.1
/5
rDev
+15.5%
vibe: 5 | quality: 4 | service: 4 | selection: 4 | food: 4
I was in milwaukee on business took a collegaue to this place after seeing it on mojo hd beer guys show.
This link in the chain occupies a river side location, they have guided tours of the brewery and also there is some kind of boat that can take you there and pick you up, not sure how it works.
right on the river great views of the newly renovated downtown area.
They had a good selection of beers on tap seemed like about 6 regulars and 2 seasonals
I enjoyed both beers i sampled, the pale ale and a red.
Good service. The bartenders were fast, friendly and up on their beers.
food was good.
603 characters

3.48
/5
rDev
-2%
vibe: 4 | quality: 3.5 | service: 3.5 | selection: 3 | food: 4
Went here for a late lunch with an old friend / fellow beer lover. We sat outside due to the nice weather at pub table right on the river so the scenery was very pleasant.
Due to the temperature being in the 80's we both had the Honey Creek Pale Ale (check out my review for more on this beer). The waitress was quite knowledgeable about the selection. The only problem I had with the selction was, no oktoberfest, wtf?! In the middle of september I thought this would be standard anywhere.
I had the Hickory Burger which was a bacon cheddar cheeseburger with thier own barbeque sauce which was based from thier stout. The sauce is what made the difference between average and quite good. My friend had the mac and cheese which may sound pedestrian, however I can assure you was anything but. It was spicey with chicken and was sprinkled with parmesan chese.
All in all a great experience mostly due to siting on the river. Expect less of an experience if you're sitting inside but still nice nevertheless. I'll be back again.
1,030 characters

3.25
/5
rDev
-8.5%
vibe: 3.5 | quality: 3.5 | service: 3 | selection: 3 | food: 3.5
I met my wife here for lunch. There seemed to be nothing truly outstanding about the place from a BA perspective, but our food was pretty solid.
It is January in Milwaukee, so I feel I'm likely short-changing this place on the "atmosphere" dimension, as it is right along the walk-way on the river, so I imagine its atmostphere is much cooler in the summertime. Interior is nice, although I found parking to be a hastle. Only later did I learn that the lot store has valet service to Rock Bottom, and after validation parking is only $0.50.
The food was good. My wife and I both had pizza and we split a salad. The pizza crust was particularly good. Beers (IPA and a dubbel, reviewed separately) were OK, but not particularly outstanding. I've been to less nicely appointed brewpubs with worse food and much better beer.
They have a pretty good selection of beer...maybe 8 brews, two of which rotate.
Lunch was about $30 between the two of us...2 x pizzas, 1 x salad, 1 x iced tea, and 2 x beers, which is right on the edge of what I'd consider reasonable.
Not bad, but I probably won't be back.
1,110 characters
3.13
/5
rDev
-11.8%
vibe: 3.5 | quality: 2.5 | service: 3.5 | selection: 3 | food: 4
Visited here with me paps and mum while moving into Mil-town. Beautiful day so we sat outside. Lots of people, not much beer being consumed. Blame lunchtime or Rock Bottom atmosphere?
Yuppyish. Amazing difference between the clietele here and the clientele at the bar we visited next to my apartment. Must check out nighttime.
I got the sampler. 7 offerings, plastic cups half full. Quite a bit. Nothing too good. Seasonals were a hefe and a nail polish flavored IPA. Only beer I would buy a pint of was the Scotch, maybe the Light actually as well.
Service was nothing really, even if this were just a restaurant. But I hear good things about the bartender so I'll have to check that out. She did pour me well.
Rock Bottom food is always good to me. Buffalo fajitas were the bomb and something one doesn't see too often. I must come here some night and see the difference. Riverboat tour looks interesting.
Go for the food, have a beer while there, that's about it.
986 characters
3.38
/5
rDev
-4.8%
vibe: 4 | quality: 2.5 | service: 4 | selection: 3.5 | food: 3.5
This is one of the big Brew Pub chains that have lasted and seems to be doing well because they keep popping up.
The atmosphere was nice. Big spacious bar with nice elegant but earthy interior.
Our bartender was very nice and didn't even charge us for a sampler.
I noticed that the food portions were huge and pretty interesting. A taquito the size of a tire iron.
The beers were just medicre at best though; Greenfield American Light and Seasonal wheat were typical examples of their styles but not impressive.
Honey creek pale ale, raccoon red, naughty scot scotch ale, dark lager, and catcher in the rye beer were all just typical chain brew pub fare. Nothing special but nothing horrible either.
Their Prankster Saison did not really meet the requirements of a typical Saison, not showing any fruity esters or flavors at all. It tasted
more like a belgian pale that was mis-labled.
Nice time for someone who isn't more informed, but lacking good quality beer and a little soul.
1,000 characters

4
/5
rDev
+12.7%
vibe: 4 | quality: 4 | service: 4.5 | selection: 3.5 | food: 4
Rock Bottom is sort of my "old reliable" when visiting Milwaukee. I know it's a "chain" but the spirit is still local; just like a small independent brew pub.
The food is excellent, creative and consistent. Fairly priced too, along with the beer.
The beer selection is similar to the "usuals" at most Rock Bottoms. Even so, it is well-made, tasty beer if not really big on flavor or innovation. My last visit the featured beer was a cask-conditioned Scottish ale which was outstanding. Prior to that it was a Belgian Tripel which was also very good. After I had complimented the beer, the bartender called out the brewer who had made it to take the compliement in person! He stayed and shared some beer and talked at length about high gravity brewing, yeast cultures etc.
I believe his attitude demonstrates that Rock Bottom has sincere, motivated, beer-loving employees; in spite of being a national franchise.
921 characters
3.23
/5
rDev
-9%
vibe: 3.5 | quality: 3 | service: 2.5 | selection: 4 | food: 3.5
I made a visit to the Rock Bottom Brewery in Milwaukee last weekend. Yes, I know, it's corporate. But I figured that I'd give it a try.
The building is very stately, being directly next to the river. And the neighborhood seems nice with a boardwalk district. The large neon "Rock Bottom" lights would look great on a gentle summer evening, but the forbidding winter temperatures didn't allow me to fully appreciate the atmosphere.
Inside the heavy wooden doors, we were greeted by a clean interior that was made to look like an old neighborhood brewpub. As our host walked us to our table as if he were crawling, the atmosphere took on a more sports bar theme. Flat screen televisions were strategically hung from the ceiling showing ESPN2. At the time that was a track meet and then golf.
The booths are very long and comfortable. They're raised above the floor level slightly, which adds a nice touch. Unfortunately, it was also very cold in the restaurant and all three of us wore our winter coats for much of the meal.
It took so long for the waitress to show up at our table that we were beginning to wonder if she was on break. When she arrived, she clearly had the "let's be friends" style of serving that I find annoying and inappropriate. The menu is too long and doesn't stick to any sort of theme. I ordered a pint of their Stillwater Stout ($4).
The beer was good, although I could swear that it's a clone brew of Guinness. In other words, it has virtually no roasted flavor and plays a strong hand of malts. There's little to no bittering hops either. The beer only carried a modest head. This beer was fine, but I prefer my stouts flintily dry and crammed full of roasted flavors. On the other hand, this beer has a good sessionability to it.
We had an appetizer of nachos. It came out on a huge oval plate piled at least six inches high with greasy tortillas held together by cheese. The chips themselves were very greasy, and indeed we found a lake of fat on the bottom of the plate. The salsa was timid, as if it didn't want to offend anyone. It didn't have a good balance of flavor, and wasn't even slightly spicy.
I ordered the "meatloaf and mashers." It comes with a nice helping of two slices of meatloaf, a pile of mashed potatoes, and buttery green beans. The meatloaf can be sauced with either stout tomato sauce or brown ale mushroom sauce, and I picked the former because the ketchup-meatloaf combination is traditional. The meatloaf is juicy (they let it rest) and filled with pieces of sautéd mushrooms, which imparted a nice flavor to an otherwise bland dish. The sauce, however, was truly one of the worst sauces I've ever tasted. And believe me, I have an open mind when it comes to experiencing new things. It just tasted bad. The flavor consists of a full-scale battle between the stout reduction component and the tomato component. The stout reduction tasted stale, as if a pan had been sitting on the stove for the last three days. And the tomatoes tasted like they were rotting in the back of their fridge. As I said, the flavors didn't parter either by similarity or contrast in the slightest. To make things worse, the menu boasted that the meatloaf is "made from scratch." If a restaurant has toclaim that they make their own food, you know there are serious problems.
The mash was good, although bland. The menu boasted that the potatoes had white cheddar in them, but I assume they meant the processed cheese variety.
The menu also said the dish would be served with "seasonal vegetables." Since it's January, I was expecting celeriac, squash, or maybe sweet potato. What vegetable did they consider seasonal? Green beans. At least they were well prepared. The vegetables felt firm and were crisp, unlike most green beans that are available at this time of year. Moreover, they had been blanched and shocked in the French manner. Unfortunately, unlike the French they didn't reheat their green beans after shocking them and instead served them cold. Serving them this way should be reserved for hot and humid summer days when you want something light and cool, not in the middle of the winter where it's even cold inside. The green beans were sauced with melted butter. I would have prefered sauce beurre blanc myself. Still, the green beans were the best part of the meal.
With my dinner, I ordered my first tripel. The nose was full of banana and bubble gum. The flavor had a nice balance of banana, bubble gum, and malts. It had a pleasant bitterness to it that I appreciated. Even better, they served it in an appropriate glass. It raised a nice white head that just wouldn't quit. It went great with the green beans. But at over 9% (typical for the style), it was a gracefully big beer.
I'd go there again for beer, but I'm not sure if I'd go there again for food.
4,844 characters
4.05
/5
rDev
+14.1%
vibe: 4.5 | quality: 4 | service: 4 | selection: 4 | food: 4
Located next to the Milwaukee River in the center of downtown, Rock Bottom benefits from being a part of the RiverWalk District. The atmosphere here is nice, both inside and out. The inside features a brown wood interior, exposed Cream City brick and art deco-style tiny lighting hangs from the ceiling. The main bar is located in the back of the restaurant, with the fermentation tanks behind it. There's also a side sunroom that overlooks the river. The downstairs area has another bar, 2 pool tables, darts, video games, limited seating and live music on the weekends. Weather permitting, a third bar is open outside in the concrete patio area along the RiverWalk and provides spacious seating as patrons can watch the boats slowly drift through downtown while dining and drinking. This has got to be one of the larger venues along the RiverWalk for enjoying the sites of the city on a pleasant summer's evening.
From my experience the food and beer have always been good here. The Greenfield American Light, Honey Creek Pale Ale, Raccoon Red, Brown Bear Brown and Stillwater Stout are the 5 mainstays. Usually there's another session or seasonal beer. Past choices have included Fire Chief Ale, Raspberry Wheat, a French Saison and Rocktoberfest.
The food items I've ordered off the menu have yet to let me down. I've enjoyed their BBQ ribs (tangy stout sauce was outstanding!). The menu is constantly evolving. Buffalo fajitas and Thai pizza are no longer offered, but were excellent none-the-less. The decadent carrot cake, made with a touch of their Pale Ale, is to die for. Portion sizes are very good also. Although this place can get rather busy at times, the service is usually pretty accommodating considering the circumstances when swamped.
On Thursday nights, they feature a great wing and beer special. All the wings and beer your heart desires for $10. Not a bad deal, considering a typical pint usually runs about $4. Held in the basement, it's always 'standing-room only', which makes finding any corner of an occupied table welcome for setting down your drink as you chow down on wings. Happy Hour pint specials cost $2.50, which is a good deal for fresh beer.
I believe a selection of cigars is available up front for purchase. Valet parking is also available, though hardly necessary. Rock Bottom also serves as a joining location for the RiverWalk Microbreweries Boat tour, which also includes the Milwaukee Ale House and Lakefront Brewery.
2,483 characters
Rock Bottom Restaurant & Brewery in Milwaukee, WI
3.72
out of
5
based on
3,227
ratings.