Bruvado
| Cerveceria Bruvado
BA SCORE
71
okay
14
Reviews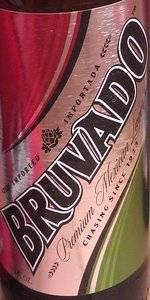 BEER INFO
Brewed by:
Cerveceria Bruvado
Mexico
bruvado.com
Style:
American Adjunct Lager
Alcohol by volume (ABV):
5.00%
Availability:
Year-round
Notes / Commercial Description:
No notes at this time.
Added by woodychandler on 06-04-2012
Reviews: 14 | Ratings: 26
2.19
/5
rDev
-13.8%
look: 3 | smell: 2 | taste: 2 | feel: 3.25 | overall: 2
Pours a hazy orange with a foamy tan head that settles to wisps of film on top of the beer. Tiny dots of lace form around the glass on the drink down. Smell is of malt, grain, metallic, and slight grassy aromas. Taste is much the same with grain and fruity flavors on the finish. There is a very mild amount of hop bitterness on the palate with each sip. This beer has a low level of carbonation with an almost flat mouthfeel. Overall, this is a poor beer that tastes more like sugary water than any sort of beer.
513 characters

2.22
/5
rDev
-12.6%
look: 4 | smell: 2 | taste: 2 | feel: 3 | overall: 2
Very handsome amberish golden beer poured into the tall Peroni lager glass. The towering white head looks like whipped cream. Adequate carbonation in the mouth with a little satiny mouthfeel.
The flavor is a total disappointment after the lovely strip tease. Dull, sweet, and... well, really dull. There is no tang or liveliness beyond the cheap club soda sensation. It's something like water poured through a bowl of Corn Chex cereal. Why is Corona in the top 3 or 4 beers worldwide by sales volume? Because it has virtually no taste. Bruvado, unfortunately does.
This is brewed in Tecate by Cervecería Mexicana. I don't see much of a future for Bruvado. From the 12 oz screwcap bottle at Liticker's Liquor in San Diego.
724 characters

3
/5
rDev
+18.1%
look: 3 | smell: 3 | taste: 3 | feel: 3 | overall: 3
I was rather amused when I saw the "Michelada Party in a Box" and since it included five (5) CANs of Bruvado, I decided to buy the party and share the wealth, all in the interest of furthering The CANQuest (TM).
From the CAN: "Premium Mexi[CAN] Lager"; "Chasing Since 1923".
I got a massive two fingers of bone-white head with reasonable retention from my pour. Color was a pale yellow with NE-quality clarity. Nose smelled of corn, so it was definitely an AAL. Mouthfeel was medium with a lager sweetness interrupted by both a metallic twang and a corn flavor. I CANnot tell you how many of its ilk I have tried as part of this madness. Finish was semi-dry and rather bland. I wonder if the fixin's that came with the package will improve things ... Don't bet on it!
774 characters

1.92
/5
rDev
-24.4%
look: 3.25 | smell: 1.75 | taste: 1.75 | feel: 2 | overall: 2
Poured a medium straw hue with a two finger frothy white head. There was Goid retention and lacing.
The smell and taste featured sweet corn and a smattering of grassy hop.
The mouthfeel was slick and lightly carbonated.
Overall a poor example of the style.
262 characters

2.13
/5
rDev
-16.1%
look: 2.5 | smell: 2 | taste: 2 | feel: 2.5 | overall: 2.25
Clear golden lager with a small white colored head. Looks like 100s of other Mexican beers.
Smells very little, mild corn and malt, no real hop scent.
Starts out mildly sweet and that is about it. Caramel and light lemon hop flavor. That is all to report, it doesn't taste bad it just doesn't taste like much.
Mouthfeel is OK.
Overall a forgettable lager. Doesn't taste like much really yet not offensive.
409 characters
3.7
/5
rDev
+45.7%
From BeerAdvocate magazine Issue #69 (October 2012):
Smart marketing behind this brand, not only do they offer 24oz cans and 12oz bottles but the Michelada kit and Tequila shot pack really switch things up for people that don't want to geek out but make a day or night out of it. As for the core beer it is your typical utility beer that can take booze, cocktail sauce and even a lime with no harsh aftertaste like some of the other well known Mexican lagers.
STYLE: Mexican Lager
ABV: 5.0%
AVAILABILITY: Year-round
LOOK: Clear, pale golden hue, very bubbly
SMELL: Water crackers, cooked veggies, fresh cut hay, somewhat clean, faint breadiness
TASTE: Big crispness, smooth, slight creaminess, moderate body, fresh grassiness, mild husk, modest hopping, kiss of cooked veggies, clean drying finish
804 characters
2.56
/5
rDev
+0.8%
look: 3.5 | smell: 2.5 | taste: 2.5 | feel: 2.5 | overall: 2.5
Ah yes, the Mexican lager.
A - Very light, very clear gold, fair head and surprisingly, some staying power and lace.
S - Mostly grain and grass, with a little mild malt in there.
T - Very corny, a little malty, not much else really.
M - Light body, good carb, balance isn't really required. LOL.
D - A few weeks back, when it was over 100 degrees outside, I would have liked this better.
392 characters
2.38
/5
rDev
-6.3%
look: 3 | smell: 2.5 | taste: 2 | feel: 3 | overall: 2.5
Bought a four pack of cans for $1.99 because I wanted to see how bad it was. It was surprisingly not bad.
Aroma of light malt, grass, and very mild hops. The hops and grass sort of blend together into a slightly green taste with a slight crispness similar to Heineken that has never seen the light of day, usually found in bowling alleys. Very light flavors and nothing unpleasant when served cold. Drinks very smoothly, the carbonation is present but not excessive. When it warms up a bit, a very sour note comes out, but this can be avoided by drinking it quickly while it's really cold.
It's not one to be savored, but almost at least on par with a typical adjunct lager.
677 characters

3
/5
rDev
+18.1%
look: 3 | smell: 3 | taste: 3 | feel: 3 | overall: 3
Appearance: Bruvado has the appearance of an average lager.
Smell: Bruvado smells like any lager. There was nothing that seemed unusual within the aroma of Bruvado.
Taste: Bruvado has a strong grain and hop flavour in the beginning. After a few minutes, Bruvado seems to change flavour and taste sweet.
Mouthfeel: Bruvado seems to be a thick beer with a presence of both grain and hops in the beginning. After a few minutes, Bruvado loses its carbonation and seems to taste like a kvass beverage.
Overall: Bruvado is a beer that changes both its flavour and taste within minutes. In the beginning Bruvado seems to be a thick lager with a strong taste of both grain and hops. After a few minutes, Bruvado loses all its carbonation and has a sweet taste almost like a kvass beverage. I purchased a bottle of Bruvado in Highland Park, California for $.60 USD (Yes, I typed 60 cents!) I am the person who shot and posted the photo of the Bruvado bottle for this website too!
975 characters

1.81
/5
rDev
-28.7%
look: 1.75 | smell: 2.5 | taste: 2 | feel: 1 | overall: 1
Poured into a pint glass. Never had this before.
A- Yellow colored and clear. A couple bubbles streaming up the glass. Two finger head that fizzles down to almost nothing. Looks flat.
S- Heavy malts, maybe corn. I don't detect much hops, if any. Slight alcohol smell.
T- Very malty. It has a strange white wine taste to it that creeps in. Bready aftertaste.
No hops whatsoever. Unbalanced.
M- Slick and on the edge of being watery and medium body. No carbonation.
Drinkability- Not very drinkable. It doesn't have the right taste and texture of an AAL.
O- Overall, this is a horrible beer. The lack of hops totally messed up the taste. It's way too wine tasting. I dislike wine.
685 characters
2.65
/5
rDev
+4.3%
look: 2.5 | smell: 3 | taste: 2.5 | feel: 2.25 | overall: 2.75
It was probably a good thing I picked these up for cheap during 110+ degree weather, else I might not be enjoying the generic lager as much as I am.
First, the size. 0.8 oz shy of a full bottle, but the 5% alcohol does make up for that fact. The bottle is a nice dark bottle, which helps to keep the beer from skunking.
The taste is decent. Rather bland, but unique compared to most other Mexican lagers, especially the big guys. Tastes a bit of corn, a noticeable sweetness, not much aftertaste at all, and a tiny bit tangy.
Smell is similar, with a hint of corn and something else I can't quite place.
It's a darker orange than most lagers, but still quite transparent.
It's not overly fizzy, but it does tingle the mouth a bit with decent carbonation.
Overall, not a bad summer drink for the price. I definitely wouldn't turn one down for free!
853 characters
1.45
/5
rDev
-42.9%
look: 2 | smell: 1.25 | taste: 1.25 | feel: 1.25 | overall: 2
Drank from bottle. Purchased for 6.99 for 6.
Huge fan of Mexican Lager (and all lager) but this, to me, doesn't resemble mex-lager in any way, shape, or form. More like a low-end domestic beer.
Little head. Exceedingly corn and chemical on the tongue. Finishes bland. This tastes like Old Style except with a faint lime sweetness.
Props for a higher alcohol content than most pale lagers, but if you think with your wallet, like me, I figure the value would've been there at 3.99 for 6.
I'm enjoying the buzz more than the beer, and I'm a long way from 21 years old, where that ratio might be acceptable.
609 characters
4
/5
rDev
+57.5%
look: 4 | smell: 4 | taste: 4 | feel: 4 | overall: 4
I enjoy a nice crisp clean Mexican lager, always have. Growing up in CA I remember when Corona started to hit the market (I was way underage but hey...I was still a consumer....tell me you weren't!) and the general thought was that it was not good beer. We used to buy it (er...get it bought for us) because it was cheap.
I have read a few of the Bruvado reviews on here and must say I do not agree, or at least I think it is being compared to a standard it is not meant to be. Bruvado is not some hoppy craft ale nor should it be. It is a quality showing of a Baja California region Mexican lager and stands well on its own against the mass produced Tecate's and Corona's of the world.
688 characters
3.88
/5
rDev
+52.8%
look: 3.5 | smell: 3.5 | taste: 4.25 | feel: 3.75 | overall: 3.75
I picked up a couple 24oz cans of Bruvado while passing through Chico a few months back. Must admit I tried them because they were on the door of the cooler on sale, hey why not.
The can looked good, I have always been a fan of bare aluminum and I liked the play of Mexican red and greens.
It is a light colored lager, very true to Mexican lager mouth feel and appearance.
Slight sweet hint to the taste but I like that and not overly dry. After the two can I was surprised by how much I felt it, but I see on here that it is 5% and that is high for a Mexican lager so score one for Bruvado.
Nice and cold on a sunny day I would be happy to enjoy more.
657 characters
Bruvado from Cerveceria Bruvado
2.54
out of
5
based on
26
ratings.