Jukebox Distorsion
| Microbrasserie Jukebox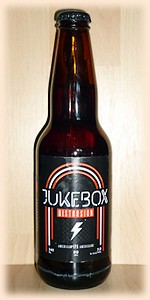 BEER INFO
Brewed by:
Microbrasserie Jukebox
Quebec
,
Canada
Style:
American IPA
Alcohol by volume (ABV):
7.00%
Availability:
Rotating
Notes / Commercial Description:
No notes at this time.
Added by TheSevenDuffs on 11-07-2013
Reviews: 10 | Ratings: 31
3.55
/5
rDev
-11%
look: 4.25 | smell: 3.5 | taste: 3.5 | feel: 3.5 | overall: 3.5
Cloudy dark gold color. Light head that leaves very few spots on the glass
Pale malt start with a bit of light sourness.
This is a particularly bitter beer. A very short pale malt flavor. The hop brings some black pepper to the flavor. The aftertaste is well balanced. The body is decent and the carbonation as expected.
329 characters

3.81
/5
rDev
-4.5%
look: 4.25 | smell: 3.75 | taste: 3.75 | feel: 4 | overall: 3.75
Serving: On tap
Sits in the glass straw blonde with some chill haze and a couple healthy fingers of fluffy beige head that sticks around good and leaves even, concentric circles of lace. It is generally solid with nothing really popping out.
It has a pine and vaguely spicy nose with some cereal warmth under the leafy hops. The flavor is pretty evenly bitter with a resinous/medicinal quality throughout. It comes on pretty dry and hints at citrus and potpourri, but it progressively gets more herbal towards the finish. Overall it is fairly light and drinkable.
Nothing to write home about, but better than good. Only real off-putting thing to me was that it kind of tasted a bit like aspirin towards the end. Otherwise a fine brew.
747 characters

3.9
/5
rDev
-2.3%
look: 4 | smell: 4 | taste: 3.75 | feel: 4 | overall: 4
341ml Bottle from Brouehaha QC for $3
Appearance - Slightly hazy dark gold colour with an average size fizzy off white coloured head. There is a below average amount of carbonation and there is some fair/good lacing. The head lasted for 5 minutes.
Smell - Malts, caramel, apricots, grapefruit, hops
Taste & Mouth - There is an average amount of carbonation and I can taste hops, malts, and caramel. There is also apricots and grapefruit/oranges. The beer ends with a very hoppy bitterness.
Overall - Lots of hop bitterness. A fantastic addition to the growing number of west coast tasting IPAs from Quebec. A little along the lines of the Headstock IPA by nickelbrook.
672 characters

4
/5
rDev
+0.3%
Cloudy light orange color. Thick creamy looking white head. A tiny little bit of sediment is noticeable in the beer. Lacing is great. This is what a great IPA should look like in my opinion. On the nose I get a bit of pineapple and some grapefruit, perhaps a touch floral as well. On the palate a touch less hops and a nice dosage of malt. Not overly sweet; just malty cereal grain. Bitterness is firm and lets you know you're drinking a solid IPA. This is pretty good stuff, a bit overpriced in my opinion, but none the less pretty decent. Some what reminiscent of Stone IPA but a more balanced malt profile
609 characters
4.06
/5
rDev
+1.8%
look: 4 | smell: 4.25 | taste: 4 | feel: 4 | overall: 4
Bottle: Poured a light golden orangey color ale with a rather large foamy head with good retention and some good lacing. Aroma of citrus notes is quite intense with a little bit of piney notes and some tropical fruity notes in there as well. Taste is a great mix between some citrus, tropical fruit and some piney notes with a lightly sweet malt backbone and almost no bitterness. Body is quite full for style with good carbonation. Very enjoyable and something I will drink again.
481 characters
4.07
/5
rDev
+2%
look: 3.75 | smell: 4.25 | taste: 4 | feel: 4.25 | overall: 4
Cloudy golden colour with a big foamy head. Smells of tropical fruits, banana, grapefruit, lemon, orange. Similar taste, really tropical, I've got some pineapple too that I didn't smell. The flavour I want in my IPAs but it's kinda blend though, but with a big bitterness so that's nice.
287 characters

4.25
/5
rDev
+6.5%
The bottle caught my eye at Depanneur Peluso.
341ml bottle to tulip, hazy golden orange with tons of big yeast bits floating around! You can smell the yeast when you open the botte. 2 finger lumpy head, but less retention than i expected. Some decent lacing rings and spots though.
N: Lots of citrus and tropical fruits, orange peels, papaya, apricot. Funky yeast odors, and some malt in the background.
T: Delicious tropical fruit, melon, papaya, blood oranges. Very unique hope profile on this beer. Very yeasty as well.
M: Below average carbonation for an IPA, but allows for better tasting capabiities. The yeast bits are a bit excessive though, im not talking about lees, i mean big white chunks and you can kind of feel them going down. It doesn't bother me, but if you're new to craft beer it might take you by surprise.
O: Brasseurs de Montreal aren't my favorite from Quebec, however they outdid themsevles with this, I'll have to try the rest of their jukebox collection now!
990 characters
4.26
/5
rDev
+6.8%
look: 3.5 | smell: 4.25 | taste: 4.25 | feel: 4.75 | overall: 4.25
The beer's sediment interacts beautifully with a heavy bubbling to rise through a dark honey colored cloud into a section of clearer straw-yellow where the flakes fall back down to begin an artful cycle which repeats until each flake is caught in the bottlecap-thin head. Color evens out after some time with bubbling continuing to be above-average.
The smell is so hoppy that there's a sensation of bitter to the nose. Not able to identify much more than citrus, perhaps heavy toward orange-grapefruit. A hint of vinyl. In my mind this is very close to the perfect scent for an IPA.
Taste follows the smell in there being a very strong hops sensation. Alcoholic as well. Standard IPA citrus taste with a nice, strong bitterness.
Mouthfeel is silky. Bubbly and permeating.
Overall, very nice bitter IPA. I only noticed the 80 IBU upon arriving home with a 6-pack. I was worried at first, but to me the bitterness was comparable to an MBC Big Swell or Lost Coast Indica which are in the 50-60 range. Will happily consume the remainder of this 6-pack, and the name will surely catch my attention on menus down the road.
1,123 characters

4.27
/5
rDev
+7%
look: 4 | smell: 4.5 | taste: 4.25 | feel: 4 | overall: 4.25
Ran out of hoppy beers last week and didn't want to head to the States for my fix, so took a 5-hour (one-way) daytrip to Quebec City to find some decent beers and some cheese. Should have picked up more, because I'm down to my last IPA now. Damn.
I was really struck by the tropical nose on this beer. Wow! I had picked this up alongside a Moralite by DDC, and this is (almost) the same beer (maybe just 1 step below). Anyway, lots of tropical juiciness, and fairly well balanced between sweet and bitter. I should have picked up at least 6 of these. They might have lasted the week.
585 characters

4.92
/5
rDev
+23.3%
look: 4 | smell: 5 | taste: 5 | feel: 4.75 | overall: 5
This guy rocks hard on the taste buds, but in a light way. Poured from the bottle into a glass, this is an easy sipper, a refreshing quencher after a long day. It's citrus guy, but not a placeable citrus note. It's got pear elements. The bubbles are perfect.
258 characters
Jukebox Distorsion from Microbrasserie Jukebox
3.99
out of
5
based on
31
ratings.