Joshua Tree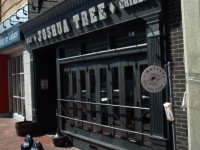 PLACE INFO
Type:
Bar, Eatery
256 Elm St
Somerville
,
Massachusetts
, 02144-2941
United States
(617) 623-9910 |
map
joshuatreedavis.com
Notes:
No notes at this time.
Added by BeerAdvocate
Reviews: 10 | Ratings: 16
3.3
/5
rDev
-2.1%
vibe: 3 | quality: 3 | service: 4 | selection: 3 | food: 3.5
Not a bad bar, fills up quick on the weekends and space is tight. Usually on the dark side for lighting. Quality of food is average with nothing standing out, the burgers are good though. Selection for food is average, mostly pub food and anything that isn't doesn't fair very well. The beer on tap is average again, with all the old standards there, nothing really exciting or unusual. Over all a decent place to go to for a quick pint and a burger, anything beyond that and I would look else where.
500 characters

3.48
/5
rDev
+3.3%
vibe: 3.5 | quality: 3 | service: 4 | selection: 3.5
This was the second stop on our Sunday afternoon pub crawl. We watched the last half of the Sox / Yankees game here. Big open space inside with lots of TV, this is a nice place to come and grab a decent brew and catch some sports. I had a Belhaven and a Rapscallion Premier, and the wife had a Leinie Sunset Wheat and a Rapscallion also. Service was good as the bartender always seemed to be around on a pretty busy afternoon. The beer selection here is decent, nothing too impressive but there are definitely a few good ones on the menu, which makes this place a decent choice to spend some time in.
600 characters
3.18
/5
rDev
-5.6%
vibe: 2.5 | quality: 3 | service: 3 | selection: 3.5 | food: 4
Pinskie hit this joint on the head with his review. Cleanfeet and I like going there because of the food and the adequate beer choice. Nothing extraordinary on-tap but a few nice selections in the bottle that Pinskie pointed out. What I most dislike about this place is the atmosphere. It is rather like a sports bar and longe. Lots of TVs and beer promotions but with all sort of clean lines with the interior decorations. When colleges are in session don't even think about trying to get in for a drink after work either. Food selection has much more variety than other similar places in the area. Decent appetizers. My favorite thing to order though is the clam chowder in the bread bowl. Service is adequate to bring you a drink or food, but do not expect much knowledge of the beer.
787 characters

3
/5
rDev
-11%
vibe: 3 | quality: 3 | service: 3 | selection: 3
We stopped in here last night before heading over to Redbone's for dinner. You walk in and there is a square bar in front of you to the right with a few high top tables behind you to your right--a few more located in the back behind the bar. Nothing real special about the atmosphere. Lots of the tire tread steel trim all over the place blending a somewhat generic irish bar into a modern industrial feel.
They have a good number of drafts but nothing really stood out. A few Pete's products that I don't care for and the usual Boston selection: Sam Adams, Harpoon, Bass, Guinness, etc. They did have Sierra Nevada Summerfest which I had not tried before so I opted for it. They did have an Oktoberfest/Autuminal beer on-- which I have been in the mood for lately, but it was by Pete's --so I passed. The Summerfest didnt taste exactly fresh but it wasnt tainted either so I drank it and we proceeded to Redbones.
Service was reasonably friendly but nothing really much better than average. We did not try the food but I remember it as being average from the few times I have been here before. This is a sister bar to the Boston Beer Garden in Southie. Neither place is what I would call worth seeking out. The only thing this place has going for it that the Beer Garden does not is Davis square is a cooler neighborhood than where the Beer Garden is located.
1,366 characters
3.38
/5
rDev
+0.3%
vibe: 3.5 | quality: 3.5 | service: 3 | selection: 3.5 | food: 3.5
The Joshua Tree has a clean and modern feel to it. Upon entering you will notice seating directly to your right with a big rectangle shaped bar in the center with more seating in the back. The seating to your right offers some nice tall tables with a great view of busy Davis Square. Bathrooms are located down the stairs in the very back. The atmosphere is a mix of modern steel designs (a la Boston Beer Works) and Irish pub comfort.
One major plus to this place are the flat screens TV's that are nicely spread out across the bar area. A good place to watch the game and also grab a pint or two.
Beer selection consists of about 26 drafts and 20 or so bottles. The draft selections includes your typical macro and imported beers, but there are some highlights like Sierra Nevada, Magic Hat #9 & Fat Angel and Dogfish Head 60 Minute IPA. It would be a disservice to say the selection here is average when they offer bottle selections like Delirium Tremens, Mojo Hazed & Infused and Samuel Smith's Oatmeal Stout. Service was average and the food was enjoyable.
If you are in Davis Square, this place is always a viable option. When I find myself in this neighborhood I always gravitate towards Redbones, but Joshua Tree is a solid option.
1,249 characters
3.25
/5
rDev
-3.6%
vibe: 3 | quality: 3 | service: 3 | selection: 4 | food: 3
The Joshua tree is located in Davis Square, in Somerville, MA. Right around the corner from the infamous Redbones.
Exposed brick walls, flat screen TV's and modern music set the mood in this hip college atmosphere style bar and grill. A rectangular bar sits about 2/3 of the way back in the room and takes up the better part of the space. Tables fill the front section and work their way around the bar towards the back. A front window can be opened during warmer weather for people watching along the street.
The beer selection was better than I had remembered from previous visits. A little over 2 dozen tap beers and an equal number of bottles. Selection ranged from standard macros to an almost impressive selection of macro/micros and imports. On my visit they had 3 different seasonals each from Sam Adams, Harpoon and Magic Hat. Not to mention a nice variety of Oktoberfests and even Sierra Nevada Harvest Ale. The bottles were a little less impressive, although they did have Delirium Tremens and a few interesting pumpkin and other seasonal brews.
Food was run of the mill Bar and Grill pub grub. Soup, Salads, Sandwiches, Appetizers, Deserts and even a decent selection of hearty entrees. Food quality was decent, but nothing to go crazy about.
Overall, I was actually somewhat impressed by the beer selection. No where close to some other places in the area, but a far cry from the standard Boston Sam, Harpoon, Bud selections. Our waitress was a bit rude and the food wasn't spectacular, but… The Joshua tree definitely makes a nice stop if you're doing a pub-crawl of the Davis Square Area, or if you run out of cash at Redbones and need a place that accepts credit cards.
1,702 characters
3.85
/5
rDev
+14.2%
vibe: 3.5 | quality: 4.5 | service: 3 | selection: 4 | food: 4
I love Davis Square and still cherish the time that I was able to live there. This was one of the places I would bring dates while I lived there.
A modern looking establishment that emphasizes beer selection and TV's. The bar takes center stage here with tables surrounding it. They have quite a well stocked selection of beers from around the world, enough to make even the most picky BA happy.
Food is adventurous and not your ordinary fare, although the bashful can find American staples. I don't think I ever got the same dish twice here, I always wanted to try something new because everything sounded so good.
One plus is the barfront windows open up in the summer to let the breeze in, which is ideal for Davis Square people watching. If you haven't experienced such a thing do so, it's worth every invested moment.
833 characters

2.88
/5
rDev
-14.5%
vibe: 2 | quality: 3 | service: 3 | selection: 3
I don't even know why this offal market is in the beerfly database. They have the same craptastic tap lines on that many of the local bars that feel they have to have "craft brew" on, but could really care less about it. The clientele runs from silver spoon Tufts undergrads to newly monied Somerville blue collar nabobs, you know, not that there's anything wrong with that. But this place is so clearly not about good beer. I think the only interesting thing is the occasional Sierra Nevada handle. And if I recall, a Sysco operation to the gills.
548 characters
3.75
/5
rDev
+11.3%
vibe: 3 | quality: 3.5 | service: 4 | selection: 4 | food: 4
I got sent here be a fellow beer entusiast who completed my ramifications: 1 food, 2 Cambridge/Somerville, 3 new to me, 4 beer.
My girlfriend is vegatarian, so we ate here instead of Redbones. The atmosphere was trendy/industrial. Nice, but not really my scene. The service was attentive and pleaseant. A few interesting food options, well suitable for veggies. What we got was very tastey. There was a good size beer selection, although not many intrigued me. I went for something new and something very depedable; nitro-draught Belhaven (I found that i much preferred the bottled version) and Ipswich (so good, every time).
Worth a visit, but not when it is busy.
672 characters
3.33
/5
rDev
-1.2%
vibe: 3 | quality: 3.5 | service: 3 | selection: 3.5 | food: 3.5
It is hard to stop in to this place knowing that Redbones is about 50 feet from it. My girlfriend really likes this place so we usually make a deal. We spend some time at Redbones for me and some time at the Joshua Tree for her. They have around 15-20 brews on tap, or something like that. The standards Sam Adams, Harpoon, Harp and some nice Magic Hat brews are on tap. I usually opt for the Magic Hat offering, whatever it may be. After you have had your fill at Redbones, it is worth the stop. Especially on a Thursday night as there is a lot of "eye candy" around!
568 characters
Joshua Tree in Somerville, MA
3.37
out of
5
based on
16
ratings.