Blackhorn
| Bolero Snort Brewery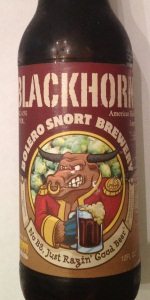 BEER INFO
Brewed by:
Bolero Snort Brewery
New Jersey
,
United States
bolerosnort.com
Style:
American Black Ale
Alcohol by volume (ABV):
6.50%
Availability:
Year-round
Notes / Commercial Description:
No notes at this time.
Added by jjchristiano on 04-25-2013
Reviews: 7 | Ratings: 44

4.19
/5
rDev
+8.8%
look: 3.5 | smell: 4.5 | taste: 4.25 | feel: 4 | overall: 4
always looking to support local stuff, but man the "schtick" is corny.. it reminds me of a game I play on MAME called Wild West C.O.W.boys of moo mesa... except.... I like the game, I almost swear the artwork is lifted from this game, but let me digress from my extreme nerd-dom and try the beer, after all, that is what it is all about... (I sort of expect this stuff to be pretty good actually, ramstein knows wtf they are doing, so this is contract brewed by a good outfit, especially the ram winter wheat... oh boy is that stuff great, anyhoo....)
eyes...
damn skippy black, almost opaque, decent head, sticks around nicely for a chat, lacing is good as well, not much to look at but very much on style, a good looking brew
nose...
really nice pronounced roasted coffee notes, I really dig this, some "coffee" beers should come over and steal, this smells great, you smell distant hops under that lovely roasted aroma, definitely some caramel type malts lurking as well, this sniffs dry like cocoa, very nice.
taste etc...
ale weight with porter flavor, this really delivers, is it as deep as a porter... or stout ? perhaps not. but damn me sideways if it doesn't really pack a nice punch for an ale flavor wise. it reminds me of mackeson stout a bit but not quite as sweet (and not nearly as heavy), the hops give a nice twinge of bitter but you get that nice roasty flavor as well,
in the mouth is progression, at first is total coffee roast flavor that turns sweet, and as the carbonation prickles on your tongue you get the bitters.. which then fade to roasty chocolate
the abv is no where to be found in this tasty experience.
verdict?
forget the corny cow, this is a tasty beer. it has a good hop kick but the roasty-ness is what reels me in here, definitely worth checking out... and for $11 ... ? not a complaint here kudos to cowdos....
1,853 characters
3.99
/5
rDev
+3.6%
look: 3.75 | smell: 4 | taste: 4 | feel: 4 | overall: 4
Pours dark brown to black with a thin bubbly head that leaves spotted lacing.
The smell is of chocolate, coffee, (hint of licorice) and pine.
The taste is of chocolate cake, mild coffee, with pine and some grapefruit. Dark malts and hops blend well in the dry finish.
Smooth as a lager should be.
A pleasant hop-forward dark lager. Unique and enjoyable!
358 characters
3.96
/5
rDev
+2.9%
look: 3.75 | smell: 4 | taste: 4 | feel: 3.75 | overall: 4
Brewed and Bottled for Bolero Snort
by High Point Brewing Co., Butler, NJ
The Bottle is an eye catcher. And it was placed between the Yards and Green Divide at my liquore store. I thought I'd give this "Jersey" beer a try. It was called an American Black Lager which I have never had this style prior. I have had the Guinnes Black Lager which was ok.
Beer was drinkable. Nothing wrong with it but not something I really would go back to.
It did remind me of the Guinnes Black Lager which I also only bought once to try.
527 characters

3.89
/5
rDev
+1%
look: 4 | smell: 4.25 | taste: 3.75 | feel: 3.75 | overall: 3.75
Normal pour yields a massive head which fills close to half the glass, looks like a root beer float, airy and whipped up, forms a huge crater in the middle, dark tan to brown in hue, when there is room for lacing it's thin yet has pretty much has to be washed out of the glass. Black liquid, fully opaque, aura of orange rust around the edges and glass bottom, darker than expected. The nose is mostly roast and toast, black chocolate and coffee, raw grains and country style bread, moderate mixed citrus and dark fruits, while there's a good amount of underlying sweetness the roast makes it difficult to register most anything else. Full-bodied, heavy and on the creamy side, the carbonation gives it a gently churned feel. Chocolate, coffee, caramel, roast, roast and roast. Which, oddly, does not make it that bitter, suggesting the base material is sweet. Grain, mineral water, muted florality. No real fruit presence, more citrus. Hard to deny it's a one trick pony (and in some ways closer to a Schwarzbier than anything else), but if you like that pony it's easy to drink and does not leave any unsettling aftertaste.
1,133 characters
3.83
/5
rDev
-0.5%
look: 3.75 | smell: 3.75 | taste: 4 | feel: 3.5 | overall: 3.75
A: This beer appears to be black in color but amber hues are visible near the bottom of the glass when it is held up to a light source. Slight hints of carbonation are visible. It poured with a quarter finger high light tan colored head that died down, leaving a thin layer of bubbles covering the surface, a collar around the edge of the glass, and some lacing down the sides.
S: Light to moderate aromas of dark roasted malts are present in the nose along with some notes of pine resin hops.
T: The taste is similar to the smell but also has some hints of coffee beans, the latter of which are most noticeable towards the finish. The hops contribute a light amount of bitterness.
M: It feels a bit shy of being medium-bodied on the palate and seems a little thin and crisp with a moderate amount of carbonation.
O: This beer isn't as hoppy compared to some of the other beers in the style but the taste is interesting and has some complexities.
946 characters
3.83
/5
rDev
-0.5%
look: 3.75 | smell: 3.75 | taste: 4 | feel: 3.5 | overall: 3.75
Served on-tap at Little Town NJ in Hoboken, NJ
A: Pours a clear almost opaque medium to dark brown in color (approaching but not quite jet black) with light to moderate amounts of visible carbonation and some moderate cola brown highlights. The beer has a finger tall light tan head that reduces to a medium to large patch of very thin film with a thin ring at the edges of the glass. Light amounts of lacing are observed.
S: Moderate aromas of roasted malts with some slightly lesser notes of roasted coffee. Very light hints of pine/resin hops.
T: Upfront there are moderate flavors of roasted malts with some slightly lesser flavors of roasted coffee - there are some very light notes of chocolate/cocoa as well. There are very light flavors of pine/resin hops that contribute some light amounts of bitterness which linger slightly.
M: Slightly heavier than medium bodied with moderate amounts of carbonation. Smooth.
O: I thought this beer was pretty enjoyable but it was probably closer to a porter than many of the other American Black Ales that I have tried. Much stronger flavors and aromas of roastiness than of the hops.
1,135 characters
3.78
/5
rDev
-1.8%
look: 3.75 | smell: 3.75 | taste: 3.5 | feel: 4.5 | overall: 4
Blackhorn pours a deep, almost opaque black with a large tan head. The head is very sticky, with good lacing and very good retention.
The nose is met with sharp coffee aromas with roasted malts and distant earthy hops.
Those roasted flavors are pretty pronounced in the taste, which also has notes of coffee with a touch of sweetness. A bit of bitterness on the back end lingers through the aftertaste. The 6.50% ABV is hardly noticeable.
Blackhorn is medium-heavy bodied with a moderate carbonation that's right for the style.
Overall, a quality beer from northern Jersey.
577 characters
Blackhorn from Bolero Snort Brewery
3.85
out of
5
based on
44
ratings.