Genesee Brew House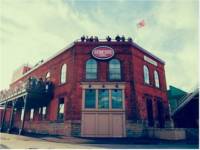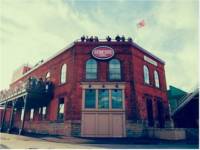 Brewery, Bar, Eatery, Beer-to-go
25 Cataract St
Rochester
,
New York
, 14605
United States
(585) 263-9200 |
map
geneseebeer.com
Notes:
WinnieDog13 from New York
4.35
/5
rDev
+10.1%
vibe: 5 | quality: 4 | service: 5 | selection: 4 | food: 4
Good food, good cheap flights, drafts, and growler fills. Food is decent general american, i love going here. The location is great with lots of parking and a great rooftop view of the high falls waterfalls. One the best places in rochester. They regularly rotate their selection.
Mar 22, 2020
WillieThreebiers from Connecticut
4.04
/5
rDev
+2.3%
vibe: 4.25 | quality: 3.75 | service: 4.25 | selection: 4 | food: 4.25
Old landmark building on the shores of the Genesee River in downtown. 3 story brick building with large patio and band shell, awninged deck and roof top beer garden. 1st floor has gift shop, museum, and pilot brewery. 2nd floor is tasting room/ dining area with straight bar that has half circle ends and seats about 25. Numerous tables and deck access. 3rd floor beer garden has a half dozen tables and a large couched lounge area. A dozen beers on tap, I had the 12 Horse & Huell Melon, ok but nothing to go crazy for. Fast, efficient service. I had the stir fry turkey which was a nicely portioned and tasty meal. The view of the falls and the surrounding city from the roof top is an added bonus.
Sep 13, 2019

timmy2b from New York
3.94
/5
rDev
-0.3%
vibe: 4.25 | quality: 4 | service: 4 | selection: 3.75 | food: 3.75
Beers are decent, service is hit or miss. Selection of house brews rotates along with genesee staples. Been a few times for lunch and before concerts, and most food is great. Chips are delicious. Only thing is the Burger I got last time was awful.
Mar 21, 2019
StonedTrippin from Colorado
3.61
/5
rDev
-8.6%
vibe: 4.25 | quality: 3.75 | service: 2.5 | selection: 4.25
this place was great to visit, i lived in rochester and never even knew this was here. i always knew they had the big factory brewery, but this little test brewery and taproom area is amazing. its got several areas, a freestanding brick building on the banks of the river, with a gift shop right when you walk in, we headed through to the back bar, where they have a small brew system set up and a mob of people trying flights and getting growlers filled up. we stood at the bar for no less than 20 minutes before we even got noticed, which was frustrating, really weak service back here, but it was cool to see all these craft styles like ipas coming from this little niche aspect of their operation, the beers were pretty solid too. the middle level of the building is a big bar, open and noisy, full restaurant, and packed on a friday night. we didnt eat here, but this looks like a cool place to do so, they have a huge beer selection too, their own and some local guest taps as well. the rooftop was my favorite part, by far. there is no bar up here, but you can bring beers up for what has to be one of the best view of the city and the falls anywhere around rochester! it was mellow and relaxing here as the sun went down over their main brewery and i caught up with some old friends over fresh beers. i loved it up here, really a fabulous place. overall the only real negative was the service, which was real rough at the back bar. still, this was a unique experience and a brewery visit that i highly recommend! i was also impressed with some of the craftier beer options in here, i didnt even know these guys were doing this sort of thing!
Jul 29, 2018

Knapp85 from Pennsylvania
4
/5
rDev
+1.3%
vibe: 4 | quality: 4 | service: 4 | selection: 4 | food: 4
Stopped by the Brew House mainly to try the food and a couple of their beers. The space was really nice, 3 levels of area to either shop, drink or eat. The beers were what you'd basically expect from Genesee, but the food was actually very good. The place was packed on a Friday night but we were seated within 15-20 minutes which wasn't too bad. Overall it's a nice spot!
Jun 23, 2018

Grizzarky from Tennessee
4.03
/5
rDev
+2%
vibe: 5 | quality: 3.75 | service: 4 | selection: 4 | food: 4
Visiting some friends in the area so I decided I'd pay a visit to the makers of the iconic cream ale. 1st floor has a large gift shop, museum, pilot brewery and a small bar. 2nd floor is the resteraunt where we spent most of our visit. I got a two flights consisting of various styles such as pales, ipas, stouts, scotch ale, even a bourbon barrel old ale. Food and service were both excellent, and it was child friendly. I will absolutely stop in here again if I'm ever back in the area.
Jan 29, 2018

boszormeny from Canada
3.34
/5
rDev
-15.4%
vibe: 3.25 | quality: 3.5 | service: 1.75 | selection: 4.5 | food: 4
Been here twice now and enjoy it each time. Lots of beers to choose from across many different styles. Food is pub style but lots to choose from and made well. Lady in the bottle shop could use an attitude adjustment
Nov 25, 2017

BillRoth from Maryland
4.14
/5
rDev
+4.8%
vibe: 4.5 | quality: 4 | service: 4 | selection: 4.25 | food: 4.25
Wow. What a pleasant surprise. Re purposed building turned into very cool multi reason to stop place. GBH is a first rate beer pub. Dining with plenty of tables and a great long bar on second floor.Great eclectic menu from beer snack food to substantial appetizers, Great sandwiches to entrée plated food. Second floor balcony adds the outdoors touch and nice switch with small tables and fun. First floor Tap room/tasting room has tasters, pints, growlers and crowlers. Also plenty of good conversation. Also on first floor is an excellent history of Rochester beer/museum like area with lots of nostalgia items; interactive displays; tons of photos; some dating back to 19th century, and a fully loaded gift shop. Crowd was a great mix of hipsters, beer geeks, young and old; singles and families. Beers ranged from Genesee standards to plenty of craft styles and one offs. Definitely worth a stop if in Rochester.
Jul 17, 2016
GreesyFizeek from New York
4.01
/5
rDev
+1.5%
vibe: 4.25 | quality: 4 | service: 4.25 | selection: 4 | food: 3.25
Gone here a few times for tastings at the pilot brewery and pints in the restaurant. You can do a flight of tastings of Brew House exclusives/Dundee beers/the core Genesee lineup. Genny Cream tastes a lot better at the source. The restaurant upstairs is nice- the food is serviceable, not great, but the beer is fresh and tasty. There's a bit of a Rochester beer museum downstairs too. Definitely worth a trip if you're in High Falls or Rochester in general.
Jan 26, 2014

Retroman40 from Florida
3.78
/5
rDev
-4.3%
vibe: 4 | quality: 3.75 | service: 3.75 | selection: 3.75
Growing up in Rochester, NY I became a big fan of the Genesee Brewing Company. While I moved away to be in the service, I was still quite saddened as they worked through some rough times. I never thought the day would come that I would visit the place and be served high quality microbrew.
The Genesee Brew House has three main areas, a museum/gift shop, a restaurant and the pilot brewery/tasting area. Although I wasn't able to sample the restaurant, the place was quite busy and the menu looked good. There are a large number of displays in the museum/gift shop area about the history of the Genesee Brewery - I would allow about 15-20 minutes to check the place out. Naturally the gift shop is well stocked with Genesee themed merchandise as well as beers. You can take a short (15-20 minute) tour of the pilot brewery. Our guide was very knowledgeable about the entire brewing process. The tasting area overlooks the pilot brewery and makes for a decent atmosphere. My wife and I shared a four beer flight ($2.00) and took a growler of English Ale to go. In addition to Genesee and Dundee beers, they also had "Brew House" Blonde, Oatmeal Stout and Pilsner on tap (which we sampled in the flight alone with the Dundee English style ale).
Overall I would highly recommend any beer lover who is in the area to stop by. There is a huge parking lot and it is easy to find.
Dec 22, 2013
1BadblueSS from New York
4.13
/5
rDev
+4.6%
vibe: 5 | quality: 4 | service: 4 | selection: 4 | food: 4.25
Went to the Genny brew house and loved it. The beer is so fresh since the brewery is right next door. The Pilot brewery is really cool too. They experiment with different styles of beer and come up with some really nice brew. The food is really good too. The Genesee beer museum is really neat too. They just opened a new party patio. If you from out of town and like a nice spot to go to for a few beers this is the place for you.
Aug 26, 2013

Dogzbone from New York
4.05
/5
rDev
+2.5%
vibe: 3.75 | quality: 3.75 | service: 4.25 | selection: 4.25 | food: 4.25
Both the food and beer are good but not spectacular. Friendly wait staff. No waiting for a table the day I went. The museum on the history of beer and Genesee in Rochester was pretty cool. Pricing on the merchandise in the museum is better than the pricing on beer and food. It was a pretty enjoyable experience and I'll be back.
May 08, 2013

decaff from New York
4.35
/5
rDev
+10.1%
vibe: 3.25 | quality: 4.25 | service: 4.5 | selection: 4.5 | food: 5
Ordered the Ruben came w/ homemade potato chips , the meal was excellent. Had ordered deep fried pretzel appetizer that came w/ spicy grain mustard and a side of creamy melty cheese. Four pretzels was enough for the table to share. Tried the sausage platter, came with three different zweigles sausages, enough for take home leftovers. Side order of Mac salad was actually a bowl and quite tasty.
Overall my review is two thumbs up. I suggest ordering a flight which by the way are eight ounce pours, and be sure to stay for a meal.
Apr 14, 2013
RyanTeeter from New York
4.58
/5
rDev
+15.9%
vibe: 4.75 | quality: 4.5 | service: 4.75 | selection: 4.25 | food: 5
This establishment has it all; museum, microbrewery, tasting room, huge bar area with knowledgeable staff, restaurant with top quality food, retail section, soon to be stage/outdoor concert venue, walking distance to baseball stadium, and most importantly - A VIEW.
Definitely a neat place to try out and become a regular at - staff do a great job at getting to know their customers.
Mar 23, 2013

ejh06752 from New York
4.23
/5
rDev
+7.1%
vibe: 5 | quality: 5 | service: 4 | selection: 3.5 | food: 3.5
Genesee Brew House is a total package. You walk into this place and you immediately are in a well-done historical exhibit highlighting Rochester brewing and the history of the Genesee brewing company.There is a nice gift shop that offers build your own 6-packs of Dundee craft brews and sweet posters/t-shirts. There is a pilot brewery that offers some great beers and $2 flights of 4 tastings. A great value. $8-$10 growler fills is perfect. The upstairs is more of a restaurant with a nice beer bar, tables, and open kitchen. $3 pints of cream ale and a great veranda view of high falls really makes the experience complete. Food is satisfactory but not the focus. Its all about Rochester beer. Be sure to check this out if you are in the area, you will not be disappointed.
Mar 17, 2013
Genesee Brew House in Rochester, NY
Brewery rating:
3.78
out of
5
with
176
ratings