Wavemaker Amber Ale

Big Storm Brewing Company - Odessa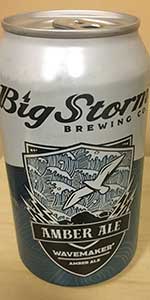 Write a Review
Beer Geek Stats:
| Print Shelf Talker
Style:

ABV:

4.9%

Score:

Avg:

3.58

| pDev:

13.13%

Reviews:

15

Ratings:

From:

Avail:

Year-round

Wants

Gots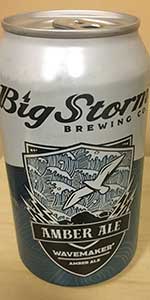 Notes: Big Storm's very first brew was this amber ale. It presents a wave of flavor with two row Canadian barley coupled with Munich and chocolate malts. Wavemaker Amber Ale is malt centric and highly drinkable year round with minimal hop bitterness.


3.11
/5
rDev
-13.1%
look: 3.75 | smell: 2.75 | taste: 3.25 | feel: 3.25 | overall: 3
16 oz can from FL with an 18 December 2018 date stamp.
Pours with a fine looking red-brown body that is topped by a decent tan head.
The flavor and aroma are just OK, but leave an aftertaste that is better than expected.
Medium body and near medium carbonation.
265 characters
3.52
/5
rDev
-1.7%
look: 3.75 | smell: 3.5 | taste: 3.5 | feel: 3.5 | overall: 3.5
poured from the tap into a 22 OZ mug at Chili's in Clearwater, FL. The appearance is a dark golden amber with a medium sized white head. The aroma is yeast and hops. The taste is fairly strong with hops and yeast leading the charge. A decent local beer.
257 characters

4.1
/5
rDev
+14.5%
look: 4 | smell: 3.25 | taste: 4.5 | feel: 4.25 | overall: 4.25
Pours a dark golden color with a white head on top that goes away quickly. The smell had a light grain to it. Has that grainy lager taste with a hint of coffee.
160 characters

4.02
/5
rDev
+12.3%
look: 3.5 | smell: 4 | taste: 4 | feel: 4 | overall: 4.25
My 1st Big Storm (and a second will have to wait until I return to southwest Florida.)
A decent amber. Nice color and lace. Sweetish malt (some caramel) and delicate hops in the nose. Tastes balanced also. And the finish is full and, favorable to me, not as hoppy as typical nowadays.
Good, but not great. I had it without food and would again.
344 characters

3.58
/5
rDev 0%
look: 3.75 | smell: 3.75 | taste: 3.5 | feel: 3.5 | overall: 3.5
My local, in-person trader makes annual forays southward for the winter, returning with a whole buncha new CANs in support of The CANQuest (tm). This is one such beer. Hooray!
From the CAN: "100% ChANce of Killer Beer!"; "Batten down the hatches! Wavemaker Amber Ale is rolling in and ready to crash along a shore near you. With caramel malt flavors, subtle floral notes and pleasant hop bitterness, seasoned craft beer drinkers and dabblers alike [CAN] enjoy this well-balanced ale all year round."; "Beer flows from the eye of the storm"; "Keep & Serve Cold as Hail!"; "Florida's Craft Beer Forecast"; "Born & Raised Pasco County, FL".
The Crack! unleashed some foaming through the vent, so I gave it some calming time to allow the storm to blow over. Once it abated, I could see that it was due to its being a brimful craft CAN with nowhere for the tab to go. I then performed a gentle Glug which raised a finger of dense, foamy, tawny head with good retention. Color was Copper-Brown (SRM = > 17, < 22) with NE-quality clarity. The CAN identifies it as precisely 17 SRM, FWIW. Nose was very caramel-malty underlain with light pine hops. Mouthfeel was medium with a lot of effervescence on the tongue. The taste was quite sweet, more like a throwback to the early days of craft/microbrewing when an Amber Ale was the standard. The more modern version relies more heavily on hops, but this was a pleasant, if sweet, quaff. Finish was semi-sweet with a nuttiness to accompany both the caramel and pine flavors noted before. Not bad, but just not my cuppa tea.
1,562 characters

3.74
/5
rDev
+4.5%
look: 4 | smell: 3.75 | taste: 3.75 | feel: 3.5 | overall: 3.75
Had on draft at our local Gator's Dockside.
Look: Dark amber body with a thick white head, plenty of lacing left inside the glass.
Smell: Sweet caramel with some nice hops shining through.
Taste: Yep, plenty of sweet caramel malts and a pretty decent amount of hops to balance out the sweetness. Easy to drink; reminiscent of a good summer time beer!
Feel: Medium mouth feel.
Overall: Decent beer easy to drink, a little on the sweet side, but still easy to drink and a great summer and/or beach beer.
513 characters
3.83
/5
rDev
+7%
look: 4 | smell: 3.5 | taste: 4 | feel: 4 | overall: 3.75
Big Storm Brewing Co. "Wavemaker Amber Ale"
12 oz. can
$1.67 @ Trader Joe's #766, Tampa, FL
Appearance: Slightly hazy deep-amber/copper with a bit of a reddish cast beneath a frothy head of light tan. Vey good head retention and decent lacing.
Aroma: Caramelish and ready malt backed by floral and mildly fruity/citrusy hops. Clean and bright.
Flavor: Basically as the aroma suggests. Richer maltiness than might be expected, but not sweet. Well balanced, and threaded through with hops, anchored by a very firm bitterness... a little drying in the finish as the malt erodes from the palate.
Mouthfeel: Medium bodied and gently crisp, accentuating the maltiness.
Overall: A solid, caramelish and malty amber ale. Perhaps a bit more yeasty fruitiness would be nice, and / or hops, or perhaps not... ? I'm willing to give it a thumbs up as-is. Enjoyable.
857 characters

3.18
/5
rDev
-11.2%
look: 3.75 | smell: 3.25 | taste: 3 | feel: 3.25 | overall: 3.25
Pours reddish-brown color with a two finger head that recedes super slowly. No lacing. Aroma of caramel and biscuit. Taste of biscuit, caramel, and slight English malt. The sweetness ultimately overwhelms the beer and completely covers any semblance of hops. It has a biscuit tasting body before a sweet caramel ending. Light carbonation with a medium body and no alcohol aftertaste. The sweetness retracts from the drinkability.
If I had this again, it would be as a dessert beer. It's too sweet for me to have more than one.
526 characters
2.53
/5
rDev
-29.3%
look: 3 | smell: 2.5 | taste: 2.5 | feel: 2.5 | overall: 2.5
Big Storm's signature beer "Wavemaker" left a lot to be desired. Amber ale that took the wrong risks in the wrong places. A Cloying sweetness and overwhelming use of caramel malts left the beer tasting muddy and brown.
219 characters
3.47
/5
rDev
-3.1%
look: 3.75 | smell: 3.5 | taste: 3.5 | feel: 3 | overall: 3.5
Poured from an undated 12 oz. can: very attractive pour with a reddish, brown hue, almost mahogany with a foamy, sustained tan head.
Upon opening the can, I detected a sharp, wine-like aroma that settled down in the pour.
In general the flavor profile is pleasing, though there were a few "off" flavors. First of all, there is a nice complement of hop bitterness on the initial sip that quickly recedes leaving a chewy, caramel flavor; a strange, candy sweet flavor marred what is an otherwise smooth ale.
The body is slightly thin for an amber, but the mouth feel is very smooth and malty on the palate.
Overall, I enjoyed this amber and believe it could be very good if the edges were smoothed a little.
714 characters
3.47
/5
rDev
-3.1%
look: 4 | smell: 3.25 | taste: 3.5 | feel: 3.5 | overall: 3.5
Poured from a 12 oz. can. Has a dark amber color with a 1/2 inch head. Smell is mild, some malts. Taste is well balanced hops and malts, smooth with a light bitterness. Feels medium bodied in the mouth and overall is a decent beer.
231 characters

3.58
/5
rDev 0%
look: 3.25 | smell: 3.25 | taste: 3.75 | feel: 3.5 | overall: 3.75
Poured from a 12oz can into a pint glass.
A/Amber/red hue with haze. S/Malt, spices, citrus, and doughy. T/Nice start with caramel tasting malts and finishes with citrus, ever so subtle spices, and a hint on pine. Kind of a mouth coating at the end which ok but I would rather have a "cleaner" finish for the type of beer. The bitterness seems to be quite balanced. O/I would definitely pick this up. I was given this by a friend to try and am impressed. Nice to see some more decent offering coming out of FL. This is definitely a "beach beer" for the summer!
566 characters

3.72
/5
rDev
+3.9%
look: 3.75 | smell: 3.5 | taste: 3.75 | feel: 4 | overall: 3.75
Really enjoyable amber ale, very pleasantly surprised. Hit all of the classic notes expected of an amber. A bit of a metallic finish but if they can clean that up they'd really have something.
193 characters

4.29
/5
rDev
+19.8%
look: 4.75 | smell: 3.75 | taste: 4.5 | feel: 4 | overall: 4.5
My first Big Storm beer.
A gorgeous, almost-glowing amber.
Nice aroma of biscuits and toast.
Biscuit, bready and toast flavors are balanced with a nice bitterness. Excellent.
Almost chewy body.
This is an excellent beer. Big Storm deserves attention.
256 characters

3.5
/5
rDev
-2.2%
look: 3.5 | smell: 3.5 | taste: 3.5 | feel: 3.5 | overall: 3.5
Pours a clear copper orange color with off-white head. Citrus, caramel malt, and a hint of pine on the nose; follows onto the palate. Finishes with more malt. Decent amber style ale.
182 characters
Wavemaker Amber Ale from Big Storm Brewing Company - Odessa
Beer rating:
81
out of
100
with
124
ratings