Triple C Brewing Co.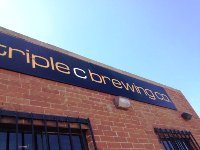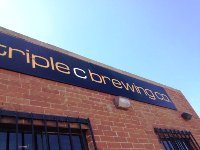 Brewery, Bar, Eatery, Beer-to-go
2900 Griffith St
Charlotte
,
North Carolina
, 28203-5430
United States
(704) 372-3212 |
map
triplecbrewing.com
Notes: Triple C brewing company is a classy brewery with a rustic kind of theme inside offering a wide range of beer crafted to please the locals of Charlotte as well as the ones just visiting. Enjoy Triple C on Saturdays with live music. A number of bartenders are present to take care of your beer needs. Order from the flight list or grab a pint and enjoy a pizza from our very own new pizza truck called Izzy's. The place is dog friendly so feel free to get your dog along while enjoying your beer.
Hours
Monday
4PM - 9PM
Tuesday
4PM - 9PM
Wednesday
4PM - 9PM
Thursday
4PM - 10PM
Friday
2PM - 10PM
Saturday
12PM - 10PM
Sunday
12PM - 8PM
TheRaven from South Carolina
3.46
/5
rDev
-14.4%
vibe: 3 | quality: 4 | service: 3.5 | selection: 3
Don't let the scores fool you - I love this place. It doesn't have the vibe of Sierra Nevada. It doesn't have the selection of Flying Saucer. What it does have is a selection of high-quality homegrown brews in an intimate environment. The beers aren't widely distributed and the only way to get most of the selection is to visit the brewery. I particularly recommend the Up All Night BBL Porter and the Baby Maker IPA. There is a food truck parked outside but stop here for a few drinks before heading to another of the South End's many great dining options.
Dec 26, 2017

scottdills from North Carolina
4.5
/5
rDev
+11.4%
vibe: 4.5 | quality: 4.5 | service: 4.5 | selection: 4.5
Great space for spending an afternoon. They have a lot of outdoor seating for when the weather is nice which is great. Definitely worth getting a flight so that you can sample everything they have to offer.
Jul 13, 2016

evan35 from North Carolina
3.86
/5
rDev
-4.5%
vibe: 4 | quality: 4 | service: 4 | selection: 3.5
This spot definitely brews stronger beers- probably right up there with NoDa in that respect. I enjoyed the vibe and quality of the beers and definitely had a taste for their dark beers rather than their IPAs. I would rate their IPA line-up middle of the pack for the Charlotte IPA scene.
Jan 21, 2015
Yetiman420 from Ohio
3.75
/5
rDev
-7.2%
Stop # 452 on my world brewery tour.
8ish on a Wed night. Bustling both inside and out (with food truck). Very much prototype of new breweries in older renovated industrial areas. Exposed wood and brick accented by lighting. Big open space with brewery behind glass next to the bar.
Got a flight with three ipa's (one black), and a smoked amber. 3 C IPA very good. Smoked amber not smoky enough. Not thrilled about the movement of only certain beers are available on a flight (lower ABV).
Oct 30, 2014

Jamato14 from North Carolina
4.25
/5
rDev
+5.2%
Good sized space in the South End of Charlotte with a good bit of tables inside. Outside is a great way to spend an afternoon where you can bring your dog, and sometimes have food trucks outside. They make some good beers too.
Sep 09, 2014
joe1510 from Illinois
4.02
/5
rDev
-0.5%
vibe: 4.25 | quality: 3.75 | service: 4.25 | selection: 4
A Saturday afternoon brought me to Triple C on a bike while touring most breweries in town. The bike racks were full and the patio was loaded up with people and dogs. Inside exposed brick walls and exposed beams run the interior with a glass partitioned wall to show off the brewery. 12-15 tables run through the L-shaped interior along with a foosball table. A buddy and I got a seat at the end of the 6-8 seat bar and were promptly waited on by a super friendly, enthusiastic bartender. A couple IPAs were ordered at rock bottom prices.
The taproom had a good buzz going with everyone seeming to really be enjoying themselves. The beer was clean, well brewed, and hit the spot on a warm Charlotte summer day. 10 or so beers were available, all house brewed, and of the ones I sampled were all good offerings. Bottles and glasses were for sale behind the bar. A cool vibe, friendly staff, and good beer will bring me back to Triple C next time I head to Charlotte. Dogs are also welcomed.
Aug 10, 2014

Mantooth from North Carolina
3.63
/5
rDev
-10.1%
vibe: 4 | quality: 3.5 | service: 4 | selection: 3.5 | food: 3
I live just outside Charlotte and didnt get 'round to checking Triple C out until last night. I've had their beers for years now, just hadn't seen their brewery and tap room. It's a super cool place, nice bar and room with a glassed view of the brewery itself - really well done space. They also have a garden - and it was packed with people. There was a food truck outside and folks were hitting it pretty hard. Big props to them for pouring pitchers, that's old school. They're dog friendly, which is smart - apparently - there were a dozen well behaved canines hanging out. I'm not a huge fan of the "dog bar" thing myself. The main problem is that I'm not a big fan of their beer. I've had ten or more of their brews (at least) over the years, even the limited releases, and have yet to be blown away. I'd hoped to find something on draft out of the ordinary - something not offered elsewhere in Charlotte - but no dice. I had their Baby Maker DIPA, which I've had many times before... It's serviceable. Love the name of the brew though. They're killing it at everything, IMO, except the beer.
Jul 27, 2014
CharlieHustleHops from New Jersey
2.6
/5
rDev
-35.6%
vibe: 3.5 | quality: 2 | service: 3 | selection: 2.5
Definitely an awesome space, with impressive decor. Other than that the beer is very sub par at best, ordered a flight of 3 different IPA's, and there golden ale which come in 5-7oz pours really not sure of the size regardless none of the beers were memorable I didn't finish any of the beers in my flight for what its worth.
Apr 05, 2014
Kirkman from North Carolina
3.94
/5
rDev
-2.5%
vibe: 4 | quality: 4.25 | service: 3.5 | selection: 4
Great place. Awesome selection. Limited food options (food trucks), but expected from a brewery. They make one of my absolutely favorite darker beers. Up All Night Porter (Makes me tear up every time), Big dark and wonderful. My wife got me 2x 22oz's for Christmas. They didn't last long.
Feb 15, 2014
SportsandJorts from Virginia
3.76
/5
rDev
-6.9%
vibe: 4.5 | quality: 3.5 | service: 4 | selection: 3.5
Appearance: nice wooden paneling and open layout. A patio that has corn hole in nice weather and a foozball table inside. They allow dogs and give special bike riders rewards. Nice music. All this makes this place a very nice hangout
Quality: we tried a flight, pint and a couple of snifter, which may have been everything on tap, and had little bad to say about the beer. I would need to try more or something that blows me away to bump it up more though
Service: I am usually one with little to say in this section. We got there about 40 minutes prior to opening (around 320) they saw us look at the sign and walk away. As we were leaving the parking lot the caught our attention and said we could come in if we don't mind them setting up around us. Other than that they were nice and attentive
Selection: this is the one area they need to work on. I know they are relatively new brewery. They only had about 8 beers on tap. they make good beer and an expansion would really do wonders for them and the me
Overall: a great hang out and a promising young brewery. Can't wait to try more from here.
Nov 29, 2013
4amepiphany from Illinois
3.43
/5
rDev
-15.1%
vibe: 4 | quality: 3.5 | service: 3.5 | selection: 3
Stopped in here on the way to Winston Salem after arriving in Charlotte. Was suggested to me by someone in line at Dark Lord Day 2013. I ordered the Baby maker, a DIPA, and my girlfriend ordered the Greenway if I recall correctly. It seems it was a bit more earthy than hoppy to me, like I was drinking bitter dirt, but not that it tasted bad. Just.. an earthy IPA? I tried my girlfriend's beer and the hop profile was the same. dry, bitter, not quite appealing lingering taste. Very clean and very modernesque facility,. Modern, clean bathrooms. Dogs are playing all over the patio. Runners seem to like parking there before they go for a run around what seems to be a warehouse district. This place seemed a tad wet behind the ears in comparison to the other tap rooms I've had a chance to visit. I'd like to come back in a year or two.
Aug 17, 2013

DVMin98 from North Carolina
4.5
/5
rDev
+11.4%
vibe: 4.5 | quality: 4.5 | service: 4.75 | selection: 4.25
Cool little digs near southend. Went on a Saturday afrernoon to grab a growler for a party. Basically it was a clusterfuck at the bar. There was a line but peeps would go around the other side etc. the bartenders were basically worthless. The one girl was completely lost. I ordered the growler. She went to the back and she forgot who ordered it and what I wanted in it. Other than that all was fine. I met one of the owners, Chris. He was a really nice guy. He told me of some future barrel aged brews that they were gonna do with Jim Beam barrels. Great guy.
Update: Since they have been around a bit longer, I have swung by several times. Looks like they got their service kinks fixed and the quality of the beer is ever improving. I have really enjoyed their barrel aged series. These guys are killing it right now.
Update to the Update: Now these guys are doing a Pilot Batch each Wednesday with a one keg one off. It can range from a Saison to a Lager. An IPA to a smoked beer. I do all I can to get by each Wednesday to try something new.
Charlotte is an ever-expanding beer market with new breweries popping up all the time. Triple C is my favorite place. The beer is great, but the people are even better. Looking forward to their expansion.
Mar 02, 2013

CBlack85 from South Carolina
3.86
/5
rDev
-4.5%
vibe: 4 | quality: 4 | service: 4 | selection: 3.5
Went on a mini brewery crawl this weekend stopping at Birdsong, Heist, and finishing with dinner at Growlers Pourhouse. But the first stop of the day was the newly opened Triple C Brewing Co.
Located in the Historic Southend area, Triple C is fairly easy to find, but does blend in with the other nondescript industrial type buildings in the area. I think they have chosen a good location, as this area is in the process of being revitalized.
The taproom is fairly spacious and well laid out, with a couple of TVs on the walls (but not so many as to be distracting). There is a large window where you can see the brewhouse from the tap room.
The service was pretty good, the servers checked on us often and made sure that our glasses never ran dry. They seemed to have a rudimentary knowledge of the beers, and were very friendly.
They had five beers on tap when we went (pale ale, IPA, Smoked Amber Ale, Double IPA, and a Blonde Ale). The beers were good for the most part. I usually like the IPA's and IIPA's but in this case I found the Blonde and the Smoked Amber to be the best beers of the day. Unfortunately, I was not terribly impressed by their hoppy offerings (Pale Ale, IPA, IIPA), They seemed to be fairly one dimensional, and the hops were all bittering with to real hop flavor coming through. Not that any of them were bad, just none of them wowed me.
They do not serve any food, but there was a food truck there so that was nice.
Overall, I really enjoyed the place and would definitely come back again. and again. and again...
Sep 17, 2012
Triple C Brewing Co. in Charlotte, NC
Brewery rating:
3.86
out of
5
with
1170
ratings