Het Elfde Gebod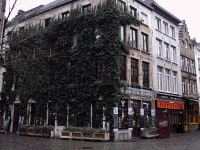 Reviews by TheLongBeachBum:
TheLongBeachBum from California
3.85
/5
rDev
-0.3%
vibe: 4.5 | quality: 4 | service: 3.5 | selection: 3.5 | food: 4.5
The Elfde Gebod is a great bar, not a classic "beer wise", but the range of ~50 beers it does have is far better than most 'run-of-the-mill' Cafes, and for this alone it warrants a visit. However, what makes the Elfde Gebod, is it's amazing interior, superb atmosphere, cozy feel and the fact it is a central venue (close by is the excellent Paters' Vaetje). Right next to the Cathedral, the "Eleventh Commandment" is situated on a corner. As it is in the old part of Antwerp, the building has a very lived-in feel. Partially covered in some kind of ivy, this hides a very strange looking long banner type sign festooned with naked cherubs in a variety of weird poses, high on one end of the outside of the building. Hmm. Inside the "theme" is continued. The Bar, well actually is it more like an Alter, in fact thinking about it, it probably IS an Alter – because the inside of this bar is totally awash with religious paraphernalia, statues (100's of them), pictures of Saints, maybe even Sinners (check out the large mural on the right as you enter!!), religious paintings, crosses, windows painted to resemble stained glass, and just about every other part of a Church interior you can think of. Beer list is about 50, and a restrained selection with no Specials or Rarities for the seasoned Belgium Beer Hunter. But this is not a bad thing, for nevertheless, the range is a solid variety, including Duvel and Orval and a couple of Wheat Beers. I think both Westmalles were on draft last time I was here (Easter 2000). There is a small overspill bar upstairs, this is where the restrooms are located as well. Oh yes, check out the self cleaning toilets - I want one!!! If it's warm, and it never is at Easter when I have been, you can sit outside at the handful of Tables and Chairs and watch the world go by. Service can be a little slow at times, but not always. Food was very good on my last visit. After you have imbibed here, if it's late on, you may want to check out the strange "Bar" next door, I forget its name, begins with an 'M' I think – Different!!
The Elfde Gebod is more like drinking in a Church Scrapyard, than a bar, but a great place to spend an hour, or two, whilst in Antwerp.
Alright, I know, I know, you're wondering aren't you??
…..ah, go on then; The 11th Commandment is "Eat and Drink Well".
Like you need to be "Told" to do the latter!!!!!
Nov 22, 2002
More User Reviews:

HopBelT from Belgium
3.89
/5
rDev
+0.8%
vibe: 4.25 | quality: 4 | service: 3.75 | selection: 3.75
Aug 25, 2018
54V4G3 from Belgium
4.09
/5
rDev
+6%
vibe: 3 | quality: 4.25 | service: 4.25 | selection: 4.25
May 06, 2016

windowside from Germany
3.36
/5
rDev
-13%
vibe: 4 | quality: 3.5 | service: 3 | selection: 3.25 | food: 3.5
Feb 02, 2016

Hayley_86 from Netherlands
3.74
/5
rDev
-3.1%
vibe: 4.5 | quality: 3.75 | service: 3.75 | selection: 3.5 | food: 3.5
May 15, 2015


ministoat from England
3.74
/5
rDev
-3.1%
vibe: 3 | quality: 4 | service: 4 | selection: 3.5
This pub really is filled with religious nik-naks..the walls are covered with christian bits and bobs, although this is not too off-putting once you've got your beer.
The barman was very friendly, recommending that we try the St Bernadus Tripel - this was a nice beer but how it was voted best beer in the world a couple of years ago (according to said barman) escapes me..I'd take a westy 12 anyday.
The bar is fully non-smoking; I guess they serve chips! There are however a lot seats outside, and you get a great view of a side entrance to the cathedral.
Worth a look in - we also heard our barman recommending St Bernadus to some other beer geeks, so don't be afraid to make your own choice!
May 29, 2009
BlackHaddock from England
3.43
/5
rDev
-11.1%
vibe: 4 | quality: 3.5 | service: 3 | selection: 3.5
Old Antwerp has some bars that are different and quirky and it has this place too.
If religious artifacts are your thing, or you think being watched by Jesus, Mary or anyone at all ecumenical while you bury a beer is cool, then this is your sort of place. The whole building is covered in statues and paintings, a pulpit even, anything and everything possible within the Christian faith has been found a slot to rest in or on.
My visit (walked past many times when closed) was on a cold December Sunday afternoon (2008) while the Christmas Market was in full swing and the shops opened for one of Belgiums rare Sunday shopping days. Upstairs was as busy as the ground floor, full of families and shoppers vieing with tourists for a seat. We sat near the heavily curtained door but got a cold blast everytime anyone came in or left.
Service was a little slow, but it was full and we were sat out of sight from the bar. Fair choice of beers, in another city it would have been excellent, but we are in Antwerp don't forget.
Glad we made the effort to go in. Would I use it again? Only if we were showing people around bars and they hadn't been in before.
Can I recommend it? Yes, but only for one drink and a look around, unless you are one of those persons from my second paragraph.
Jan 05, 2009

ViveLaChouffe from Georgia
4.3
/5
rDev
+11.4%
vibe: 4 | quality: 4.5 | service: 4.5 | selection: 4
Probably wouldn't have made it to this pub but it was a rainy Sunday afternoon and it was close by.
The "Eleventh Commandment" is literally within spitting distance to the Cathedral of Our Lady and seemingly every vertical and horizontal surface is covered with religious artwork be it painting, carving or statue. The roaring fire in the stone fireplace helped warm our outsides and there was plenty of beer to warm our insides. Not an enormous selection but something approaching 50 different beers between taps and bottles. All Trappist ales, save Westvleteren, were available including Rochefort 10 which I started with to chase the chill. My friend got a La Trappe Quadrupel. The highlight of the menu for me was the St. Bernardus Tripel on draft which is a rarity on this side of the Atlantic.
Our server, Kurt, was excellent. Well versed in beer and certainly helped my non-beer-geek friend make up his mind. Prompt service even with a fairly crowded bar. All beers served properly in the preferred glass.
Not the most extensive list, not the best chosen, but it was very good and the cozy atmosphere was welcome on a cold rainy Sunday. Worth a trip for the draft St. Bernardus Tripel and the unique decor.
Oct 29, 2008

UncleJimbo from Massachusetts
3.75
/5
rDev
-2.8%
vibe: 4 | quality: 4 | service: 3.5 | selection: 3.5 | food: 4
Het Elfde Gebod means "The Eleventh Commandment", but I never got a chance to ask the waiter/bartender what the Eleventh Commandment is. I stopped into this place for lunch on my last day in Antwerp in Nov. 2005. It is located adjacent to the Cathedral, a few doors down from Paters Vaetje.
The interior is large and airy, with brick walls and a red tile floor. The bar is made of brick as well, with no seating at the bar. There were ~12 tables for seating, including one very large table, in the front room (there might be more seating upstairs, though I never ventured to the back or upstairs). The walls and ceiling are adorned with statues of Saints and other church figures, playing on the proximity to the Cathedral next door, giving the place a religious and perhaps somewhat somber feel. There was soft Classical music playing on this lunchtime visit.
There were 5 beers on-tap: Pils, Palm, Witbier, Westmalle Dubbel, and Lindemans Kriek. There were 14 bottled beers including Lindemans Gueuze.
The food menu was good, with several different kinds of steamed mussels. I chose the Mussels steamed in witbier with onions and scallions (or leeks?) (1.2 kg of mussels in the shell, 46 mussels, for €17.50). The food was presented nicely, and the beers were served in appropriate glassware. The service was good, if not overly friendly on this quiet lunchtime visit.
This place is considered a bit of a "tourist trap" in some of the guidebooks, but I found it a pleasant enough spot to have some lunch and a beer.
May 29, 2006

downes51 from England
3.95
/5
rDev
+2.3%
vibe: 4 | quality: 4 | service: 4.5 | selection: 3.5 | food: 3.5
Location first of all.... it's right next to the north transept of the cathedral, 75 yards or so east of the Paters Vatje. The atmosphere is pleasant, the service is good, the food is, at the time of writing, no better than ok (there's is a new chef who is not as good as the guy they had before), the prices are not exactly cheap but tolerable for central Antwerpen.
There's a decent range of beers (but unusually for the district no Hoegarten or de Koninck) and it's nice to sit outside if the weather permits. And there's no proper oude geueze though they will sell you a Lindemans. Inside, it's too dark to be able comfortably to read the paper or whatever, and all the religious kitsche that surrounds one; well I just think it's rather amusing. The number of tourists who take flash photographs of all this junk is kind of funny too.
It's mostly non-smoking, there is a seperate small room for that.
I think it must be in the tourist guides because it can get quite busy. Certainly worth a visit.
Mar 25, 2005
Het Elfde Gebod in Antwerpen, Belgium
Place rating:
3.86
out of
5
with
14
ratings