Big Griz

Perrin Brewing Co.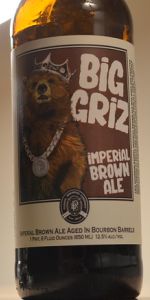 Write a Review
Beer Geek Stats:
| Print Shelf Talker
Style:

ABV:

12.5%

Score:

Avg:

4.1

| pDev:

6.34%

Reviews:

12

Ratings:

From:

Avail:

Rotating/Seasonal

Wants

Gots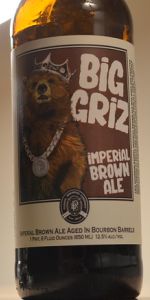 Notes: This bourbon barrel imperial brown ale was crafted with specialty malts and unique hops from all over the world. Undertones of fresh American oak and vanilla carry through with not-so-subtle hints of warm maple syrup and melted caramel sweetness that book end this uncommon monstrosity of a beer. Be careful when our Big Griz gets ahold of you...

28 IBU

REVZEB from Illinois
4.17
/5
rDev
+1.7%
look: 4.25 | smell: 4 | taste: 4.25 | feel: 4 | overall: 4.25
Dark brown body with a very slight white ring. Huge oak tannins, with bourbon, toast, vanilla, slight smoke, and toasted caramel in the nose. Taste is about the same, barrel forward with the wood and booze, but nothing crazy expressive, with toffee, toast, earthy smoke, roasted nuts and vanilla. Feel is medium with some booze heat, some wood tannin textures, and a darker complexion. The wife liked it
Nov 16, 2019

GrumpyGas from Illinois
4.28
/5
rDev
+4.4%
look: 4.25 | smell: 4.25 | taste: 4.25 | feel: 4.5 | overall: 4.25
Bottle pour into a tulip glass shows a darker brown body allowing some light through and supporting a 1/2im head of cinnamon colored, soapy bubbles falling evenly. Artistic lacing only remains at the top of the glass, not follow the body to the bottom.
Aromas of bourbon, maple, and a slight hint of smoke are joined by flavors of vanilla, toffee, and oak. Complimentary barrel notes.
Mouthfeel is appropriately lighter medium that clears the palate leaving a slight stickiness behind, only to be cleared with another sip.
Overall a good use of bourbon barrels on a solid brown.
Sep 08, 2019

Lone_Freighter from Vermont
4.16
/5
rDev
+1.5%
look: 4 | smell: 4.25 | taste: 4.25 | feel: 4 | overall: 4
Poured into a snifter, the appearance was a rugged dark brown color with a finger's worth of white foamy head that settled at a nice pace. Light lace slid. The aroma had a huge amount of bourbon soaked malts, smooth and sweet with the woody dryness, vanilla, milk chocolate, light sweet cracker, sly toast, subtle coffee bean, sly maple syrup sweetness and then it coughs up a little bit of smoke at the very end. The flavor wrapped tightly the prior mentioned aromas to encase the aftertaste with smooth clean sweetness. Finish was malty and woody dry. The palate was medium bodied generating a good sipping quality about it. A quality to lead many hardened beer geeks into cherishing the extra nuances of the feel - how it trickles along your tongue. The carbonation felt good and the ABV definitely reflected the brewer's intent. Overall, did I really just talk like that? Well, I probably didn't need to sound the way I just did, but if anything - yes, grab a bottle of this and ponder if you will, as I will go back to sitting in my easy chair and continue drinking the crappy Magic Hat that I sometimes exposed myself to. But as for this beer, yes, I will remember you always.
Jul 08, 2017

stortore from Illinois
4.13
/5
rDev
+0.7%
look: 4 | smell: 4 | taste: 4.25 | feel: 4.25 | overall: 4
22 ounce bottle into a tulip snifter. Had 12/30/16.
Pours a dark cola brown, somewhat opaque, with a half inch head and some soapy lacing. Aromas of malt, yeast, figs, dates, toffee, some chocolate, light maple, light bourbon. The taste also leads with the malt, the chocolate and bourbon are more intense than the nose, oak, vanilla- more as it warms, caramel, light figs. Smooth, a little creamy, a good, medium body that supports the barrels, an appropriate level of carbonation.
Well blended, the flavor sets the pace, very smooth. Has just the right amount of barrel for the style. Certainly worth a purchase.
Jun 01, 2017

StoutHunter from Michigan
4.24
/5
rDev
+3.4%
look: 4 | smell: 4.25 | taste: 4.25 | feel: 4.25 | overall: 4.25
I picked up a bottle of Perrin's Big Griz for $10.99 at The Lager Mill. I've had a Lil Griz and I've been meaning to try this one, so lets see how it goes. 2016 Vintage. Poured from a brown 22oz bottle into a snifter.
A- The label looks good, it goes well with the name and it's eye catching. It poured a nice black color that took on more of a darker brown color when held to the light with half a fingers worth of creamy and bubbly lighter tan head that died down to a thick ring that eventually faded away and it left a little bit of spotty lacing behind. This is a good looking beer, I have no complaints.
S- The aroma starts off with a higher amount of medium sweetness that has a little bit of a brown sugar aroma with the bourbon barrels being the first to show up and they impart some bourbon, vanilla and light oak aromas that go into a big creamy and caramel like aroma that's followed by a little bit of doughy yeast. Up next comes the malts which impart a caramel malt, sweet malt, slightly grainy, toasted malt and light toffee like aroma. Towards the end there's a slight dark fruit aroma with a little more creaminess. This beer has a very nice aroma, it's well balanced and I like the creamy caramel aromas.
T- The taste seems to be similar to the aroma, but not as creamy and it starts off with a lower amount of high sweetness that has a slight brown sugar like flavor to it and it starts off with the bourbon barrels still being the first to show up and they impart the same aspects that they did in the aroma. Up next comes a slight bit of alcohol, but it's pretty well hidden for 12% abv and it goes into the malts which impart the same big caramel aspects that it did in the aroma with some caramel malt, toasted malt, light brown bread, grainy and a good amount of sweet malt flavors. Towards the end comes the dark fruits with no single fruit seeming to stick out the most and it goes into just a slight creamy flavor with more of that caramel coming through and on the finish there's hardly any bitterness with some more sweetness and a slight bit of alcohol taking it's place and it has a nice creamy, caramel, light bourbon barrel and sweet malt like aftertaste. This is a very nice tasting beer, the bourbon barrels show up just enough and all the flavors work very well together.
M- Fairly smooth, pretty creamy, slightly crisp, a little velvety, on the thicker side of being medium bodied with a medium amount of carbonation. The mouthfeel is very nice and it works well with this beer.
Overall I thought this was a very nice beer and it's a great example of the style, it's unique and all the flavors work very well together, nothing clashes at all and the balance was right where it needed to be. This beer had nice drinkability, it was smoother than most beers that are this strong, I think one would be my limit. What I like the most about this beer is how well all the flavors blend together, it's pretty impressive. What I like the least about this beer is nothing, there isn't anything about it that I disliked or didn't fit in. I would for sure buy this beer again if I see it and I would recommend to anyone looking to try a bourbon barrel brown Ale. All in all I was pretty happy with this beer and a little impressive, I know perrin has some skills when it comes to barrel aging beer and it really shows in this beer. It's one of the better Perrin beers I've had and it's great example of the style, Great job guys, this is one tasty and memorable beer, keep it up.
Nov 14, 2016
WesMantooth from Ohio
4.14
/5
rDev
+1%
look: 4 | smell: 4.25 | taste: 4 | feel: 4.25 | overall: 4.25
With a baby black, or brown bear aggressiveness pour it produced a decent sized, medium thickness, light tan head. It didn't hang around long though. The color is a dark chestnut brown and you can see through it at the right angle.
Smells like I expect salmon does to the mightly grizzly. Excellent. Caramelized sugars and maple, not ao subtle bourbon, some toffee, vanilla, and wood, and a little bit of cocoa.
It tastes just about as good. Maple, toffee/caramel, vanilla, oak, cocoa, and some slight nuttiness. The barrel presence is pretty strong, and combined with the maple it tends to drown out the base just a hair, but not with bad flavors by any means. There is so much toffee and oak flavor that it almost tastes like a Backwoods Bastard.
The consistency is spot on for a brown ale. Thinner without being watery. Finish is a bit sticky.
I think this is a highly enjoyable beer, even if it misses the mark just a bit as far as style in the end.
Nov 11, 2016

larryi86 from Delaware
4.1
/5
rDev 0%
look: 4 | smell: 4 | taste: 4.25 | feel: 4 | overall: 4
Huge thanks to Zaphog for this
22 oz bottle poured into a tulip
A- Darker brown with a two finger light tan head.
S- Bourbon, some oak, vanilla, some caramel malts, touch of chocolate, some roasted malts.
T- Broubon, some oak, brown sugar, caramel malts, some toffee, touch of roasted malts and chocolate, hints of earthy hops.
M- Smooth, medium body.
O- Definitely a sipper, barrel forward. Only issue with this is I thought the base would be a little more robust of a brown ale being a 12.5% brown ale, but still an enjoyable beer.
Oct 01, 2016

TreyIsWilson from Michigan
4.16
/5
rDev
+1.5%
look: 4.25 | smell: 3.75 | taste: 4.25 | feel: 4.5 | overall: 4.25
A - Pours a very dark brown with a one finger tan head. The head leaves a good amount of soapy lacing.
S - Aroma is dark fruits, brown sugar and bourbon.
T - The taste is caramel, brown sugar, toffee, chocolate, vanilla and bourbon. The finish has a light alcohol burn.
M - Medium bodied with medium carbonation. Very soft and creamy mouthfeel with a sticky dry finish.
O - Very enjoyable barrel aged brown. The flavors are on the sweet side making this a slow sipper.
Sep 24, 2016

DMarlinJ from Michigan
3.34
/5
rDev
-18.5%
look: 4.25 | smell: 4 | taste: 2.75 | feel: 4.25 | overall: 3
On a vigorous pour I got a great head that settled to a nice cap. Not much lace but you can see stickiness. A bit dark for a brown. Smells like bourbon, caramel and vanilla and charred oak. Way too much alcohol heat in taste. More like a shot of bourbon than beer. Have had other high abv beers with better hidden alcohol. This was unbalanced and overbearing in the burn, unpleasant. I think the bitter bite comes from the charred oak barrel and alcohol. Not much like a brown. Overall it cost $12 for a bomber and drank like it should cost $4.
Aug 28, 2016
superspak from Ohio
4.35
/5
rDev
+6.1%
look: 4 | smell: 4 | taste: 4.5 | feel: 4.5 | overall: 4.5
22 ounce bottle into tulip glass, bottled in 5/2016. Pours crystal clear very dark brown color with a 1-2 finger dense and fluffy khaki head with good retention, that reduces to a thin cap that lingers. Light spotty soapy lacing clings around the glass, with a fair amount of streaming carbonation. Aromas of huge caramel, brown sugar, brown bread, biscuit, chocolate, cocoa, vanilla, toffee, bourbon, toasted oak, nuttiness, light coffee/dark fruit, and oak/roast/toasted earthiness. Damn nice aromas with great balance and complexity of dark/roast/bready malt and bourbon barrel notes; with great strength. Some slight booziness as well. Taste of huge caramel, brown sugar, brown bread, biscuit, chocolate, cocoa, vanilla, toffee, bourbon, toasted oak, nuttiness, light coffee/dark fruit, and oak/roast/toasted earthiness. Light roasted bitterness and bourbon/oak spiciness on the finish; with lingering notes of caramel, brown sugar, brown bread, biscuit, chocolate, cocoa, vanilla, toffee, bourbon, toasted oak, nuttiness, and oak/roast/toasted earthiness on the finish for a while. Incredible complexity, robustness, and balance of dark/roast/bready malt and bourbon barrel flavors; with a great roasted bitter/sweet and oak spiciness balance; and zero cloying sweetness after the finish. Light-medium carbonation and medium-full body; with a very smooth, creamy/bready, and lightly slick/silky/chalky balanced mouthfeel that is awesome. Alcohol is very well hidden with only a small warmth lingering after the finish; with slight booziness. Overall this is an incredible imperial brown ale! All around fantastic complexity, robustness, and balance of dark/roast/bready malt and bourbon barrel flavors; very smooth and dangerously easy to sip on for the huge ABV. This was a lot more barrel forward and a bit more roasty on the malt character than the Lil' Griz. A highly enjoyable offering.
Aug 20, 2016

GreatStoutman from Texas
4.25
/5
rDev
+3.7%
look: 4 | smell: 4 | taste: 4.5 | feel: 4 | overall: 4.25
Pours a thinish dark-brown body with minimal, khaki head. No lacing.
Smell is mostly bourbon, but its not terribly strong. Taste is sweet and malty, definitely get some vanilla later on from the bourbon. chocolate as well, its pretty complex for a brown ale.
Feel is medium body, very light carbonation and kind of a slick, oily mouthfeel. Some bitterness later and a slightly sticky, long finish.
Overall, this is a tasty beer, and drinks really easy for 12.5%. I've got a bottle of Little Griz I'll try next... probably should have done this in the other order, but thats life...
Jul 31, 2016
K-Dog from Michigan
3.96
/5
rDev
-3.4%
look: 4 | smell: 4.25 | taste: 3.75 | feel: 4 | overall: 4
Nice looking brown ale. Great smell of vanilla and maple. Taste of maple and vanilla some bourbon. Decent bourbon brown ale, the flavors really came out more as it warmed. Not a bad beer but was a little dissapointed. The back end had a very dry taste to it. Was expecting more but not bad for a 12.5 percent beer. For 13.99 a bomber it's was worth it bit again was expecting more.
Jun 19, 2016
Big Griz from Perrin Brewing Co.
Beer rating:
89
out of
100
with
58
ratings