The Full Nelson
| Tiny Rebel Brewing Co.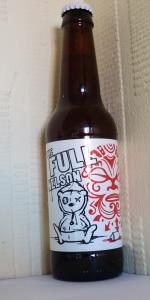 BEER INFO
Brewed by:
Tiny Rebel Brewing Co.
Wales
,
United Kingdom
tinyrebel.co.uk
Style:
American Pale Ale (APA)
Alcohol by volume (ABV):
4.80%
Availability:
Year-round
Notes / Commercial Description:
Our 'Maori Pale Ale' came together after months of experimentation with a very unique hop – Nelson Sauvin from New Zealand. Strong grape flavours are complimented by the sweet Munich malt, makings this beer crisp and refreshing.
25 IBU
Added by CwrwAmByth on 05-11-2013
Reviews: 8 | Ratings: 32

4.21
/5
rDev
+9.4%
look: 3.5 | smell: 4.25 | taste: 4.25 | feel: 4.25 | overall: 4.25
Bottled
Pours a slightly hazy golden body with big foaming white head
Aroma is of 1lqp mango, peach and pear
That Sauvin goes from the aroma to the flavour creating a fruity white wine
185 characters

4.04
/5
rDev
+4.9%
look: 4 | smell: 4.25 | taste: 4 | feel: 3.75 | overall: 4
330ml bottle poured into a tulip glass
Look: Pours something best described as 'spray tan' orange with a thin, off-white head that dropped back to a surface layer of foam in no short amount of time. Fairly fizzy, but not much in the way of lacing to speak of. Slightly hazy, but then it is bottle conditioned so that's hardly surprising.
Smell: Blimey, this smells fruity - the bottle blurb extolls the virtues of the Nelson Sauvin hop (hence the name, I guess) which allegedly imparts a grape flavour. We'll come to that in a bit. As is, it's a massively 'fruity' flavour with bucketloads of hops, grassy/herbal notes and more than a hint of citrus (lemon and grapefruit primarily). Grapes? Didn't notice that so much. Even so, it smells delightful.
Taste: To sum it up in one word: interesting. Slightly malty, slightly hoppy and slightly fruity with a hint of slightly stewed tea-leaves. That's a lot of 'slightlys' but there feel to be a lot of flavours vying for attention here. None of them really dominates, so you end up with an interesting mashup of malt, fruit, hops and tea leaves.
Feel: Quite sharp and fizzy - the finish is very dry, almost tannic. Decent enough body, and par for the course for a pale ale, American or otherwise.
Overall: Not bad, not bad at all. I've not had a great many of Tiny Rebel's brews so there's no real reference point, but whereas my previous encounter with their smoked stout left me somewhat underwhelmed with its understatedness, this one manages to hit the bullseye without dialling all the flavours up to 11 and beyond, although I think the grape angle has been overstated.
Dry, fruity and very tasty - well worth a look.
1,675 characters

3.86
/5
rDev
+0.3%
look: 4 | smell: 4.25 | taste: 3.75 | feel: 3.5 | overall: 3.75
A 330ml bottle with a BB of Aug 2014. Picked up a while back from Trembling Madness in York. The label describes it as a 'Maori pale ale' hopped with plenty of Nelson Sauvin for a white grape flavour.
Poured into a Duvel tulip. Bottle conditioned. A bright golden-amber hue with fine sediment and plentiful carbonation. Yields a huge head of creamy white foam that lasts for a while before subsiding to a thick surface layer. Good lacing. Aroma of light, fruity hops with hints of white grape, melon, papaya, grass/hay, subtle caramel malt and earthy yeast. Slightly sweet, with a character that is mildly reminiscent of white wine. Very nice.
Tastes of fruity aromatic hops with a yeasty character and a dry finish. Notes of white grape, melon, papaya, subtle tropical fruit, grass/hay, earthy yeast, faint malt and stewed leaves. Dry and slightly leafy. Well-attenuated, followed by a mild bitterness upon swallowing. Mouthfeel is smooth, dry and tingly, with zealous carbonation and decent body. Lightly astringent, accompanied by an aftertaste of white grape, fruity hops, stewed leaves and earthy yeast.
Pretty good - a lovely, fruity pale ale. Looks great, while the bright, fruity aroma is fantastic. The flavour is nice but let down slightly by excessive dry yeast and leafiness. Body is OK but a bit too fizzy. Only minor problems however; this is a well-crafted brew that goes down a treat. Worth your time if you come across it.
1,442 characters
3.64
/5
rDev
-5.5%
look: 3 | smell: 4 | taste: 3.5 | feel: 3 | overall: 4
Pours pale amber with a large fading head.
Nose shows passion fruit, floral hops, pawpaw, lychee and clean malt.
More passion fruit and weak light malt as flavours along with white wine notes and a hint of cooked vegetables.
Could use more carbonation.
252 characters
3.77
/5
rDev
-2.1%
look: 3.5 | smell: 4 | taste: 3.75 | feel: 3.5 | overall: 3.75
Pale gold with loose lumpy lager head.
That signature musty grape-overripe kiwi-Juicyfruit nose of Nelson Sauvin.
Tiny bit of shortbread then gooseberry, passionfruit, and lime curd hops.
Floral finish and sour linger.
Fizzy, light, crisp.
Reasonably fresh: 10/14 BBD implies 8 weeks old at most, and it shows in the hops.
Confused by this one: NS is big in the nose and there in the flavor, but everything else - the light body, big fizz, low IBUs (25) and general lack of depth - fights against that. It's almost like Mac's Hop Rocker - a dose of NZ hops for the lager drinker. Ultimately insubstantial when it could've been a beaut of an APA.
Good for what it is - I just wish it were something else.
709 characters
3.57
/5
rDev
-7.3%
look: 3 | smell: 3.5 | taste: 3.75 | feel: 3.5 | overall: 3.5
Hand-pulled half-pint at Ye Olde Fighting Cocks, Oakengates on 10 Oct 2013.
Golden, clear and bright; small white crown.
Floral, herb and spicy hop nose: taste follows the same way, but with a mild malt sweetness.
Light flavours but they work nicely: I've been impressed with all the beers I've had from these guys.
318 characters

3.65
/5
rDev
-5.2%
look: 3.5 | smell: 3.5 | taste: 3.75 | feel: 3.5 | overall: 3.75
A nicely balanced pale ale - a light malt backbone typical of an English pale ale with a good dose of citrus, fruit and floral - typical of an American pale ale
although more of an American Pale ale taste and aroma, as advertised - there is some nice malt which is reminiscent of an English pale ale.
very sessionable and enjoyable beer with passionfruit, citrus, floral and malt flavours and aromas predominating - not too crazy or a smack in the face like some big American pale ales
487 characters
4.41
/5
rDev
+14.5%
look: 4 | smell: 4.25 | taste: 4.5 | feel: 4.5 | overall: 4.5
Half pint from cask at the Cask Pub and Kitchen. Pours a hazy golden colour with a creamy white head. Smells very hoppy and fresh. Floral, grassy and fruity. Tastes extremely hoppy, but with those balanced fruit and floral NZ hops. Malt backbone balancing it all out. Overall a really great beer - i love it!
308 characters
The Full Nelson from Tiny Rebel Brewing Co.
3.85
out of
5
based on
32
ratings.