Russian Imperial Stout (Bourbon Barrel-Aged)
| Vault Brewing Company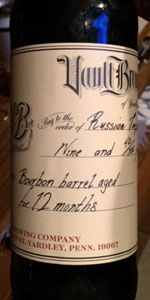 BEER INFO
Brewed by:
Vault Brewing Company
Pennsylvania
,
United States
vaultbrewing.com
Style:
Russian Imperial Stout
Alcohol by volume (ABV):
9.40%
Availability:
Rotating
Notes / Commercial Description:
No notes at this time.
Added by Jason on 10-17-2012
Reviews: 7 | Ratings: 33

1
/5
rDev
-70.9%
look: 1 | smell: 1 | taste: 1 | feel: 1 | overall: 1
22 oz. bottle from one of my favorite traders...whose house I'm now going to have to T.P. I'm going to dispense with my traditional review framework because I've taken one sip of this & I'm afraid that one sip is going to stick with me until the sun burns into a cold, black cinder. Infected - I'm thinking about a course of antibiotics right now. Horrible, soul-sucking, palate-fouling, dog-kicking aftertaste of spoiled garbage - really. Simply awful. My wife took one sip before me & said "what's wrong with this beer?" Well, only the town water treatment plant is ever going to know. This is burn-the-glasses putrid.
621 characters
2.35
/5
rDev
-31.7%
look: 3.75 | smell: 3 | taste: 2 | feel: 2 | overall: 2
From the 3rd Anniversary. Bottle 96/270 into a Cigar City snifter. Shared with schen9303.
Looks pretty typical. Nose is a bit awkward. What stands out here is the powdery milk sweetness, cardboard and roast. Very sweet but not in a chocolatey or "stouty" way. Definitely unique but I'm not sure its in a good way.
One sip is all I can really manage. Beer is certainly starting to sour and I'm not sure its meant to. Notes of roast, burnt dark fruit, sour cherries and raspberry. Ash and cooca powder towards the end. Really rough on the palate also. Not smooth at all, too carbonated and way too thin. Very little bourbon presence in the taste or palate.
My first experience with this brewery... and its not a good one. Even if this one was meant to be a dark sour, its not good. The body is way too thin to support the complexity and the carbonation is a mess. Not worth trying.
885 characters
3.42
/5
rDev
-0.6%
look: 4 | smell: 3.25 | taste: 3.5 | feel: 3.5 | overall: 3.25
First had: on tap at Vault
(2015 bottles are infected)
Dark brown-black pour with a beige ringlet that left a few streaks of spotty lacing on the glass. Aroma was pretty basic, stouty, dark roasty malts, hmm...that's about it really. I didn't really get any bourbon out of this beer in the nose or the taste. On the palate, a pretty basic stout, reflecting the aroma, dark roasty malts, maybe a subtle woodiness, but nothing really jumping out as "bourbon-barrel aged." Body was medium, lacking smoothness; drinkability was decent, as the alcohol was pretty subdued. This really just came off as an average stout. Not bad, but not memorable, and not really up to par for the style.
682 characters
4.06
/5
rDev
+18%
look: 4 | smell: 4.25 | taste: 4 | feel: 4 | overall: 4
A - Dark black pour, thick light caramel colored lacing ring. Swirl the glass and there's a lot of syrupy viscosity.
S - Dark chocolate, oak, light bourbon, vanilla.
T - Spicy dark chocolate, bourbon, cherries, oak, light vanilla. Some alcohol warming on the way down.
M - Medium body, no carbonation at all, slightly sticky.
O - A nice barrel aged stout with no complexity.
380 characters
4.08
/5
rDev
+18.6%
look: 4.25 | smell: 4.25 | taste: 4 | feel: 4 | overall: 4
Brewery only, 1 year anniversary, $15
10.11.2013, No. 475 of 1100, Barrel Aged 3 mo.
22oz bottle poured into a snifter.
Appearance
Black with virtually no head. A nice layer of film clings to the side of the glass.
Nose
Raisin, dark chocolate, nutty malts and a bourbon sweetness.
Taste
Raisin, fig and dates. Well blended notes of sweet bourbon with additional notes of honey. Dark chocolate along with a more earthy cocoa nib flavor. Hints of espresso, charred oak and vanilla.
Mouthfeel
Medium-plus bodied, creamy and smooth.
Overall
A lot of sweet dark fruits and chocolate. The bourbon is light but well integrated adding to the sweetness. A very easy drinking BBA RIS.
679 characters
4.14
/5
rDev
+20.3%
look: 4.5 | smell: 4.25 | taste: 4 | feel: 4 | overall: 4.25
Had this on the beer engine in a tulip.
A: about 1/3" head, the first one was a bit lighter in color, the second one was a nice tan on the head. The brew itself is black in the center of the glass, a bit of a reddish hue to the dark brown/black when you look at it in a thin layer.
S: roasty, malty goodness, with a tiny hint of the barrel
T: Good flavor. There's roast malt, but it's well balanced by the alcohol and hopping, it's well-balanced and it's complex enough to keep developing as you drink.
M: could use a tiny bit more body, but it coats the tongue in a good way and fills your mouth...
O: I had 2 and could have had more. It drinks well, it's well-within the style, and the barrel seems to be great with the beer (they're tapping some longer aged versions in the next few weeks). I'll be back for this one.
This is my favorite beer from Vault so far. In terms of the style, it's not 'blow my head off' good, but I'm going to buy a few bottles for friends and cellaring.
991 characters

4.53
/5
rDev
+31.7%
look: 5 | smell: 4.5 | taste: 4.5 | feel: 4.5 | overall: 4.5
22 oz bottle, about 6 months old, from the 8-wk barrel-aged batch. Poured into a Vault snifter.
Pours beautifully, dark brown body with a kahki head of great depth, retention, and lacing.
Smells mainly of roasted malts, coffe, and dark chocolate, some hints of bourbon but not overpowering, oaky, come caramel, nice nose.
Taste is very flavorful. When served at 55F the flavors come through nicely. The roast character is great without being overtly smokey. Coffee, chocolate, dark fruits, toffee, oak notes, follows the nose well. Not boozy at all. Only surprise is that the bourbon is not as present as one might expect, but it improves the drinkability.
Mouthfeel is medium-bodied with medium carbonation levels and a sticky finish, extremely drinkable.
Overall a very very nice brew, much more drinkable then you might expect for a BBA stout. Having had this fresh, I prefer it with some age, and though the bourbon has faded considerably the bottle conditioning has made the beer more complex and flavorful. Variants of this will be excellent. Great things happening at Vault Brewing Co.
1,097 characters
Russian Imperial Stout (Bourbon Barrel-Aged) from Vault Brewing Company
3.44
out of
5
based on
33
ratings.