Café Verdad
| Paradox Beer Company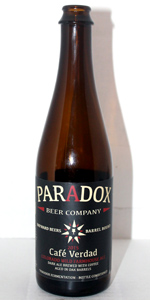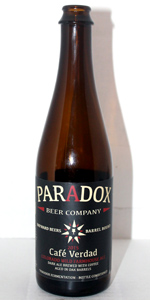 BEER INFO
Brewed by:
Paradox Beer Company
Colorado
,
United States
paradoxbeercompany.com
Style:
American Wild Ale
Alcohol by volume (ABV):
8.00%
Availability:
Limited (brewed once)
Notes / Commercial Description:
No notes at this time.
Added by adamranders on 01-26-2016
This beer is retired; no longer brewed.
HISTOGRAM
Ratings: 13 | Reviews: 6
Reviews by cl3:

4.07
/5
rDev
+5.4%
look: 4.25 | smell: 4 | taste: 4 | feel: 4.5 | overall: 4
This one really surprised me. Poured a monstrous tan head that disappeared immediately. Beautiful deep brown color with a tinge of red around the edges. Smells tart, sweet, with a very distinct cinnamon nose. Taste is fairly complex. Lots of wine, a little less coffee, but distinctly a tasty brown ale. Not really getting the cinnamon though, even though it makes up the majority of the nose. Very effervescent and fairly thin. Very easy drinker. I would never guess this was an 8% beer by taste alone. I will definitely pick another one of these up if I see one.
564 characters
More User Reviews:
4.44
/5
rDev
+15%
look: 4.5 | smell: 4.75 | taste: 4.25 | feel: 4.25 | overall: 4.5
4.25
/5
rDev
+10.1%
look: 4.25 | smell: 4.25 | taste: 4.25 | feel: 4.25 | overall: 4.25
L: Pours brilliant brown with ruby highlights under a ½" tan foam collar that rapidly dissipates.
S: Medium tart fruit nose, light funk, traces of coffee, spice, wine, faint oak, faint cinnamon.
T: Tart dark dried fruit, cinnamon, vanilla, coffee, chocolate, dark malts. Good balance between the fruit, tart, spice, and coffee.
F: Medium to medium low body, tartness is medium, carbonation is crisp and above average.
O: An odd mix of flavors – probably not to everyone's taste – but it somehow works.
514 characters
3.74
/5
rDev
-3.1%
look: 4 | smell: 3.75 | taste: 3.75 | feel: 3.5 | overall: 3.75
4
/5
rDev
+3.6%
look: 4 | smell: 4 | taste: 4 | feel: 4 | overall: 4
3
/5
rDev
-22.3%
look: 3 | smell: 3 | taste: 3 | feel: 3 | overall: 3
4.52
/5
rDev
+17.1%
look: 4.25 | smell: 4.75 | taste: 4.75 | feel: 3.75 | overall: 4.25
4
/5
rDev
+3.6%
look: 4 | smell: 4 | taste: 4 | feel: 4 | overall: 4
2015 Cafe Verdad - purchased from local bottle shop. Love what Paradox does with their sours (scully 30 and trois anos were awesome).
Consumed 2/5/16
This one is exactly what the bottle says it is, it's just too bizarre to my tastebuds and I. Sour, coffee, cinnamon - hits on everything, just doesn't work in harmony for me.
As I drank it got smoother and smoother and I think I got used to the beers oddities. Really interesting libation...
446 characters
3.58
/5
rDev
-7.3%
look: 3.75 | smell: 3.75 | taste: 3.5 | feel: 3.5 | overall: 3.5
This beer pour a fairly translucent black, rather like the color of a cup of coffee, with a small head. The aroma is composed primarily of green apple, with coffee and dark chocolate notes making up the background. The flavor also leads with strong malic acid, with darker background weak coffee, chocolate, toffee, wood chips, and as it warms red pepper. The mouthfeel is light and fairly simple. Overall this was an interesting beer, but not as bold or unique as I was expecting.
481 characters

4.05
/5
rDev
+4.9%
look: 3.25 | smell: 4.5 | taste: 4 | feel: 3.75 | overall: 4
The head sizzles like a well full of snakes, although crests close to two fingers it's all gone in just a few seconds, barely leaving anything across the surface and there's zero lacing as well. The liquid is a lightly translucent brown with a yellowish aura, you don't see any bubbles until they are just about to break the surface. The coffee, dark chocolate note come close to exploding out of the glass, cinnamon, chili peppers next with a decided vinous and sour oak demeanor, black grapes, sour cherries, there's a meadowy grassiness in there too with dry earthiness but basically nothing is close to challenging the coffee roast. Medium-bodied, smooth and fluid in a very sour manner, doesn't get you puckered up. Here all the acidity and the oak residue can meet the coffee and bittersweet dark chocolate head on. Albeit the coffee char probably has not lost any power, just met an equal. Cherry, blackberry, apple fruit flavors, keenly edged. The chili pepper aspect more tame here. There's a lot going on here and it's not unreasonable to expect it all to run amok but in the final analysis it hangs together well.
1,138 characters

2.66
/5
rDev
-31.1%
look: 2.5 | smell: 2.75 | taste: 2.75 | feel: 2.5 | overall: 2.5
Taste: very complex, oak, tart, wild yeast, sour dark fruits hint of coffee.
tart and funky nose. black brown in color, opaque, tan head not much lace.
Medium full body.
169 characters

3.76
/5
rDev
-2.6%
look: 3.5 | smell: 3.75 | taste: 3.75 | feel: 4 | overall: 3.75

4.09
/5
rDev
+6%
look: 3.75 | smell: 4 | taste: 4.25 | feel: 4 | overall: 4
Café Verdad from Paradox Beer Company
Beer rating:
3.86
out of
5
with
13
ratings