Non Fatal Souls Stout Project: Hell For Stout
| Paradox Beer Company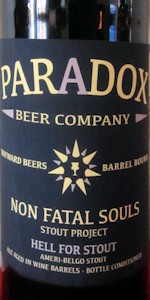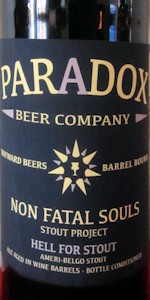 BEER INFO
Brewed by:
Paradox Beer Company
Colorado
,
United States
paradoxbeercompany.com
Style:
American Imperial Stout
Alcohol by volume (ABV):
9.00%
Availability:
Winter
Notes / Commercial Description:
No notes at this time.
Added by DrinkSlurm on 11-29-2012
HISTOGRAM
Ratings: 9 | Reviews: 7
Reviews by beergoot:
4.3
/5
rDev
+21.1%
look: 4.5 | smell: 4.5 | taste: 4.5 | feel: 3.5 | overall: 4
Bottle #598 of 960
Aged in a wooden barrel (no info as to what was in the barrel prior, although my guess is sherry). Barrel info on the label is "0012 AM-OAK 111212". Maybe someone else has a clue on deciphering the numbers (although I'd guess their dates, not serial numbers).
Opaque black body with a rich, creamy light brown head resting on top. Lots of roasted grains, coffee, chocolate, and hints of cherry in the aroma. The taste mirrors the aroma with the addition of a more sherry undertone and a very nice bitterness throughout. Medium bodied, semi-sweet yet dry finish.
A very distinctive stout with plenty of variety and complexity to pull out with every sip and sniff. The barrel aging seemed to really pick up and transfer the original content (again, sherry?) into the overall flavor. I sure wish the brewery's web site was more up to date with info on this particular beer and series. Well, perhaps a little mystery add to the appeal of this beer. Get it while you can...!
991 characters
More User Reviews:
4.12
/5
rDev
+16.1%
look: 4 | smell: 4.5 | taste: 4 | feel: 4 | overall: 4
Poured from firkin into nonic style half pint at brewers republic in co springs during the paradox meet the brewer event. Its an American stout with Belgian yeast aged in a bordeaux (I think) barrel for 4 mon ths.
Pours a nice deep black with a finger of tan head. Really nice coffee meets wine aroma with some slight Belgian yeast. Great similar flavor. Big on the wine and vine which is awesome. Nice feel ..smooth and creamy slight bitter.
Great brew and super lucky to have.
482 characters
2.57
/5
rDev
-27.6%
look: 2.5 | smell: 3 | taste: 2.5 | feel: 2 | overall: 2.5
1 pt 9.4 fl oz brown glass bottle served in a pint glass, reviewed live:
A - Pours a non transparent jet black with one finger of creamy light brown head. Retention is O.K. but forgivable. Meh.
S - Dark roasted coffee, bitter chocolates, heavy booze, sweet wines, raisin, and roasted malts. Moderate strength. Not great.
T - Over roasted malts thinly veil a lackluster body. Light cream and very slight indistinct wine notes. Heavy alcohol on the finish along with dark fruits. Unwelcomely bitter. Lacks a true body. Underwhelming.
M - Thin, overcarbonated and too slick.
D - A really poor attempt at the style. Very underwhelming.. Definitely would not have again.
674 characters

2.02
/5
rDev
-43.1%
look: 3.5 | smell: 1.5 | taste: 2 | feel: 2.5 | overall: 2
"Ale aged in wine barrels. Ameri-Belgo Stout. 750ml brown glass bottle with swingtop served into a generic nonic glass (not a pint) in me gaff in high altitude Castle Rock, Colorado. Reviewed live. Expectations are high given its current reviews.
Served a bit warmer than refrigerator cold. Side-poured with standard vigor as no carbonation issues are anticipated.
Paired with dark chocolate.
A: Pours a one finger khaki-tan colour head of nice cream and thickness, but below average retention (though it's excusable given the ABV). Body colour is a solid jet black. Poor lacing. No yeast particles are visible, but it's nontransparent and opaque. Looks pretty par for the style.
Sm: Heavy dark malts. Caramel. Licorice is dominant; I hate licorice. Herbal woody notes. Hints of port, but not red or white wine. Alcohol is definitely detectable. A downright strong aroma. Not really appealing at all, but I'll mark that up to personal preference.
T: Some chocolate over top caramel and vague messy dark malts. Alcohol heat and booze. Some herbal notes as well as accompanying wood. I get hardly any wine; if it's there it's viscous port. Licorice and vinous character - I despise this. Imbalanced and somewhat grotesque. Little hop character if any. I don't get any yeast. Very cola-esque. One of the strangest builds for an imperial stout I've ever experienced. I'm glad this is a swingtop. Hints of musty earthy notes. Wow this is imbalanced and badly built. Quite a poor excuse for an imperial stout. I wouldn't call it simple, but it's only complex because of the sheer amount of layered poor flavours present in the profile. Do these brewers have any idea what they're doing?
Mf: Shockingly overcarbonated. Smooth and wet. Way too thick. Horrible palate presence. Doesn't suit the flavours at all.
Dr: Hot damn, this is just...really bad. Really difficult to drink due to its poor quality. If there's a beer in the style that is opposite what this is, that's the beer I want to try. I don't know what the brewers were thinking when they concocted this shite, but it's downright despicable. An abominably brewed imperial stout that I hope is taken off the market. Expensive to boot. Please avoid; vote with your dollar.
D
In spite of its flaws, it paired surprisingly well with chocolate. In fact, the sweet chocolate helped me get through my modest pour. The swing-top went right back on.
2,410 characters
3.57
/5
rDev
+0.6%
look: 4 | smell: 3.75 | taste: 3.5 | feel: 3.25 | overall: 3.5
An interesting stout. The category doesn't quite fit, but I can't think of another that would.
A stout aged in wine barrels that takes on a bit of a sour black cherry flavor. This beer looks quite nice. Black with huge foamy and somewhat rocky head.
Aroma shows a bit of the tartness, but mostly it's cocoa and caramel with dark toasted bread.
The stout characteristics is offset by the wine from the barrels in which this beer was aged. Vinous and cherry. Blackberry and oak. Some sweet red plum. The chocolate is over powered along with the toasted malt. While this is not a flaw, it just hampers the beer's rating and expectation.
638 characters
2.91
/5
rDev
-18%
look: 2.75 | smell: 3 | taste: 3 | feel: 2.75 | overall: 2.75
this one is pretty bad. i had high hopes for it because i really liked the curious orange stout that was part of this series, but this base beer is ruined by now, totally soured out, and the belgian yeast esters barely remain in it. its also woefully undercarbonated, totally flat. slick and shiny color to it, but not even airy fizz appears with an aggressive pour, its dead calm in the glass aside from some yeast bits tossing about. the nose is faint belgian yeast and soured dark grain. almost like a sour mash here, its lacto heavy, like a midnight berliner or something gone wrong. its not as weird as some of the other barrel versions on the flavor, and the wine actually works i think, and this may have been pretty solid before is spoiled in the bottle. if you have on in your cellar still, keep it there, maybe it will improve with more time. i keep being told these beers have dramatic peaks and valleys in their cellaring and maturation, and this one is definitely in a valley right now. hotly alcoholic and lacking carbonation entirely. i could finish the bomber, even with the help of a mate.
1,106 characters
4.47
/5
rDev
+25.9%
look: 4.5 | smell: 4.25 | taste: 4.5 | feel: 4.75 | overall: 4.5
All of the Paradox beer I have drank I was advised to let it breath for about 20 minutes and the beer changes its character a bunch. So I will try and do a review for before and after, because it is truly a different beer after it sits for a while in the glass.
After Pour...
A - pours with a a tan head that sits around in a thin layer for the beer. It is dark with some opaque edges in the glass.
Sm - Roasty, bitter chocolate. Not as chocolate as a some stouts, but pleasent. A small bit of roasted raisin.
T - Similar roasty flavor with the same semi-burnt raisin flavor. The finish has roast bitterness with a slight hop bitterness to remind you it is there.
M - The carbonation is wonderful for a stout. Not strong, but the thicker viscosity of the stout style is balanced perfectly with the carbonation.
O - This is a nice belgian stout that is fairly simple, but well done.
After about 30 minutes in the glass...
A - the head has dissipated, and wont come back except for a or of bubbles around the edge of the glass. The color has not changed
Sm - Blackberry and raspberry up front with a little sherry backed by a little of the roasty smell from befor, but it takes a backseat to the other notes.
T - More tart sour berry flavor now with a back of roast. The finish is very smooth with very little bitterness from the hops or roasted malt. There is a slight berry tartness that stays through the flavor is pleasurable.
M - less carbonation as expected, but the viscosity is still on point. More sherry like in the feeling then beer once it sat.
O- the tart, berryness of the beer was different for a stout, but was very well balanced by the roast and sweetness of the stout.
Overall Overall - this was a fun beer to drink, it was two completely different beers in the same bottle ( my experience with all of Paradox's beers). The dark berry notes with the roast played really well for a stout that was different, but started off as a simple traditional stout.
1,992 characters
Non Fatal Souls Stout Project: Hell For Stout from Paradox Beer Company
Beer rating:
3.55
out of
5
with
9
ratings