The Boot

Abita Brewing Co.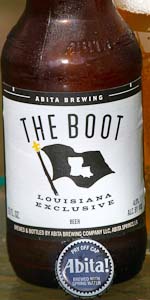 Rate It
Beer Geek Stats
| Print Shelf Talker
Style:

ABV:

4.8%

Score:

Avg:

3.48

| pDev:

12.93%

Reviews:

14

Ratings:

From:

Avail:

Rotating/Seasonal

Wants

Gots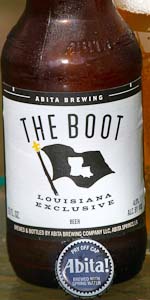 Notes: Formerly Abita Select Kolsch

Our Kolsch is made with Pilsner and Wheat malt from Weyermann, a famous German malting company, and hops from the Hallertau region of Germany. The beer is fermented with ale yeast from Cologne, Germany and cold aged for eight weeks. The result is a light body, straw colored ale that is clean, crisp, and refreshing. Delicate flavors of malt and hops linger on the palate. Our Kolsch is perfect for the hot summer months.
hoptheology from South Dakota
3.74
/5
rDev
+7.5%
look: 4 | smell: 3.75 | taste: 3.75 | feel: 3.5 | overall: 3.75
Abita "The Boot : A Louisiana Exclusive"
A genuine small batch local-only Abita beer.
Picked up at Martin's in NOLA.
Batch 19 Pint glass.
Golden bronze with a creamy cap of 1/2 finger. Leaves spots of lacing.
Aroma of bread crust and straw-like bread character. Some slight hay. Honey sweetness. A bit of nuttiness.
Flavor brings heavy handed straw-grass hops and quite a lot of honey bread behind it. It is too heavy handed on the bitterness to be within spec for a Lager or a Kolsch. The straw and grass move out of the way immediately for the bread, but it's always there on every initial sip. Seems like you could chew it like a doughball even though it's not that thick.
Crisp, effervescent, medium bodied, slight starches, slight resins. No heat.
Overall it's decent and probably won't hit the drain, but it's not something I'd purchase again.
If you drink it out of a boot, I'll send you a hallmark card.
Price paid : $1.49 / bottle
Apr 06, 2021
Boiler_Aggie from Texas
2.8
/5
rDev
-19.5%
look: 3.25 | smell: 2 | taste: 3 | feel: 3.25 | overall: 3
This is a typical golden good old wheat beer. It's not boozy at all, taste is clean and crisp but nothing out of the ordinary. The froth dies out quiet quickly, the smell is not very detectable, slight malty aromas if you try real hard. Overall pretty average beer
Oct 15, 2019

Jugs_McGhee from Oklahoma
2.88
/5
rDev
-17.2%
look: 3 | smell: 3 | taste: 2.75 | feel: 2.75 | overall: 3
Brewed with Kolsch yeast and fermented with Hallertauer Blanc. Ostensibly sold only in Louisiana. A 12 fl oz bottle ran me $1.99 USD at a Rouses Market in New Orleans, LA. Brewed with white wheat, oats, and barley.
4.8% ABV.
Drinks crisp and clean with some Kolsch yeast fruity esters really coming through nicely. Hallertauer Blanc (a daughter of Cascade) ought to throw out a lot of floral and fruity notes, but only getting some mild vague tropical character (hardly any fresh floral flavours). I don't taste the wheat at all.
It's balanced and approachable but wants for better depth of flavour as well as more complexity. Not a Kolsch, not a wheat ale, not a pale ale...just an enjoyable hybrid of all three that is less than the sum of its parts. A pleasant ale from Abita, but not standout work.
C / AVERAGE
Aug 08, 2019

BigGold from Mississippi
3.64
/5
rDev
+4.6%
look: 3.75 | smell: 4 | taste: 3.5 | feel: 3.5 | overall: 3.5
Had at Mulate's, New Orleans, on draft into tumbler, and also poured from 12-oz. bottle, no date, into tumbler.
Appearance and aroma are very promising, and, although this Kölsch doesn't quite deliver on those promises, The Boot is still a nicely drinkable beer.
Dec 23, 2018
zander4dawin from Texas
3.73
/5
rDev
+7.2%
look: 4 | smell: 3.5 | taste: 3.75 | feel: 4 | overall: 3.75
Light and crisp, with a biscuity bready flavor. Pretty big malt profile for a kolsh beer, sweet hint of caramel. Solid easy drinking beer from Abita.
Apr 22, 2018

WoodBrew from Ohio
3.3
/5
rDev
-5.2%
look: 3.75 | smell: 3 | taste: 3.25 | feel: 3.5 | overall: 3.5
I tried this at Beer Fest on Bourbon Street in New Orleans. It poured a clear golden with white head that is leaving a spotty lace. The scent had some bitter hop. The taste was white wine like and weird. The mouthfeel is lighter in body with good carbonation. Overall it's interesting the description was called a hybrid beer...the bar tender said it was in between an ESb and a pale ale.
Feb 07, 2018
StonedTrippin from Colorado
3.5
/5
rDev
+0.6%
look: 3.5 | smell: 3.5 | taste: 3.5 | feel: 3.5 | overall: 3.5
this wasnt my favorite of my recent run through a bunch of abita beers. its a pretty basic kolsch, a little maltier and fuller bodied than i am used to from the best of the imports, and there is a general blandness about it, sort of a boring beer, even for the style, although it does have pretty high capacity for refreshment still, it just didnt really turn me on too much. golden in color with a fluffy white head, aroma of dry bready grain, crackery like pils malt but also more baked and hearty, a pale barley of some kind, and a european mineral profile unique to this style, it definitely smells and tastes german to me in nature. this is a little heavy for the style, not quite as drinkable as i like them to be, but it does finish on the drier side, has a grassy hop complexion that tastes fresh enough to me, and overall is a pretty well made beer, despite not being all that exciting. for me, a kolsch has to be amazing to be worthwhile, and this is somewhat short of that mark, although i have been impressed with abita overall lately...
Nov 10, 2017

dacrza1 from New Jersey
2.06
/5
rDev
-40.8%
look: 3.5 | smell: 2.5 | taste: 1.5 | feel: 2 | overall: 2.25
DATE: May 28, 2017... OCCASION: Quiz Bowling in New Orleans, and the bar is offering a local release of The Boot...Cannot resist, especially on this hot day's night... GLASSWARE: nondescript pint... bubblegum, lemon grass, and medicinal band-aid (not like a scotch, but still somewhat weird)...pours a golden clear body with little effervescence; off-white head that fizzles quickly, ringing to a small froth... thin, crushable with a tickle that tricks the throat... watery to a fault, but not a problem I would ascribe a Kölsch usually... not much happening here--fighting hard to find something other than soft grass, hay, and cereal oats--but it is nice to be in New Orleans...not a beer that requires much thought, and that is the best compliment I can give...
Jun 03, 2017

Chickenhawk9932 from Pennsylvania
3.93
/5
rDev
+12.9%
look: 4 | smell: 4 | taste: 4 | feel: 3.75 | overall: 3.75
Pours a pale gold with a white, tight, bubbly head.
Smells of cereal grains, wheat, oat, and barely, with malt biscuit and citrus bitter herb hop.
Taste is light and refreshing with a nice full grain toasted oat and malt biscuit up front and a slight hit of citrus and herb hop in the dry finish. Doesn't drink like other Klosch beers I have had, but it is light, refreshing, and drinkable. For being subtle it is still tasty.
May 08, 2017
Karibourgeois from Texas
2.97
/5
rDev
-14.7%
look: 2.5 | smell: 3 | taste: 3 | feel: 3 | overall: 3
Clear straw colored pour with a minimal white head. Grainy aroma. Taste follows the nose with lots of grain flavor upfront back by a slight yeasty flavor. Light bodied and drinks easy. Finishes clean and crisp.
Jan 11, 2017
donspublic from Texas
3.79
/5
rDev
+8.9%
look: 4 | smell: 3.75 | taste: 3.75 | feel: 4 | overall: 3.75
Poured into hotel glass from bottle, nice 1 finger cream colored head, nice retention. Bright golden in the glass, semi clear to the eye. Smells of grain, lemon and earthy grass. Taste of biscuit malt, slight lemon and herbaceous hops going down. This is a pounder, non palate wrecking
Dec 19, 2016
RonaldTheriot from Louisiana
3.35
/5
rDev
-3.7%
look: 3.25 | smell: 3.25 | taste: 3.5 | feel: 3.25 | overall: 3.25
Abita's The Boot has a thick, off-white, creamy head, with lots of heavy lacing left on the glass. The appearance is of a hazy, yellow-gold. Aroma is of sweet grains, subtle yeast, tap water, and lemon. Mouthfeel is medium, and The Boot finishes fairly crisp and refreshing.
RJT
Oct 25, 2016

NolaHopHead from Louisiana
3.56
/5
rDev
+2.3%
look: 4 | smell: 3.5 | taste: 3.5 | feel: 3.75 | overall: 3.5
12 oz bottle. Pours clean medium golden, thin white head fades, no lacing. Light grain aroma, mild yeast esters. Taste is between a pilsner and a Hefe, but neither. Grain, mild banana, grass. Light crisp feel. Not bad, but not great.
Oct 22, 2016
acrawf6 from Louisiana
2.97
/5
rDev
-14.7%
look: 2.5 | smell: 3 | taste: 3 | feel: 3 | overall: 3
This just came out again as a select for Abita. I'm not sure if it is the same recipe as the one in 04, but no need to re-list this style.
Served a very clear golden straw with a small foamy white head.
Smell. Slightly grainy with a little citrus. Smells much like a pilsner.
Taste. Certainly has a pilsner flavor to it, very clean and crisp. Again, just a little bit of a lemon citrus to it. Flavor is on the drier side. Aftertaste is light and quick.
Mouthfeel. Body is light, but not as light as other kolsch's. ample carbonation that quickly fills my mouth.
Overall, an uneventful beer. i would have passed it off as either a czech pils or just a euro macro lager. Certainly not a bad beer, but nothing here making it memorable. But did cut this blistering heat we have had lately. I just hope next select will be a bit more adventuresome.
Aug 10, 2007
The Boot from Abita Brewing Co.
Beer rating:
81
out of
100
with
68
ratings