Chai High

Avery Brewing Company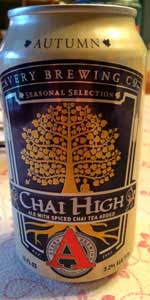 Write a Review
Beer Geek Stats:
| Print Shelf Talker
Style:

ABV:

5.2%

Score:

84

Avg:

3.78

| pDev:

10.58%

Reviews:

38

Ratings:

From:

Avail:

Retired (no longer brewed)

Wants

Gots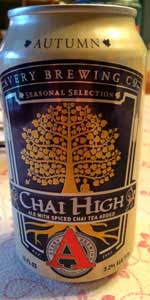 Notes: Mediate on this transcendent rich and robust spiced seasonal of a decidedly different sort. Brewed with spiced chai tea.
Reviews: 38 | Ratings: 162

3.63
/5
rDev
-4%
look: 4 | smell: 4 | taste: 3.25 | feel: 3.75 | overall: 3.75
Pours a muddy brown color with golden edges and a half finger of head. The nose certainly smells like chai tea. The flavor profile is a blend of bready qualities and chai spice. The finish is dry.
This delivers on the promise made by the name but I am not sure that I am looking for chai in my beer.
303 characters

4.09
/5
rDev
+8.2%
look: 4.25 | smell: 4.5 | taste: 4 | feel: 3.5 | overall: 4
Look is amazing and smell is very delicious. Smells like banana fosters. Initial taste is sort of like bananas with some coffee notes. Great taste. Only issue is the mouthfeel is sort of flat. Not much carbonation there
219 characters

3.83
/5
rDev
+1.3%
look: 4 | smell: 4 | taste: 3.75 | feel: 3.75 | overall: 3.75
Canned on 8/3/16. 12oz can poured into a tulip. Pours a deep auburn with a fluffy khaki head that slowly falls leaving great retention and sticky lacing. The aromas are full of spices. The chai tea is definitely there. Cinnamon and ginger is present. Hints of chocolate, caramel, toffee and vanilla is in the mix. Malts are there. The flavors follow the nose although they're not as intense as you might think. The spices shine, but are balanced and not overpowering at all. More cinnamon and nutmeg with some hints of allspice. Some anise in the mix. The chai tea comes through in the flavor department as well. Some flower pedals giving this one some earthy floral notes. Malts do their thing. Alcohol goes completely unnoticed. Mouthfeel is light with moderate carbonation. It's fluffy and smooth. Very easy to drink.
This is a very nice autumn brew. It's very reminiscent of a pumpkin ale, but the chai tea makes this one unique. Enjoyable stuff.
951 characters
4
/5
rDev
+5.8%
look: 4 | smell: 4 | taste: 4 | feel: 4 | overall: 4
12 ounce can into pint glass, canned on 8/3/2016. Pours slightly hazy dark reddish brown color with a 2 finger dense and fluffy light khaki head with good retention, that reduces to a small cap that lingers. Nice spotty soapy lacing clings down the glass, with a moderate amount of streaming carbonation retaining the cap. Aromas of big ginger, cinnamon, cardamom, clove, peppercorn, nutmeg, anise, caramel, brown sugar, toasted brown bread, light vanilla/coffee, light citrus/pine, and herbal/grassy earthiness. Damn nice aromas with great balance and complexity of chai spices and dark/bready malt notes; with great strength. Taste of big ginger, cinnamon, cardamom, clove, peppercorn, nutmeg, anise, caramel, brown sugar, toasted brown bread, light vanilla/coffee, light citrus/pine, and herbal/grassy earthiness. Light pine/herbal/spice bitterness on the finish; with lingering notes of ginger, cinnamon, cardamom, clove, peppercorn, nutmeg, caramel, brown sugar, toasted brown bread, and herbal/grassy earthiness on the finish for a good bit. Damn nice complexity, robustness, and balance of chai spices and dark/bready malt flavors; with a great malt/bitter/spiciness balance; and zero astringent spice flavors after the finish. Light dryness from bitter/spiciness as well. Medium carbonation and body; with a very smooth, moderately grainy/sticky/ and light creamy balanced mouthfeel that is nice. Zero warming alcohol as expected of 5.2%. Overall this is a great spiced brown ale! All around great complexity, robustness, and balance of chai spices and dark/bready malt flavors; very smooth and easy to drink. A very enjoyable offering.
1,644 characters
3.77
/5
rDev
-0.3%
look: 4 | smell: 3.75 | taste: 3.75 | feel: 3.75 | overall: 3.75
The temperatures may be dropping but the creativity in brewing is just heating up. Venturing from summer and into fall allows Avery brewers to hit the pantry for flavor, body, complexity and uniqueness. Fall-friendly flavors of chai spice, tea and a rich brown ale seem to calm the thirst for a beer of substance and of surprise.
Chai High pours a medium chestnut brown and with a mild translucent glow. Capped with a rich and frothy foam, the scent of chai tea is met with caramel, chocolate and nuttiness. Flavors pick up on those malty-rich flavors first be greeting the tongue with caramel and toffee, chocolate and light coffee and toasted pecan.
The malty brown ale flavors remain firm through the middle palate, all the while the spices begin to build. Cinnamon, clove, cardamom and perfumy orange peel begin to take the attention from ale to exotic tea blends. A burst of citrus here and there reminds the sense of the ale influence within while the mind drifts to notions of pumpkin pie, but without the pumpkin.
Medium-bodied, the creamy sweetness slowly drifts while a mild starchiness of grain persists. Woodsy, spicy and faintly of pine, the beer trails with tethers of brown ale but its those chai spices that continue to gain steam even deep in a long spicy afterglow.
1,286 characters
3.93
/5
rDev
+4%
look: 3.75 | smell: 3.75 | taste: 4 | feel: 4 | overall: 4
L: murky brown, thin, lacing tan head
S: chai tea and other spices
T: more complex than I anticipated, chai tea of course, I'm getting other spices like clove, and almost a citrus taste
F: light bodied, but plenty of mouthfeel
O: I love this beer, highly recommended for a change of pace
291 characters
3.76
/5
rDev
-0.5%
look: 3.5 | smell: 3.75 | taste: 3.75 | feel: 4 | overall: 3.75
12oz can. Poured out a clear, golden amber color with a small, khaki-colored head of foam. It smelled of chai, caramel and some roastiness. Chai flavor is present with toasted caramel and a subtle bitterness.
209 characters
4.24
/5
rDev
+12.2%
look: 3.75 | smell: 4 | taste: 4.5 | feel: 4 | overall: 4.25
Avery Brewing Co. "Chai High"
12 fl. oz. can, "CANNED ON: 08/03/16" and sampled on 09/12/16
Avery's "Chai High" is a fall or "Autumn" release - it's pleasantly spicy, fitting the season, yet it makes a great respite from the deluge of pumpkin beers that are thrown at us, although I have to admit that it's very similar in many ways.
The color is a (cloudy) very dark russet brown beneath a tan head, not unlike most pumpkin beers, and it offers aromas and flavors of cardamom, ginger, coriander, clove, and cinnamon. It's a little different, however, in the way the spices are presented, and the order in which you find them. Beyond that, there's a note of tea which is unique, and underlying fruitiness that's nice, and a light touch of white pepper as well. It doesn't come across as heavily spiced, and yet every component is clear. Nor does it build on the palate; I think all too often pumpkin beers are too heavy, and over-spiced (usually with cinnamon), and that's not the case here. It's somewhere between light and medium in body, and gently crisp with what seems like a natural carbonation. Of course you'd want to keep the carbonation low so that the carbonic acid doesn't accentuate your spices. Nor is it bitter, which allows the spices to handle the drying of the finish.
As to drinkability, many spiced beers can build on the palate, muting the rest of the beer and hurting its drinkability because of the 'extra' spiciness. I try to look at drinkability then from the standpoint of how much I liked the experience of the first one, and how much I might like to have another one (or two, or three) if it wasn't going to build on me. Occasionally I'll drink two, or even three, and go from there but in this case I know that I can drink three in a row because I did it yesterday, and I still felt like I could have enjoyed another! That's great drinkability for almost any beer in my book, but especially for a spiced beer.
Finally, I should also note that although I am kind of fed up with the whole pumpkin spice craze (pumpkin-spiced Pop-Tarts, pumpkin-spiced bagels, pumpkin-spiced Cheerios, pumpkin-spiced Pringles chips, pumpkin-spiced fettuccini and ... pumpkin-spiced Jamaican jerk sauce???... are you kidding me?), I do like "pumpkin beers" and I usually buy a case for Halloween/Thanksgiving and then put it in the cellar to enjoying a bottle here and there throughout the year. This would also make a great year-round beer to have every now and then, and I think this will be my spiced beer to cellar this year.
2,544 characters

2.89
/5
rDev
-23.5%
look: 2 | smell: 3 | taste: 3 | feel: 3 | overall: 2.75
Appearance of prune juice or medium roast coffee--murky brown body fading to copper at the bottom of the glass, with a foamy tan head that quickly dissipates.
This definitely smells like hard chai. Iced tea, homemade on the back porch in the sunlight.
Taste is really full on tea, maybe with hints of lemon and vanilla. Aside from the spice, it doesn't have the full on chai taste or feel like you might get with an attempt at making an authentic chai tea.
I'm not sure what else to say about it except it has a frothy, beer body. This is really the only indicator that this is, in fact, beer.
596 characters

3.71
/5
rDev
-1.9%
look: 3.75 | smell: 4 | taste: 3.75 | feel: 3.25 | overall: 3.5
Pours dark brown almost black in color. Clear and crisp when held to light. Thin tan head dissipates slowly leaving behind a tan film on the beer and lots of sticky lacing.
Lots of chai spices on the nose - pungent and encompassing. Notes of cardamom, chai, slight pepper, cinnamon, ginger, nutmeg, and cloves. Smells like freshly brewed chai tea.
Taste follows the nose with a strong chai flavor. A bit on the spicy/gingery side especially on the finish. Not much else comes through outside of the chai spices. There is definitely a malt backbone, but the malt flavor is mostly subdued by the chai spices. Still though, given what they were going for with this beer it accomplishes that well.
Decently carbonated beer gives a real tingle in the mouth initially. Beer is smooth, but seems a bit thin to my taste. Given how chai is generally served - brewed in milk - this beer just seems thin. Its like chai tea being brewed in water. Maybe some lactose would have given it a bit more body or better captured chai tea.
Overall a really unique but interesting beer. Ultimately if you like chai its worth a try. Definitely a good fall flavor profile.
1,157 characters
4.25
/5
rDev
+12.4%
look: 4.25 | smell: 4.25 | taste: 4.25 | feel: 4.25 | overall: 4.25
Pours a cloudy dark brown with a thin off white head.
Smells of pumpkin pie spice with hints of vanilla and cardamom. Chai is definitely present. Great aroma.
Taste follows the nose. Heavy notes of the pumpkin pie spice and cardamom. The vanilla is less present on the palate. A great fall beer. The chai dulls the sweetness a bit so it is essentially a spicier less sweet version of a pumpkin beer.
Heavier body than expected. Almost like a thin stout. Creamy with some spicy warmth.
I think this is a great alternative to fall pumpkin beers. A little less sweet, a little more spicy but still very Autumn appropriate.
627 characters

3.94
/5
rDev
+4.2%
look: 4.25 | smell: 4 | taste: 4 | feel: 3.75 | overall: 3.75
Picked up a single of this as I'm not really down for committing to a six pack of a chai tea-infused ale without prior engagement. I'm iffy with beers including chai and chai-like spices, but generally I think there are much worse ideas, and the idea of an Autumn beer without pumpkin or generically-utilized pumpkin pie spice is at least a unique concept. Avery's been doing some solid seasonal offerings recently, so let's hope this is in line with that trend.
Poured into a pint glass, the beer builds up a ruddy brown-ish complexion with some garnet-like highlights and a thick head of light ecru foam that seems to lace pretty well. The head has very solid legs and the color is definitely enough to set the beer apart right from the outset as it seems very clear but is dark enough to retain some mystery. Nice looking stuff.
Nose is definitely malt-heavy with a big, lingering dose of cinnamon and cardamom. Caramel, brown bread and nutmeg. A bit woody (sandalwood maybe) and musty with a distinct air of Fall. As a lover of festbier, pumpkin ales and other Fall seasonal styles, this definitely strikes me as being on the more unique side of things but also still seems in line with what I expected somehow... it seems very hearty, to be honest. I'm not the biggest chai fan, but this seems like it incorporates the trademark spices very well, objectively-speaking.
Flavor is caramel, bready malts, cardamom, vanilla, some tangy ginger-like notes and cinnamon. Hops definitely lean towards the earthy side and help coat the palate with a lasting yet medium-firm bitterness toward the end of each sip. The woody notes from the nose come out near the finish, highlighting some of the deep spice aspects pretty well.
Feel seems a bit heavy for a 5.2% beer, but the spice aspects definitely contribute to this. If you go into this assuming something like a malty medium strength-brown ale with spice notes of cinnamon and cardamom, you probably won't be too disappointed at all. I like it, but I'm also glad I don't have 5 more. Make of that what you will.
2,064 characters

4.09
/5
rDev
+8.2%
look: 4.5 | smell: 4.25 | taste: 4.25 | feel: 3 | overall: 4
Poured into a conical pint glass.
Look: Dark brown body with lighter brown around the edges. Fluffy dark cream colored head that recedes to a healthy film. Thick webbed lacing.
Aroma: Bready and malty with chai spices dominating: Cinnamon, clove, ginger.
Taste: Bready and nutty with chai spices dominating like the aroma. Has a nice spicy kick in the finish from either the cinnamon or ginger.
Mouthfeel: A little watery.
Overall: Really good if you like chai tea or chai spices.
486 characters
Chai High from Avery Brewing Company
Beer rating:
84
out of
100
with
162
ratings