Avery Anniversary Ale - Thirteen
| Avery Brewing Company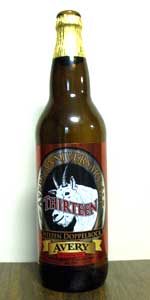 BEER INFO
Brewed by:
Avery Brewing Company
Colorado
,
United States
averybrewing.com
Style:
Weizenbock
Alcohol by volume (ABV):
9.50%
Availability:
Limited (brewed once)
Notes / Commercial Description:
No notes at this time.
Added by TastyTaste on 05-06-2006
This beer is retired; no longer brewed.
Ratings: 239 | Reviews: 211

4.27
/5
rDev
+6.5%
look: 4 | smell: 4.5 | taste: 4 | feel: 4.5 | overall: 4.5
On-tap at the Happy Gnome: Classified as a "Weizen Doppelbock" and looking like so...Thickly leathered brown, nearly black appearance with a slim cap of light tanned, firm froth. Only some dotted lacing sticks. Not a surprise really given the malts this sucker probably has in it.
And the aroma is just that. Malts! And lots of em; big on molasses with a slimming caramel swaft and toffee/chocolate bitterness keeping in stride as some root beer candy solidifies a tangyness found only in some overly malted and dark beers such as this. Touches of spice include licorice, dark wheat, under ripe banana peels, and pale bread yeast. Quite nice on the nose.
Taste is smooth and inviting with a load of pale chocolate sweetness mixing with a semi tangy molasses, pruney/ plummy, toffee center as it rounds off to the finish quickly and eagerly with some soft dark wheat and banana estery yeasty notes and mild, floating away spices. Not as long of a ride as it should or could be. For some reason I wanted and needed more out of its flavors. What's there is quite nice, but some how shortened in length enough for an unimpulsive give and take between its fairly thick and silky smooth body and its thicker set aroma. A bit disappointing I'm afaid as far as that's concerned. Damn solid though.
Body is well-rounded, slick, creamy, and smooth with a soft eager pull at the sweetness side of the malts as it rides evenly, somewhat, within a pale chocolate tone over the tanged molasses and pruney/dark candied stuff. Again the finish comes too soon and doesn't linger for much attention grabbing as it should. Good little nudge of yeasty, wheaty spices make for some interst just before it trails off.
Another solid offering by Avery, a bit sliding from the scale in flavor; more so in depth and length really, then the actual taste. But those kinda go hand in hand with me. Needs to be tasty, and stay tasty; ya know what I mean. Don't get me wrong, the flavors are quite nice, just needed more of them to last. Perhaps it's better then I'm stating here, solid for sure, and drinkable without any hint to the 9.5 % other then the hit to the head way later as the glass drains pretty easily. And another is needed. Again, Avery has a winner here, not quite a favorite though. Close...oh so close...
2,304 characters
4.32
/5
rDev
+7.7%
look: 3.5 | smell: 4 | taste: 4.5 | feel: 4.5 | overall: 4.5
Wow, this is a tough review to make. This beer is so complex there are aromas and flavors I can't even come close to identifying.
Pours deep,almost black, brown with a thick head that melts far too quickly to nothing.
Aroma is sweet toasted malt, caramel, dark fruits, coffee, chocolate...more that is sweet but I can't name.
Taste is initially sweet, sweet malt then all of the aromas convert to flavors...dark fruits (numerous), caramel, coffee, chocolate, no wheat, but lots, lots more.
Aftertaste is sweet without being cloying...but your mouth is filled with flavors and the stay a long long time. Now there is a slight grainy taste in the aftertaste...maybe a little spice...I think I found the wheat.
This beer is very, very complex. And yet somehow it all seems to balance.
I am enjoying this immensely
816 characters

4.08
/5
rDev
+1.7%
look: 4.5 | smell: 4 | taste: 4 | feel: 4.5 | overall: 4
The beer poured into the glass deep dark brown with a tan tall head which rose tall and fell slowly to coat the glass.
The aroma was fruity with a banana and clove presence and a nice wheat aromatic. The spice was well done and was coupled with a caramel maltiness and perhaps a bit of chocolate.
The flavor was malty with a strong caramel and biscuity flavor. The melanoidins were distinctly present with a bit of chocolate and a bit of roastiness. The flavor was fruity with more banana and also spicy with more clove. Malt ruled the flavor and alcohol was present as well with some definite wheat character.
The finish was dry with a lasting caramel maltiness, a strong fruity banana, and a light clove long into the aftertaste. The body was full with a decent carbonation level. The alcohol warming that occurred after consumption was fairly high. A nice Weizenbock, perhaps a bit too dark in flavor, but still a good brew.
22 ounce bottle.
956 characters
4.15
/5
rDev
+3.5%
look: 4.5 | smell: 4.5 | taste: 4.5 | feel: 4 | overall: 3
Pours a one finger caramel brown head over a dark liquid. Mahogeny edgings when held to light...and crystal clear. Head quickly settles to a thin layer that hangs through the duration of the glass. Smells earthy, caramel with chocolate and some banana. Some other lighter esters ride a gentle alcohol. A bit dry woody. Yeasty funk is minimal, as is bready wheat character.
Tastes nice. Toffee and sweet. Chocolate and wheat with some clove. Plum (brighter in character than I would normally use for that term) with a hint of nut. Wet near the finish from malt and esters. It has a finish along the lines of St B. Abt12...albeit more subtle in intensity and complexity. Mouthfeel is thick and creamy, likely due to a large amount of residual sugar sweetening this beer. A little bit of alcohol heat keeps things honest. If I focus on the alcohol I find it's drying and a bit rough. Cleans the tongue in the aftertaste, perhaps to keep the thick liquid from cloying. Carbonation is medium to md-heavy. A bit more than I would like for the style.
Drinkable? Pretty damned good. A bit too sweet for more than a whole bomber, glad I was able to share it with my wife. I'm likely to pick up another bottle or two for the cellar.
1,228 characters
3.88
/5
rDev
-3.2%
look: 4 | smell: 3.5 | taste: 4 | feel: 4 | overall: 4
22 oz bottle. Pours a dark brown with red highlights. It has a bubbly light tan head that quickly goes down to a thin collar that leaves some lacing.
The aroma is grainy malt with some sweet sugary fruits, big bananas, and a little clove.
The flavor is sugary sweetness (not as bad as the Samael or Meph though) with some fruitiness and chocolate. The finish is subtle noble hops and some almost tart alcohol. As it warms, it improves - the sweetness subdues and more malt complexity comes out - chocolate, toffee, caramel, and nuts. The mouthfeel is pretty full and smooth on the carbonation.
I usually haven't cared a lot for Avery's bigger beers, so I was hesitant to try this. I was pleasantly surprised. It is a little sweet, but it is pretty well balanced and the alcohol is fairly well hidden (though it definitely warms the belly!). As it warmed and I drank more, I liked it better and better. I think it's too sweet for a true weizenbock though.
963 characters
4.27
/5
rDev
+6.5%
look: 4 | smell: 4.5 | taste: 4.5 | feel: 3.5 | overall: 4
Picked a couple of these bad boys up at beverage wharehouse. Bomber pour easily manged to whatever head you desire. Nice tan head with plenty of lacing.
I get a huge molasses, plumb, chocolate nose with it leaning towards the molasses and plumb.
Plumbs are up front, Imagine really over-ripe plumbs that are ultra sweet and ultra candied and you have it. Clovey towards the middle...welcomed, and finally sizzled in by a demanding carbonation. Only knock is I get some aspirin / medicinal chalky portion but its quickly an afterthought. Layered oily mouthfeel. Some bitterness that seems to come from the slightly charred backdrop.
Notes: From what I've seen on the message boards dopplebocks are a style that generally you either love or hate...I admit its one of my favorite styles....This has to be one of my favorite that I've had a chance to gobble to this point.
879 characters

4.17
/5
rDev
+4%
look: 4 | smell: 4.5 | taste: 4 | feel: 4.5 | overall: 4
Dark, this one, opaque and nearly ebony. ("Ruby red" says the label. Nope, not mine, anyway.) Slim ring of cocoa tan on top.
Aroma is sweet from the start, caramel, toffee, maple, hints of anise...wait, there's more!...butterscotch and coffee. Quite an intriquing blend, here.
Taste: hmmmm. this is a tough one, very complex and flavorful. Brimming with dark fruits, nuts, thick malt, molasses and carob...maybe. Very full in the mouth, long lasting on the palate, sits a spell in the mouth, and you like it there.
Slippery texture, unrelenting flavor, very solid doppel, but it evades my expectations, based on the tastes of other wheaten doppels. Nothing wrong with a unique interpretation, though.
This did dumbfound me from the start, as I didn't detect the wheat, (actually, now I can taste it...it's coming to the fore, and it's tasty...why didn't I taste it earlier?) and it comes of as more of a melding of a doppelbock and an Imperial Stout. Alcohol doesn't bear down on the drinker, at least this one, until we hit the middle and that may be too late. Enough of this and I'm too numb to care, though.
I've got to like this, though it baffles and is a creation not quite categorizable. So be it, I'm enjoying and say, Hurray! to Avery for the 13th year.
1,277 characters

4.38
/5
rDev
+9.2%
look: 4.5 | smell: 4 | taste: 4.5 | feel: 4.5 | overall: 4.5
Avery brewing takes another "stronger" style and run with it and adds their own twist. What's new, right? Well, this time I think they've potentially done their best work EVER.
Pours a VERY dark brown. Much darker than any weizenbock or doppelbock I've ever had. I'd say it's reminiscent of a porter in my eyes.
Smell isn't quite what I'd expect. I'd actually say is the one weakness of this brew. For a wheat brew, it doesn't have the strong banana scent that you'd expect, but is primarily clove, chocolate, and even a little spice. Like (almost) all things over 7%, alcohol's there, too.
Flavor is wonderful! It's very much like taking an Aventinus and mixing with a Celebrator. Distinct wheat flavors are there, but chocolate dominates. There are also dried fruit overtones. Prunes, dates, and raisins come to mind. Alcohol is present in the finish, but because it's "only" 8%, it doesn't offer any negatives.
Mouthfeel is thick enough to retain a lot of the flavor (no dissipating) and thickness when warming.
I'd say this is a very quaffable beer. It's strong enough to be an anti-session beer, but I think I could handle a full bomber of this with no issues at all. This would make an ideal 6-pack beer, although sadly I doubt we'll ever see that. 2 bottles would make a perfect evening.
This beer's terrific. I haven't figured out exactly what it is (is it a Doppelbock mixed with a Weizenbock...or just a misinterpreted Weizenbock?), but it's amazing.
I'd love to see this beer become a seasonal or normal rotation beer.
This beats out the Kaiser and New World for my new favorite from Avery.
EDIT 1/18/07: Recently paired this with a chocolate bread pudding and it was AMAZING. I think this beer would pair really well with anything chocolate.
EDIT 8/12/10: Mebuzzard found a bottle of this and shared it at a Denver BA gathering. I have to say that it's as good as it ever was more than 4 years later...maybe better in some ways. An absolute classic.
1,973 characters
3.99
/5
rDev
-0.5%
look: 3 | smell: 4 | taste: 4 | feel: 4.5 | overall: 4
A: Very dark amber, bordering on mahogany. Thin head that dissipates quickly.
S: Bananas and a hint of cloves, with the former being dominant. Also a hint of cucumber (of some other spritzy and effervescent vegetable).
T: Really interesting. The banana sweetness is dominant at the beginning, but it has a bitter-ish dryness toward the middle of the tongue that extends and rolls all the way to the back of the palate. Could this
be an Avery specialty--hopping what is typically one of the maltiest of beer styles?
M: Again, malty to dry, very quickly. The sweetness has a heavy creaminess (breadiness?) about it that is becoming of the banana flavors. The finish is very peppery and the bitterness really lingers on the
back of the tongue. The contrast is fascinating if not always pleasant.
D: A heavy-duty beer in sweetness and punch; nonetheless, it's very refreshing and cuts through a pasta dinner like nobody's business.
Overall, another strong offering from Avery that is especially worthwhile since it's such a rare style--to me this is more weizenbock than doppelbock. This may not be their best brew (I still reserve that title for The Maharaja), but it's one of their most original and playful offerings.
1,236 characters
4.82
/5
rDev
+20.2%
look: 4.5 | smell: 5 | taste: 5 | feel: 4.5 | overall: 4.5
22ounce bomber from Liquor Max in Loveland, CO, for $5.39.
Moderately vigorous pour yields a HUGE long-lasting meringue-like light-tan head over a nearly opaque dark-red body. Lots of sticky lacing. Pretty beer.
Smell is espresso and burned cherries with darkest chocolate, with figs and raisins. A hint of sour cherries and green apples in the backnotes. Wow.
Taste is caramel malt, mallted malt, chocolate malt and some cherry malt. Malt-mongers, you've found the grail. After the malt, a sour-dryness comes up. Nice long bitter finish.
Mouthfeel is nice and round. Slurpaliciously chewy and tongue-wrestlingly full. Edit, one year later: it gets better with a bit of age!
The 9.5% is completely hidden. You could drink this easily. The only 9.5% beer I would drink several of -- if I could sit up that long. Really very easy-drinking.
What a great beer! I hope Avery does more of this. It's excellent!!!
Weizenbock lovers need to latch on to some of this ASAP. In my mind, this is right up there with Aventinus. No, wait: it's even better. GO GET SOME TODAY!
- . - . - . - . - . - . - . - . - . - . - . - . - . - . -
Edit, much later . . .
Sadly, this was a one-off anniversary beer. I recently bought two more precious bottles, and am saving them for a special occasion. How sad. How sad. What a great beer this was. If you can find any left, you must buy it.
1,374 characters

4.02
/5
rDev
+0.2%
look: 3.5 | smell: 4 | taste: 4 | feel: 3.5 | overall: 4.5
available @ oak tree buy rite, edison, nj
a dopple-weizen-bock ? what the hell, I like goats on the label, they remind me of dan ackroyd in Dragnet...
eyes...
in my allagash glass... stacked 3 fingers high with off white foam with.. it simmers down quickly, melting like snow being pissed on (ie: unevenly). darker than most weizen bocks and slightly lighter than most dopplebocks, somewhere in the brown is almost black range.. like a puerto rican trying to play basketball professionaly. holding it up to the light reveals plenty of active carbonation and a ruby hue. lacing is spotty in most areas to good in others. A pretty good lookin brew.
nose...
wheat and coffee.. go figure. sweet malty undertones like a dopple ffor sure... but the wheat somehow pokes in there, the alcohol also makes an appearance.. if you told me this was what it said on the label.. shit, sure enough it really smells like the perfect hybrid of weizenbock/dopplebock. there is also a subtle bannana aroma lurking behind everything... very interesting nose! somehow I smell baked chocolate bannana bread...
taste etc...
slightly light in the mouth but the carbonation adds just the right weight, the carbonation is just prickly also... nice.
this drinks like a light dopplebock, with the uber sweet character of some DB's balanced by the wheat flavor.. I dig this.
on second thought here.. after a few trips to the glass the carbonation is distracting to the flavor. there are some nice bitter choc notes here that seem too obscured by over active carbonation.. I gotta knock the mouthfeel down to 3.5.
the flavor is exactly what the hybrid style suggests, you get the best of both styles here in balance (for this taster). the alcohol does also come through just like most DB's... really.. really well done brew.
verdict?
great brew aside from certain distractions. great idea, you can totally sense what they were going for here. screw triskadeskaphobia... try 13, try it more than once... a great twist on style.
2,017 characters

4.32
/5
rDev
+7.7%
look: 4 | smell: 4.5 | taste: 4.5 | feel: 4 | overall: 4
Appearance: Dark brown with a reddish tinge.
Smell: Banana Bread!
Taste: Starts sweet then to bread with banana esters, then to some alcohol at the end. As it warms up, the alcohol gets less noticeable and stays sweeter longer.
Mouthfeel: Not too heavy for a strong beer.
Drinkability: Very quaffable!
I enjoy weizenbocks quite a bit and this one did not disappoint. I hope there is a good supply of this in the Twin Cities! Recommended!
452 characters
3.97
/5
rDev
-1%
look: 3.5 | smell: 4 | taste: 4 | feel: 4 | overall: 4
Presentation: Gold foil covers the black logo'd Avery crown cap and upper neck on the bold looking Bomber. The main label has a picture of a Goat encircled in a silver oval which has the words 'Avery Anniversary Ale' inset, the word 'Thirteen' covers the goats face. Styled as a 'Weizen Doppelbock'. Bottled in 2006 with an original gravity of 1.089 and a stated strength of 9.5% by volume. Cost $7.99 from Hi-Times in Costa Mesa.
Right hand side of the label states:
"Unlucky 13? If anything, 13 has been a lucky number and year for us! Here is our version of a Weizen Doppelbock, a very rarely brewed style marrying the complexities of two great German traditions, Weiss and Doppelbock. The aroma is dominated by fruity and spicy esters produced by the German Weiss yeast strain with a dry drinkability from the wheat malt. The flavor and color are dominated by the unique specialty grains that produce the Doppelbocks flavors of fresh baked bread, toffee and cocoa, and a dark-ruby red hue. Since goats have traditionally adorned Bock labels, we chose a Rocky Mountain Goat for this Rocky Mountain Bock. Peace to all and follow your dreams! Brewed with Rocky Mountain water, malted barley, malted wheat, imported German specialty grains and hops, and one unique German yeast."
Appearance: Deep dark but clear mahogany which pours straight off the bat with a tan colored head. The covering breaks but the rich halo-ring is enough to keep at least 50% of the surface covered. Gentle swirls reinstate the head and sow off the finely dissolved conditioning.
Nose: A ménage of aromas; bananas, baked bread, malts, hints of sweetness from candy sugar and a bitter dark cooking chocolate hidden deep in the back end. Nice schnozzle.
Taste: Roasted malts with a dark chocolate bitterness. Warming in the beginning but the malts bolster this one nicely. Banana bread and fresh wholemeal dough in the middle but low key. Cloves and spices add some further depth. Has a sweetness that seems to come from the use of Candy sugar rather than the malts, which keeps things in check but can add a cloying aspect to the ending. Warms the gullet after the swallow.
Mouthfeel: Creamy thick malty feel with a powdery cocoa texture at first, the hops adding some balance to this feel later on. The high alcohol is here and whilst it is detectable, it is only a little off-putting. Robust.
Drinkability: A drinkable brew but the only drawback here is the fusel alcohols which detract from the finish. They seem to undergo a vaporizing transition after the swallow and rises up from the mouth and through the nose, warming the nostrils with each exhalation. Rather off-putting and it takes away from what is an enjoyable brew otherwise. This seems to rescind as the beer warms though.
Overall: I enjoyed the Twelve-Saison last year & I rather enjoyed this one too, and I'm not too partial to Doppelbocks, so maybe my tastes are changing. Has the usual Avery harshness but not in the manner or to anything like the extent that one is usually accustomed to. I would suspect that only a few more months in the bottle would nicely round this out. Far from what I expected, a bit of a surprise but still not one that I would enjoy frequently.
3,254 characters
3.12
/5
rDev
-22.2%
look: 3 | smell: 3.5 | taste: 3 | feel: 3 | overall: 3
After last year's Avery Twelve was outstanding, in my opinion, I was pleasantly surprised to find the newest of the Avery anniversary beers on the shelves at Hi-Times Cellars.
The beer poured a rich chesnut brow with a small light brown head that faded quickly into a tan lace. The aroma was dominated by roasted dark malts, most likely German Carafa malt considering the style. There was a little alcohol on the nose, but nothing that would indicate its potent 9.5%. I can detect no hops in the aroma.
The flavor of the beer is focused on slightly roasted maltiness rather than the sweet Munich and Aromatic maltiness of most dopplebocks I've had. It's a little bit of a departure stylisticly and make for a pretty chewy brew.
The hops are present enough to create a reasonbly balanced finish. They seem of the Noble variety considering their smoothness.
The mouthfeel is pretty thick and with a touch of wheat malt in the grain bill, this beer has a creamy texture. The carbonation is good and helps add some loft.
For its size, this beer has a clean finish with a slight roastiness that lingers. A decent brew, but not outstanding. I must continue to commend Avery on their interminable pursuit to brew a plethora of different styles. They are definitely not afraid to brew something completely new to them. Their lineup of beers always maintains a wide breadth of styles.
1,391 characters
Avery Anniversary Ale - Thirteen from Avery Brewing Company
4.01
out of
5
based on
239
ratings.