Dihos Dactylion
| Avery Brewing Company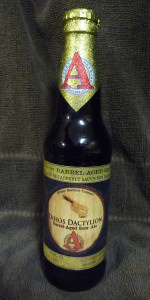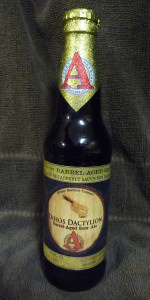 BEER INFO
Brewed by:
Avery Brewing Company
Colorado
,
United States
averybrewing.com
Style:
American Wild Ale
Alcohol by volume (ABV):
10.30%
Availability:
Limited (brewed once)
Notes / Commercial Description:
Ale aged in Cabernet Sauvignon barrels.
Added by thagr81us on 02-15-2011
This beer is retired; no longer brewed.
HISTOGRAM
Ratings: 140 | Reviews: 68

3.88
/5
rDev
-5.6%
look: 4 | smell: 3.5 | taste: 4 | feel: 4 | overall: 4
On-tap at Oakquinox
A: The beer pours amber in color with a medium sized khaki head.
S: Starts off with a nice lactic tartness and perhaps just a touch of vinegar. A little bit of a sour cherry aroma and some nice wine and oak aromas. In fact, there's quite a heavy cabernet note to this beer.
T: Lots and lots of wine flavor with a solid oak quality, including some mild tannins. A mild fruitiness which consists primarily of cherries and grapes, perhaps a little bit of red berries, too.
M: Medium in both body and carbonation.
O: Good beer from Avery. Pleasant to drink and surprisingly easy to do so, despite a rather high ABV.
636 characters
3.87
/5
rDev
-5.8%
look: 4 | smell: 4.5 | taste: 3.5 | feel: 3.5 | overall: 4
Graciously provided by Boatshoes. I've always been interested in trying all of the Avery Barrel-aged series so I'm lucky to have connections with Fletcher out there. Poured into a Lost Abbey stemmed tulip.
This bottle says 10.74%ABV Bottled on Feb 11, 2011
Appearance
Its a completely hazed ruddy ruby red. The foam rises up tall and will stand up out of the glass before fading to some trails of lace.
Aroma
The aroma here is very soft and quite surprising. It lacks a big acidic and sour wallop that I was expecting from a beer of nearly 11%abv that contains Brett, Lacto and Pedio. The Cabernet Sauvignon barrels are what is doing all the leg work. Its essentially like a berries and creme aroma, its very nice. Strawberries, raspberries and blackberries create a sweet berry blend. Vanilla notes of angel's food cake and whipped cream are dolloped on top. Some alcohol is buried beneath, it takes some swirling to uncover it's sharp astringency and wine essence. Boy, this is inviting to say the least. I just wish things were pumped up, where's the volume knob on this stuff?
Taste
Well, this beer certainly isn't stuck on mute. The taste is evidence of this. This is a big sour. The actual sourness is very softened, but the aroma had me prepared for that. Rhubarb flavors bring the tartness that really bites on to the sides of the palate. This modest sourness is, at least, held even throughout the whole flavor experience. There is lots of sweet cherry and raspberry present. A silky vanilla note is woven throughout. The finish is nearly citrusy with perceivable orange zest.
Mouthfeel
Very dry and highly acidic. The body is quite near full and the alcohol is very potent. This is a very warming beer, especially for a sour. The effects of the near 11% abv are easily felt all the way down the chest.
Overall
Pretty good stuff, it starts off in a really nice, interesting direction but I'm not sure if it reaches fruition.
1,942 characters
4.11
/5
rDev 0%
look: 4.5 | smell: 3.5 | taste: 4.5 | feel: 4 | overall: 4
Poured from a 12oz bottle into that trusty shaker glass--again. Poured a amber/brown color with no head to speak of. Tartness and funk on the nose; taste was great: sour cherries, malt, and wood with a little funk thrown in. Avery has done some nice things with their BA releases; looking forward to their next one.
315 characters

3.88
/5
rDev
-5.6%
look: 4 | smell: 3.5 | taste: 4 | feel: 4 | overall: 4
Pours with a 1 finger off-white head. A clear reddish-amber. Aroma is primarily cherries and wine barrel. Initial taste impression is cherries, some spice, and vinegar; quite tart and prickly from carbonation. As it warms, the carbonation mellows and some wood and pomegranate appear. The alcohol is very well hidden. Overall, quite a nice sour, if not exceptionally complex. Worth the trade (thanks, doobliebop).
413 characters
4.09
/5
rDev
-0.5%
look: 3.5 | smell: 4.5 | taste: 4 | feel: 4 | overall: 4
Bottle into Goblet, bottled 2/11/2011
A - A hazy amber with a slightly red hue, 1 finger head disappeared quickly to a minimal crown 3.5
S - Fruity in the front, sweet malts amongst a general sourness, raspberries & banana 4.5
T - Wow tangy sour start, cherry/berry notes, slightly medicinal, a bit of an astringent finish, definitely a red wine tannin quality to it, a bitterness throughout the whole taste I'm unable to describe without more wild ales under my belt 4.0
M - Light to moderate mouth feel but so big in taste, I enjoyed the level of carbonation 4
O - A crisp flavorful drinking beer, enjoyable even to an amateur like me, I would have another one but not in the same sitting 4
692 characters

4.13
/5
rDev
+0.5%
look: 4.5 | smell: 4 | taste: 4 | feel: 4 | overall: 4.5
A: poured into a tulip dihos pours a dark copper with a red hue quite a bit of head that dissipates pretty quick leaving nice lacing.
S: funk! smells of tartness, brett, cherry and a bit medicinal.
T: quite a bit of cherry on this one, first taste very tart with a long finish.
M this one has quite a bit of carbonation, nice amount of bubbles coming up throughout the entirety, finishes pretty dry.
O: overall this is a great beer for sour fans and even if you don't like sours you should be able to enjoy this beer thoroughly. the 10.74% is masked very well.
566 characters

4.22
/5
rDev
+2.7%
look: 4 | smell: 4.5 | taste: 4 | feel: 4 | overall: 4.5
Poured from a 12oz. bottle into an Avery tulip.  Beer was a hazy amber color with a one-finger, off-white head.  Soft carbonation with some lacing around the glass.
Aroma was sour lemons, grapes, raspberries and some funky brett notes.  Very nice.
Taste was sour cherries, grapes, vanilla, grains and oak.  Not as complex as the aroma, but still quite delish. 
Another delicious treat from Avery's barrel aged series. The last couple of releases have been fantastic! 
475 characters
4.47
/5
rDev
+8.8%
look: 4 | smell: 4.5 | taste: 4.5 | feel: 4.5 | overall: 4.5
Wasn't able to make it up to Avery for the release, so thanks to Ratman for sharing a bottle with us the other day. Pours a slightly hazy amber color with a nice white head. Good tart/funky aromas, red grapes, wood, raisins and brett. On the palate, this one is light to medium bodied, with a nice tartness, wood, grapes, bordeux and brett. Excellent.
351 characters

3.68
/5
rDev
-10.5%
look: 4 | smell: 3.5 | taste: 3.5 | feel: 4 | overall: 4
Bottle. Poured into a DFH tulip glass a slightly hazy copper color with a tan 1/4 inch head that quickly forms a nice collar around the glass. Some lace. Sour fruit like notes in the nose along with some brett like florals. Some alcohol notes as well. The cab barrel is tough to really pick out but the grape notes are there. Medium/light mouthfeel with carbonation. Grape/raisin flavor up front pretty immediatly. Sweet start transitions to mild sourness and brett funk with a lingering bitter oaky note. Ends fairly dry. Some sherry type flavors. The booze warms the throat at the end. For being a "young" sour its not too bad, it's a little sweet upfront and I have a feeling the sour/funk notes will continue to develop over time.
734 characters
3.85
/5
rDev
-6.3%
look: 4 | smell: 4 | taste: 4 | feel: 3.5 | overall: 3.5
On-tap at Brewvial 2011.
Pours a lovely amber with a creamy off-white head. Very funky and sour, with aromas and flavors of tart lemon juice, cherries, and apples, with an intense tannin finish like a big red wine. Slightly syrupy and oily with fairly crisp carbonation. Moderately drinkable, but definitely a sipper.
318 characters
4.12
/5
rDev
+0.2%
look: 4 | smell: 4.5 | taste: 4 | feel: 4 | overall: 4
Sampled on-tap multiple times at Brewvival.
Pours a slightly hazy light amber color with a one-finger slightly off-white head. The head recedes into a wispy layer on top leaving decent lacing.
Smells of medium malts with large amounts of lightly tart red cherry and raspberry aromas. Also present are light hints of funk and larger amounts of vanilla from the oak.
Tastes similar to how it smells, though not as complex. Medium malt flavors kick things off and are joined quickly by hints of vanilla and larger tart cherry flavors. Midway through the sip some funkiness dries things out a bit, carrying through to a crisp ending.
Mouthfeel is good. It's got a nice thickness with smooth carbonation.
Drinkability is also good. I didn't have any problems finishing my glass and could have another.
Overall this was one of the more mild sours I've had from Avery. Easy-drinking but lacking the complexity and bite from their better attempts at the sour beer. Still, worth a shot if you see it around.
1,004 characters
4.1
/5
rDev
-0.2%
look: 4.5 | smell: 4.5 | taste: 4 | feel: 4.5 | overall: 3.5
Poured into my Avery's stemmed glass.
A: Darker ruby red until held up to light then a medium dark brownish red. Slight off white head that dissipated quickly leaving a thick ring.
S: A fruity, funky slightly sour nose.
T: Smooth sweet to tart sour with a slightly funky tomato linger (not in a bad way).
M: Good carbonation all the way through, good sharpness to it.
D: I couldn't see myself drinking more then one glass of this in one sitting.
Another fine limited release from Avery.
492 characters
4.29
/5
rDev
+4.4%
look: 3.5 | smell: 4.5 | taste: 4.5 | feel: 4 | overall: 4
Had while at Brewvival! Served from tap into a sampler Brewvival imperial pint. Poured a reddish brown with a half finger off-white head that subsided quickly to a minimal amount. There was no lacing evident throughout the glass. The aroma was comprised of sweet malt, tart cherries, and sour. The flavor was of sweet malt, fruit, tart cherries, and a nice sour followthrough. It had a light feel on the palate with high carbonation. Overall this was another winning sour on the day. Avery really brought they A-game to this event. Really glad that I got the chance to try this one as the flavor was very nicely balanced and all aspects worked really well together. Even the aroma was quite nice. This is an absolute must try for anyone out there.
747 characters
4.42
/5
rDev
+7.5%
look: 4 | smell: 4.5 | taste: 4.5 | feel: 4 | overall: 4.5
Had tonight at Avery's. Pours cherry colored brown with a thin, tan head. Crazy nice nose of dark fruit and apricots. Mmmm...love sticking my nose in this one. Balanced flavors of barrel wood, sweet cherries. sour funk, straw and citrus. Finishes mildly dry. A very nice wild ale /sour and another winner from Adam and the crew.
328 characters

4.12
/5
rDev
+0.2%
look: 4 | smell: 4.5 | taste: 4 | feel: 4 | overall: 4
Pours hazy amber with a khaki, fizzy loose head that dissipates quickly. Noses of tart cherries. Starts very sour, lingers with fruity middle (cherry, raspberry?), finishes tart and dry. Carbonation maintains throughout. Crisp mouthfeel. Pungent and strong. One of the better sour ales I've tried.
297 characters
Dihos Dactylion from Avery Brewing Company
Beer rating:
4.11
out of
5
with
140
ratings