Meretrix
| Avery Brewing Company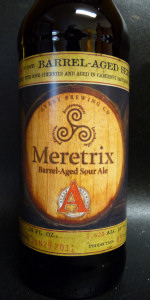 BEER INFO
Brewed by:
Avery Brewing Company
Colorado
,
United States
averybrewing.com
Style:
American Wild Ale
Alcohol by volume (ABV):
9.62%
Availability:
Limited (brewed once)
Notes / Commercial Description:
No notes at this time.
Added by Schmittymack on 07-17-2011
This beer is retired; no longer brewed.
Reviews: 32 | Ratings: 82
4.07
/5
rDev
-2.9%
look: 4 | smell: 4.5 | taste: 4 | feel: 3.5 | overall: 4
Many thanks to Ken and Dan for sharing bottles of this one at the release a couple weeks back. This one poured a hazy amber color with a small amber head. Aromas of sour cherries, brett, oak, caramel and vinegar. On the palate, this one was light bodied and quite sour, with flavors of horse blanket, sour cherries, oak and light caramel.
338 characters
4.35
/5
rDev
+3.8%
look: 4 | smell: 4 | taste: 4.5 | feel: 4.5 | overall: 4.5
12 ox bottle split with joshclauss (thanks Josh!) - Reddish brown color, decent off white head. Aromas of tart cherries and lemon zest. Slight hints of wood and burnt sugar. Taste is light bodied, nicely balanced with a great mixture of tartness and fruit. Good carbonation. Funky woodiness and a sweet finish that leaves you wanting more. What a nice beer. Loved Margarete and what Adam and the crew did here. More barrel aged cherry brews please....
451 characters
4.18
/5
rDev
-0.2%
look: 4.5 | smell: 4 | taste: 4 | feel: 4.5 | overall: 4.5
appearance - ruby red in color. no head, but lots of fizz from pour.
smell - tart cherries big time, some wood characters are coming in, sugar
taste - follows the smell almost to the tee with sugar coming in a bit more than i expected. though tart cherries are coming in big time.
mouthfeel - dry and wet at the same time. leaves my mouth dry but starts watering for more. great carbonation, and medium bodied.
pretty fresh, im sure more characters will come with time.
473 characters
4
/5
rDev
-4.5%
look: 4 | smell: 4 | taste: 4 | feel: 4 | overall: 4
Picked this up last weekend at Avery with the esteemed bardwashrind. Pours a very nice red/copper with white carbonation that recedes to a ring around the glass. The smell delivers lots of tart cherry, with some light brett and bacterial funk. Flavor, again, is overflowing with refreshing tart cherries. Bright, acidic, refreshing...an appropriate beer for a hot Denver summer night. Body is fairly thick for a sour, and the carbonation is medium/high. Overall, this is quite a good beer. Not very complex, but nice clean sour cherry flavors here. Definitely has a signature Avery flavor to it that not every sour lover will necessarily appreciate. But worth seeking out if you have enjoyed past Avery barrel releases. Would be nice to see Avery focus on some regular sour releases (a la Russian River) instead of one-offing everything and releasing some hit-or-miss offerings.
878 characters
4.58
/5
rDev
+9.3%
look: 3 | smell: 5 | taste: 4.5 | feel: 5 | overall: 4.5
A: a nice copper mohagany color. Starts with a decent off white head and instantly dissipates into nothing. Nice and clear
S: lots of wood and cherry sour. That's basically it. That's an awesome smell by the way. A little bit of darker fruit showing up in the background
T: huge amounts of flavor. First off there's an awesome sourness all the way through the beginning to the end. The wood isn't as pungent as the smell but the cherries are bold a delicious. Super smooth for the amount of sourness.
M: there is a nice little sting from the carbonation which is like salt to food... makes all the flavor come out. The sourness doesn't dry my mouth out so I can drink for days. It actually makes my mouth water after every sip.
O: this is a Damn fine beer. This competes with concecration in my eyes and im troubled by which is better. This is an all around delicious beer and if I had more I would give this to anyone and turn them on to goodness
953 characters
4.74
/5
rDev
+13.1%
look: 4 | smell: 5 | taste: 5 | feel: 4 | overall: 4.5
a-deep red color with an initial one finger head that goes away as fast as it was poured. Nice lively carbonation. No lacing down the glass. The color is fitting for the Cab barrels and cherries that this beer has sat in for the last two years.
s-as soon as I popped the top, the smell hit my nose. There is some muted funk, grapes, wine, sour apple, cherries, and some oak on the nose. I know this sounds like a lot, but it comes out as the beer warms. Smell is a powerful part of this beer. Lots of things happening in this nose, glad it's in a snifter.
t-WOW! Beautiful expression of flavors layered in this beer. The beer begins with some sour and little funk right up front. It opens to some cherries and wood mid way through. The beer has a lot of sour fruits in here, and the apples are making their presence known. There is a cider taste in the finish. This beer will crush your palate. The finish went on for a good 5 mins. Beer finishes with some tannic notes.
m-the mouth feel is crisp. The carbonation is right on with the beer. This beer has good body.
o-Avery knocked it out of the park with this beer. I think their barrel aged beers just keep getting better and better. Great job with all of the great flavors blending in so well with this beer. It is not just sour and then more sour. There are a lot of things going on in here. I found a lot more flavors in the bottom half of the beer that was warmer than the first half.
1,446 characters
4.27
/5
rDev
+1.9%
look: 3.5 | smell: 4 | taste: 4.5 | feel: 4 | overall: 4.5
Surprised I'm the first here to review this one. Shared a 12 oz bottle that I picked up at the release Saturday the 16th. Poured a reddish-brown color with a decent head that quickly dissapated. Aromas of sourness, tart cherries, a bit of funk, and malt. Taste is where this one shines: sour and very tart cherries, oak, malt goodness, with just a bit of funk. No hop bitterness, just sour and tart. I loved this brew; might be my favorite sour that Adam and CO have produced. Will be anxious to see what others think of this one.
530 characters
Meretrix from Avery Brewing Company
4.19
out of
5
based on
82
ratings.