Ross's's' Melange
| Avery Brewing Company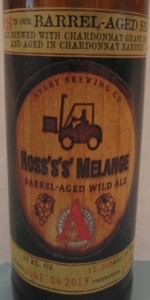 BEER INFO
Brewed by:
Avery Brewing Company
Colorado
,
United States
averybrewing.com
Style:
American Wild Ale
Alcohol by volume (ABV):
11.10%
Availability:
Limited (brewed once)
Notes / Commercial Description:
Wild ale with Chardonnay grape juice, aged in Chardonnay barrels.
Added by Doodler on 06-21-2013
This beer is retired; no longer brewed.
Reviews: 9 | Ratings: 84
3.84
/5
rDev
+0.5%
look: 3.75 | smell: 4 | taste: 3.75 | feel: 4 | overall: 3.75
Bottle from the cellar at Patrick's Irish Pub in Greeley
L: Pours a Hazy gold yellow, with almost no head or lacing.
S: Lots of wood, some Brett, grapes and white wine
T: Very sweet, white wine, wood, booze is noticiable
F: High carbonation and light body
259 characters
3.59
/5
rDev
-6%
look: 3.5 | smell: 3.75 | taste: 3.5 | feel: 3.75 | overall: 3.5
Bottle opened on 4.13.14
Bottled June 04 2013
A - Pours a hazy light orange with a fizzy white head that fades fast.
S - Oak, white grapes.
T - Odd chardonnay grape-like and oak.
D - Good carbonation with a light body.
O - Odd, just plain - sweet odd! Chardonnay in an odd way.
282 characters
4.06
/5
rDev
+6.3%
look: 4 | smell: 4.25 | taste: 4 | feel: 4 | overall: 4
Taking a lot of ownership, Ross must really like dry white wine because like the beer's name suggests, the chardonnay character owns this beer!
Bright, like bubbly chardonnay- the light straw beer proudly shows off its streaming carbonation to form a cottony-white cap of foam. Its racing appearance is near brilliant despite a modest haze. Its fizzy-fluffy retention reforms with a gentle swirl each time right down to the last sip..
The sharp and tangy aroma of chardonnay also commands the nose as white grape, green apple and a mild lemony sulfur note wafts about. A crisp bread note is short as is quickly overtaken by the fruity and fermented acidity. Cork-like in character, a musty and woodish aroma rises and captures the senses like sea air and damp hay.
In similar fashion, the taste of chardonnay takes center stage on the palate as those tangy, tart and semi-sour flavor layer upon the tongue- white grape, lemon, apple, under-ripened berry all reinforce a dry vinous taste. However, a wafer-thin cracker taste supports the vinous taste with its own terse bread sweetness. But a quick finish ensures a piquant souring with cork-like must, dry oak, and a pleasant brine character.
Its dry and light body is aided by its unsurprising champagne-like carbonation. Its high effervescence lifts the malt sweetness and exacerbates the beer's tartness, mineral and peppery character. A fleeting finish of powder and wood spices once again affirms the ale's wine-like tone.
Ross' winy thumbprints are all over this beer. Even as this saucy elixir turns its back on its beery roots in favor of the vine, there's enough of that unique Belgian-esque sourness to relate to the puckering taste that I love so much in sour ale.
1,730 characters

3.65
/5
rDev
-4.5%
look: 3.75 | smell: 3.75 | taste: 3.5 | feel: 3.75 | overall: 3.75
Pours a fairly clear lemon straw with a modest ivory head that dissipates to nothing.
Aroma is green grapes and oak, with a hint of sourness.
Flavor is reflective of aroma, but with a touch more must. Phenolic funky notes emerge.
Body is moderate, with modest carbonation and light alcohol warmth.
Not a big chardonnay fan, and I like my beer to taste less like wine, but this is a very drinkable beverage.
410 characters

3.87
/5
rDev
+1.3%
look: 3.75 | smell: 4.25 | taste: 3.75 | feel: 3.75 | overall: 3.75
A - Light golden apple juice color with no head
S - Smells like a sweet Chardonnay as it is dry, oaky and slightly buttery
T - Dry Chardonnay, green grapes, oak, dry white wine finish to it. Slight alcohol burn.
M - light carbonation and thick beer with a dry finish. Essentially white wine
O - This is essentially Chardonnay as it reminds me of a dry white wine with apple, oak and dry, slight alcohol
408 characters
4.3
/5
rDev
+12.6%
look: 4 | smell: 4.5 | taste: 4.25 | feel: 4.25 | overall: 4.25
bottle pour @ Euclid Hall, #4 in the barrel aged bike ride
A beer very similar to Cascade the Vine in my opinion - light, clear body, active carbonation and a nice head. Full blown chardonnay throughout, champagne yeast, grassy, green grape, sour apple. I have no idea how this was 11% - dug it, but I am giddy for champagne barrel aged beers
343 characters

3.22
/5
rDev
-15.7%
look: 3.5 | smell: 3.25 | taste: 3 | feel: 3.75 | overall: 3.25
From a 355 ml bottle (dated June 4, 2013) into a tulip.
A-The pour is pretty flat with no real head, just a collar of white bubbles. The brew is very light in color, like a sauternes wine, and clear.
S-There is a bit of tart apple and a decent dose of white grape, as well as a slightly funky, tropical fruit note. The alcohol is noticeable and is medicinal and solvent-like. There is a vinous character here, but it smells more like MD 20/20 than good chardonnay. The whole thing is a bit disjointed.
T-The taste also provides some white grape juice and apple. Instead of inviting, the funkiness comes across as off-putting rotten fruit, like overripe apples and peaches. The solvent-like alcohol is very strong, making this taste a bit like cheap wine.
M-The feel is pretty standard for a wild ale with light to medium heft and a chunky, assertive wave of carbonation that dissipates on the palate.
O-This brew is a let-down, especially when compared to Odio and Oud Floris. Perhaps it was just too high in ABV, but I could not get over the cheap wine character here. The fruit flavors are just overwhelmed by the heat from the booze and the result is a strangely rotten-tasting brew.
1,192 characters

4.03
/5
rDev
+5.5%
look: 4 | smell: 4 | taste: 4 | feel: 4.25 | overall: 4
Received bottle in trade with LotsofLupulin- thanks!! Appearance is very light in color with short lived white head. Some spotty lace present, but not much. The nose is full of Chardonnay character with heavy white grape must, a healthy dose of lactic acid, a touch of funk, and plenty of character from the barrels. The taste starts with sweet grape juice and quickly dries and has Chardonnay all over it. Sourness is second thought as the wine character really overshadows. The finish is quite dry. The high abv is masked well. Mouthfeel is light with high carbonation. Overall, this has a very champagne like quality as it tastes like a heavily carbonated white wine. The brett is present on the nose but seems a little lost in the flavor. Definitely a unique offering from Avery, not quite as enjoyable as some of the sours in this series though.
850 characters
4.34
/5
rDev
+13.6%
look: 4 | smell: 4.25 | taste: 4.5 | feel: 4.25 | overall: 4.25
12 oz bottle of the latest BA series (number 16) from the release party on Father's day 2013 (complements of Ratman) - pours a hazy pilsner color with small white head. Crazy amounts of foam in my snifter - which brings out the tasty wild / sour ale aromas.. Nose is vinous, with white wine and green grapes dominating each whiff. The taste offers up a twist from the first sip. Mostly oaky chardonnay flavor and sour funkiness with a dry, woody backbone. Notes of barnyard straw, young grapes and some light lemon dryness lingering on the finish. Pretty tasty - tart and funky. Get some….
591 characters
Ross's's' Melange from Avery Brewing Company
3.82
out of
5
based on
84
ratings.