Alexandria's
BEER AVG
-
none
Awaiting 10 Ratings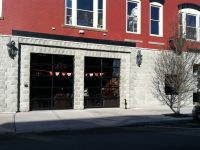 PLACE INFO
Type:
Brewery, Bar, Eatery
132 E Crawford St
Findlay
,
Ohio
, 45840-4803
United States
(419) 424-5750 |
map
Notes:
No notes at this time.
Added by WesM63 on 10-01-2012
Beers are brewed at / by another brewery.
Ratings: 9 | Reviews: 5
Reviews by LittleDon:

4.28
/5
rDev
+5.4%
vibe: 4.75 | quality: 4.75 | service: 4 | selection: 4 | food: 3.75
Pros: Well though out selection large enough to please most. Inviting atmosphere
Cons: Small. You have to be in Findlay to go there.
What is this place doing in Findlay, OH? If I close my eyes, I could imagine I'm in a gastropub in San Diego or Denver. Brick, brass, and wood interior with a small-medium bar tucked in the corner. Couches and stuffed chairs on the perimeter of the rectangular room with big garage doors separating you from downtown Findlay. The place isn't big, fifty people would make it crowded. Bowling alleys upstairs.
The selection isn't large (about 35 taps) but it's well though out. The chalkboard organizes your choices into about six or eight categories (Sours & Lambics, Stouts & Porters, IPAs, etc.) Good selection of local, regional, and national brews. I was able to have something from Great Lakes (Rye of the Tiger?), Jolly Pumpkin (Madrugada Obscura), Bell's (Expedition Stout), and Heavy Seas (Siren Noire). The services was good. The bartender was covering the entire area and made time to discuss beer choices despite being a bit busy. Food was slightly better than average pub food. Split fried pickled green beans with a colleague (well prepared, good flavor without tons of breading) and had a PBLT (pork belly, lettuce and tomato) for an entree (meh, light on the PB and a bit dry).
Found out from one of the staff that this is a new incarnation of this place. I was told by the manager of the hotel I was staying at that Alexandria's was an upscale Mexican place with great beer. Hopefully, the atmosphere and beer won't change anytime soon, I think they have that right. Would I go back? In Findlay you'll have few choices. If this place was in Cincinnati, Columbus, or Cleveland, I'd still go out of may way to make it back.
1,772 characters
More User Reviews:

3.45
/5
rDev
-15%
vibe: 4 | quality: 3.5 | service: 3 | selection: 3.5 | food: 3.75

4.11
/5
rDev
+1.2%
vibe: 4.25 | quality: 4.25 | service: 4 | selection: 4

4
/5
rDev
-1.5%
vibe: 4.25 | quality: 4 | service: 3.75 | selection: 4.25 | food: 3.75

4
/5
rDev
-1.5%
vibe: 4 | quality: 4 | service: 4 | selection: 4
Hung out here with my family over the holidays. Two separate bars, one downstairs that always seems to be packed when I visit, and one upstairs. The vibe seems different on each level. The upstairs has shuffleboard and pool tables spread out over what was once a bowling alley. I think they have since done away with the bowling.
The beer selection was decent. A good OH representation. There are some contract brewed beers that are specific to this place, brewed out of Rochester, NY I believe. I had a BBA Stout of theirs that was very tasty. Also sampled some of their other offerings, and thought all were above average.
Cool place to hangout and grab some good beer. Didn't get a chance to try the food this go around. Maybe next time.
744 characters
3.98
/5
rDev
-2%
vibe: 4.25 | quality: 4 | service: 4 | selection: 4 | food: 3.5
I have been wanting to check this place out for awhile now. A friend loves this place. I originally thought this was a brewpub but found out the owner also is part owner of Rochester Mills brewing in Michigan, so they feature their beers.
I walked in on a Friday evening around 7pm to a sparse crowd. The bar area was nice with outdoor seating and exposed brick walls. A chalkboard had a list of the beers on tap. There was a nice selection. The bartenders were friendly and accommodating. I perused the menu. It seemed to be a burger place with a whole page dedicated to burgers. I ordered a burger with an egg and maple syrup while my girlfriend got a bratwurst patty. We were both disappointed in our meals. My burger was boring and tasteless. The topping were good, but the meat itself was just plain. My chick said the same of her brat patty.
After eating we decided to check out the upstairs. There was another bar with a bowling alley. I thought the place had great character with a good drinking environment, but the food was lacking. I would definitely go back to have some more beer and hopefully find a more appealing meal.
1,137 characters
4.19
/5
rDev
+3.2%
vibe: 4 | quality: 4.5 | service: 4 | selection: 4.25 | food: 3.75

3.31
/5
rDev
-18.5%
vibe: 3.75 | quality: 3 | service: 3.75 | selection: 3 | food: 3.5
I've been meaning to write this review since I added the entry in 2012 when they opened. It has taken me nearly 4 years to finally come to a conclusion on this place. I'm going to avoid talking about Ally's as this entry is for Alexandria's, not Ally's. Due to my initial rating in 2014, this review shows the date as 10/22/2014. However, it was written on 2/15/2016.
V: The vibe is decent. Alexanria's a more of a low end craft beer bar that's supposed to flash back to the 30's speak easy. Since it is downtown, you get a mix of people. Some craft beer oriented and some that are just stopping by for a quick pint of their favorite macro beer. (yes, I said macro)
Q: Quality is all over the place in every respect.Beer selection and quality varies wildly. Food is generally average but varies as well.
S: Service is generally decent. There doesn't appear to be any specific table assignment, so you may get served by one person one time and another the next. Some of the bartenders know beer, others do not. Some bar tenders know how to pour a beer correctly, others do not.
S: Honestly, selection is their biggest downfall in my opinion. Even with 36 taps, I struggle to find something to drink most of the time. The tap list is never up to date, either on the chalk board or paper menu. They have some staples that are always on tap (Founders All Day, Weihenstephan Hefeweissbier, Kentucky Bourbon Barrel Ale, etc) along with their "house" beer, which is all Rochester Mills out of Rochester, Michigan. Every Wednesday they do a flight night that consists of 5 beers randomly selected that may or may not make any sense. The place is a huge hit or miss when it comes to selection.
F: The food menu is typical pub food. It has changed multiple times and never stays the same for very long. The quality of the food itself is generally average but has its moments, good and bad. The smoked chicken nacho's are generally a safe bet.
Overall: I used to tell people I loved the idea behind this place and couldn't wait to see where it was going to go, but that's not true anymore. This place is sadly a downfall of someone just trying to make money and not staying true to their craft. I don't venture here much anymore due to the shortcomings but it's a decent place to stop in and get a pint and some food if you're in Findlay. You might be able to check Facebook or their website for a tap list that might be up to date and get a pint of something better than a Macro beer (or well, you can get those here too) Don't expect it to be one of those hidden gems that's going to have <insert your favorite Ohio beer> or killer food.
When I added this entry, they used to fill growlers but that appears to of gone by the wayside at some point. I don't recall them being very cost effective at the time either.
2,814 characters

4.89
/5
rDev
+20.4%
vibe: 4.75 | quality: 5 | service: 5 | selection: 4.75 | food: 4.75
Thanks to BA, I had the good luck to have discovered Alexandria's while in Findlay on biz. As my ratings indicate, I was very pleased with my experience, which exceeded expectation on all fronts. This is the kind of place that I'd frequent regularly if I lived in the area and it offers the elements of the best establishments found in bigger cities. Findlay is fortunate to have such a quality offering of such excellent food and drink in its midst.
The beer list is both deep and thoughtfully structured with regional beers and some of the recognizable brands [Dogfish, Sierra,Stone,etc.] I opted for Great Lakes' 'Rye of the Tiger' IPA and Thirsty Dog's 'Citra IPA' which were both superb. I also tried Alexandria's own 'Red Ale' that was a very robust and malty brew with just the right hop finish.
The food is both adventurous and varied; I had the 'Cuban' sandwich which was a very pleasant concoction of tastes that provided the ideal accompaniment to the beer. The service was very cordial and pleasant; Chelsey was at the bar and is very knowledgeable about what she serves and is the master of the "good pour." The building housing Alexandria's has been carefully restored - I don't know what it was before - but provides a pleasing setting to enjoy the offerings therein.
I'll be returning to Alexandria's before I leave Findlay and on future visits.
1,364 characters
Alexandria's in Findlay, OH
0
out of
5
based on
0
ratings.