Wall's End
| Northgate Brewing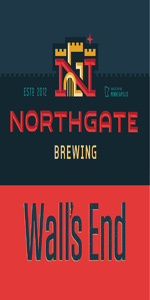 BEER INFO
Brewed by:
Northgate Brewing
Minnesota
,
United States
northgatebrew.com
Style:
English Brown Ale
Alcohol by volume (ABV):
4.80%
Availability:
Year-round
Notes / Commercial Description:
This Northern English Brown harkens back to the beer that started it all - a brew that we simply couldn't keep in the keg. Smooth, Sessionable, Malt focused, English hopped. Refreshing enough for summer drinking, substantive enough to enjoy in the winter - we love this beer year-round.
Added by Jason on 01-30-2013
Reviews: 10 | Ratings: 44
4.22
/5
rDev
+9.3%
look: 4.25 | smell: 4 | taste: 4.25 | feel: 4.5 | overall: 4.25
Serving glass: Poured from can into Imperial Pint.
Appearance: Chestnut brown with good sized head and a trace of lacing left behind.
Smell: Chocolate, bread, cherry. More of a dry and spicy aroma than a sweet one.
Taste: Strong malt backbone of chocolate, bread and some light fruitiness. Surprisingly isn't sweet. Some counterbalance in the form of spicy, earthy, floral and nutty notes at the finish.
Feel: Moderately low carbonation. Fairly light body but ridiculously smooth and creamy for a sub 5% beer. Mostly dry finish.
Overall: This is definitely one of the best English Brown Ales I have had. Very impressive. In fact, Northgate seems to excel at authentic English Ales, which is hard to do properly and adds a lot to the Minnesota beer scene.
760 characters

4.04
/5
rDev
+4.7%
look: 3 | smell: 4 | taste: 4.25 | feel: 4 | overall: 4
Excited for this one, friends of mine and close to my house with that said I will try to remain objective.
The pour is a murky lightish brown with a very small head and a slight lack of lacing which is not uncommon for this style.
Aroma starts with some nice floral hops with chocolate and a nice hint of nuts
Taste starts with the nutty chocolate up front, hops are here but they don't get in the way with just a nice undertone of floral notes and maybe a touch of wood.
Mouthfeel is about right, this is a session beer so mouthfeel can easily become thin which this is not and it doesn't come close to being chewy either.
Overall, this is just a very good quaffable session beer (which bars tend to lack on taps in my opinion). Everything in the taste and aroma are pleasent and play nicely together. Nothing in your face about this one, but I don't think that is a game they are trying to get into.
I don't gravitate to English Brown Ales by any means, but this one might make me think twice if I see another locally brewed example of the style...much better fresh than anything making the trek over here.
1,114 characters
4
/5
rDev
+3.6%
look: 4 | smell: 4 | taste: 4 | feel: 4 | overall: 4
Poured from a 16 oz. can into a chalice.
Appearance: Pours a deep brownish amber with a moderate amount of bubbles. Solid finger of beige head that settles into a thin creamy layer.
Smell: A toasty, sweet, and bready malt forward aroma with hints of caramel, chocolate, and nuts. Toasted barley malt with hints of caramel, toffee, chocolate, grains, biscuit, nuts, and yeast. Hints of cream. Mild earthy hop hints. A pretty solid Brown aroma.
Taste: Like it smells, a sweet, toasty, creamy, and bready malt forward taste with notes of caramel, chocolate, and nuts. Toasted malt with notes of caramel, chocolate, toffee, biscuit, grains, nuts, and yeast. Sweet notes of cream. Light backing presence of earthy hops. A nice creamy taste.
Mouthfeel: Light to medium bodied with a moderate amount of carbonation. Creamy, silky, and very smooth.
Overall: A pretty solid session version of a Brown Ale. Nice toasty malt notes with a light creamy body.
955 characters

3.97
/5
rDev
+2.8%
look: 3.5 | smell: 4 | taste: 4 | feel: 4 | overall: 4
No canning date.
Appearance: Murky dark brown body with a tan head that fades quickly but leaves a bit of froth behind.
Aroma: Light chocolate and nice toffee/caramel coming through. The aromatics are soft but effective.
Taste: Great mix of classic dark mild flavors; bready and crisp marris otter, chocolate, light dried fruit notes. The hop character is a bit grassy with a light bitterness that simply serves to balance the malt. Casual finish with a last burst of hops in the aftertaste followed by caramel. Respectable flavor for a sessionable 4.8% ABV.
Mouthfeel: Light in body but not watery. Carbonation is not overdone. Good drinkability but not as thirst-quenching as I expected.
Final Thoughts: I really like Northgate and their English ales are all very good. This one is a solid example of the style and a worthy flagship. Would I drink it again? Sure, it's great on cask.
890 characters
3.97
/5
rDev
+2.8%
look: 4 | smell: 3.75 | taste: 4 | feel: 4.25 | overall: 4
The keg that I am drinking out of was delivered to grumpys a few hours earlier after being kegged the previous day! Grumpys NE is amazing!
A: Khaki colored head disappears with a nice amount of lacing. Medium brown color (lame descriptor I know) with a slight hue of ruby.
S: Yeast dominates the nose that's laced with fruity esters. Not my a well liked style personally but I am enjoying it so far. Their is a touch of toffee and cocoa powder in the background, but it is barely detectable.
T: It really opens up once it hits the tongue. The yeast hits you first, then it transitions to the most likely fuggle hops; maybe a touch of northern brewer hop. Very little sweetness (yes!) and an excellent after taste that combines the yeast's plum flavors with a touch of toffee and tannins. Extremely balanced! The flavor beckons another gulp.
M: Great for the style. Light to medium viscosity yields excellent drinking. Plenty of carbonation to keep the flavor fresh.
Yet another NE brewery opens with great beer. Thank you for using Grumpys as your medium. Thank you.
1,068 characters
3.93
/5
rDev
+1.8%
look: 4 | smell: 4 | taste: 3.75 | feel: 4.25 | overall: 4
On tap at the brewery and was so surprised by how much I liked it, decided to pick some tallboys up a week later to make sure I wasn't imagining things...so, from a tallboy into a nonic.
Pours a slightly murky umber with a big foamy 2 finger khaki head that subsides after 2 minutes...some lacing. Nose is bready, a little chocolate (but not sweet), some nuttiness and also some kind of earthy spice...very nice.
Taste is really good, following the nose with even more layers of malty goodness, and again, some light spice and also gentle floral hops. I am getting a little yeast on the end, though, which seems out of place (didn't get this on tap). Mouthful is really good. Medium carbonation, lively on the tongue, substantial body, but also nice and creamy.
I hardly ever look for Browns, but this could convert me. I'm curious to do a side-by-side with Bender.
871 characters
3.8
/5
rDev
-1.6%
look: 4.25 | smell: 3.5 | taste: 3.75 | feel: 4 | overall: 4
Deep brown color, somewhat ruby red. Active carbonation. 3/4 inch off-white thick creamy head. Aroma is not too strong, but is nice: roasty, bready, hint of dark fruits. Substantial mouth feel, not at all thin, smooth and creamy. Pleasant initial taste, hint of fruits, not sweet at all, with some dry bittering asserting in the middle and a mild malty finish with just a touch of bittering hops. The finish is not exactly dry, but it is not sweet either. Nicely balanced as expected for an English-style brown. Very much a malt dominated beer. This is a top notch brown ale, roasty, bready, slight fruit and just enough bittering from the hops for balance, and very good tasting. This is a highly recommended beer. Northgate is really nailing the traditional English style ales.
779 characters

3.78
/5
rDev
-2.1%
look: 3.75 | smell: 3.75 | taste: 3.75 | feel: 4 | overall: 3.75
Northgate Brewing Wall's End English style Brown Ale. 4.8% ABV. 19 IBU. SRM 22. 16 oz.
Appearance: light brown coloring, clear, off-white head above, leaving somelace.
Aroma: caramel, nuts, some toffee, some cocoa, a likeable malty nose.
Taste: Sweetness first, with hop bitterness cleaning up swiftly thereafter. Just bitter enough to balance. Tasty malt profile continues to deliver on the palate. Actually a little more than balance, spilling over just a touch. Medium bodied. Drinkable. Likeable. Just like a brown ale oughta be.
536 characters
3.61
/5
rDev
-6.5%
look: 3 | smell: 3.75 | taste: 3.75 | feel: 3.25 | overall: 3.5
Poured from the growler, it produced a 1 finger, off white head. It quickly faded, and produced no lacing. The beer color is a dark brown, and was non-translucent.
The aroma was of roasted malts, dark chocolate, and caramel.
The taste is similar. Very little hop bitterness. Light bodied for a brown. Medium-low carbonation.
Good beer, but not perfect. It is a session brown, which does excuse it for some of it's downfalls.
428 characters

3.47
/5
rDev
-10.1%
look: 3.75 | smell: 3.5 | taste: 3.5 | feel: 3 | overall: 3.5
This Ale came on tap. It looked hazy brown and had a slight reddish hue to it. Smelled nice and malty with a hint of mild bitter hops. This ale had many different taste phases to it, starting off with heavy malts followed by a taste of bitter, roasty hops reminiscent of a winter ale. There was a nice roasty finish that lingered on the palate. Despite all the different flavors, this ale felt medium-bodied to light.
Would I buy this beer again? Definitely.
459 characters
Wall's End from Northgate Brewing
3.86
out of
5
based on
44
ratings.