Fette Sau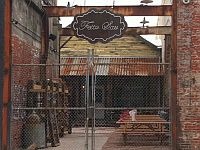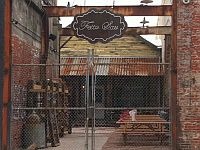 Bar, Eatery
1208 Frankford Ave
Philadelphia
,
Pennsylvania
, 19125-3906
United States
(215) 391-4888 |
map
fettesauphilly.com
Notes:
Reviews by JohneHoodlum:
More User Reviews:
jgiordano88 from Pennsylvania
4.13
/5
rDev 0%
vibe: 4.25 | quality: 4.25 | service: 4 | selection: 4 | food: 4.25
Dec 16, 2018
NeroFiddled from Pennsylvania
4
/5
rDev
-3.1%
Ahh, so I've learned something, but at the same time I've also become confused... "Fette Sau" Philly is a Stephen Starr restaurant. That kind of makes sense as it's right next to Frankford Hall, which is also a Stephen Starr location, but is the Fette Sau in Brooklyn a Stephen Starr establishment as well? They share the same logo, and they share the same look, and they share the same damned good pork BBQ!!!
In terms of decor, or should we just say interior space, the Philly location is better. It still has the "old butcher shop" look with the while tiles and the old knives and cleavers as bar taps, but the seating is more comfortable, especially in the secondary room that's separated by the wooden framework for a wall that doesn't exist. And, as in NY, you can sit "outside" in the alley to eat if you'd like.
When it comes to beer, however, Brooklyn rules! But OK, there are 10 taps and I'll go through each of them from my last visit. THIS IS IMPORTANT SO DON'T SKIP OVER IT!
Sly Fox Fat Pig - of course, a house beer. I can't argue with Sly Fox - I love those guys! I just wonder, is it actually another beer, or is it done just for Fette Sau... the barkeep didn't know (negative points for service).
Narragansett - I'm pretty tired of this crap. It's the new PBR... cheap beer chic, OK I get it, but I don't want it. And was PBR ever sold on tap? I don't think so. Note to hipsters: It's not cool if you don't have the can in your hand, then it just looks like you're drinking what everyone else is drinking.
Founders Pale Ale - Sold offering, but I think they're running it based on the Founders name, rather than the beer itself.
Sly Fox Pils - of course, they're doing the house beer, this is the trade off. No problem there for me as I'm a fan, but where is the Yards? Or the Nodding Head?
Brewworks Steel Garden Wheat - I ordered a "Bethlehem" and the bartender didn't know what I was asking for. Also, Brew Works is now one word, but OK, at least they're on tap. Good beer, and a good choice to round out the beer list with a wheat.
Boulevard Single Wide IPA - OK, so I'm starting to see a pattern developing. Who distributes Boulevard? It must be the same place that distributes Bethlehem Brew Works and Sly Fox and Founders. Boulevard Single Wide is an OK choice, just like Founders, but it wouldn't be the IPA I'd go to, particularly if I'm also pouring their Saison (more to come).
Sam Adams Oktoberfest - Nothing against Sammy, I support them, but I'd rather support them at an airport bar than in a place that supposedly focuses on craft brew. This one kind of sums up my thoughts on the draft selection at Fette Sau: they're not running the show, they're letting the distributor do it for them. Pathetic.
Duclaw Morgazm - falls right under the same banner of letting the distributor run your tap list. I like Du Claw, and I had one. Decent beer.
Boulevard Tank 7 Saison - I can't argue with this beer. Excellent.
Jack's Cider - It's not beer, but you've got to offer at least one, right? They don't do bottles, so it's got to be on tap. Got it.
So in the end it looks like we're all having the wool pulled over our eyes. The big boys are setting up shop to look like they're hip and cool, but really they're not, they're just copying something that came before; and in combination with Barcade which is just down the street, it looks like Philly now has it's own "Little Brooklyn" going on. Bummer, I thought we were on the right track to becoming our own city.
Oct 17, 2014


slander from New York
4.43
/5
rDev
+7.3%
vibe: 4 | quality: 4.25 | service: 4.5 | selection: 4.5 | food: 5
Bar.
Buh.
Cue .
21
'Joe Carroll has cast you as the main character in his psycho sequel'. I am soooo going to get mileage out of that one. Sunday, fun day, but we're going to have to work for it. "Phette Philly" (yeah, that one was mine) revisited. On the doorstep at opening, again, amazingly well timed for an hour 45's ride in. I am excellent…
Gated under neon, and walk the alleyway, so it's a whole hell of a lot bigger outside than 'our' Fette. Stationed the same in theory anyway; wind through the ropes while studying the "Today's Meat" board on the end listing the goods of the day, view the wares in the case and don't think too hard about the pig's head there, order up, slide down, side down (note the other board behind the counter with meats, sides, beverages, & deserts, too), and pay your play. If you haven't already divided and conquered (i.e., I'll get the food, you go for drink), continue all down the line, a 'C' shaped bar, stainless steel topped with ornate trim, vertical slat wood bar base, and a foot rail; seating for 7 on alt colored tractor seats. Subway tile barback wall, with a sharp tool tap handle row of 10 on the center, and whiskey shelved above and to both sides, glow lit.
Forward garage door roll up over the outside space, and walls of exposed brick & concrete in places, others painted saltwater taffy brown with pink stripes, some corrugated foldiness, and the far wall the length done up with the obligatory Fette meat cut tracings. Brick colored concrete floorings, a rafter ceiling with sky light cuts, old crappy fluorescents over the counters and bar, drop baseball bulb filaments in caged bulbs, and a few 3 blade spinny fans. Light décor, save a rack with sharp cleaver tools alongside the meat counter (crowd control), and a 'Pork, our own seasoning tender & juicy' sign.
3 step up booths along the far wall, and 4 long tables mismatched across the floor offering views of the side room, holding 2 corner booth-table scenarios to the rear and a dozen tables in 3 rows of long play and shortys along the perimeter. Some tables have picnic benchings, others mismatched chairs.
Gray plank wood floors there, an A-frame plank ceiling with crossbeam rafters and skylights, a few spinnys and drop paint can cluster lighting. Rafter framing uprights, and the front wall holds a door and panel windows to both sides, and thin slat horizontals above. And the brick courtyard with a half dozen+ picnic tables and heat lamps out front, starting streetside narrow and widening further inside. It's got the look of a front porch with a few tables en waiting under the awning.
10 taps, the beer board atop showing ½ pint, pint, ½ gallon, & gallon pricing. ½ of them are Pennsylvania offerings (Yards Brawler, Dock Street RyePA, Sly Fox Pikeland Pils, Troegs Dreamweaver, Weyerbacher Verboten), and the other ½ a collection of non local craft (Lost Abbey Red Barn Ale, Port Wipe Out, Founders Porter, Six Point Vienna), and an in state cider (Jack's Cider). I drank the Dock Street RyePA & Lost Abbey Red Barn Ale. I wanted the Port Wipe Out but it's been known to shorten my day significantly. There's also a wine board up there, if that's your need.
Today's meats; Black Angus Beef Brisket, Black Angus bone in Short Rib, Duroc St Louis Pork Ribs, Berkshire Pulled Pork, Duroc Pork Belly, & Nicolosi Hot Italian Sausage. Last time out I rookie ordered too much food, so I made sure to do it again this time around. The short rib was best of show; just fall off the bone amazing. The pork belly rocks (duh), and the sausage had some excellent heat to it. Pork ribs & beef brisket were also not of the suck, either. Guss' half sour pickles pickles pickles, and burnt end baked beans. And a nap. Sauces on the table; vinegar, sweet & spicy, and although no mustard, they claim to be holding. Suspect, if you ask me.
Tunes, lots of old blues. We are trying to ascertain what Moono's secret blues name is but he's not talking. 'Lightning Moon', maybe. Good drink; with some house beers made for them by local players, and let us be honest, you know the food is just kickin'.
Mar 05, 2013
Fette Sau in Philadelphia, PA
Place rating:
4.13
out of
5
with
8
ratings