Imperial Pajamas Coffee Stout
| Begyle Brewing Company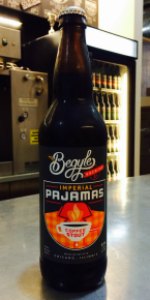 BEER INFO
Brewed by:
Begyle Brewing Company
Illinois
,
United States
begylebrewing.com
Style:
American Double / Imperial Stout
Alcohol by volume (ABV):
9.80%
Availability:
Winter
Notes / Commercial Description:
Take Flannel Pajamas--our Oatmeal Stout--double the grain used and throw in some Ipsento Wildfire Espresso beans... What do we get? Imperial Pajamas, our Imperial Coffee Stout.
Added by Fcolle2 on 02-25-2014
Reviews: 9 | Ratings: 70
3.41
/5
rDev
-16.8%
look: 2 | smell: 3.5 | taste: 3.5 | feel: 3.5 | overall: 3.5
Pours a black color. 1/4 inch head of a tan color. Slight retention and slight lacing. Smells of coffee, slight sweet malt, roasted malt, alcohol, and hops. Fits the style of an American Double / Imperial Stout. Mouth feel is sharp and crisp, with an average carbonation level. Tastes of coffee, slight sweet malt, roasted malt, alcohol, and hops. Overall, weak appearance, simplistic, average brew.
406 characters
4.04
/5
rDev
-1.5%
look: 4 | smell: 3.75 | taste: 4.25 | feel: 4 | overall: 4
A bomber with a bottle date of 01/13/16 poured in my 13oz. stout snifter.
Look- Pours a medium thick and oily black leaving a small ring of tan foam.
Smell- Dark roast, smoke and some bakers chocolate.
Taste- Dark roast coffee, chocolate and a hint of char.
Feel- Medium bodied and slick.
Overall- A solid coffee stout that still delivered after five months from bottling. I was given this bottle recently, next time I'll have to try one fresh. The slight lack of smell and carbonation were my only minor issues, other than that, a winner.
549 characters
4.42
/5
rDev
+7.8%
look: 4.5 | smell: 4.25 | taste: 4.5 | feel: 4.25 | overall: 4.5
22 oz. bottle into a tulip glass
A - Heavy pour produces a 1 finger head that is very dark khaki in color. Head is creamy in appearance and dissipates incredibly slowly to a thin lacing. The beer itself is as dark as can be and opaque. No carbonation is visible. 4.5/5
S - The aroma is very heavy on sweet and roasted notes. Espresso, ultra dark chocolate, molasses, and burnt toast make up the aroma notes and are very strong. Definitely heavy on the espresso with a bit of cold pressed coffee as well. Lactate makes an appearance as well which helps to bring out the sugary sweetness. 4.25.5/
T - Molasses, brown sugar, and lactate all come out at once providing a sweet punch in the mouth right off the bat. The sweetness lingers for quite some time and leads into the dark chocolate which starts to ring in the roasted and earthy flavors. The coffee is not near as pronounced as in the aroma with it taking more of a feel of cold pressed coffee than espresso. Burnt toasted and dark roasted grains come in 3/4 of the way through, eliminating the sweetness and balancing out the flavor with more of an earthy note. Just a hint of tobacco comes out along with the coffee. Slight bitterness on the very back end but nothing overpowering. 4.5/5
M - Significant carbonation burn up front which evens out fairly quickly. Heavy bodied but the carbonation helps it to not sit too heavy. Slightly drying with a bit of lingering dryness upon swallowing. 4.25/5
O - One of the best coffee stouts that I have ever had. Very well balanced between sweet, earthy, and bitter. Very drinkable as well despite the high abv. Sits easy in the stomach and can be imbibed with or without food. 4.5/5
1,711 characters
4.3
/5
rDev
+4.9%
look: 4 | smell: 4.5 | taste: 4.25 | feel: 4.25 | overall: 4.25
Exceptionally smooth, this must be the cat's pajamas. One of the more distinctive coffee stouts I've had, in that it really showcases the coffee well. Smells like an earthy, nutty dark blend, with hints of banana and biscuit. The flavors drive that impression home, with notes that are unmistakably coffee but don't go overboard or produce a generic dark bitterness. Instead, the bitter chocolate is more of a milk chocolate here; perhaps we have the oatmeal to thank just as much as the coffee, but I appreciate the balance, moderately full body, and silky mouthfeel.
568 characters
4.02
/5
rDev
-2%
look: 4.25 | smell: 4 | taste: 4 | feel: 4 | overall: 4
Pours black from the bomber, tan head quickly fades. Sweet aroma, tastes of roasty malts, dark chocolate, some coffee, dark fruits. Very creamy mouthfeel, lingering bitterness. Somewhat hot at the finish, would be interesting to let it mellow. Solid.
250 characters
4.39
/5
rDev
+7.1%
look: 4 | smell: 4.25 | taste: 4.5 | feel: 4.25 | overall: 4.5
22oz bomber picked up at Binny's in February 2015 and enjoyed from a snifter
Imperial Pajamas pours a thick, opaque black and is topped off by a mocha/eggshell head. On the nose are thick and delicious notes of slightly sweetened roasted coffee, vanilla beans, and dark fruit and chocolate. Taste is quite coffee-forward, not acidic at all: just creamy, slightly milky coffee with a dash of vanilla and cocoa. So much coffee deliciousness. Mouthfeel is thick and creamy.
471 characters

3.88
/5
rDev
-5.4%
look: 3.75 | smell: 3.75 | taste: 4 | feel: 4 | overall: 3.75
22oz bottle from IAmJacksHopTongue (thank you!). Batch 54, bottled sometime in 2014. Served in a my Phish snifter.
Pours black with almost one full finger of milky tan head. The foam fades to a thin halo, leaving small spots of lace.
The strong aroma of freshly brewed coffee dominates the nose. Scents of cocoa, burnt sugars and some roasted malts peek through the coffee.
Tastes of bold espresso, brown sugar, chocolate, singed caramel, heavy cream, rolled oats and a little alcohol. Overall smooth and sweet with a pleasant bitterness from the coffee. The alcohol is noticeable without being hot. Quite easy to drink.
Creamy, fullish feel with soft carbonation. Creamed espresso, chocolate, caramel and a hint of booze in the aftertaste.
Imperial Pajamas is darn fine take on the breakfast stout. A little sweeter with less roast than typical but an enjoyable quaff. It may not replace any of my favorites but I'd certainly drink it again if it came my way.
970 characters
4.22
/5
rDev
+2.9%
look: 4.25 | smell: 4 | taste: 4.25 | feel: 4.5 | overall: 4.25
32 oz. growler straight from the brewery retail store.
More info: http://www.beeradvocate.com/beer/profile/30121/?view=ratings&ba=emerge077
Pours with a compact head of tan mocha foam that sticks around for a few minutes, then recedes to a velvet veil, leaving behind a tiny bit of spotty foam. Black body, no light gets through.
Aroma is a little closed at first, becoming roasty and more coffee forward as it warms. Trace sweetness that reminds me of caramelized plantains.
Flavor is much more coffee forward, roasty and bitter with a luxuriously creamy body. Yeast esters of caramelized plantains jump out again, and some trace warming alcohol though it's not much of a distraction. Lingering bittersweet chocolate mocha, caramelized plantain, smooth espresso. Really seamlessly integrated. Enjoyed every drop of this, hope it becomes a regular winter seasonal. This might be the best Begyle beer I've had, hard to compare to NxNW and Hophazardly though since they're so different.
989 characters
4.15
/5
rDev
+1.2%
look: 4.25 | smell: 4.25 | taste: 4 | feel: 4.25 | overall: 4.25
Batch 40
Pours dark dark brown, essentially solid black in color with a thin half finger tan head that retains nicely .
Smell is great, lots of slightly charred chocolate malt forward over creamy vanilla aroma. There is a slight ripe blackberry aroma laying over a pretty big amount of alcohol. Coffee is very mild and nearly undetectable.
Taste is great and follows the nose. There is a good amount of somewhat sweet roasted chocolate malt. There is a slight tart fruity flavor that is cut almost immediately with a very high booze presence. Some charred malt on the backend over some more residual sweetness an booze.
Mouthfeel is great. Super thick semi sweet and just the right amount of charred bitterness. Very mild carbonation.
739 characters
Imperial Pajamas Coffee Stout from Begyle Brewing Company
4.1
out of
5
based on
70
ratings.