Revolver Bock
| Revolver Brewing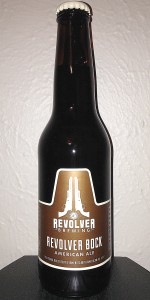 BEER INFO
Brewed by:
Revolver Brewing
Texas
,
United States
revolverbrewing.com
Style:
Bock
Alcohol by volume (ABV):
6.50%
Availability:
Year-round
Notes / Commercial Description:
No notes at this time.
Added by Mora2000 on 10-20-2012
Reviews: 14 | Ratings: 129
4.82
/5
rDev
+26.2%
look: 4.75 | smell: 4.5 | taste: 5 | feel: 5 | overall: 4.75
Enjoyed on the patio at the Flying Saucer in Fort Worth
Man alive this is some transcendentaly amazing good beer. A revelation in a glass that makes me want to shout hallelujah!
Yes. It. Is. That. Good.
Pours a clear dark mahogany brown with a smallish off-white head. Very striking contrast in colors.
Aroma is seductively rich with lots of maple.
Flavor is a mouthfeel. Incredibly rich and malty. A little bit of hops. Lots of maple.
Thick and rich mouthfeel. It reminds me of a thicker version of salvator.
This really is a dopplebock. Super rich. I can even pick up some bourbonish notes.
Extremely good. Highly recommended.
636 characters
4.4
/5
rDev
+15.2%
look: 4.5 | smell: 4.5 | taste: 4 | feel: 5 | overall: 4.75
Revolver Bock by Revolver Brewing has a strong mahogany color and a dense head. The smells nutty and somewhat like chocolate, which while pleasant isn't similar to the style. The taste is a rich toasted toffee like taste that feels very strongly towards he malt with little to no taste coming from hops. Every gulp and sip is rich and full bodied with nice amounts of carbonation. Overall Revolver Bock is a pleasant American Ale with decent drinkability even if it isn't very inline with what a bock is meant to be.
516 characters
4.36
/5
rDev
+14.1%
look: 4 | smell: 4.25 | taste: 4.5 | feel: 4 | overall: 4.5
12 oz bottle poured into tulip glass.
A - Pours a murky reddish brown with 1cm of beige head, which dissipates rapidly.
S - Sweet caramel and some smoky roasted malt.
T - Much like the nose, this tastes quite sweet with a major caramel note. There is a good amount of maple, some bread, and a good amount of roasted malt.
M - Thin-to-moderate body with low-to-moderate carbonation. Sticky mouthfeel.
O - One of my favorite bocks! If you're in Texas and want a good bock, forget Shiner and go for this!
506 characters

4.19
/5
rDev
+9.7%
look: 4.25 | smell: 4 | taste: 4.25 | feel: 4.25 | overall: 4.25
Beautiful dark golden brown with a thick, creamy light brown head. Nice lacing. Very nice caramel flavor, very smooth with just a bit of bitterness. Overall, a very good beer. I have been enjoying the offerings fro Revolver.
224 characters
4.02
/5
rDev
+5.2%
look: 3.5 | smell: 4 | taste: 4 | feel: 4.5 | overall: 4
12 oz. bottle poured into pilsener
(Jan. 17, 2015 born-on date? 017 15 printed on bottom of bottle)
L: murky brown, caramel/tan highlights that are almost golden amber ... one of the murkiest looking beers I've seen; topped with small head of tan foam, maybe 1/2-inch tall, no stick or lace, keeps a tight collar of tan foam
S: sweet dark malt, grain, sour grain ... sour corn ... raisins and prunes -- all very restrained; gets sweeter as it warms, very caramely ... sweet enough to come off as a hot fudge sundae at times
T: very sweet but with a tartness at first, like a toasted fruitcake and cream or a toasted cheesecake ... caramel, coffee, something dusty and earthy, and grain (but not as much grain as the nose); the tartness lingers as it warms, and whether it's meant to be there or not, I love it ... a great balancing agent and an almost wheat-like quality
F: fantastic ... very full but light with a good crispness from the carbonation
O: not a bad beer at all and a great first showing from Revolver for me ... it's plenty good enough to have me interested in trying the rest of their lineup. it's loaded with good malt flavor but also has a grainy foundation underneath that works really well. the use of an ale yeast is interesting but it's hard to say exactly how it affects the final product -- still tastes like a bock or schwarzbier in the lager family more than a stout/porter or brown ale, so kudos to Revolver for being creative while still nailing the style.
1,497 characters
4.01
/5
rDev
+5%
look: 4.5 | smell: 4 | taste: 4 | feel: 3.75 | overall: 4
LOOK: Pours with two fingers worth of khaki foam. The foam head actually flowed over the glass so a proper judgment of head retention was not performed. Copper in color. There is a plethora of small and medium-sized rising bubbles. Lacing is moderate in quantity and both thick and thin.
SMELL: Strong aromas of figs, plums, toffee, and caramel are backed by mild aromas of biscuits and subtle floral and spicy hop aromas.
TASTE: The initial taste is of strong caramel, fig, and plum flavors along with mild spicy hop flavors. I love how there is an immediate balance with the hops. Mild toffee and biscuit flavors follow right after. The final flavors to enter are of subtle floral hops as all previous flavors persist.
FEEL: Light-bodied (the first disappointing aspect of this beer) and subtly carbonated. Goes down smooth. Finishes crisp.
NOTE: This was way better than I would have ever guessed. I suppose my low expectations were derived from another Texas Bock beer that I would rather not bash. Great job, Revolver.
1,026 characters
3.91
/5
rDev
+2.4%
look: 3.75 | smell: 4 | taste: 4 | feel: 4.25 | overall: 3.5
The beer poured medium/dark brown with a thick light brown head. The beer had sediment on the bottom of the bottle, so that was a big negative. Rather smooth b/c of lack of carbonation compared to other beers. Pretty thick body, Good IBU. It's pretty good.
256 characters
3.81
/5
rDev
-0.3%
So, this is an "ale" Bock according to the label.
A: 3.75 - Dark mahogany color with a small yet dense head. Not much lacing, though.
S: 3.50 - Notes of cocoa and caramel--not very bock-like.
T: 4.0 - Tastes good despite little similarity to the style--emphasis is squarely on the malt, with a lot of caramel. It's also a tad toasty (breadcrust-like), with just a light hint of roast.
M: 4.0 - Soft but substantial body--full.
O: 3.75 - Decent American amber.
Weightings (percentages): 20, 20, 40, 5, 15. Avg: 3.81.
522 characters
3.78
/5
rDev
-1%
look: 3.75 | smell: 3.75 | taste: 3.75 | feel: 4 | overall: 3.75
I had this one on the recommendation of the bartender at the Flying Saucer in Fort Worth & I quote, "it's like Shiner Bock but tastes good…".
The beer is a reddish brown with some sticky beige lacing.
It has a nose of caramel and grains. Nice and fresh.
The taste is slightly sweet and grainy. A bit of slowpoke sucker, apple and whole grain bread.
The mouth has a bit of heft and I enjoyed the low carbonation levels.
Nice bock, the sweetness would keep it to a once a night beer for me
504 characters

3.66
/5
rDev
-4.2%
look: 3.75 | smell: 4 | taste: 3.75 | feel: 2.75 | overall: 3.5
Appearance: Dark brown glass has a murky core and holds a tan cover of foam that leaves dots of lacing.
Smell: Malt, deep almost malt extract intensity. Sweet and earthy with a autumn leaves aspect.
Taste: Candy sugar, almost cotton candy with that level of lightness and an odd cola gummy bear twang. Not much of the earthy notes in the nose, light and sweet.
Feel: Thin body, slick texture, slightly foamy carbonation, dry finish.
Overall: A nice Bock, probably note what most Texans expect from a Bock given their Shiner experiences, but this seems close to what the rest of the world thinks of as a Bock. There is a bit of candy note that goes off and pulls down the total scores for me, but enjoyable and worth a try.
726 characters
3.58
/5
rDev
-6.3%
look: 4 | smell: 3.5 | taste: 3.5 | feel: 4 | overall: 3.5
On tap at the Common Table. The beer pours a reddish-brown color with a tan head. The aroma has a good bit of cocoa in it, as well as some light spicing. The flavor is similar. I get some chocolate and dry cocoa, as well as some spice and a hint of earth. Medium mouthfeel and medium carbonation.
296 characters
3.55
/5
rDev
-7.1%
look: 4 | smell: 4 | taste: 3.25 | feel: 3 | overall: 3.75
Long live Malts.
This is a good example of how interesting malts can be.
As other reviewers have noted, this beer is a bit on the sweet / sugar candy side, but I don't think that diminishes any if you appreciate sweet, malty beers.
The color and aroma are fantastic. Well worth the try. This is one of the better beers from this brewery that I've had so far.
362 characters
3.03
/5
rDev
-20.7%
look: 3.5 | smell: 3.5 | taste: 2.75 | feel: 3.25 | overall: 2.75
No easily read date code
Pours a murked up brown with some floaties, with a thumb of tan head. Sediment settles down somewhat over time, great lacing & above average head retention
S: Dark fruit & faint brown bread notes
T: Brown bread, dryness & toffee, plus dryness up front. Dryness, toffee & little brown sugar, some leafy hop, & little pear as this warms, a little apple peel too, faint oxidation as well. Finishes with pear, leafy hops & more oxidation & some toffee, Became undrinkable once warm, a little sourness showed up as well
MF: Medium body, slight carbonation
Drinks alright up front, I suspect it is old. I would try again if assured I was getting fresh product
693 characters

3
/5
rDev
-21.5%
look: 3 | smell: 3 | taste: 3 | feel: 3 | overall: 3
Pours a clear reddish brown color with off-white head. Caramel, roasted malts, and some sweetness on the nose; follows onto the palate. Medium bodied. Finishes with sweet toffee notes. Average bock.
198 characters
Revolver Bock from Revolver Brewing
3.82
out of
5
based on
129
ratings.