Golser Weisbier
| Pannonia Brauerei Gols Gmbh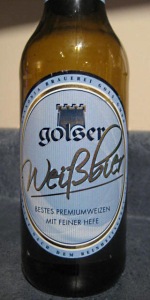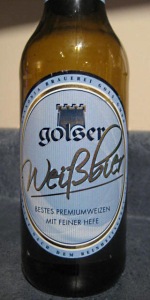 BEER INFO
Brewed by:
Pannonia Brauerei Gols Gmbh
Austria
golserbier.at
Style:
Hefeweizen
Alcohol by volume (ABV):
5.00%
Availability:
Year-round
Notes / Commercial Description:
No notes at this time.
Added by wordemupg on 10-21-2012
Ratings: 9 | Reviews: 6
Reviews by wordemupg:

3.8
/5
rDev
+3.5%
look: 4 | smell: 4 | taste: 3.5 | feel: 4 | overall: 4
330ml bottle poured into pint glass 20/10/12
A murky almost milky pale orange with lots of bubbles and a finger of foam that falls to a thin film rather quickly but leaves loads of lace, there's lots of yeast working its way to the bottom a few chunks end up at the bottom of the glass
S lots of banana and bubblegum with some honey and cereal, slightly sweet and fairly straightforward but what I expect from the style is there, smells strong too I can smell this one sitting on the table
T a little toned down compared to the smell, banana and bubblegum notes are still there but a little faded, dry cereals still strong
M light and fluffy without feeling airy, a little lemon and cereal on the finish
O decent beer but nothing to put it into another class, good and respectable brew with what you expect from the style
perhaps better suited for a hot day opposed to the snow falling from the sky this evening, I liked it but didn't love it, good but not great ect.. ect...
997 characters
More User Reviews:

3.46
/5
rDev
-5.7%
look: 4 | smell: 3 | taste: 3.5 | feel: 4 | overall: 3.5
330ml bottle, day 5 in the 2012 Craft Beer Advent calendar. Weird to see a hefeweizen with a twist-off cap.
This beer pours a very cloudy pale golden straw hue, with three fingers of puffy, silken foamy white head, which leaves a few random rock formations of lace around the glass as it slowly ebbs away.
It smells of banana chips, musty wheat grain, a muddled clove/pepper spiciness, and some mild solvent fumes. The taste is semi-sweet, grainy wheat malt, some tame candy sugar notes, morphing somewhat into a chewing gum essence, and an understated leafy astringency.
The carbonation is generally well behaved, just a slight tremor here and there, the body medium-light in weight, and actually pretty smooth, with just a nice little airy lifting quality. It finishes off-dry, the wheat sweetness and jumbled spice the order of the day.
Not a bad hefe, per se, but neither crisp or full like the best examples, but rather simple and ineffectual, with a few minor olfactory flaws. Ok, I suppose, were it summer, and my attentions were less focused on the beer in front of me, and instead on the sights around me, then it might shine.
1,139 characters

4
/5
rDev
+9%
look: 4 | smell: 4 | taste: 4 | feel: 4 | overall: 4
This is Beer 5 from the Rieder Advent Calendar. Wow, if you had told me that my favourite beer of the first five was going to be the Weissbier, I'd have said "Only if the other four are Rauchbiers!" Seriously though, I'm not normally a big wheat beer fan, but this is really tasty. Pours a pale yellow, very hazy, with a thin ring of head of very tiny bubbles, almost like froth. The aroma is delightful, lots of honey and lemon, but also some banana, clove, and hay. It has a nice smooth creamy texture, which I always get from wheat beers, with that crisp ester bite on the finish. Lots of honey flavour, again with a good dose of lemon on the finish, and of course a nice sweetness from the wheat malt. Incredibly smooth, perfect balance of flavours, no off or funky tastes (which has been an issue with previous beers from this calendar). This is a very well-put-together beer, and I'm feeling the appropriate level of shame for underestimating it. This beer put a smile on my face from the first sip, and what better thing can you really say about a beer?
1,060 characters

2.63
/5
rDev
-28.3%
look: 4 | smell: 3.5 | taste: 2 | feel: 2.5 | overall: 2.5
A: Beautiful lemon/banana coloured cloudy with a very small dense white head.
S: Lemon with banana and more nutmeg than cloves
T: Bitter/metallic for a hefe and light lemon flavour with a slight banana note
M: Thin cream sodaesque feel
O: Yuck :-( Weak flavoured with some off flavours. Probably would be better with salt and pepper wings on the patio on a +30C day, but mine has a foot of snow right now and it's -15C.
423 characters
3.59
/5
rDev
-2.2%
look: 3.25 | smell: 3.5 | taste: 3.75 | feel: 3.5 | overall: 3.5
Poured a nice translucent straw liquid with thin head. The nose presented banana, wheat/oat and a hint of apricot. There is that slight clove flavour on the tongue, pretty much what you'd expect from the style. The smooth slight carbonation finishes creamy. A nice heffy but nothing to make it stand out from others of its like.
328 characters

3.53
/5
rDev
-3.8%
look: 4 | smell: 3.5 | taste: 3.5 | feel: 3.5 | overall: 3.5
Today's craft beer advent calender...
A: Straw with a white head, some retention & lace.
S: Initial banana aroma fades to cloves.
T: Slight clove-like balance with some underlying banana and wheaty biscuit.
M: Smooth, light to moderate body, modest carbonation.
D: Overall a good hefe, better than many on this side of the pond.
333 characters

Golser Weisbier from Pannonia Brauerei Gols Gmbh
Beer rating:
0
out of
100
with
9
ratings