Silversmith Black Lager
| Silversmith Brewing Co.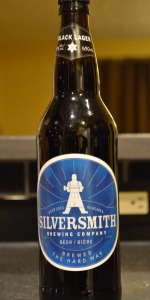 BEER INFO
Brewed by:
Silversmith Brewing Co.
Ontario
,
Canada
|
website
Style:
Schwarzbier
Alcohol by volume (ABV):
5.00%
Availability:
Year-round
Notes / Commercial Description:
No notes at this time.
Added by Sammy on 10-29-2012
Reviews: 9 | Ratings: 47
3.68
/5
rDev
-5.4%
look: 4 | smell: 3.5 | taste: 4 | feel: 3 | overall: 3.5
Pours black in color with good head retention. Roasted dark malts dominate both the aroma and the flavor of this beer. It seems quite simple, basic, and true to it's style.
★
174 characters
4.55
/5
rDev
+17%
look: 4.25 | smell: 4.25 | taste: 4.75 | feel: 4.75 | overall: 4.5
This brew is named Silversmith Black Lager. With the quality of product they have here, they best rename that shit to Goldsmith Black Lager. With hops, malts, yeast and anvil, this brewery has succeeded in forging beauty in simplicity.
Very unassuming in terms of appearance and smell. Looks and pours like a typical porter or stout. A frothy yet quickly dissipating head is present. Mild to moderate lacing. A light mouthfeel combined with a subtle-yet-distinct taste leaves me coming back for more. Though I haven't had many schwarzbiers, this brew seems to epitomizes the style with a clean, dry finish and aftertaste not found among porters and stouts. Notes of chocolate, caramel and coffee are present along with a balance of hops and malts. The yeast is present, but not as overpowering as other dark, Ontario brews. A simple, elegant taste with a crisp mouthfeel results in a beer that stabs through the heart of a beerdrinker and punctures his soul.
Paul Revere would be proud of this one, boys.
★
1,006 characters
4.52
/5
rDev
+16.2%
look: 3.5 | smell: 4.5 | taste: 4.5 | feel: 4.75 | overall: 4.75
I had this bar on tap at Bar Hop Brewing Co. in downtown Toronto. The beer was served in a pint glass.
Look: Whilst Shwarzbier are supposed to be dark brown, this beer's body is pitch black with a tan two-finger head. This goes without saying that the beer's blackness might upset a few purists. Speaking about the head, its retention is darn good as it recedes to a layer that is less than one finger high. That layer ends up having a few small holes. Moreover, as you drink and later on tilt the glass, you see shades of brown to meant to make this beer look like coffee.
Aromas: The nose has low hints of sweetness.However, a discernible hint of roasted malt akin to light roasted coffee is well felt. There are no fruity notes.
Taste: The palate is a clean replay of the aromas. It has no hint of sweetness. The malt profile is very neutral on the front-end and the middle part in that it tastes like lightly roasted coffee beans, which is the dominant taste as a whole. Of course, one can briefly sense brief notes of dark chocolate.
Feel: The carbonation on the front-end is moderate to the point that it reminded me of black soda. The beer is a little bit creamy and the bitterness is not astringent. There is a little bit of after taste in your throat, but there is no alcoholic warmth as the ABV is at 5%.
Overall: Although I am not a huge fan of lagers and their stylistic variations, this beer had a simplicity that went beyond what lagers usually offer. Although it slightly falls short of being to style because of its blackish looks, Silversmith Black Lager sticks to what textbooks about beer say. Moreover, this can be thought of as a cousin of stouts and dark browns as its taste and mouthfeel feels like being toned down, which is meant to make it a drinkable beer. I would drink this again.
★
1,814 characters

4
/5
rDev
+2.8%
Pours near total black, with only a few amber edges. The frothy, tan head doesn't last that long, but coats the glass in swathes of lace. The aroma is of roasted dark malts with some coffee and fruityness. A substantial roasty, dark chocolatey maltiness takes the lead in the taste. Some citric, woody hops lay in the background. The mouthfeel is lighter than the appearance and aroma would give on, with a creamy, soft carbonation. The finish is bittersweet with a long cocoa flavor mixed with black malt roastyness.
This is a fantastic black lager. More stout like than the other couple examples of the style I've tried, but still light bodied and 'lagery'. Highly recommended.
★
697 characters

4.25
/5
rDev
+9.3%
look: 4 | smell: 4 | taste: 4.5 | feel: 4 | overall: 4.25
Deceptively dark, lighter-than-expected finish and body.
Not what you'd think after pouring into a frosted glass.
Love the fact that the Founders of Silversmith engaged the local craft-beer scene and
have slowly launched across the markets thereto.
Always bringing some home with the select wines from NOTL.
Awesome.
★
318 characters
3.79
/5
rDev
-2.6%
look: 3.75 | smell: 3.5 | taste: 4 | feel: 3.75 | overall: 3.75
Had this beer on a crisp Spring day. Perfect for the weather. Poured dark. Carbonation was spot on with light delicate head. Notes of mocha on the nose that carried through on the palate with a refreshing lager acidity and light body. Nice finish and low alcohol made for easy drinking.
★
286 characters
3.88
/5
rDev
-0.3%
look: 3.75 | smell: 3.75 | taste: 4 | feel: 4 | overall: 3.75
Appearance- Pours a dark cola brown with a finger of bubbly beige head.
Smell- Roasted malts, cocoa, hint of dark fruits, light earthy hops.
Taste- Roasted malts, moderate bitterness from the cocoa and light earthy hops, and a dollop of dark fruits.
Mouthfeel - Medium bodied with light-to-moderate carbonation.
Overall - A pleasant schwarzbier with nice roasted malt flavours and earthy hop / cocoa bitterness that lasts well into the finish.
★
447 characters
3.73
/5
rDev
-4.1%
look: 3.75 | smell: 3.75 | taste: 3.75 | feel: 3.5 | overall: 3.75
Picked this bottle up at the "brewery" yesterday - a beautifully re-purposed church in Virgil that will be the site of future brewing after the tanks get installed later this year. Have thoroughly enjoyed this beer on tap at several Kitchener & Stratford establishments and wanted to visit/support the new brewery.
Unfortunately, much prefer the mouthfeel of this beer on draught as this bottle strikes me as thinner and less carbonated than I'd choose. Still pours an attractive near-black, albeit with a limited coffee-coloured head that dissipates quickly. Aroma of roasted dark malts with a bitter edge and a hint of anise. Not an element I'd ever noticed before, so it may be my imagination. Pleasantly complex flavour of dark malts with some chocolate tones, ending with a nicely dry finish. Definitely a decent black lager.
Think this beer will appeal to a wide audience and the brewery is likely to become a real attraction in the Niagara area. Congratulations, Silversmith!
★
987 characters
3.6
/5
rDev
-7.5%
look: 4 | smell: 4 | taste: 3.5 | feel: 3 | overall: 3.5
So-so serviceable dark beer. shwartz. Enjoyed at Wvrst. Black bodied, with lots of lace. Like a nitro beer, as it is missing taste, kind of watered down sweet with licorice finish. A Basic roast taste, a more engaging taste. Would like more body. Still OK drinkable.
★
266 characters
Silversmith Black Lager from Silversmith Brewing Co.
-
out of
100
based on
9
ratings.