Konkey Dong
| Hoof Hearted Brewing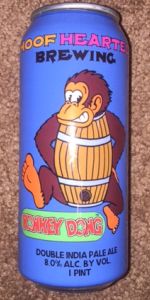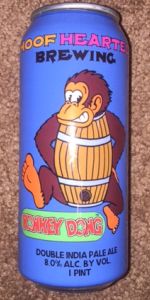 BEER INFO
Brewed by:
Hoof Hearted Brewing
Ohio
,
United States
hoofheartedbrewing.com
Style:
American Imperial IPA
Alcohol by volume (ABV):
8.00%
Availability:
Rotating
Notes / Commercial Description:
None provided.
Reviews: 61 | Ratings: 343

4.25
/5
rDev
-2.5%
look: 4.25 | smell: 4.25 | taste: 4.25 | feel: 4.25 | overall: 4.25
The nose is every bit as juicy as the appearance would indicate. Grapefruit, orange, and pineapple all show up, with a light malt underneath. On the tongue the fruits are sharp, bitter, sticky...light grasses and a bit of chive surrender to a mild alcohol burn and and dry citrus pith. Very nice.
296 characters

4.35
/5
rDev
-0.2%
look: 4.25 | smell: 4.25 | taste: 4.5 | feel: 4.25 | overall: 4.25
Poured from the can into an IPA glass. Pours the consistency and color of straight orange juice. The nose is fruity and sweet with pineapple, mango and orange dominating. The taste follows suit with the orange and pineapple coming to the forefront, only to be quickly overtaken by a nicely bitter finish. There's a nice balance here between the juiciness and the bitterness. One doesn't overwhelm the other, and it makes it extremely drinkable, and something you back to over and over again. Overall, it's an excellent IIPA (considering the murkiness is intentional) that keeps you going back for more.
602 characters
4.6
/5
rDev
+5.5%
look: 4.5 | smell: 5 | taste: 4.5 | feel: 4.25 | overall: 4.5
Really good, second behind roller blabe from these boys....musk and south of eleven are nice as well. Pineapple thick earthy goodness, different from the mango fruit from blabe.
177 characters
4.48
/5
rDev
+2.8%
look: 4.75 | smell: 4.75 | taste: 4.25 | feel: 4.5 | overall: 4.5
From the 10/5 canning. Poured into a Teku. Right of the nose, sweet, ripe pineapple, peaches. Taste- fruity, not malty sweet, not too bitter. The new yeast strain is definitely improving this beer in comparison to previous batches. Mouthfeel is definitely "juicy" and not dry at all. Enjoyed this more than Blabe. Good stuff.
332 characters

2.55
/5
rDev
-41.5%
look: 1.5 | smell: 4 | taste: 2.25 | feel: 2 | overall: 2
Poured into a snifter early morning 10/6/15.
Pouring forth with a milky cloudiness and settling very dense and hazy the beer appears akin to pineapple juice with the color deepening from pale soft yellow to a burnt golden orange. Retention is low but with a good swath of lace.
The aroma is ripe with pineapple, and a smattering of peach. Warmth finds the emergence of a slightly more citrus pith/peel kick. Malts come across as clean - biscuit-like - much to my appreciation. Lacking in any perceivable alcohol the aroma is easy and pleasant. The flavor, though, offers a distinct herbal hop bite upfront before tapering to a less assertive pineapple juiciness. The herbal and the lighter juice flavors are at odds, and a dry bitterness lingers, growing over time. It begins to have an odd rendition of an Americanized Belgian style fruitiness. Appropriately for an 8% DIPA, the body is medium. The carbonation is lively and pointed; perhaps too much for the body anyway, the carbonation furthers the disjointed taste of the beer. To make matters worse, towards the end of the glass, the carbonation becomes fizzy setting the entire beer on edge.
I'm known to enjoy a low ABV double IPA; the 8% range is perfect. It's not surprising that the alcohol really doesn't come through; that is one good thing for this beer - were there any appreciable heat or slickness and it would be down right bad. As it is now, it's disappointing as a beer. In the context of some of their other beers, Konkey Dong is very much below average. I'm glad I bought a single and didn't shell out $12.99 for a four pack.
1,601 characters

4.89
/5
rDev
+12.2%
look: 5 | smell: 4.75 | taste: 5 | feel: 4.5 | overall: 5
This is quite possibly the highest rating I've ever given. Look folks, I've had the big IPAs in the game. I know where the bar is set. And I'm here to tell you, this is a sleeper... truly incredible. Pours a super cloudy light gold with a firm, light head. Nose is what I can only imagine some remote beach of New Zealand smells like. Taste is a kick in the face of citrus, tropical fruits, mainly pineapple, accented by a creamy yet crisp mouthfeel. At 8% ABV and in pint cans... what's not to love about this? Could be a perfect IPA. Donkey Kong on the label too, like whoa. This beer is the embodiment of "Kokomo" by the Beach Boys.
647 characters
4.18
/5
rDev
-4.1%
look: 4.5 | smell: 4.5 | taste: 4 | feel: 3.75 | overall: 4.25
Canned Sunday October 4 and enjoyed Monday October 5 in a Hoof Hearted Teku glass.
Look - Pineapple juice. Very murky. A finger of white head and a lot of lacing. Head is eventually just a ring. Medium bubbles on the head. Higher rating here because it is supposed to look like this.
Smell - Pineapple. Must/dank. Mango. Orange.
Taste - Pineapple and pine. Orange and mango.
Feel - Dry finish. Tears at the tongue. Carbonation is stronger than appearance would indicate.
Overall - The finish kills it for me. I really wanted to like it more than Roller Blabe but it didn't happen. Give me a South of Eleven.
617 characters

3.36
/5
rDev
-22.9%
look: 2 | smell: 3.5 | taste: 3.5 | feel: 3.5 | overall: 3.25
On tap at Fat Heads Hop Fest 2015.
Pours like pineapple juice. Murky and quite frankly disgusting. Similar to Roller Blabe - these guys need to figure out how to get their yeast to drop out.
Smell is citrus forward.
Taste is all tropical with orange and mango - touch of pine on the finish. Minimal bitterness. Weird finish - dirty with some off flavors like chalk.
Mouthfeel is decent but a tad on the thick side.
Overall, this was a disappointment. Hoof Hearted can make some great beers (Roller Blabe was very tasty but looked like crap and had a horrible mouthfeel). But it seems the appearance problem is also indicative of the taste - a bit muddled and dirty, likely due to yeast. Clean up the beers and this could be on its way to the upper echelon of Ohio IPA's - they know how to use hops - but for now this is decidedly second tier.
847 characters

4.27
/5
rDev
-2.1%
look: 3.75 | smell: 4.25 | taste: 4.5 | feel: 3.75 | overall: 4.25
From a same day canning into a Hoof Hearted Teku glass.
It pours a murky, unfiltered pale orange. Looks like orange juice. Definitely had the east coast thing going on. There is a big fluffy white head, but it dissipates pretty fast. A little bit of lacing.
Aromas are mainly tropical fruit with a little bit of sourness. Going to say pineapple and orange. Also a solid amount of dankness. Not medicinal, more yeasty/earthy. Like a mineral water, or limestone. I call it musty.
Tastes like pineapple juice with a splash of mandarin orange. Zesty and rind like, sweet and sour. The hops are fairly subtle initially, but continue to build into a solid and lingering bitterness. There is a biting spiciness that stings the back of your throat that is like a fermented, or alcohol soaked chunk of pineapple.
Very crisp feel. It has a little bit of that Belgian yeast thing. Otherwise, a very smooth textured body reminiscent of a wheat beer, but not as full.
Honestly I could probably copy and paste my score/review for Hill Farmstead Society and Solitude #5, because this beer is almost a carbon copy. A very raw, unfiltered, natural tasting ipa with wonderfully balanced flavors. This brewery is making some great beers.
1,230 characters
4.58
/5
rDev
+5%
look: 4.5 | smell: 4.5 | taste: 4.75 | feel: 4.25 | overall: 4.5
I love INTENTIONAL orange juice look and haze here. The smell is a fruity dank mixture I can't get enough of. The bitterness to aroma/flavor level is almost perfect. Right up there with Roller Blabe as one of Hoofy's best!
222 characters

4.52
/5
rDev
+3.7%
look: 4.75 | smell: 4.5 | taste: 4.5 | feel: 4.5 | overall: 4.5
Updated 10/6/2015 after first canning run.
After switching to the Conan yeast, this has become my new favorite Hoof Hearted DIPA. Straight pineapple juice with the beautiful haze that is so popular among the New England IPAs. These guys are killing it right now and it's no surprise people are finally starting to take notice.
327 characters
Konkey Dong from Hoof Hearted Brewing
Beer rating:
4.36
out of
5
with
343
ratings