Skittley Bittley Bop
| Hoof Hearted Brewing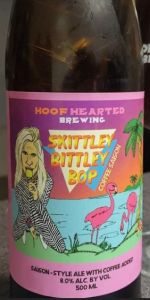 Write a Review

Average: 3.52

| pDev:

19.89%

Reviews:

9

| Ratings:

#1,025 ranked

Belgian Saison

| 8.00% ABV

Wants Gots Hoof Hearted Brewing Ohio

,

United Stateshoofheartedbrewing.com

Notes: Rotating availibility.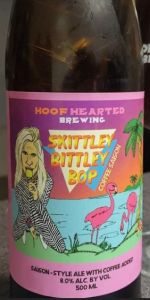 Reviews: 9 | Ratings: 32

4
/5
rDev
+13.6%
look: 4 | smell: 4 | taste: 4 | feel: 4 | overall: 4
16oz can dated 4/30/19 poured into a tulip; 4.5%abv
A: Light red, one-finger head that quickly settled
S: Mostly red raspberry, some sour cherry and light malt
T: Sour fruit matching the nose, a hint of coffee
M: Light-bodied, sour, crisp
O: Apparently quite changed for this batch. I didn't try the first but this is a very pleasant sour ale
345 characters
1.44
/5
rDev
-59.1%
look: 2.75 | smell: 1.25 | taste: 1.5 | feel: 1.25 | overall: 1.25
This is a truly vile beverage! All green pepper in both the aroma and flavor with an incredibly thin and overly carbonated mouth feel! Any macro light lager wold be better than this! What a joke!
195 characters

4.36
/5
rDev
+23.9%
look: 4 | smell: 4.25 | taste: 4.5 | feel: 4.5 | overall: 4.25
The beer comes in a brown color towards ruby brown.
The aroma hits of ground coffee, a bit of earthy saison yeast, bready malts.
The beer smacks of cold brew coffee up front, lots of carbonation as with a saison, a chewy malt breadiness, onto a crisp dry finish with spice and earthiness. Mostly a coffee beer, with a wonderful base saison element to it.
356 characters
2.58
/5
rDev
-26.7%
look: 3 | smell: 2.5 | taste: 2.5 | feel: 3 | overall: 2.5
500 mL bottle. Murky brown body with an ample off-white head. Smells like peanuts? Odd. Coffee and a little acidity with some caramel malt. Tastes weird. Coffee with some lemon tartness. Strong bready malt and an earthy bretty back end. Then the coffee bitterness overwhelms everything and lingers on and on. High carbonation. Medium body. How odd.
359 characters

3.18
/5
rDev
-9.7%
look: 3.25 | smell: 3.25 | taste: 3 | feel: 3 | overall: 3.5
Poured from a 500ml bottle into a pint glass.
Pours a muddy brown body with an off white head that reduces pretty quickly to leave little retention or lacing.
Aromas are weird, kinda malty with a little bit of muted coffee and light tart saision.
Taste.. coffee, chocolate, wheat, malt, caramel, a little corny aftertaste, old malt. Medium body, low carbonation.
This is all over the place and lacks any real balance, just a weird medly of flavors. What happened, did they mess up a saison and throw a bunch of coffee in it to save it? I dont know. It doesnt work though.
579 characters

3.08
/5
rDev
-12.5%
look: 3.25 | smell: 3.25 | taste: 3 | feel: 3 | overall: 3
Coffee brown with clear red edges and a large foamy head that dies to a blanket leaving tons of leopard print lace.
On the nose is plenty of medium roast coffee, some metallic grass or yeast, plum and apple. A very faint hint of vanilla spiked banana yogurt pops up sporadically.
This is a very unusual, tangy vehicle for coffee, it may or may not work for you. Light phenol, spicy but not overwhelming, with hints of sassafras and soda.
Really fizzy, tingly and tangy, this is very similar to soda.
I had this on draft at the brewery in January, and brought this bottle home for the full review.
600 characters
4
/5
rDev
+13.6%
look: 4 | smell: 4 | taste: 4 | feel: 4 | overall: 4
500 ML bottle
Served in an oversized wine glass
This beer pours a dark tea color with deep amber highlights. It is topped with two inches of tan head that leaves some decent lacing.
The coffee is definitely there. From time to time I get whiffs of dank, musty basement.
The taste is where it gets interesting. I taste coffee up front. Then the coffee clears my palate, and I taste some spiciness from the yeast getting some fruity and kitchen spice flavors. The more I drink the more the coffee pervades my taste buds.
Light mouthfeel and highly effervescent.
This is an interesting beer. I enjoyed the flavors which I wasn't sure that I would. I wouldn't call it earth shatteringly great, but it is worth a try.
720 characters
3.66
/5
rDev
+4%
look: 3.5 | smell: 4.25 | taste: 3.5 | feel: 3.25 | overall: 3.5
Pours a transparent, odd shade of tan color. Not much head retention. The flavor is a combination of herbal, earthy, bright, crisp hops, fresh cut grass, and cold black coffee. It's an interesting combination to say the least. Drinkable. It didn't blow me away, but I'm glad I tried it.
292 characters

4.03
/5
rDev
+14.5%
look: 4 | smell: 4 | taste: 4 | feel: 4.25 | overall: 4
Had at the brewery day of release. Really nice fruity funky coffee flavors going on in this. Basically like an iced coffee saison. Some fruity semi tropical notes going on from the hops but more of an iced coffee flavor overall.
228 characters
Skittley Bittley Bop from Hoof Hearted Brewing
Beer rating:
83
out of
100
with
32
ratings