Genesee Summer Brew
| Genesee Brewing Co. / Dundee Brewing Co.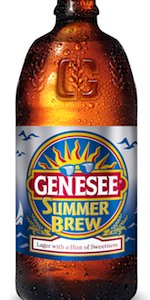 BEER INFO
Brewed by:
Genesee Brewing Co. / Dundee Brewing Co.
New York
,
United States
geneseebeer.com
Style:
Light Lager
Alcohol by volume (ABV):
4.80%
Availability:
Limited (brewed once)
Notes / Commercial Description:
No notes at this time.
Added by Hoagie1973 on 04-26-2012
This beer is retired; no longer brewed.
Reviews: 7 | Ratings: 19
3.63
/5
rDev
+11.3%
look: 4 | smell: 3.5 | taste: 3.5 | feel: 3.5 | overall: 4
Light pale golden color forming thick white creamy textured head, fine speckled lacing bands across the sides of the glass. Aroma has cereal grains, cooked vegetable notes, with an airy hint of light herbal hops. Flavor grain creamy sweetness beautiful light lager style beer perfect for the summer, really clean finish this is world class pre prohibition American beer. Really tasty clean flavor some more sweetness than your average lager with an herbal light kiss of hops, but you can tell this beer was actually brewed with hops. Mouthfeel is light bodied with some residual light syrup textures, even keeled carbonation carries the beer well. Overall an impressive offering in a classic retro stubby bottle.
712 characters

3.78
/5
rDev
+16%
look: 4.5 | smell: 4 | taste: 3.5 | feel: 3.5 | overall: 4
12oz stubby bottle into a pint glass. Part of the heritage pack.
Pours a clear dark yellow with a one finger creamy head. Tons of carbonation and good head retention for a light lager.
Smells of sweet corn along with a little bit of bread. Really nothing in the way of hops.
The flavor is sweet overall with some corn and cereal grain up front followed by a nice toasted caramel. Bitterness is very light with no hop flavor detectable. Finishes with a slightly sticky mouthfeel.
Overall I was pretty impressed by this beer. It is slightly reminiscent of Red Stripe but quite a bit cheaper. Very refreshing and plenty of flavor packed into this one. Wish I could buy it on its own.
684 characters
3.5
/5
rDev
+7.4%
look: 3.5 | smell: 3.5 | taste: 3.5 | feel: 3.5 | overall: 3.5
Poured into pilsner glass, color is gold with bright/off white head that presents at 1/2 inch thick then dissipates but still covers, light lacing on the glass.
Smell is smooth, crisp malt with some lighter sweetness and hints of lemon.
Taste is crisp, clean, light malt flavors - no apparent off flavors, some lingering sweetness and notes of citrus and lemon.
Mouthfeel is pretty solid, only thing that sticks out is the light over sweetness, but it works for this brew. Enough crispness from carbonation to almost balance.
Overall, a pretty decent summer brew, light, crisp, solid flavor and a little sweetness.
618 characters
3.1
/5
rDev
-4.9%
look: 3 | smell: 3 | taste: 3 | feel: 3 | overall: 3.5
12 oz stubbie from Heritage Collection.
A: Pours a golden color with a decent head that fades to bits of lacing.
A: Aroma of malt sweetness and grain. Very faint hint of hops.
T: Taste of malt sweetness and grain with a bit of citrus way in the background. Mild bitterness and a clean finish.
F: Light body, crisp and a bit refreshing.
O: Easy drinker that goes down easy. best when served cold on a Summer day.
417 characters
3.27
/5
rDev
+0.3%
look: 3.5 | smell: 4 | taste: 3 | feel: 3 | overall: 3
12oz bottle poured into a snifter.
A: Pours a clear golden amber with a 1 finger white head. Really carbonated in the body, head sticks around for a minute or two. Leaves some lacing. Yup thats a beer.
S: Light malts with a hint of sweetness, maybe some wheat. Can stir it up to get some dark fruit notes. Pretty decent for a light lager.
T: As it suggests there is certainly some malt sweetness in there. Something just a little off-putting.
M: Light on the palate with ample carbonation. Has a crisp finish with a lingering stickiness.
Overall not their best brew, even on a warm night after some exercise I want something more refreshing.
648 characters
2.9
/5
rDev
-11%
look: 2.5 | smell: 2.5 | taste: 3 | feel: 3.5 | overall: 3
Light yellow in color with a small fizzy white head.
Smell is unremarkable. A little light malt & corn; not much else.
Tastes like a light & sweet corn filled adjunct lager. Same basic flavor as regular Genesee (see my review for that), but a bit smoother with less chemical taste and a touch more sweetness. Finishes light and clean with virtually no aftertaste, just a faint sweetness.
Carbonation is a bit more subdued as well, giving it a smoother mouthfeel.
Drinkable and refreshing for what it is. Fairly clean and crisp when ice cold.
545 characters
2.88
/5
rDev
-11.7%
look: 3 | smell: 2.5 | taste: 3 | feel: 3 | overall: 3
Had this beer for the first time tonight as part of their new heritage pack.
For 7.99 a 12 pack, this beer is hands down my favorite in it especially for the summer. While it's still late April, this beer reminds me exactly of Red Stripe in a much cheaper form.
I will look forward to having this in the summer and having a much better economical beer with the same exact taste.
Well done Genesee. While it may not be a top rated beer in any way, shape, or form, it does a good job for what it is.
501 characters
Genesee Summer Brew from Genesee Brewing Co. / Dundee Brewing Co.
3.26
out of
5
based on
19
ratings.