Tap Room IPA (for Sainsbury's Taste The Difference Collection)
| Genesee Brewing Co. / Dundee Brewing Co.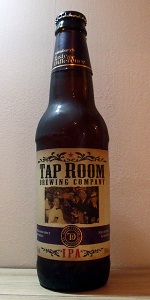 BEER INFO
Brewed by:
Genesee Brewing Co. / Dundee Brewing Co.
New York
,
United States
geneseebeer.com
Style:
American IPA
Alcohol by volume (ABV):
6.30%
Availability:
Year-round
Notes / Commercial Description:
No notes at this time.
Added by BlackHaddock on 12-08-2012
Reviews: 8 | Ratings: 19
4.36
/5
rDev
+24.6%
look: 4 | smell: 4.75 | taste: 4.5 | feel: 3.25 | overall: 4.25
This beer suffers a little from having to be a supermarket own-brand. But I've blind tasted it on friends and it definitely holds it's own. I really enjoy it and appreciate one of the UK's big chains seeking out a brew this good to call their own
246 characters
3.75
/5
rDev
+7.1%
Good appearance. Amber/brown colour with decent head and lacing.
Smell is floral hops with hints of mango and apricot. Smells sweet, full bodied and hoppy.
Taste is floral hops, full malt body and tropical fruit salad notes. Rather bitter in the finish as befits the style. This reminded me of Goose Island IPA which I really like.
Overall, this is a very tasty American made IPA and makes a good counterpoint to
the limited number of widely available American IPAs here in the UK.
88/100
492 characters
2.74
/5
rDev
-21.7%
look: 3.5 | smell: 2.5 | taste: 2.75 | feel: 3.25 | overall: 2.5
355ml Bottle from Sainsbury's, Glasgow (£1.90):
Clear, medium amber with a large, 4cm, foamy & slightly off-white head that has some bubbles in it. It holds for about 45 seconds then settles at about quarter the original size.
Weak on the nose with some biscuit malts & hints of citrus. Faint hops & touches of bitterness follow but the aroma of this one is pretty basic and unexciting.
Some bitterness & biscuit flavours followed by subtle hops & hints of spice. Towards the end I thought I could detect the odd off-flavour but the taste was at least a slight improvement on the nose.
Medium bodied & bitter with a slight fizz, medium carbonation & smooth mouthfeel. The beer was quite easy to drink but the bitterness did seem a little strong and unbalanced, particularly towards the end of the beer.
Quite a poor beer, I should have known better than to pick this one up, especially considering it worked out more expensive than a lot of better, well-known craft beers Sainsbury's was also selling. Not a beer I'll be picking up again.
1,043 characters
3.49
/5
rDev
-0.3%
look: 4 | smell: 3.75 | taste: 3.25 | feel: 3.5 | overall: 3.5
Amber in colour. Effervescent. Thick frothy head.
The malt aroma is more distinct than the citrus/floral hops.
Sweetish. Off putting bitter flavour. Otherwise reflects the smell.
A curate's egg - good in parts but the experience as a whole was not entirely enjoyable.
267 characters
3.59
/5
rDev
+2.6%
look: 3.5 | smell: 3.75 | taste: 3.5 | feel: 3.75 | overall: 3.5
Tawny amber with rimming loose sandy foam that fades fast but trails and speckles well.
Dusty grain underneath light notes of orange, papaya and black tea leaves on the nose.
Seville marmalade, sour orchard fruit and granary loaf toast up front with Creamsickle hops.
Marshmallow finish and sherbety linger. Bitterness ups as it warms.
Medium, slight oil, some cling, soft.
No risks, and underplayed across the board, but well constructed, with sturdy malt presence and some smoothness. Nothing like the hop hit you should have for an IPA of this strength, especially since the label claims they used 3 hop varieties to make a fairly one note taste. But call it a strong APA and I'd be OK with that.
Plenty of British brewers can do this and better, but nice for what it is.
779 characters
3.53
/5
rDev
+0.9%
look: 3.5 | smell: 3.5 | taste: 3.5 | feel: 3.75 | overall: 3.5
Purchased at my local Sainsbury's supermarket, this beer is said to be brewed by "Tap Room Brewing Company", for the Sainsbury's under the "Taste the Difference" range of products. Coming in a slim 355ml slim brown bottle, BB 09/2013, served cool in a straight beer glass.
A: pours a straight amber colour, faintly hazy, coming with a well-lasting off-white foamy head and rather fine carbonation.
S: fresh pale malts come hand in hand with flowery & lightly citrusy hop aroma upfront, not rich or so pronounced as one's impression of an American IPA, but simply pleasant.
T: the lightly effervescent swallow of spicy bitter, earthy yeasty and citrusy fruity flavour is backed by a rounded mouthful of lightly caramely, toasty & nutty malts, leading straight to a moderately bitter, semi-rough estery and simultaneously citric acidic-sweet finish. Pretty simple and pleasant, really.
M&O: the mouthfeel is soft as much as refreshing, medium-bodied, with a rather one-dimensional flavour profile in comparison with most other American IPA I've tasted. The straight-forward-ness makes it a surprisingly quaffable, session-type, well, "American Bitter", shall we say. But my taste buds yearn for more, far more for this beer style.
1,249 characters

3.58
/5
rDev
+2.3%
look: 3.75 | smell: 3.75 | taste: 3.5 | feel: 3.5 | overall: 3.5
A 355ml bottle with a BB of Sept 2013. Picked up a little while back from Sainsbury's. A new addition to their own-brand line.
Poured into a tulip pint glass. An amber colour with faint haze and medium carbonation. Forms a large head of white foam that lasts for a few minutes before subsiding. Aroma of fruity hops with notes of citrus and mild white grape. This is underpinned by subtle caramel malt, faint fruity yeast esters and dry stewed hops. A whisper of diacetyl in the background.
Tastes of mild aromatic hops with a dry finish. Notes of grapefruit, citrus, white grape, grass/hay, stewed hops, faint caramel malt and earthy yeast. Highly attenuated and a tad harsh, with a faint whiff of diacetyl in the background. A restrained, dry bitterness upon swallowing. Mouthfeel is smooth, dry and tingly, but rather undercarbonated. Decent body. Pretty astringent, with an aftertaste of mild aromatic hops and bitter stewed leaves.
Not bad, if not amazing. The fruity hop notes in the aroma/flavour are quite nice, though it's not as intense as most American IPAs and the expected bitterness is lacking. A pity that this has been filtered or pasteurised - maturation with live yeast would have added depth and improved the flavour. Could benefit from some extra carbonation. It's quite drinkable though, and I could imagine having it again if the price was right. Worth sampling.
1,387 characters
3.7
/5
rDev
+5.7%
look: 3.5 | smell: 3.5 | taste: 4 | feel: 3.5 | overall: 3.5
355ml bottle: poured into a 'Good People' badged straight sleeve @ home on 8th Dec 2012.
Clean amber body with a full, deep head of white foaming bubbles.
Tropical fruit notes in the nose, semi-sweet esters with a malty overtone.
The taste is very simular to the smells: exotic fruits and malty flavours blend nicely together giving the beer a fairly sweet feel. Well carbonated and almost fizzy in fact, even if the label claims it is smooth!
I enjoyed this: certainly different to UK IPA's but not as hoppy as other US IPA's I've come across.
556 characters
Tap Room IPA (for Sainsbury's Taste The Difference Collection) from Genesee Brewing Co. / Dundee Brewing Co.
3.5
out of
5
based on
19
ratings.