Notch 9
| Smartmouth Brewing Company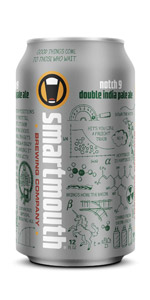 BEER INFO
Brewed by:
Smartmouth Brewing Company
Virginia
,
United States
smartmouthbrewing.com
Style:
American Double / Imperial IPA
Alcohol by volume (ABV):
9.10%
Availability:
Year-round
Notes / Commercial Description:
No notes at this time.
Added by clayrock81 on 06-10-2013
Reviews: 13 | Ratings: 78
3.47
/5
rDev
-11.5%
look: 3.25 | smell: 3.75 | taste: 3.5 | feel: 3.25 | overall: 3.25
Semi-deep gold in color with a nose strong of hops and citrus. Balance is quite good even with the biting hop bitterness that this DIPA has. Alcohol is def present and shows its head throughout the drinking process. Overall, a big can full of biting hops, Love it !!
266 characters
3.61
/5
rDev
-7.9%
look: 3.5 | smell: 3.75 | taste: 3.5 | feel: 4 | overall: 3.5
From BeerAdvocate Magazine #80 (Sep 2013):
This brawny DIPA boasts 105 IBUs—whatever. It is really about the whole-hop character here, from bitterness to flavor and even the intense aroma; extremely hoppy all around, but still balanced. More than enough to sate any hophead's fix.
STYLE: American Double IPA
ABV: 9.1%
AVAILABILITY: Rotating
LOOK: Thin lacing, clear bronze hue
SMELL: Citrus explosion, heavy rind, minty, piney, alcohol, nutty grain, yeast, sweet resin
TASTE: Biting hop bitterness, pomelo rind, pipe tobacco, big alcoholic warmth, peppery, Grape-Nuts, faint breadiness, smooth, semi-creamy, spicy; bitter, drying finish
646 characters

3.66
/5
rDev
-6.6%
look: 3.75 | smell: 4 | taste: 3.5 | feel: 3.75 | overall: 3.5
A cloudy orange body with small head and lace on top of a strong citric and spicy aroma but not much else going on in the aroma. The beer is light to medium bodied which is hard for a DIPA, smooth, some noticeable citric hop flavors with a touch of peppery, crispy spice. Hops are not overpowering and provide a dry, snapping b ackbite but for a DIPA one would expect more a hop profile than citric notes. I did get a touch of sweet fruit tastes as well but any sweet and/or caramel malts thrown in to balance are simply overpowered. Reminded me more of a Belgian ale, possibly a Belgian IPA, than what hopheads would consider a DIPA (although has the ABV that DIPAs do, making this a sipper).
693 characters

3.75
/5
rDev
-4.3%
look: 3.75 | smell: 3.75 | taste: 3.75 | feel: 3.75 | overall: 3.75
Canned 11/22/16, consumed on 12/21/16
This drinks like a hoppy pale ale, was shocked to see it at 9.1% DIPA after crushing the first half of the can. Hides the alcohol very well.
179 characters

3.78
/5
rDev
-3.6%
look: 3.75 | smell: 3.75 | taste: 3.75 | feel: 4 | overall: 3.75
Good DIPA. Robust flavor and good balance. Pours a hazy honey-gold color with a small white head. Head retention is average and there is some spotty lacing. Good aroma of both piney and citrus hops and some sweet malt. Flavor includes citrus and piney hops, a good level of bitterness and some balancing sweet, caramel malt. Mouthfeel is crisp and rich. Nice level of bitterness and no hint of high abv, actually very smooth except for a hops bite. Hampton Roads VA now includes a number of impressive breweries!!!
518 characters
3.86
/5
rDev
-1.5%
look: 4.25 | smell: 3.75 | taste: 4 | feel: 3.5 | overall: 3.75
Served on tap at Smartmouth Brewing Company. I liked this DIPA overall, but it's a bit unbalanced. The fruitiness overpowers the other elements in my opinion, but still it's a pretty good DIPA.
195 characters
3.95
/5
rDev
+0.8%
look: 4 | smell: 4 | taste: 4 | feel: 4 | overall: 3.75
Really good DIPA. The hop character is truly dominant. In the nose, middle, and finish, it's what comes out strong. This is a good thing, as it's not overbearing either. The malt is there, somewhat bready. Lots of grapefruit, and spiced hop flavors and some warming alcohol in the finish. Great beer.
300 characters

4
/5
rDev
+2%
look: 4 | smell: 4 | taste: 4 | feel: 4 | overall: 4
12 oz can, canned on 12-30-15, and poured into a stemmed, tulip style glass. I live 15 minutes from the brewery and kept meaning to get over there and try this beer after all the good things I've heard. It does not disappoint, great DIPA. Coppery, orange color, white head, and lacey carbonation. Major bitterness at over 100+ IBUs, and some piney and grapefruit flavors when tasting. Great medium feeling body, and smooth for over 9% abv. An outstanding beer in my opinion.
480 characters
4.06
/5
rDev
+3.6%
look: 4.25 | smell: 3.75 | taste: 4.25 | feel: 4 | overall: 4
Growler fill at brewery. Consumed same day (11/16). Poured into a Spiegelau IPA glass. Written from notes.
A - Orange/amber with a finger of egg shell colored head. Moderate carbonation with distinct lines. Layers of wavy lacing on sides of glass. Cloudy with no sediment.
S - Mildly fragrant. Orange and peach.
T - Peach, apricot, melon and citrus (orange?). Does not completely mask ABV. Noticeable malt backbone. Warming. Not a bitter hop bomb, but a little pink grapefruit in the finish.
M - Moderate to high carbonation with a medium body.
O - Pleasant surprise. Rather good DIPA in my backyard. Currently overpriced though... $20 for a growler fill, or $15 during designated happy hours. Happy to support local economy, but not when I can get a fresh 6-pack of a superior out-of-area DIPA without too much difficulty.
828 characters

4.11
/5
rDev
+4.8%
look: 3.75 | smell: 4 | taste: 4.25 | feel: 4.25 | overall: 4
Thanks to Will for the can. Poured into a tulip glad.
Yellow-Orange in color with a smallish white head the exits quickly. Slightly cloudy with little lacing.
Smell is floral, minty hops and cereal malt. Not strong but nice.
Taste is where this one excels. A great change of pace from the "juice bombs" that are now all the rage. Super tasty flowers, cereal malt and a touch of minty tea in the finish. Very enjoyable.
Smooth with light carbonation. Goes down easy.
I like this a lot. If I had this available to me I would enjoy on a regular basis. Recommended.
566 characters

4.12
/5
rDev
+5.1%
look: 4.25 | smell: 4 | taste: 4.25 | feel: 4 | overall: 4
Great overall DIPA. Now that it's being canned I think it's my favorite readily available DIPA from VA.
Nice hop profile, very mild malt presence on the nose and slightly on the palate. It's definitely well rounded though with the hops - they're front and center with a good amount of pine and a little juicy but no rough edges or overly resinous finish. Very nice all around
379 characters
4.19
/5
rDev
+6.9%
look: 4.25 | smell: 4 | taste: 4.25 | feel: 4.25 | overall: 4.25
Poured on tap in a shaker pint, the beer is a slightly hazed, lemon-gold color with a filmy, clingy, bright white head. Aromas of tart grapefruit, bitter grass, candi sugar, pine pitch, lemon zest, and subtle pepper and basil spice. Flavors are bitter forward, heavy on resin and vinous notes, with a follow of grapefruit and lemon tart and sweet, toasted notes, and a sugary sweet highlight. Very balanced, but very resinous and hoppy. The body is smooth, slick, and dry. The aftertaste is more dank hoppy notes, with tart and sweet citrus notes. The finish is smooth and dry, with a solid citrus and vegetal hops linger. Very solid, balanced, drinkable beer.
660 characters
4.27
/5
rDev
+8.9%
look: 4.25 | smell: 4 | taste: 4.5 | feel: 4 | overall: 4.25
Can't go wrong with 9.1% ABV. A really, really good double IPA. Citrus and pine is evident but tame. IBU 105. It has won several awards which I would agree with.
166 characters
Notch 9 from Smartmouth Brewing Company
3.92
out of
5
based on
78
ratings.