Nühell IPL
| Ironfire Brewing Company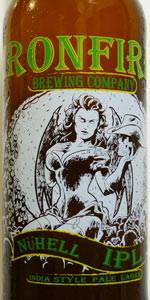 BEER INFO
Brewed by:
Ironfire Brewing Company
California
,
United States
ironfirebrewing.com
Style:
American Pale Lager
Alcohol by volume (ABV):
6.00%
Availability:
Rotating
Notes / Commercial Description:
Nühell is a new type of lager. This succubus of a beer will entise you and suck you in with it's bright lager appearance. By then it's too late, there is no going back. The hop flavor and aroma will lay you out as well as any IPA, yet has the crisp palate cleansing effects of a lager. Brewed with all New Zealand hops, Nühell IPL is a lager all true hop fanatics will lose their heads over.
Added by DoubleJ on 06-15-2013
Reviews: 9 | Ratings: 41

3.31
/5
rDev
-14%
look: 3.5 | smell: 3 | taste: 3.5 | feel: 3.25 | overall: 3.25
An enjoyable beer with a different taste. Only reason I gave it a somewhat lower rating is because it's probably my least favorite I've tried from Ironfire. the 5150 IPA, Devil Within IPA and Vicious Disposition Stout are top of the line compared to this one. Give it a try if you like lighter lagers.
304 characters
3.59
/5
rDev
-6.8%
look: 4 | smell: 3.75 | taste: 3.5 | feel: 3.5 | overall: 3.5
Pours a hazy yellow-orange with a foamy off-white head that settles to a film on top of the beer. Foamy swaths of lace form around the glass on the drink down. Smell is of malt, grain, citrus fruit, citrus zest, and slight onion and garlic hop aromas. Taste is much the same with citrus zest and slight herbal hop flavors on the finish. There is a mild amount of hop bitterness on the palate with each sip. This beer has a lower level of carbonation with a slightly crisp and medium bodied mouthfeel. Overall, this is a pretty good beer that is tasty but I was hoping it would be a bit more crisp as a lager.
608 characters
3.6
/5
rDev
-6.5%
look: 3.5 | smell: 3.5 | taste: 3.75 | feel: 3.5 | overall: 3.5
smells like a pliny to me . . . .
bright, clear yellow with little effervescence. looks just a tad darker than a Corona in all aspects. no foam whatsoever from a gentle pour.
smells like pliny. okay, not really. i'm getting a 'fragrant' kind of hop aroma, almost the same confusing mix as in the Stone 17th Anniversary, yet a little less 'professional'. I cannot describe what i'm smelling, but it's a little funky.
first touch on the lips is lager, with the hop aroma bringing the hops to the palate thereafter. i'm slow to change with most things in life, and I think this is the same. is there a trend toward these lager/ipa's and pilsner/ipa's? it's not bad, but it's a different sensation on the taste buds. I don't mean this in a mean way, and i'm not trying to put it in a bad way, but there seems to be an almost 'cat urine' background aroma lingering in there as I try each sip. this is a different kind of brew, and one i'll need to get accustomed to (as I slowly have with the DIPA's), but I cant really determine if I like it or just tolerate it. i'm drinking it and i'll finish the bottle; it's easy to go down. but the appearance is bland, the smell is slightly funky, the lager-ness will take some getting used to, the mouthfeel is almost as bland as a corona, and so overall I gave it a 3.5.
and the other reviews so far have hit it dead on also as far as their notes, so where my notes fall short, thay have definitely hit it. I think I just don't like it as much as they might....
1,498 characters

3.64
/5
rDev
-5.5%
look: 3.75 | smell: 3.5 | taste: 3.75 | feel: 3.25 | overall: 3.75
22oz bottle with my FW Snifter Glass
Notes from 08/25/13
A: Sun bleached straw blonde appearance with some light hazy obscurity. Half finger of paper white suds with modest retention efforts. A few ribbons and bubbles of stick remain as I progress through the drink.
S: Smells a little grassy with some lemony pines and light tropic floral. There is a decent amount of bready malt character coming through as well. Nothing incredibly pungent but pleasant overall.
T: Super light and delicate with some soft New Zealand hops making their way through. Improves as temps warm up actually with some underlying grapefruit and white wine notes. Mostly pine and grass with a light tropical flare. Bready pilsner like malt presence with moderate bitterness overall and no trace of alcohol to be found. Nice sessions brew but slightly unremarkable.
M: Very light and thin with a smooth consistent carbonation and light drying crisp finish. A touch watery overall as to be expected with some light residuals noted.
D: Sessionable by the very definition in that this is low alcohol with a light, dry, and crisp body. Hoppy flavors are almost a little too delicate to pick up on at first however. Could use a little bit more hop zing if you ask me. Not bad.
1,252 characters
3.8
/5
rDev
-1.3%
look: 3.25 | smell: 3.25 | taste: 4 | feel: 3.75 | overall: 4.25
I headed into a OB bar (Raglan) to get some grub. It was happy hour and Ironfire IPL was on special, less than $3 a pint. I had never had a IPL and did not expect this hoppy product. The first sip was a jolt. The hops were the first thing you taste. Nothing else seemed important. But as I continued and became comfortable with the hops, a very good beer was revealed. The lager's like golden color and moderate carbonation made for a very good beer. I had three of these lagers... just to make sure I like it.
510 characters

3.96
/5
rDev
+2.9%
look: 3.75 | smell: 4 | taste: 4 | feel: 3.75 | overall: 4
Light gold with a sudsy white head.
Hints of pine and sweet onion garlic on the nose and palate.
Well carbonated. Almost crisp lager-like mouthfeel.
An "India Pale Lager" they call it. That's cool. Tasty!
204 characters

4.1
/5
rDev
+6.5%
look: 4 | smell: 4 | taste: 4 | feel: 4 | overall: 4.5
Vintage:2013
Appearance: Transparent Bright Yellow; Thin, white bubbly head; Great lace
Smell: Pine, Citrus, Lager yeast… Slight metallic
Taste: Mineral; Pine; Grapefruit; Lemon finish;
Mouth-feel: Light body; Big Carb; Clean; Balanced
Overall: Best IPL I have had. Light; Crisp; Bright.
Score: 9
301 characters
4.12
/5
rDev
+7%
look: 4 | smell: 4.5 | taste: 4 | feel: 4 | overall: 4
Ironfire has shown me with Dead on Arrival and 51/50 that it does that hop thing well. India Pale Lager brewed with New Zealand hops, why not? From a fresh 22 ounce bottle, on to the beer:
A fluffy head two fingers thick forms on top this pale straw colored beer. Its body is clean, as a few visible bubbles rise to the top. The aroma is all about Kiwi hops, let me tell you. Cantaloupe mashed with a gentle squeeze of passionfruit, honey, piney tropical fruit.
There's good news, it's doesn't taste like an IPA in disguise. It just happens to taste like a simple lager with a powerful hop presence. The lager base is simple and does the job, bringing some soft sourdough, cracker, minerals, grass. The hoppy aspect of the beer carries melons, cantaloupe, and some pine. Its aftertaste is bitter and grassy, and the beer is soft and medium bodied in the mouth.
Nuhell is just right, not too heavy and not too light. This should be a popular refresher during the course of Temecula's many +100 F days.
1,011 characters

4.29
/5
rDev
+11.4%
look: 4.25 | smell: 4.5 | taste: 4.25 | feel: 4 | overall: 4.25
Beautiful light golden color. Smells grassy cold, but as it warms those Nelson Sauvin hops really begin to stand out. The malt bill provides a clean and crisp taste you'd expect from a high quality lager. I really enjoy this blend of hops with this style because it helps them to truly shine. It reminds me of Alpine Nelson, but the lagered version. I wish all lagers tasted this good, thanks Ironfire.
402 characters
Nühell IPL from Ironfire Brewing Company
3.85
out of
5
based on
41
ratings.