Des Moines IPA
| Confluence Brewing Company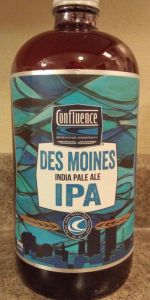 BEER INFO
Brewed by:
Confluence Brewing Company
Iowa
,
United States
confluencebrewing.com
Style:
American IPA
Alcohol by volume (ABV):
7.10%
Availability:
Year-round
Notes / Commercial Description:
No notes at this time.
Added by Herky21 on 03-24-2013
Reviews: 10 | Ratings: 119
4.39
/5
rDev
+13.1%
look: 4.25 | smell: 4.5 | taste: 4.5 | feel: 4 | overall: 4.25
L (4.25) - This beer is a nice pale gold color with a nice little wispy head. Almost textbook IPA
S (4.5) - I'd call this more of the floral/aromatic smell. It immediately intrigues and draws you in.
T (4.5) - SOLID. Nice hop flavor but not crazy bitter. Not super malty, but that isn't required for an IPA.
F (4) - This tends to be more towards under carb than over carb. Smooth and easy to drink as a result.
O (4.25) - I really like this one. I've had it many times over the last year or two. And I feel like it's only gotten better. Some people complain about Iowa breweries, but Confluence knows their beer. And this is their flagship brew, IMO.
★
665 characters
4.25
/5
rDev
+9.5%
look: 4 | smell: 4 | taste: 4.5 | feel: 4 | overall: 4.25
Obtained 32oz growler at HyVee
Honey color, clear with 1 finger head
Citrus and plum aroma
Flavor is orange, grapefruit with sweet maltiness, balanced with citrus peel and mild pine bitterness
Sweet and alcohol feel with light carbonation, clean finish
Overall a very enjoyable example of an American IPA, one I'm glad to be able to get freshly brewed close to home.
★
366 characters
4.07
/5
rDev
+4.9%
look: 3.75 | smell: 4.25 | taste: 4 | feel: 4.25 | overall: 4
Received in trade from a non-BA member. Sampled on December 26, 2015.
Amber-yellow in color with a lingering white head.
The aroma is subtle with a toasted bread character and a bit of a pine character.
Smooth medium body.
The taste evolves from a toasted biscuit character into a piney hop bitterness at the end.
★
318 characters
4
/5
rDev
+3.1%
look: 4.75 | smell: 4 | taste: 3.75 | feel: 4.5 | overall: 4
32oz Boston Round growler, sample from the brewery.
Deep golden amber hue, lovely clarity with a dense two fingered head on top. Fresh grassy, citrusy, & pine hop nose with some cracker remnant of malt in the back. Lush smoothness, medium body. Hop flavor is the most dominant to start, it sheds off ample bitterness with each sip but waves of fresh citrus and herbal pine capture the palate. There is a malt base underneath all of that though the hops make it hard to really pick out. Hint of ripe fruit and warming alcohol in the long lingering hop finish.
Really starting to love this one, its at least a half step ahead of the IPA pack which is saying a lot.
★
666 characters
3.89
/5
rDev
+0.3%
look: 4.25 | smell: 4 | taste: 3.75 | feel: 3.75 | overall: 4
cloudy amber orange , with a fluffy oily head.
pine, banana, cream, and lime smell
nice initial hop bite with a clean an fruity aftertaste, sweet grapefruit in the after taste.
not much carbonation in the mouth , which allows more of the sweetness to come through.
this is really tasty. I will have to have my sister bring me more stuff from confluence.
★
355 characters

3.87
/5
rDev
-0.3%
look: 3.5 | smell: 4 | taste: 3.75 | feel: 4 | overall: 4
REVIEW
STYLE: IPA
ABV: 6.8%
PURCHASED AT: Benz Beverage Depot; Cedar Rapids
POUR: Hazy yellow, thick white head
AROMA: Tropical fruit aroma is clear, as well as the hop presence.
TASTE: Pineapple shines and is rounded out nicely by the hops and malts.
Ratebeer.com rating: 81
Beeradvocate raing: N/A
Overall: B+
My recommendation: Very impressive offering and happy that this is an Iowa brewed beer. Get out and buy a quart, support the state, and get yourself a fantastic beer!
★
488 characters
3.81
/5
rDev
-1.8%
look: 3.5 | smell: 3.75 | taste: 4 | feel: 3.5 | overall: 3.75
Aroma is yeast, pine, citrus and a hint of funk/candy/sugar. The flavor is citrus, grapefruit, tropical fruit, mildly sweet malts, a hint of hop resin, fruit and a mildly bitter/tangy finish.
★
191 characters

3.77
/5
rDev
-2.8%
look: 3.75 | smell: 3.5 | taste: 4 | feel: 3.5 | overall: 3.75
Served in a Becker pint. No bottled on date.
Pours slightly hazy, lemon - gold color. Firm, one-finger, white head that dies slowly.
Nose is faint esters, predominate pine, and just a swirl of orange or grapefruit depending on the sniff. Nice, but faint.
Really like this piney and citrus-y palate! Pine really carries through the whole drink, only the slightest bread malt hitting at mid-palate and in the finish. The citrus reminds of grapefruit, with ester notes popping up in the swallow.
Feel is a light-medium, okay carb. A little watery.
Hop profile shines on the palate, less so on the nose. I would definitely have this again. A solid IPA, without a doubt.
★
670 characters

3.76
/5
rDev
-3.1%
look: 3 | smell: 3.75 | taste: 3.75 | feel: 3.75 | overall: 4
Aroma - Citrusy and piney. Good amount of dry hopping. I'd say pine predominates slightly.
Appearance - Nice golden hue. Pretty clear. Pretty simple looking IPA. Not much of a head.
Taste - Citrus and pine mingle well and the 75 IBUS finish with bitter, and not sweet. It is very good, if not slightly imbalanced, but hey, it's an American IPA. It is very close to a great balance. Very drinkable. It is a solid IPA.
Mouthfeel: Slightly overcarbonated for the style.
Overall: A very good selection that I am happy to have at the tap room. Get out and try it.
★
564 characters
3.14
/5
rDev
-19.1%
look: 4 | smell: 3.75 | taste: 2.75 | feel: 3 | overall: 3
Scent of sugar, pine, peach, mango, citrus and some dank hops. Taste of pine, some sugar, faint tropical fruit, light citrus, and a touch of kiwi. It may seem like a decent flavor profile, but it falls short of what the scent presents.
★
235 characters
Des Moines IPA from Confluence Brewing Company
3.88
out of
5
based on
119
ratings.