Super Natural IPA
| Hawks Brewing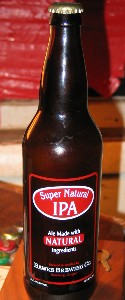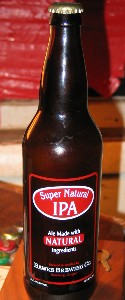 BEER INFO
Brewed by:
Hawks Brewing
Oregon
,
United States
Style:
American IPA
Alcohol by volume (ABV):
7.00%
Availability:
Year-round
Notes / Commercial Description:
No notes at this time.
Added by MrNuggets on 05-18-2003
This beer is retired; no longer brewed.
HISTOGRAM
Ratings: 10 | Reviews: 10
Reviews by beerguy101:
3.78
/5
rDev
+17.8%
look: 4 | smell: 3.5 | taste: 4 | feel: 4 | overall: 3.5
Medium gold color, slightly hazy. Large head. Aroma is malty, with a touch of floral hops. A medium bodied IPA. Malts are nutty and slightly sweet. Hops are grapefruity, floral and slightly bitter. Nicely balanced. Smooth taste. Really need to warm this one up a bit before drinking; it's a little harsh ice cold. Mouthfeel is full and round. Finish is clean and smooth. Aftertaste is slightly bitter.
402 characters
More User Reviews:
3.61
/5
rDev
+12.5%
look: 4.5 | smell: 3.5 | taste: 3.5 | feel: 4 | overall: 3.5
An interesting and tasty IPA. Pours a hazy gold with excellent head and lace. Unusual sweet aroma of flowers, fruit. The IPA is crisp, and fresh tasting, with lots of hops but very little bitterness. Lots of ale fruitiness and bready sweetness from the malts. Perhaps a hint of chocolate. Hops contribute a citric quality, with floral elements and perhaps a slight soapiness that is the sole shortcoming of this brew. Mouthfeel medium thin, soft and cushiony. Not much aftertaste. Drinkability pretty good. The yeast brings a lot of character to this beer, which makes it more akin to UK brews rather than Pacific NW beers which often use a near invisible yeast. This was a pretty strange beer, but I enjoyed it. The hops sparkle and shimmer in the mouth and on the tongue, without any severe hop bitterness. This might be a good beer for a newcomer to hoppy beers to showcase what hops can taste like, without any of the intimidating bitterness.
946 characters
3.65
/5
rDev
+13.7%
look: 3.5 | smell: 3.5 | taste: 3.5 | feel: 4 | overall: 4
So, Hawks is no more. Charlie the brewer decided to get out of the business, and my store ended up with a large portion of the rest of the brewery's product. We're down to the last case now, so I had to take a couple of bottles home. This is a nice IPA and I'm sad to see it go.
Presented in a 22oz bomber, with a paper sticker on the label indicating it is brewed with NATURAL ingredients as opposed to organic, since Charlie didn't want to get USDA certified. Pours a bright orange-amber color topped by a creamy white head that recedes from about an inch down to just a thin coating in a couple of minutes. Aroma is well-blended between subdued fruity hops and slightly sweet pale malt. Palate is well-balanced - the fruity bittering hops pair nicely with the lightly sweet malt. Although the hops take kind of a back seat, there is still a substantial bitterness on the finish. Body is velvety smooth and creamy, very nice. A quite drinkable ale, although I'd put it more in the category of an English IPA rather than a West Coast American IPA. I'm going to miss Hawks beers.
1,084 characters

2.88
/5
rDev
-10.3%
look: 3 | smell: 2.5 | taste: 3 | feel: 3 | overall: 3
Ok second tonight from this small craft brewery.
Again the simply labelled brown bomber.
Rather murky again especially for an IPA..murky orage with a tiny white head.
The aroma is very subdued I do not really detect any of the spicy hop aroma of a PNW IPA..or the malt and hop of an English IPA..slightly fruity aroma..like apricots??
mmnot a great taste for an IPA..some sweet malts then a fruitiness..very little tasteable hops!!
Pretty average on the palate.
Its drinkable but its not an IPA in my opinion..
NOTES..says on the bottle this beer is brewed in small batches ( 3 barrels to be precise)..judgeing by previous reviews its highly variable..with me and the last reveiwer getting bad batches ( almost like a mild)..and other getting better. I may try this again in a few months..as this does appear to be a good brewer the ESB was very nice.
858 characters
3.3
/5
rDev
+2.8%
look: 3 | smell: 3 | taste: 3.5 | feel: 3 | overall: 3.5
Bottle states that this beer is made in 3-barrel batches and that each bottle is filled and capped by hand. Well, that shows you that a lot of love has gone into the making and bottling of this beer.
Now on to the beer itself. Pours to a nice copper color. Thin head adornes the top of the beer leaving a mild lacing to tsides of the glass. Fruity aroma and a mild fruity taste. The body seems to be a bit on the thin side and really 'fizzy'. Definately has an English taste appeal to it. Not as good as one of my friends raved about it (IMHO), but still a decent average beer. Nothing too great about it and nothing to make it a bad choice.
645 characters
2.26
/5
rDev
-29.6%
look: 3 | smell: 2 | taste: 2 | feel: 3 | overall: 2.5
Hazy yellow orange color. Little head that left small amouts of lacing. Nose kinda yeasty , but weak at best. Sour taste, little to no hops for a american ipa, even weak for a british ipa. Creamy and dull. Man what a dud. The name super natural is all wrong should be Super waste of time
287 characters

2.3
/5
rDev
-28.3%
look: 3 | smell: 3 | taste: 2 | feel: 2 | overall: 2
This is not an IPA as it lacks any real hop bite. Possibly something was wrong with this sample as too much fruity notes interceded in what should have been hops and malt. You cannnot play with the level of game that PNW brewers bring to the IPA table and produce this dreck.
275 characters
3.21
/5
rDev 0%
look: 4 | smell: 3 | taste: 3 | feel: 3.5 | overall: 3.5
Hawk's Super Natural IPA delivers some of the most impressive displays of head and lace that I've seen in some time. The head is of light billowy froth and is notably persistent. The lace is widespread and creamy. These abundant suds are derived from a highly turbulent carbonation that rises like a wall of bubbles from the bottom of the glass. The body is lightly clouded with fine particulate. It is the color of marmalade.
A simple, drinkable beer of modest taste parameters, it features a light floral bouquet and a clean, balanced flavor consistent with the style of traditional English IPAs. The mouthfeel is palpably soft.
This Super Natural IPA looks beautiful until a slurry of heavier yeast sediments drops out from bottle's bottom. Pour slowly to avoid the dark yeasties should a cleaner ale be your preference.
836 characters
2.99
/5
rDev
-6.9%
look: 4 | smell: 2.5 | taste: 3 | feel: 3.5 | overall: 3
Generously flecked brassy orange with bright lemon trim. The rich ivory-colored head looks good after the pour; let's see how it holds up over time. A perfect chiseled mesa of firm foam is beginning to emerge and a near complete circumferential sheet of lace is now affixed to the glass. This is a good 'dirty' IPA look with enough glass coverage to make me think that the hop resins are on the generous side. Let's see what the nose knows.
Unfortunately, not much. The aroma is horribly weak and is barely hoppy at all. The head is down to a fat one-finger and I'm easily able to get my nose in close proximity to the beer when I tip the glass, so I don't think the foam is getting in the way. I hope that the beer tastes better than it smells or this will be the least hoppy IPA of all time.
Not quite as weak as the nose, but still pretty anemic on the palate. It feels like an IPA in the mouth and the bitterness is there, it's just that it tastes like there's something coming between the hops and my tastebuds. Echoes of bitter citrus peel are fading... fading... gone... with nary a trace until the next sip. White grapefruit is the only hop flavor able to be appreciated. With so little to go on, nuance or a more detailed description of the flavor profile is impossible.
In reading the silk-screened label, it looks as though this beer is all natural (i.e. organic). Super Natural, get it? I'd like to think that that fact has nothing to do with the disappointing flavor--and I can't imagine how it would--but I've had too much bad organic beer to say for sure. It doesn't taste bad exactly, it just doesn't... taste.
As noted, it feels like a decent IPA in the mouth. The body is style medium with an adequate malty firmness and a fine-gauged carbonation that is rather nice. The finish is short with regards to actual flavor with a moderate dry bitterness lingering for a good bit.
Hawks Super Natural IPA may be natural, but super it ain't. With no 'bottled on' or 'best by' date, I don't know if I got ahold of an old bottle or if the beer just isn't very good. Something is amiss though. Coming from the hoptastic Pacific NW makes it even more of a bottom feeder in comparison to other regional IPAs. Nowhere close to deserving a thumbs up.
2,269 characters
4.07
/5
rDev
+26.8%
look: 3.5 | smell: 4 | taste: 4 | feel: 4 | overall: 4.5
Inch high white head that reduces to a fine lace after a few minutes. Mild flower like hop aroma. This brew has wonderful balance, but not what im used to in an IPA. Still very tastey. Smooth mouthfeel that leaves me longing for a bit more bitterness. Could drink this all night without a problem.
297 characters
Super Natural IPA from Hawks Brewing
Beer rating:
3.21
out of
5
with
10
ratings