Reindeer Tears Bourbon Barrel Aged Barleywine

Heathen Brewing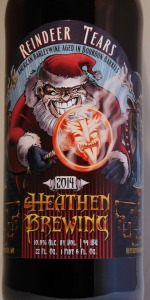 Write a Review
Beer Geek Stats:
| Print Shelf Talker
Style:

ABV:

10.8%

Score:

Avg:

3.86

| pDev:

11.92%

Reviews:

5

Ratings:

From:

Avail:

Winter

Wants

Gots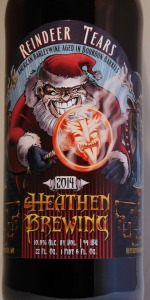 Notes:

3
/5
rDev
-22.3%
look: 3 | smell: 3 | taste: 3 | feel: 3 | overall: 3
$ 15.73 (Including shipping)/22 oz bottle ($ 0.715) from Tavour, Seattle, WA. Reviewed 1/19/19.
No date other than "2018" on label. Label also says "12% ABV". Stored at 42 degrees and served at 57 degrees in a hand washed and dried Jester King snifter.
Appearance – 3.
Body – Brown, translucent, murky – like Loch Ness.
Head – Average (Maximum 3.3 cm, aggressive center pour), tan, fizzy, gone quickly, leaving neither ring nor layer.
Lacing – Absolutely none – as expected for a 12% ABV BBA brew.
First pour – Medium brown, hazy.
Aroma – 3 - Weak caramel.
Flavor – 3 – Starts with a moderately sweet unremarkable caramel which never opens into anything else. Alcohol is not apparent until the gastric warming hits. No bourbon and no barrel. Ends moderately bitter. No diacetyl, no dimethylsulfide.
Palate – 3 – Full, almost syrupy, soft carbonation.
Impression and interpretation – 3 - Very nice label art. Beyond that, a very average brew.
983 characters

4.17
/5
rDev
+8%
look: 4.25 | smell: 4 | taste: 4.25 | feel: 4 | overall: 4.25
Properly cellared, 4 year old bottle. Poured into a Fremont small snifter. Pours a dark, lightly hazy reddish orange with a fine, one finger khaki head with great retention an thick lacing. Aroma of caramel malt, light stone fruit, aged hop and bourbon; classic American barleywine profile. Flavor starts with caramel malt, dark and light stone fruit, bourbon and mild hops, then thins out a bit into a mellow light stone fruit and bourbon finish with just a hint of light hops. Medium bodied with light creaminess. This is a style that I had decided not to age for long periods of time any more, but I forgot this in the cellar, so here it is. It turned out better than I feared, because the hops have very little of the old, tired herbal notes that often accompany aged, heavily hopped barleywines, as a matter of fact, there is only a hint of hops to start, but a nice, pleasant light hop bitterness in the finish. The flavor is little subdued for the style, starting quite well, but then dropping off with only moderate malt and fruit flavors. It finishes well, with lingering toffee and fruit, as well as the light hopping. For my palate, the hop level in this was perfect for the four year aging. The overall flavor is quite well balanced if lightly subdued. This was a roller coaster; initial trepidation about aged hops, good, if not complex, aroma for the style, nice start and a bit too tame finish. But after the taste, the evenness of flavor and nice integration won me over. I regret not trying this fresh, but I'm very pleased with how it has aged. I'd get this again if offered. Good old barleywines still reward the forgetful buyer.
1,648 characters
3.59
/5
rDev
-7%
look: 4 | smell: 3.75 | taste: 3.5 | feel: 3.5 | overall: 3.5
2014 vintage bomber poured into a snifter appears a hazy brown with khaki head that holds several fingers tall.
Aroma is fruity almost like apple and pear. Slight raison and caramel to toasty malt backing.
Taste carries that same almost cider and pear character with a touch of toasty malt and booze. Slightly sweet yet herbal and bitter.
Medium in body with modest carbonation. Not bad not great.
400 characters
5
/5
rDev
+29.5%
look: 5 | smell: 5 | taste: 5 | feel: 5 | overall: 5
look: very frothy, dark brown
taste: perfect for people who like sweeter malty beers. The bitterness is masked by the sweetness and malty flavor. Favor is comparable to St. Bernardus Abt 12.
191 characters
3.5
/5
rDev
-9.3%
look: 4.25 | smell: 3.5 | taste: 3.25 | feel: 4 | overall: 3.5
Enjoyed out of a 22 oz brown bottle with a coating of green wax enveloping the neck and crown, with a stamp of the Heathen brewing logo on the top. No bottling date, but this is the 2014 vintage, per the label. I'm guessing it was bottled in late 2014, given the Christmas imagery/theme. Poured into a large brandy snifter because a fancy bottle deserves a fancy glass.
Appearance (4.25) - A delicious looking beer, it pours a murky dark ochre hue, with the liquid exiting the bottle with a certain transluscence that seems to vanish once it has collected in the glass. Light peaks around the edges giving a coppery tan highlight, but the huge two-and-a-half fingers of off-white foam mousse shades the body in a way that makes it difficult for light to pass through. Retention is very good, with the head lingering for a few minutes before fading to a decent thickness of film on the surface of the liquid and some light lace webbing along the sides of the glass.
Smell (3.5) - I'm a little disappointed upon first smelling this, as there is a lot of the character that I expect from a fresh American barleywine, especially copious amounts of hoppy aromatic profiles. However, even amply-hopped American barleywines seem to mellow out once they've sat in bourbon barrels for a time, and this one smells entire of pungent, piney hops and some overbearing astringency from the spirits that previously occupied the barrels. It's not bad, and I can't even say it's off style, but it's not my personal cup of tea.
Taste (3.25) - I was hoping that the smell would be a misleading precursor, but unfortunately, the taste similarly reflects none of the best things I love in a bourbon-barrel barleywine. There is a fleeting hint of caramel and brown sugar, but they are drowned out by the massive bitterness from the hops and that same astringency that I initially detected in the smell. I will note that it gets easier to drink as it warms, but I'd really prefer a bit more sweetness going on to make this one worth taking a full bottle to the face. The finish is one of lingering bitterness and notes of pine and faint sweetness. Mostly bitter.
Mouthfeel (4.0) - Medium-bodied and moderately carbonated. Leaves a nice warmth on the tongue from the alcohol and the only drawback is that lingering bitterness on the finish.
It's really too bad the smell and taste weren't more up to snuff, as the look and feel of this beer are both pretty on point. A part of me wishes I had a second bottle to leave alone for a good 12 months to see if this wouldn't shape up with some age. I think I have a problem. However, if you like big, overpowering hop character from your barleywines, this might be right up your alley.
2,711 characters
Reindeer Tears Bourbon Barrel Aged Barleywine from Heathen Brewing
Beer rating:
87
out of
100
with
15
ratings