Hallo Berlin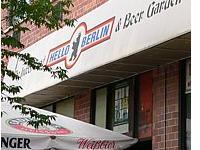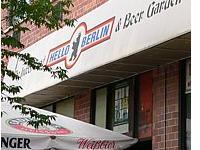 PLACE INFO
Type:
Bar, Eatery
626 10th Ave
New York
,
New York
, 10036-3036
United States
(212) 541-6248 |
map
halloberlinrestaurant.com
Notes:
No notes at this time.
Added by BeerAdvocate
PLACE STATS
Reviews:

11

Ratings:

pDev:

8.89%
HISTOGRAM
View: Place Reviews
Ratings: 13 | Reviews: 11
Reviews by Billolick:

3.53
/5
rDev
-1.9%
vibe: 3.5 | quality: 4 | service: 2.5 | selection: 4
This is a fairly spacious box of a place. Cinderblock walls and plywood floors. Lots of german beer stuff on the walls, picnic benches inside and metel tables and chairs on the decent sized outdoor deck area. Lots of tasty German drafts and a bunch of bottles. Food looked tasty and filling but not really my cup of tea on a hot summer night. Service was fair, just a greasy looking dude in a black concert tee to man the bar and wait the tables! Howabout a pretty St Pauli girl type, I never understand a bar that doesnt have some a pretty barmaid to attract the customers? Anyway the brew was tasty, the athmosphere was cool and I'd go back, probably during a colder time of year.
682 characters
More User Reviews:
3.96
/5
rDev
+10%
vibe: 3.75 | quality: 3.75 | service: 4.25 | selection: 4 | food: 4

3.5
/5
rDev
-2.8%
vibe: 3 | quality: 3.5 | service: 3.5 | selection: 3.5 | food: 4
A reasonable stop for some German food and a liter (or boot!) of Kostritzer Schwarzbier. The food is really the highlight here, with a wide selection of sausages and spaetzle being the biggest attraction to me. The sausage was generously portioned and high quality. The spaetzle was well above average.
Atmosphere is frankly rather depressing when you walk through the door, just an overly bright, overly warm dining room with a not very welcoming bar. The patio area in the back is much more pleasant if weather permits. Service was prompt and pleasant.
We have probably visited the Pony Bar across the street about 20 times in relation to one visit here. That seems about right.
HV
686 characters

3.23
/5
rDev
-10.3%
vibe: 3 | quality: 3 | service: 3 | selection: 3.5 | food: 4
Considering this place is across the street from the Pony bar, its no surprise why Hallo Berlin isnt nealry as busy. Its way more expensive. I believe the German 1/2 liters were like $8 a piece. I still had a couple of them and their beer selection is all German so its decent but when you have Warsteiner and Tucher as 2 of your drafts, I don't consider that very exciting for a German place.
The atmoshere is nothing special and its as if they've just hung up some German flags and such wherever they had room for them. Service was not great but not terrible either and they were pretty friendly.
We had a bratwurst and some spaetzle. The bratwurst was excellent and the spaetzle was slightly better than average--more like spaghetti than what I am used to for spaetzle but it was still pretty tasty.
I'd go back to this place if Pony bar was too busy or if I was in the mood for German food and in this neighborhood but I wouldnt make it a priority by any means.
970 characters

3.2
/5
rDev
-11.1%
vibe: 2.5 | quality: 3.5 | service: 2 | selection: 4 | food: 4
Hallo Berlin is one of those classic faux German beer gardens in New York (and the only one I've visited so far).
Right on the heart of Hell's Kitchen, across from a gas station, this is not your typical beer garden in Deutschland! :-)
They've got about seven or eight taps, with German staples... lager, black lager, pilsner, hefeweizen... if you like German beers, you're in luck. Personally, I would rather have a small sample of an American craft than a big-ass draft of some German lager.
Atmosphere is pretty poor. Place looks old, tired, greasy, a bit dirty. Bunch of wooden tables with beach umbrellas. Kind of tacky-sad. The garden itself is in the rear, I've never been to it, believe it or not. In the summer, it is nice to seat outside (despite the heat and the car fumes and the gas station).
Service is blah. Always slow, erratic.
Food is good. A nice attempt to copy German sausages and street food, cooked by Mexicans of course.
I wish this place were better, all around. Then I'd get over my indifference towards German beer and would come here more often.
Also, the amazing Pony Bar is only two doors down from this place..
1,149 characters
3.2
/5
rDev
-11.1%
vibe: 4 | quality: 3 | service: 3 | selection: 3 | food: 4
Cool German spot with a small patio in the back. A dozen-ish German beer options with 4 size options. I had a balck lager which was excellant....once they served the right beer. The server seemed more interested in anything but us....boo that man. My wife and I ordered a Bratwurst & spatzel (sp?)....they served the wrong items, which worked out for us because they just gave us the the wrong items gratis, and our items. Right across from the Pony Bar. I would go back, but interested how it fares aginst the Laderhosen.
522 characters
3.16
/5
rDev
-12.2%
vibe: 3 | quality: 3.5 | service: 2.5 | selection: 3.5
This is a pretty decent place to hit up for some good German brews if you are in the neighborhood. However, the service was pretty deplorable on the night my friends and I were there. We're not a high maintenance group, but certainly don't like having to wait ages for a beer. I don't know if they were short staffed, but things were slow moving.
When we finally did get served, all the draughts and bottles we had ordered were great and fresh. They had Tucher Hefe, which I had never had before as well as Kostritzer on draught which were both big bonuses.
We didn't sit out in the back garden area, but it looked pretty cool. I will have to re-assess after a second visit, but the low mark is for service.
711 characters

3.93
/5
rDev
+9.2%
vibe: 4 | quality: 4 | service: 4 | selection: 3.5 | food: 4.5
Interesting interior featuring picnic table style seating with picnic umbrellas and everything. Plenty of German decor on the walls. There is an outdoor seating area as well, although I did not investigate further.
The bar was toward the front left of the structure and looked rather cozy and inviting, but I was there for the food. I ordered the Atkins platter (all sausages) and added a kielbasa and some spetzle(sp?). The food was delicious! We ordered a pitcher of of HB and a pitcher of Paulaner, both of which were tasty and fresh. They were not taking credit cards that nignt, and to make up for the inconvenience, we were served complimentary German liqueur, which pretty much tasted like creamy Jagermeister.
718 characters

3.8
/5
rDev
+5.6%
vibe: 3 | quality: 3.5 | service: 4 | selection: 4 | food: 4.5
No bullshit German beer and sausage. If you want bells and whistles, get lost.
Lost... that's pretty much what my friends and I were when we stumbled across this little gem. We saw some beer signs in the window and went in. It was the second alcoholic establishment we hit up on what would become a long and very "chill" night, to put it in the parlance of our times.
I had the knockwurst and a Paulaner. It was delicious and satisfying. I wasn't very creative with my beer choice, but I could have been.I was so hungry at the time I just wanted to stick with something proven. The atmosphere, as has been mentioned, was really nothing special. The bartender appeared to be of Italian descent and was wearing a Yankees jersey.
But in a way, that's what made the experience so great. They weren't there to dazzle you with a bunch of fake German bullshit. They gave you German sausage and big German beers on tap. What more can you ask for? As that skinny little bastard Elliot said in Steven Spielberg's "E.T."... "This is reality, Greg."
1,046 characters
3.98
/5
rDev
+10.6%
vibe: 4 | quality: 3.5 | service: 4.5 | selection: 4
Phil was doing a gathering at his place in Brooklyn and I met up earlier in the day to do lunch with PopeJonPaul (who I'll be in fricken debt to 'til Spring '07) and CheeseWheel (LAAAAUUURRRRAAAA!!). I'd gotten into the city and parked earlier than expected so I walked around for a bit and scouted out the location of Hallo Berlin, just so I know where it is. We returned later for a beer or two. Ah, a nice selection of German beers. If only Phil could be here. He loves German beers.
Kids on playgrounds all over New York singing tauntingly, "Phil's in love with German beers, Phil's in love with German beers". Most unusual. I remember a time when Phil didn't care much for German beers at all. He's changed, man, he's changed...
About a dozen beers on tap. Warsteiner Pils & Dunkel, Erdinger Hefe, Paulaner Pils, Hacker Pschorr Dark Weisse, DAB, Jever, Hofbrau Original, Kostritzer Schwartz, Einbecker Maibock & Urbock, and Yuengling (Yes, Yuengling. it's a German owned brewery. I asked). Beers are served in a .3 litre mug, a .5 litre stein, a 1 litre mas or a 1.5 litre pitcher. There was also a collection of bottles back there as well as German brandies and schnapps.
We hung at the bar, a small L shaped, canopy covered bar with seating for about 7 and talked beer with the manager for a while, so you know service was good. Any time you can intelligently talk beer with the person on the other side of the counter, you know you're good to go. They've got a handful of picnic tables inside up front near the entrance and towards the back, beyond the bar area.
There's a roomy beer garden out back, with about 10 small tables, picnic tables and benches. And most interesting, a basement bunker room for private parties which holds up to 60 people. Low clearance though so watch your head.
1,804 characters
3.98
/5
rDev
+10.6%
vibe: 4 | quality: 3.5 | service: 4.5 | selection: 4
A pretty cool little beer hall in an out-of-the-way location, they do the best they can trying to turn an otherwise drab and narrow concrete building into a German beer hall. There's a rough little beer garden in back, and a concrete room they call "The Bunker" in the basement, which you can rent for parties. The fun here would be watching your friends try and get up the winding stairway to pee, and then make it down without banging their heads.
They had a good selecion of German beers; DAB, Hacker-Pschorr Dunkelweisse, HB, Warsteiner and a few others on tap; Aventinus, Bitburger, Schlekerlau Rauchbier and Reissdorf Kolsch in the bottle, among others. Best of all, Slander bought my beer, as he attempts to pay off some debt he thinks he still owes me...
I had just eaten at Virgil's so didn't sample the food, but the menu looks like a good assortment of German fare, will have to make the trip out here at some point to try the food. Service was great, we were the only ones at the bar though, don't know what it would be like in a crowd. Will be back...
Other notes: cool German liquor selection if you're into that. Also the place closes by Midnight according to the menu. Probably because I've heard that after dark this area becomes crackwhore central. Make sure you take a cab to and from the door.
1,322 characters
3.83
/5
rDev
+6.4%
vibe: 4 | quality: 3.5 | service: 3.5 | selection: 4 | food: 5
This place is a fine German beerhall, with outdoor picnic tables indoors, and also a good-sized backyard for actually outdoor dining when the weather's nice. The food is wonderful, and very reasonably priced...the best selection of German wursts that can be found, and amazing home fries to die for. The service can occassionally be erratic, and sometimes the draft lines do not seem to be cleaned often enough, which can be a serious problem. I tend to stick to the bottled beers, which includes some very good ones, especially at this 10th Avenue branch of Hallo Berlin. They have the Schlenkerlau Rauchbier, which goes wonderfully with the food, Shneider Weisse and Aventinus, and the underrated Erdinger Dunkelweisse and Pikantus among others.
747 characters
Hallo Berlin in New York, NY
Place rating:
3.6
out of
5
with
13
ratings