De Vagant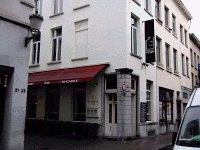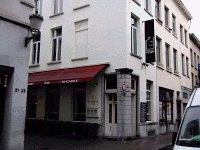 Bar, Eatery
Reyndersstraat 25
Antwerpen
, 2000
Belgium
+32 3 233 15 38 |
map
devagant.be
Notes:
Reviews by TheLongBeachBum:
TheLongBeachBum from California
3.4
/5
rDev
-17.1%
vibe: 4 | quality: 4 | service: 3.5 | selection: 2.5 | food: 3
De Vagant, a different type of Bar, and good place to visit whilst in Antwerp. The Vagant has one serious side effect – you will have a serious lack of focus when you leave. If you don't, then you haven't enjoyed yourself enough.
Primarily, the Vagant is a Jenever Bar (and no, Jenever is NOT made with Juniper berries, that's English Gin). Jenever (Genever) is a pure grain distillate made by only a handful of producers in Belgium/Netherlands (St. Pol., Filliers, etc.). However, to ease the pain, it is often purchased neat in bulk by a plethora of 3rd party blenders that mix it with fruit and other flavours. Then it is sold in long tall thin stone or Eathernware bottles. The Vagant has about 400 of these flavoured Jenevers usually around 30% ABV, as well as the Neat ones at up to 56% ABV, if you are man enough to try them. But a Serious Word of Warning – don't f**k with this stuff, and I am not joking. Treat Genever with the utmost respect. It can easily become a Poison if imbibed to excess, you would not be the first to never wake up from a heavy session!!!
In addition to Jenever, De Vagant, does have a rather small (about 20 I think) beer range, but it is a very interesting beer range and is just worthy of a BA BeerFly entry, although not strictly a "BeerBar".
Why??! Well try the Radermacher Ambre or the Radermacher Blond, both Beers are made by Val-Dieu, and both are made with Jenevers and not found in many other places, for they are quite rare. I prefer the citrusy Blond to the more staid Ambree, but at 10.5% ABV, again, treat both with respect. I had tried both during my recent visit of 28th November 2002 and felt the effects very early on that day.
Food is rather basic but wholesome. We had a very good old fashioned Flemish "processed" meat sandwich served with Mustard (French unfortunately) but very filling and a great mid-meal snack when called for. The Interior is interesting and contains many old Jenever adverts, but it is easy to see why Jenever consumption almost precipated the fall of the Western World. Be Careful. Not really a "BeerBar" but well worth the effort of a visit.
Note:- The Grotte Witte Arend is just over the street and is definitely worth a visit, and there is a superb shop next door that sells the full range of bottled flavoured and neat Genevers if you want to impress your friends with a bottle at Christmas - or, Kill Them.
Last Visit 11-28-02
Dec 04, 2002
More User Reviews:

emerge077 from Illinois
4.13
/5
rDev
+0.7%
vibe: 4.5 | quality: 4 | service: 4.25 | selection: 4
Cool historical jenever bar with a historical interior. Great collection of antique signs and huge windows that open to the street. Rustic, antique feel to the place with a mixed crowd of young/old, locals/tourists.
Beer selection is pretty straightforward, you can get an Orval or Rochefort, or the obligatory De Koninck bolleke.
Jenever selection is the most extensive i've ever seen. Try the single malt, it was pretty good.
Service was great, friendly and helpful bartender. Overall worth a stop if you're going to or from Billie's and looking for a beer alternative.
May 12, 2019

Sdmurray4 from Georgia
4.51
/5
rDev
+10%
vibe: 3.5 | quality: 4.5 | service: 4.5 | selection: 5
This was the first bar we hit when we arrived in Antwerp. When we got in we kind of felt out of place, but now that I look back, it might just have been us not knowing what to expect and/or how to order a drink in a Belgian bar. Once we got seated the bar tender was very friendly. He gave us the history of Genever and started us out with a few varieties to choose from. If you ever go you must try "Topfergiest" its from the small German speaking part of Belgium. Drinking it was like gnawing on a pine tree....phenominal! Also they have a Genever store across the alley also called de Vagant, where they sell bottles of Genever. Reasonably price too...the Topfergiest we brought home was about 17Euro.
Feb 03, 2012
BlackHaddock from England
4.14
/5
rDev
+1%
vibe: 4 | quality: 4 | service: 4.5 | selection: 4
Right across the road from the Groote Witte Arend, this corner bar is really all about Genever although the beer list isn't a washout.
My wife, two friends and I propped the bar up late on a Sunday evening, watch carefully by the pub cat, who strolled along the bar-top as if it owned it, finally settling on a locals lap a couple of bar-stools away from us intruders.
A hip, trendy feel to the place, friendly and helpful staff, mixed customers in age, parenthood and nationalities, all enjoying themselves.
This is an ideal last port of call, sadly I was driving in the morning, so no Genevers for me, didn't stop my wife and the other two from having some though.
Mar 24, 2010
DaPeculierDane from Wisconsin
3.86
/5
rDev
-5.9%
vibe: 4 | quality: 4 | service: 4 | selection: 3.5
Visited: 8-20-08
Considered one of the top Jenever cafes in the world, De Vagant quickly shot up my list of bars to visit while in Antwerp. Arriving late in the evening, we took a seat on its comfortable patio just of the Grote Markt and were quickly served. De Vagant was busy with a young/hip crowd. I started with 38% Oude Genever called Braekman, which had been recommended by our bartender as the best in the house. Elaina chose a mango flavored spirit. I found the genever to contain all the botanical flavors one would hope for in a good gin but none of the rubbing alcohol aromas. It was quite pleasing. We followed with Jenever infused beers from Val-Diue and then headed across the street to the Groote Witte Arend. Service was great and highly attractive. About 20 quality brews and more than 300 jenevers are available.
Nov 15, 2009
ministoat from England
4.29
/5
rDev
+4.6%
vibe: 5 | quality: 4.5 | service: 4.5 | selection: 3.5
We visited this bar as an afterthought, when two of our planned destinations turned out to be shut, and it turned out to be one of the best bar experiences in Antwerp!
The beer list is small; we had Rochefort 8's as the day had been too long to cap it off with a 10, and followed these with a Jenever each - seeing as it's a Jenever bar this had to be done.
My girlfriend had a hazelnut cream jenever, while I went for the chocolate cream..we could have stayed for more but were on the backend of a 12 hour session, and thought it best to retire..
The best thing about this place was the general feeling; warm and cosy, with some quiet conversation and friendly helpful staff. Contrary to our expectations of finding a lary and debauched Jenever bar, we had a relaxing end to our night, with the resident cat spending an hour on my girlfriends lap.
May 29, 2009
MrNuggets from Oregon
4.34
/5
rDev
+5.9%
vibe: 4.5 | quality: 4 | service: 5 | selection: 4
When In Antwerpen I stay right across the street from this place. I don't go there to drink beer, I go there to drink jenever and chat with the attractive barmaids. Maybe that disqualifies me from reviewing the place? I do not think so. I've spent a lot of time sitting at the bar in there. I was there at the end of April, I was dejected, down pissed off and upset about my involvement with some lowlifes. The Lange Wapper had my number that night.
The alcohol cheered me up. So did the pretty barmaids. Late, a gang of street performers dressed in sharp suits and playing brass instruments down the dark, quiet, narrow little streets of the old town really turned my mood around. I went home happy.
Jun 04, 2006
De Vagant in Antwerpen, Belgium
Place rating:
4.1
out of
5
with
9
ratings