Pardál
| Budějovický Budvar, n.p.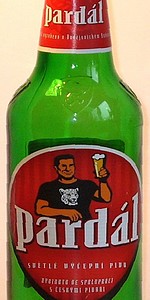 BEER INFO
Brewed by:
Budějovický Budvar, n.p.
Czech Republic
budvar.cz
Style:
Euro Pale Lager
Alcohol by volume (ABV):
3.80%
Availability:
Year-round
Notes / Commercial Description:
No notes at this time.
Added by CampusCrew on 10-21-2008
Reviews: 9 | Ratings: 22
2.33
/5
rDev
-22.1%
look: 2.5 | smell: 2.5 | taste: 2.5 | feel: 1.75 | overall: 2
500ml bottle from Morrisons (£1.99):
Clear & light amber coloured with a thin, foamy white head that turns soapy lacing quickly.
Part sweet, part bitter aroma that wasn't very pleasant at all and contained some malts with a basic hop aroma on top. There was some bread and corn with a bit of barely towards the end too.
Bitter & quite a cheap tasting beer with some grassy hops and bitter malts upfront with a hint of butterscotch or vanilla but quite a light one. There is a strange sweetness that quickly turns bitter half way through and is coupled with a slightly skunky taste. The beer seems cheap and a little stale.
Light bodied and quite weak with light carbonation and a flat taste that has touches of citrus but still makes a pretty poor beer on the palate with a bitter taste that lingers for far too long.
A rather poor beer from the outset and a sorry excuse for a Czech lager. The taste was overly bitter and seemed stale with a taste that seemed very slightly off. The beer definitely tasted cheap and it was a struggle to finish the bottle.
1,061 characters
2.69
/5
rDev
-10%
look: 4 | smell: 2.5 | taste: 2.5 | feel: 2.5 | overall: 3
Totally limpid, of a golden yellow, quite dark color, and with a beautiful white creamy head.
Some stale hop in the smell, not so fresh.
At the taste, very few notes. Ok, it is just 3.8 ABV, but still very light and few taste.
A bit of maltiness in he aftertaste, and again stale hop.
It is near to the best before date, but still, nothing very interesting.
357 characters
2.7
/5
rDev
-9.7%
look: 3 | smell: 3 | taste: 2.5 | feel: 3 | overall: 2.5
The colour is pale gold (7 EBC), the liquid clear. The large white head slowly sinks down leaving some lacing.
The smell is mild. Butter, bread, clean bitterness. Hints of soap.
The taste is quite light. Some bread, hints of butter and a medium strong bitterness with a chemical hint of soap. The aftertaste is smooth with clean bitter-sweet notes. Soap in the finish.
The carbonation is light, small fresh bubbles. The liquid is light, too.
An uncomplicated 10°.
471 characters

2.82
/5
rDev
-5.7%
look: 3.5 | smell: 2.75 | taste: 2.75 | feel: 3 | overall: 2.75
A 500ml green glass bottle with a BB of Sept 2014. Picked up a while back from a supermarket. The label features a panther motif.
Poured into a straight pint glass. A bright amber colour with good carbonation. Forms a large head of creamy white foam that lasts for a few minutes before subsiding to a patchy surface layer. Aroma of light malt with hints of husky grain, stewed leaves and overdone veg. Faintly sweet, with a touch of cardboard. Meh.
Tastes of light malt and harsh leaves, with a dry finish. Notes of grain, husks, stewed leaves/herbs, overcooked veggies and cardboard. A whisper of malty sweetness in the background, followed by a dry bitterness upon swallowing. Mouthfeel is smooth and tingly, with prickly carbonation and an insubstantial body. Somewhat astringent, accompanied by an aftertaste of harsh stewed leaves and cabbage water.
Bleh - a rather poor quality lager. Certainly not up to the usual Czech standards. Looks OK, the best thing about it. Aroma and flavour are weak and plagued by unpleasant off-notes. Lacklustre body. Not a brilliant drinking experience - give it a miss.
1,110 characters

2.95
/5
rDev
-1.3%
look: 3 | smell: 3 | taste: 3 | feel: 2.5 | overall: 3
Purchased two bottles at border shop in Rozvadov, Czech Republic.
.5L Bottle served in Pilsner Glass
A- Clear, Deep Straw color. Virtually no head and no lacing.
S- Malts, grass and mild hops.
T- A very grainy maltiness, dry on the pallate with a skunky aftertaste.
M- Medium bodied, almost no carbonation.
D- I've tried this beer before, but didn't take any notes and remember it being a little better. This is factory mass produced brand made alongside the Budvar/Budweis brand and the taste reflects it.
512 characters
2.98
/5
rDev
-0.3%
look: 3 | smell: 3 | taste: 3 | feel: 2.75 | overall: 3
Green half-litre bottle from my local Morrisons Supermarket: BBD 18 Sep 14, poured into two Veltins Pilsner badged glasses on 2 Nov 13.
Looked like almost every other Czech lager/pilsner on earth: golden, clear and bright. Usual no show of a lasting head too.
Gets my regular score of 3 for an odourless pilsner/lager: although this did have a slight metallic hint with a grass stain on it.
The taste was neither here nor there: grains rule overall, some sweetness at first, then a dry hop finish ensues. Refreshing enough, but not the best lager/pilsner in the world, that's for sure.
588 characters
3.06
/5
rDev
+2.3%
look: 4 | smell: 3 | taste: 3 | feel: 3 | overall: 3
I found this beer in a super market in Karlovy Vary. It has a brass colored body with a thick tan head. The odor is strong. You can smell it the second the beer is open. It has a bit of a skunky and herbal smell. The flavor is grassy, fruity and some tartness. It has carbonation but for the most part watery.
309 characters
3.26
/5
rDev
+9%
look: 4 | smell: 3 | taste: 3.5 | feel: 3 | overall: 3
Clear bright orange with thick and creamy head in 1 finger thickness, good retention. Aroma is faint sweetish malt.
Taste is weak malt with spicy bitterness that lasts well into the aftertaste. Light mouthfeel with considerable carbonation.
Not a bad one for such a low ABV and price.
286 characters

3.97
/5
rDev
+32.8%
look: 3.5 | smell: 4 | taste: 4 | feel: 4 | overall: 4
A: Pours clear golden with a large white light, but still compact head. Slow dissipation leaves nice lacings.
S: malt, slightly roasted and with semi-sweetness. Noble hops gives it a nice mix between bittervand floral.
T: follows the nose but there's a stronger bitter presence. Nettles and grass.
M: long lovely bitter aftertaste. Body as well as carbonation is medium.
O: I'm not sure that I think this is a Euro Pale Lager, to me it's more a Czech Pilsener (not the greatest one, though). As a EPL pretty darn nice.
522 characters
Pardál from Budějovický Budvar, n.p.
2.99
out of
5
based on
22
ratings.