Den Tatoverede Enke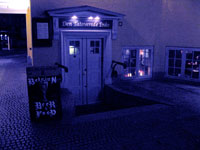 Reviews by Beervana:

More User Reviews:
indytim from Missouri
1
/5
rDev
-77.3%
vibe: 1 | quality: 1 | service: 1 | selection: 1
I visited on Apr 7, 2016, to find this establishment is closed, and a new operation called Banksia, is in its place. Please see my review for Banksia, elsewhere.
Apr 07, 2016

EMV from Pennsylvania
4.49
/5
rDev
+1.8%
vibe: 4.75 | quality: 5 | service: 4.25 | selection: 4
A buddy and I stumbled into Den Tatovered Enke in Copenhagen entirely by accident and it's just a phenomenal hideaway. Located on a side street... no significant advertisements... and a true locals type hangout. They have a small selection of taps (maybe 10-15 downstairs plus a bottle selection), but the quality is absurd! They tend towards the Belgians (not a bad thing) and we each had about 3-4 truly stellar beers.... one at the bar, and then 2-3 more out back in a nice private outdoor seating area. The service was solid/friendly with the bartender making several recommendations (all excellent) and the place just had a great local vibe. This was an absolutely awesome place to hang out after a day touring Copenhagen and I will seek it out if I ever find myself back in town.
Apr 25, 2015

FightingEntropy from Minnesota
4.48
/5
rDev
+1.6%
vibe: 4.25 | quality: 4.75 | service: 4.75 | selection: 4
Luckily, we made Den Tatoverede Enke (The Tattooed Widow) tonight, our next stop after the Lord Nelson Bar, because they were shutting down for the weekend until the 3rd. Hard to find in a side alley without a sign, this Copenhagen hideaway supposedly specializes is some pretty good beer food in the restaurant upstairs, but we only stopped in the downstairs bar.
Sixteen taps that I can see and a bottle selection that tends towards Belgians. So they didn't have leftover beer in the kegs for their holiday shutdown, only a few beers remained on tap tonight. Sad for us, but I like the respect for beer and customers. We had two excellent beers that were well served: Stronzo's Golden Santa and Mikkeller's From To Via, a Christmas beer with a tap handle designed after present label. While chatting, I noticed how meticulous and attentive the bartender was--one of the best I've ever seen.
When Ian had studied in Copenhagern, he picked up a Westvleteren crate that he brought home for me. Several of the crates sat in the windows as decoration. Fun to see the "siblings" of my home decor. We lounged at the bar with a draft and music soft enough to actually be background. My first night in Denmark, the full darkness by 5:00 pm was a bit shocking to my jet lagged system, as were the two drafts that went right to my head, so we headed home for the night. However, the Widow is at the top of my list, restaurant included, for a return visit.
Pictures at http://pintsizedrevelations.blogspot.com/2013/01/den-tatoverede-enke-copenhagen-dk.html.
Jan 12, 2013
potable from Indiana
4.83
/5
rDev
+9.5%
vibe: 4.5 | quality: 5 | service: 4.5 | selection: 5 | food: 5
My wife and I visited in late May in the company of two Danish beer aficionado buddies, and it was a night to remember.
Any time you begin your session with a Black Albert (draft) and Samichlaus 2002 (bottle), detailed reviews probably won't result, but after a few rounds, we adjourned upstairs for the Belgian-paired gastronomy, and it was as good as I've had anywhere, anytime -- probably around six or seven courses, with ample accompanying pours of classic Belgian ales.
Especially impressive was the staff's zeal in formulating a vegetarian meal of equally superb quality on the fly for my wife, who's also lactose intolerant. Kudos for that.
Exemplary. Note that I'm pricing my review as "reasonable" based on the value of utterly top shelf quality, but know that Copenhagen isn't cheap. All told, the evening set us back in excess of $600 for four people. It was worth it for every drop of beer, delicious morsel and efficient service.
(Note to Jeremy: Sorry about that English rugby top!)
Jun 01, 2009
Nickls from District of Columbia
4.58
/5
rDev
+3.9%
vibe: 4 | quality: 4.5 | service: 4.5 | selection: 5
(From notes)
Visited on a late Saturday afternoon, and it was pretty empty minus a few other patrons. I sat in the downstairs bar area, and did not have a chance to see the upstairs dining area. Overall, a pretty chill and laidback atmosphere. Fairly intimate bar space, even though there are a good number of seats at the bar, and several tables along the wall. Dimmer space, and seemed to be a bit of a more upscale.
Huge tap lineup focusing solely only Belgians minus two U.S. brews (Great Divide and Flying Dog when I was there). All Belgians on tap looked to be really quality selections, and quite a few I had never seen available on tap, which was really cool. In total there were about 16 taps. Also, there was an extensive bottle list that included the entire Westvleteren lineup, and the bottles were significantly more expensive than the drafts.
I didn't have the opportunity to try the food, but the owner/bartender told me about the beer pairing dinners that they focus on, and made me wish I had the chance to do that.
Overall, this was a fantastic place for Belgian brews with really good service and more than solid atmosphere. I would go back in a heartbeat.
Apr 16, 2009
BeerTank from Sweden
4.6
/5
rDev
+4.3%
vibe: 4 | quality: 5 | service: 4 | selection: 5 | food: 4.5
This is probably Copenhagen's premier Belgian bar/restaurant. It's located close to Kongens Nytorv and Nyhavn, on a small courtyard just off Gothersgade. You enter the place through the bar, which is located in the basement, and the restaurant is just up the stairs in the back.
The bar is quite nice, with a couple of tables and long bar counter where they have all their beers on tap in a row. The beers on tap are mainly different Belgian beers, but you can usually find a few taps with Swedish or Danish micro brews as well. The selection of bottled beers is also quite good, and if you ask for it you can get a menu with their vintage bottles.
If you go upstairs you come into the restaurant which is comprised of a couple of rooms in a row overlooking the courtyard. The restaurant is quite upscale with white linen table cloths and napkins.
The food is very good, and the restaurant usually offers a set menu in addition to the a la carte. You can also get a specially selected beer menu with the set menu, but you get quite a lot of beer with each dish so you will have to watch yourself or you will have trouble getting up from the chair after the meal.
All in all a great place, regardless of whether you just want a beer in the bar, or if you want something good to eat as well.
Nov 27, 2008
garrettdcole from California
4.74
/5
rDev
+7.5%
vibe: 4 | quality: 5 | service: 4.5 | selection: 5
Very nice Belgian beer bar set back off the street in a quaint cobblestone courtyard. My wife had the the Piraat on tap and I had the De Dolle Bos Keun from the bottle. We arrived shortly after they opened, so we were the only ones there. The staff was very friendly and, although we did not eat anything, the food smelled delicious. As we left, two reps from Bavik (brewers of Petrus, etc.) came in to check it out. Note this was the day before the 2008 European Beer Festival. Definitely worth a visit if you are into Belgian beers and find yourself in Copenhagen.
Sep 11, 2008
rastaman from England
4.5
/5
rDev
+2%
vibe: 4.5 | quality: 4.5 | service: 4.5 | selection: 4.5 | food: 4.5
Could be one of my favourite pubs Largely Belgian accented food and beer. Lots of brews on tap and a great selection of bottled beer (Westvleteren Blonde, 8 and 12, Girardin Gueuze -Filtered and unfiltered versions-, Cantillon Kriek, Gueuze, Rochefort 6, 8 and 12, aswell as Brockhouse Wit and IPA from a local microbrewery on tap, i could go on forever about the bottle/ tap beer list). This bar is truly awesome, and much better than a lot of bars i went to in Belgium.
The staff were very nice, it was run by a very nice New Zealander, the staff were very informative, helpful and one guy even showed me a few places to go in Brussels (where i was going next), they new alot about their beer, and their excellent and well picked beer menu proves this, excellent food aswell. I wish i lived in Copenhagen just so i could go to this bar.
Mar 24, 2003
Den Tatoverede Enke in København, Denmark
Place rating:
4.41
out of
5
with
10
ratings