Nit Wit
| BJ's Restaurant & Brewhouse
BA SCORE
82
good
11
Reviews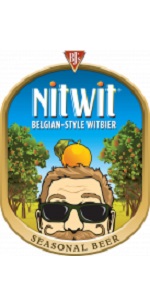 BEER INFO
Brewed by:
BJ's Restaurant & Brewhouse
Arizona
,
United States
bjsrestaurants.com
Style:
Witbier
Alcohol by volume (ABV):
4.70%
Availability:
Summer
Notes / Commercial Description:
Nit Wit is a traditional Belgian-style witbier. Unfiltered and spiced with orange peel and coriander. Immensely refreshing and flavorful.
Added by Gusler on 08-08-2004
Reviews: 11 | Ratings: 29

3.02
/5
rDev
-14.2%
look: 2.5 | smell: 3 | taste: 3 | feel: 3.5 | overall: 3
586th Review on BA
Draft to pils
@ Bjs west covina
App- super hazy with no head. Few lines of cling. Cloudy light yellow.
Smell- very wheat forward with coriander and orange peel. Not as small as i thought. A bit thick on the nose.
Taste- A weird wit. Its pretty thick on the taste with wheat, spices and peel dominating. Its okay but not the best. A little unbalanced and pretty average.
Mouth- medium bodied and medium carbonated. Very coriander on the finish.
Drink- Its pretty average witbier. It was a long day and I needed something light. Shouldve gone more craft or Belgian.
588 characters
3.68
/5
rDev
+4.5%
look: 3 | smell: 5 | taste: 3.5 | feel: 3 | overall: 3
Served in a pint glass at BJ's Brewhouse in El Paso, tx.
Pours a light yellow, very cloudy, no head. The edges of the beer are lighter because I'm looking through fewer particles. The nose is simple and clean--bananas and cloves over red fruit and wheat.
There's a strong banana presence up front, followed by a little bit of bubble gum and spicy cloves and a citrus finish. Slightly crisp, light body. Not a lot going on with the malts.
The aroma reminded me of a Pranqster turned wheaty, and made me damn excited to try this, because I wanted a wheat beer badly on such a hot day. This was a slight let down, but served its purpose as a summer quencher. A little more in the malt profile--but not enough to violate the 'keep it simple stupid' rule--would have really made this for me.
789 characters

2.89
/5
rDev
-17.9%
look: 2.5 | smell: 3.5 | taste: 2.5 | feel: 3 | overall: 3
Cloudy light yellow color with a light layer of white foam that fades quickly to absolute nothingness. Looks more like watered down orange juice at this point.
Smells of coriander and citrus lemon and orange peels. Not much in the way of yeasty, bready notes, hops or much else really. Having said that, the nose is probably the best part about this beer.
Taste is a bit on the thin side without much wheat or malt backing. Citrusy flavors seem to be more pithy, like the bitter white part of an orange peel. Lack of any sort of sweetness at all really brings this beer down for me. Not a fan.
595 characters
3.26
/5
rDev
-7.4%
look: 4 | smell: 3 | taste: 3 | feel: 4 | overall: 3.5
Reviewed 5/22/2009 (Draft at BJs Brewhouse, Webster, TX):
Pours a pale cloudy yellow colored body, with a smallish frothy creamy white head, lastingish. Fresh citrusy aroma, some lemon, a little spice. Spicy taste, clean aftertaste. Carbonated, nutty taste. Light lasting, somewhat lemony. Letting warm up a bit..not too complex a flavor, refreshing.
351 characters
3.21
/5
rDev
-8.8%
look: 4 | smell: 3 | taste: 3 | feel: 4.5 | overall: 3
Arrived with a nice light golden color with an opaque cloudiness to it with about a 3/4 inch white head that stuck around a bit.
Decent floral and spicy aroma but nothing extraordinary.
The taste was very grainy at first. Didn't pick up on the coriander and orange (or anything else) till the second half of the beer. A second serving may have helped and would have been fine, but I was too curious as to their other offerings at that point.
Mouthfeel was nice. Light and refreshing. Maybe a bit heavier than expected but overall I thought that was it's strongest attribute.
It's probably good it's a seasonal beer as it definitely hits the spot on a hot summer day, but I probably wouldn't be looking for it too much at any other point in the year.
753 characters
3.12
/5
rDev
-11.4%
look: 3 | smell: 3.5 | taste: 3 | feel: 3 | overall: 3
Pint last night for $4.50, menu said it was 4.7% ABV, fourth beer in their series of seasonals, described as a Belgian-style wit on the menu
A-Very light, barely even yellow that is completely see through, big 1 1/4 inch fluffy white head, stuck around for a few minutes, some retention, minimal lacing, pretty murky
S-Spices and they were very aggressive at the beginning, citrus, wheat, definitely some floral hoppiness, coriander, orange peel, and sweetness
T-Started off with a bland taste that was full of spice in the finish, got fruitier as time went on, more sweet than you want it to be once it has warmed, stuff was a little syrupy and it shined through to the flavor, would have liked to see more of a wheat presence being that it was a wit, or some dryness in the aftertaste might have helped as well, light tasting beer with a much thicker feel
M-Watered down, body was a little thicker than expected, could have used more carbonation, taste did not linger long enough, somewhat spicy and chewy mouthfeel
D-Could drink two pints of this stuff and then it would start to get old, heavy on the stomach for its style, not aas smooth as I expected, low ABV though which helps
Average for a beer from BJs, nothing that really stands out, just an easy going brew that goes well with pizza, did not expect much out of it, liked the other three beers in this year's series more though, probably would not have again, might be worth trying
1,449 characters

3.35
/5
rDev
-4.8%
look: 3 | smell: 3 | taste: 3.5 | feel: 3.5 | overall: 3.5
Had at the Webster, Texas BJ's on a hell of a thunderstorm filled day.... First whiffs of aroma were quite scary, then it settled down to basic light fruit and foam ... some OK lacing and foam- i'd say B+ ... poured a almost clear golden colour.. a subtle flavour to this brew but nothing that outrageous, was some what spritzy...
330 characters

3.68
/5
rDev
+4.5%
look: 4 | smell: 3.5 | taste: 4 | feel: 3 | overall: 3.5
Sampled at BJs Tucson, AZ; June 2008
This beer comes with a thin, not quite covering, pale, white colored head that sits on top a deeply hazy, light straw colored beer. Spicy coriander and orange peel aromatics are quite noticeable. The coriander aromas are fairly smooth with more of a citrus focus than the grassy / herbal / earthy notes that are also associated with coriander (though these notes are also here). There is a touch of grain character towards the finish of the aroma.
The beer comes a bit too cold, despite my asking to be served in a warm glass. Citrus notes accentuate a sweetness here that is tempered by a biting, pepper carbonation and a lightly earthy, herbal-coriander note that lingers on in the finish. Grassy grain and crisp malt flavors are found here as well, especially in the middle and towards the finish. While this is quite spice driven, the spices are not overwhelming. Something about the spiciness here makes me think of chamomile or some sort of floral influence. This is even a touch yeasty tasting, which is not surprising given the deep haziness. The mouthfeel has a fullness to it, though it is pretty light overall.
This is a tasty, serviceable Wit that is great for this warm Summer weather. It could use a bit more complexity & I am a bit partial to Wits with at least a bit of tartness.
1,334 characters

4.13
/5
rDev
+17.3%
look: 4.5 | smell: 4 | taste: 4 | feel: 4 | overall: 4.5
On tap at the Rancho Cucamonga, CA location. Pours a pretty pale yellow, cloudy, loose/sparse white head. The smell is wheat malt and the traditional spices of witbiers which are probably orange peel and corriander, though I can never usually pick out either by itself in this style. The taste was clean wheat, and a bit of dull bitterness/twang from the spices. The mouthfeel was nice, not a whole lot of carbonation so it kind of went down without being too abrasive but lively enough to be refreshing. This was the best Wit I've tried so far.
545 characters
3.88
/5
rDev
+10.2%
look: 4 | smell: 3.5 | taste: 4 | feel: 4 | overall: 4
On-tap at BJ's in Tucson, brewed at the Chandler location. Light, hazy yellow apperance, thin wispy white foam, hardly any lace. The aroma is full of yeast and coriander spice, with a hint of citrus and banana fruits. Notes of lemon, banana, and spice are evident in the taste, before a finish that's dry with a faint bitterness. It seems quite yeasty. The flavor is overall fairly strong, which initially made me figure the alcohol content was higher than 4.5%. The mouthfeel is nice, solid carbonation, and a relatively full body for a Witbier.
I knew this might be a good beer when the waitress said it wasn't any good, and that most people that tried it thought it was too "strong" compared to their other wheat. I guess they just don't like a beer with some flavor. I enjoyed 2 pints of this brew, and would definitely try it again if I go back...
856 characters
3.84
/5
rDev
+9.1%
look: 3 | smell: 4 | taste: 4 | feel: 3 | overall: 4
Draught @ Papago
The beer after its extraction from the tap sets in the glass a light lemon yellow color, the head stands tall on the body and it texture creamy, the color a bright white with the lace a satin sheet to lie upon the glass. Nose is sweet malt, light hints of wheat, lime like crispness, fresh and oh so appetizing, start is lightly sweet and its grain profile perfect, the top light. Finish has a light to moderate acidity, the hops pleasantly subdued, quite dry and a very nice beer to quaff on a "Hot Arizona Saturday Afternoon", went down so well I had two, a rarity as I'm not a big fan of "Wit's", well maybe I am after all.
652 characters
Nit Wit from BJ's Restaurant & Brewhouse
3.52
out of
5
based on
29
ratings.