Hirter 1270
| Brauerei Hirt GmbH
BA SCORE
80
good
15
Reviews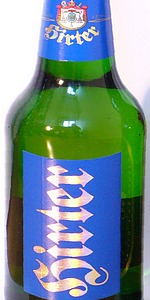 BEER INFO
Brewed by:
Brauerei Hirt GmbH
Austria
hirterbier.at
Style:
Vienna Lager
Alcohol by volume (ABV):
4.90%
Availability:
Year-round
Notes / Commercial Description:
No notes at this time.
Added by rhoadsrage on 09-22-2006
Reviews: 15 | Ratings: 26
4.27
/5
rDev
+28.2%
look: 4 | smell: 4.5 | taste: 4 | feel: 4.5 | overall: 4.5
Clear copper color with a nice (but smallish) white head that drops to a thin layer and leaves a lot of lace. The bottle is definitely different than the one in the photo, but this still has to be the same beer.
Sweet caramelly malt smell that seems just right for the style.
Tastes like it smells, caramelly and sweet, with just a touch of hops. Tastes about right, but I feel like the flavor is lacking a degree of fullness. Still good though.
Light and crisp mouthfeel as it should be.
Pretty damn good Vienna Lager, just not quite full-flavored enough. I'm still glad I found this one.
Tasted on 4/1/08 from a pilsner glass.
633 characters
3.88
/5
rDev
+16.5%
look: 4 | smell: 3.5 | taste: 4 | feel: 4 | overall: 4
A very pleasant beer in all with a smooth full palate and refreshing taste. Malt is clearly dominant with fruity notes and some spice present.There is also a dominant and distinctive character of floral hops.
Drinkability of this is very sueffig and I am in all quite pleaseed with the beer.
292 characters

3.85
/5
rDev
+15.6%
look: 3.5 | smell: 3.5 | taste: 4 | feel: 4 | overall: 4
A: Copper-bronze with an off-white head, very thin ring of retention & lace.
S: Floral, slightly grassy, light caramel sweetness, hint of earthy mineral.
T: Light caramel sweetness, floral and grassy, modest earthy bitterness.
M: Light residual sweetness, modest carbonation.
O: On the light side, but it's a decent Vienna lager.
333 characters
3.83
/5
rDev
+15%
look: 4 | smell: 3.5 | taste: 4 | feel: 3.5 | overall: 4
330ml bottle, day 17 of the 2012 Craft Beer calendar. The bottle in hand is neither as green, nor the label as hideously plain as the one depicted herein.
This beer pours a clear medium copper amber hue, with one finger of loosely foamy off-white head, which leaves a strongly pervasive case of spectral lace around the glass as it duly recedes.
It smells of sweet, bready, cereal malt, some wavering caramel, a slight flintiness, and floral, grassy hops. The taste is caramel/toffee malt, an attendant breadiness, some loitering hard water notes, a bit of semi-sweet drupe fruitiness, and softly leafy, grassy hops.
The carbonation is rather sedate, and definitely non-intrusive, the body a decent medium weight, but a little too informed by a swirling sugary nature, and equally smooth. It finishes off-dry, the cerealized (tm) malt providing the crux of the sweetness, as the subtle fruit drops away, and the earthy noble hops complete their Teutonic duty.
A rather enjoyable Vienna Lager, the malt well tempered via machinations from within and from without, and assisted to no small degree by a pleasant fruity character, as well as a restrained bitter hoppiness. So very Old World, and rather good when one flips one's mind over to this fact.
1,252 characters

3.81
/5
rDev
+14.4%
look: 4 | smell: 3.5 | taste: 4 | feel: 3.75 | overall: 3.75
Deep amber colored body. Crystal clear. Small fine white head.
Smells mainly of the malt. Typical amber of amber colored beers. Bready.
Taste is a pleasant surprise for me. Most of the amber colored beers express a certain metallic aftertaste that tastes like vomit to me. This one is different. It tastes bready and ends on spicy hop bitterness that keeps the malt perfectly in check.
Lager mouthfeel. Maybe a little more body. Fine prickling carbonation.
Still not my favourite style of beer, but really tasty the way it is.
530 characters
3.72
/5
rDev
+11.7%
look: 3.5 | smell: 4 | taste: 3.5 | feel: 3.5 | overall: 4
Poured from an 11.2 ounce green bottle into a cervoise. This bottle is a bit past it's expiration but I thought it was still wonderful so I see no harm in posting this review.
Appearance: Thin tan head vanished rather fast. The body is much darker than any other Vienna lager I've ever had.
Smell: Light hops, big caramel malt and toffee sweetness.
Taste: Caramel malts, dry finish with mild hop bitterness.
411 characters
3.58
/5
rDev
+7.5%
look: 3.5 | smell: 3 | taste: 4 | feel: 3.5 | overall: 3.5
(Served in an American pint glass)
A-This beer has a warm orangish-brown crystal clear body with a thin off-white head that last for a good while.
S- The light dry caramel but not toasted hint has a bitter hop finish that is light aswell.
T- This beer has a good caramel malt flavor that has a light bitter hop finish with a bit of a sulfur note.
M- The light mouthfeel has a crisp finish to it.
D- The web site refers to this beer has an amber lager and it has a good flavor of malt with a light note of hops that offers some support to the malt. Very easy to drink as a session beer.
601 characters

3.52
/5
rDev
+5.7%
look: 3 | smell: 3.5 | taste: 3.5 | feel: 4 | overall: 3.5
330ml bottle poured into pint glass 25/9/12
A clear copper with lots of big bubbles but just a short lived finger of foam that leaves no lace
S nutty toffee with some herbal and leafy hops and a slight metallic thing going on
T more of the same really, malty and nutty with some tea bag and leafy hops
M medium bodied with lots of big bubbles giving it an airy but creamy feel with nutty toffee lingering for some time
O not being to familiar with the style this could be a world class example and I'd have no idea, personal preference come into play when ignorance is abundant
OK beer but I wouldn't go looking for it nor would I turn it down if it was offered to me
675 characters

3.13
/5
rDev
-6%
look: 4 | smell: 3.5 | taste: 3 | feel: 2.5 | overall: 3
330mL btl poured into a tulip. Served at 4C and tasted at 8C.
Slightly hazy copper-ruby pour with a nice 6-8 cm head that fades to a thin film with solid ring and sporadic but fair lacing. It looks quite carbonated but that may be due to the laser etching in the glass.
A nose of sweet peasant breads, floral with notes of straw, soft, juicy fruit and grassy-leafy yeast and hops.
Moderate sweetness balanced with a light bitter, farmhouse funk. Caramel and a jammy-juicy preserved fruits, and a clingy sugar and yeasty finish. Very much a chewy bread quality that is more in the texture than flavour.
Mouth feel is thick and smooth. The carbonation livens up the experience on the palate a little but the start is smooth a LITTLE liveliness in the center and a long fat, clingy and generally unrepentant texture is not good.
While it doesn't come across as cheap and some of the higher rated beers I have had, there it does not come together as well as it should. Most notably on the long fat and lazy finish. It looks nice enough ad smells OK, but the flavour the mouth feel really let it down. I will NOT be drinking this again even if I can find it.
1,158 characters

2.98
/5
rDev
-10.5%
look: 3.5 | smell: 3 | taste: 3 | feel: 2.5 | overall: 3
This is beer 17 from the Rieder advent calendar. Pours a nice amber colour, light aroma, smells like a lager. Minimal lacing. The flavour from this is like a blip on a heart rate monitor: it only lasts a split-second and you barely even notice it because there's a million others like it. Moving on, there is a slight bready malt flavour, and a mildly sweet lager finish. Nothing much else of note. Not offensive in the least, but nothing worth repeating either. Additional note: I had the second half of this beer while eating onion rings, the pairing was great and made both items taste better.
596 characters

2.97
/5
rDev
-10.8%
look: 3 | smell: 3.5 | taste: 3 | feel: 2.5 | overall: 2.5
Served on draught into a 40cl glass. Reviewed from notes. I didn't note the cost.
A: Pours a 2.5 finger head of soft cream, decent thickness, and good retention. A semitransparent dark copper colour.
Sm: Nutty, with some smoke, and slightly dark fruit. A mild strength aroma.
T: Nice cream, caramelized malt, slight amber hops, and nice full barley. A bit simple and uninspired. Balanced, but built generically for the style.
Mf: Coarser than expected and wet. Complements the flavours of the body. More cream would be nice.
Dr: Very drinkable, but generic. Expensive here in Italy, and boring.
604 characters

2.73
/5
rDev
-18%
look: 3 | smell: 2.5 | taste: 2.5 | feel: 2.5 | overall: 3.5
This beer came in a small 11.2 oz green bottle with no freshness date on it that I could find. The label is also different from the one they picture on their web site so I assume they just have different labels for their domestic and export versions. The US export version bottle is pretty plain with just a small coat of arms at the top with the word hirter and the year 1270 underneath it. When poured it only made a half-finger foamy white head, but what head there was lasted a while and left a touch of lacing down the sides of the glass. It poured an orange/brown color but turned into a cloudy apricot when held to the light.
The smell was a nice caramely, malty, lager smell, but fainter than I like from a Vienna lager. Vienna lagers are among my favorite beer styles (Negro Modelo & Elliot Ness are my favorites), but this one is just too weak.
It has a caramel-malt flavor - just not enough of it. If there was such a catagory as a Vienna Light Lager then this beer would qualify for it. It has a light and crisp mouthfeel and is easy to drink, but then so is water. This beer lacks flavor. There is a hint of hops in here which mainly makes an appearance in the finish but I truely miss the lack of caramel/malt potency that fits this style.
1,259 characters
2.69
/5
rDev
-19.2%
look: 2.75 | smell: 3 | taste: 2.5 | feel: 2.5 | overall: 2.75
Pours a nice copper colour but presented virtually no head, just a little peaking on the edge of the glass. Has a nice malty smell and a citrus smell that reminders me of mandarin oranges. Not sure about the taste, it almost tasted like I was eating a piece of dark rye bread and it almost had a medicinal tinge to it. The carbonation is there in the mouth but disappears very fast. Different and not one of my favourites of the calender.
438 characters

2.63
/5
rDev
-21%
look: 3 | smell: 2.5 | taste: 2 | feel: 4.5 | overall: 3
I enjoyed this beer in a giant red wine glass.
A- Nice copper coloured beer. Translucent with lots of bubbles. Head just around the edges after it dissipates off white small regular sized bubbles.
S - Malt. It smells like I just opened a can of malt extract. A citrus and purple grape-y ester smell from that malt. It also smells like just barely toasted whole wheat bread.
T - It's a little sweet, but nicely balanced. A nice hoppiness for a lager, once again nicely balanced. No sour notes, which is a plus. There was a bitter lingering aftertaste the same flavour as if I licked an acetaminophen.
M- I like this mouthfeel a lot. At first it feels as if it was going to dry out your mouth, but then there is a wave of cool refreshing tingling. Your mouth is left a bit fuzzy tongued after.
O - I've discovered I am not a fan of Vienna Lagers, but this is one of the nicer ones.
885 characters
2.62
/5
rDev
-21.3%
look: 2.5 | smell: 3 | taste: 2.5 | feel: 2.5 | overall: 2.5
A: deep copper/amber, darker than i'd expect from a continental vienna lager. Ruddy haziness detracts some. Minimal tan head quickly dissipates.
S: dark toffee and caramel. Some dried fruit. Would have expected more of a bready quality from a continental lager.
T: more dark toffee/caramel and dried sourish fruit. Lightly sweet. Hops largely unnoticeable. Again would have liked rich bready malts here, rather than sourish fruit and toffee. If I had to guess blind i'd say this was an ale.
M: not enough carbonation makes it seem thin and a little watery. Some puckering from the light sourness.
D: I couldn't tell when this was bottled or supposed to be drank by, but there wasn't a hint of dust on this bottle and it was from a store with a high turnover.
758 characters
Hirter 1270 from Brauerei Hirt GmbH
3.33
out of
5
based on
26
ratings.