Rye 95
| Two Roads Brewing Company
BA SCORE
83
good
36
Reviews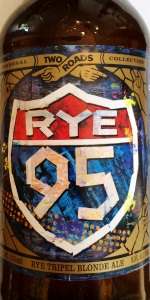 BEER INFO
Brewed by:
Two Roads Brewing Company
Connecticut
,
United States
tworoadsbrewing.com
Style:
Tripel
Alcohol by volume (ABV):
9.50%
Availability:
Winter
Notes / Commercial Description:
Two Roads Brewmaster Phil Markowski has taken a road less traveled with this rye-based version of a classic Belgian Tripel. There are unique twists and turns at every corner that give our spring seasonal its unique, fruity complexity. The beer is characteristically spicy with a dry flavor and aroma thanks to the rye. The addition of American-grown Mosaic and Amarillo hops add notes of white wine, blueberries and fruit punch. We also used a noticeably fruity/spicy yeast strain that adds characteristics of pear and clove. So take the next exit for a fruity, spicy flavor and intense hop character.
Added by RDHerm on 01-30-2014
Reviews: 36 | Ratings: 201
3.84
/5
rDev
+4.9%
look: 4 | smell: 3.75 | taste: 3.75 | feel: 4 | overall: 4
On tap at Woodstock Pizza, Woodstock, NY.
Amber gold with creamy white sheeting.
Floral Belgian nose.
Ryvita, phenolic clove, lemon zest and ginger spice.
Floral end and nectar linger.
Crisp, slightly clingy.
Acts like a saison – Rye is there, hops are not. Lots of spice and flowers. Nice but odd.
307 characters

3.87
/5
rDev
+5.7%
look: 3.5 | smell: 4 | taste: 4 | feel: 3.5 | overall: 3.75
Offers close to two fingers of a clean white, densely woven head, even surface, retention is a little below average, the lacing is okay, forms wide, long strips but they then slowly slide down into oblivion. Serious amount of particulate floating inside the glass, otherwise it would be especially bright, only a random bubble scattered here or there. Very fruity nose of poached peaches and apricots, bananas, ripe melon, green grapes, sugary pink grapefruit, for the density in the fruit almost seems "airy" per se, cardamom and fennel, not really getting any rye derived spiciness and close to no bread nor yeast components, citrus lasts the longest. Medium-bodied, no excessive palate weight but manages to fluff up and press outwards to either cheek. Clove, ginger and cumin spice are upfront, no real bite to it though. The apricot, banana, grape, cherry fruit dials it back half a notch. Mixes in some sour notes in the mandarin orange and pink grapefruit citrus. Light pepperiness now and then. Overall clean but with some metallic earthiness. It's a very likable beer, yet it arguably is throwing a few too many ingredients into the pot.
1,152 characters

3.7
/5
rDev
+1.1%
look: 4 | smell: 4 | taste: 3.5 | feel: 3.5 | overall: 3.75
12oz bottle served in a pint glass
Orange gold with a bit of haze and a lot of foam made up of small white bubbles that take a while to settle. The smell is pretty good with a good deal of belgian pale malts, a bit of candy sugar and peppery spice along with a bit of phenols and yeast character. The taste is largely sweet up front with the spice coming through after a second or two. Also present is a fair bit of alcohol which may be expected with a beer of this strength in this style. Hop bitterness is there to almost balance the sweetness but doesn't quite manage it and there is very little in the way of hop flavor. Some bitterness could be from the rye as well as hops. The mouthfeel is a bit on the slick side again due to the sugar and the finish is a mix of sweet and pepper, carbonation is perhaps a bit low for the style. Overall this isn't going to compare to the more famous examples of the style, but it is a decent example none the less, one that I'd consider getting again.
993 characters
3.6
/5
rDev
-1.6%
look: 3.5 | smell: 3.5 | taste: 3.75 | feel: 3.5 | overall: 3.5
A: The beer is slightly hazy golden yellow in color and has a light amount of visible carbonation along with lots of fine particulates floating in suspension. It poured with a short white head that quickly died down, leaving delicate lacing covering the surface and a collar around the edge of the glass.
S: The smell is a little sweet and has notes of candi sugar and alcohol along with slight hints of bananas.
T: Like the smell, the taste starts out with some sweetness, but this seems to be a little more subdued due to the presence of the rye, the latter of which contributes slight hints of spiciness to the finish. Only slight bits of alcohol are perceptible.
M: It feels a little more than medium-bodied on the palate—heavier than most tripels but not sticky—and has a moderate amount of carbonation. Slight amounts of warming are felt from the underlying alcohol.
O: From the name of this beer, I thought it would have a little more rye and associated spiciness, but the rye does lend a bit of complexity to the taste.
1,031 characters
4.07
/5
rDev
+11.2%
look: 4.25 | smell: 4 | taste: 4 | feel: 4 | overall: 4.25
Appearance: 1 inch head, hazy, gold in color, high carbonation, clear
Smell: honey, light rye, and Belgian spices
Taste: honey, and Belgian spices, and a decent amount of bittering rye at the end.
Mouthfeel: sweet with a bitter end, medium bodied with high carbonation
Overall: I enjoyed this tripel. One of the better ones I have found in six pack format. I would pick this up again. Is one of the better beers from Two Roads.
431 characters
3.58
/5
rDev
-2.2%
look: 3.5 | smell: 3.5 | taste: 3.75 | feel: 3.25 | overall: 3.5
Bottle picked up locally bottle date mid February enjoyed from a two roads snifter. Brew poured a cloudy golden orange with a nice foamy head that fizzled away shortly after the pour. Some visible carbonation could be seen.
s - nose is sweet banana and boasts tripel. A hint of grain is present, but fairly sweet.
t - much like the nose the flavor screams tripel but the rye is more present here than on the nose. It adds an interesting element to the beer and saves an otherwise boring American tripel. It also balances out the sweetness.
m/o - a bit rich and heavy but not sludgy or syrupy (although maybe a bit syrupy). Basically what you expect from an American tripel with an element of rye to smooth things out.
720 characters

3.79
/5
rDev
+3.6%
look: 3.75 | smell: 4 | taste: 3.75 | feel: 3.5 | overall: 3.75
A-hazy golden orange color with a fingers worth of white head that disappears pretty quickly to leave a thin layer of lace
S-pale bready malt backbone, light fruit sweetness, and yeast
T-similar to the smell with a bready malt base, light fruits, maybe some herbal hop presence, and finishes with a spicy rye kick
M-light to medium body with light to medium carbonation
Overall trying a new brewery for me, maybe not the most complex or best Tripel out there, but it's not bad either
488 characters
3.81
/5
rDev
+4.1%
On-tap 3/23/2014 at Doherty's East Ave Irish Pub, in Pawtucket, RI served in a tulip glass.
A: The beer is a deep amber color, with a short off-white head that fades slowly and leaves a thick lace on the glass.
S: The aroma contains strong spices, bananas, Belgian yeast, caramelized malts and a touch of hops.
T: The taste starts out very sweet with flavors of bananas, caramel, spices and other fruits. Then some breadiness comes in from Belgian yeast and a hearty malt character. The hops presence is mild but complementary and brings a decent balance. The after-taste is bready and slightly sweet.
M: Crisp and smooth, medium body, medium carbonation, finish is slightly sticky.
O: Tasty, goes down easily, not too filling, strong kick, decent hybrid of styles, it's a solid beer to drink for a while if you want something a bit different.
853 characters
3.78
/5
rDev
+3.3%
look: 3.25 | smell: 4 | taste: 3.75 | feel: 3.75 | overall: 3.75
Cellar temp bottle poured into a pint glass. The beer pours a hazy golden hue with minimal bleached white head.
Few streams of bubbles rise lazily towards teh surface and significant sediment floats in the midsection of the beer. I gotta drop the appearance due to little head retention
Aroma is spicy cloves and maybe some banana. Heavy with sweet bready yeast, peaches and pie crust. I think there is a mild rye presence, but it is very subdued.
First sip reveals an average body with very fine tingly carbonation. Slightly dry on the finish and generally mild texture. Easy drinking beer for sure.
Flavor is sweet candy sugar malt, a little bready yeast, cloves and light fruit. Sweet and complex is the best descriptor I can give.
Very easy to drink and no hint of the 9.5% ABV. I dont find any real hop presence to speak of and generally enjoy drinking the beer. An interesting and drinkable bigger beer for folks to try out.
Definitely worth a 6 pack.
958 characters
2.3
/5
rDev
-37.2%
look: 3.75 | smell: 3 | taste: 1.5 | feel: 3.5 | overall: 2
A. Golden, mostly clear, good frothy head that holds on and laces a fairly solid screen.
S. Phenolic, fairly belgianesque, a little rye spice and some bread, but hacked in half by an acetone aroma that is harsh and boozy, bad brett like.
T. Harsh. Light enough flowery up front with a bread like sweetness touched with honey, but quickly develops into the harsh paint thinner that I get in the nose, mixed with booze.
M. Thick slick body through and through, but brought mostly to balance with a high end carbonation.
O. Im sorry to anyone I sent this to in a trade as an extra, I should have tasted it first. If it isn't badly infected, then it is incredibly poorly done. I've given everything they make a chance: some excel, most are drinkable but forgettable, but this is terrible. Drain pour as soon as I finished reviewing it.
836 characters

3.73
/5
rDev
+1.9%
look: 3.75 | smell: 3.75 | taste: 3.75 | feel: 3.5 | overall: 3.75
12oz bottle into a Duvel tulip.
A: Clear deep amber body under a finger of fine white head that settles into a persistent ring and leaves spotty lace. Pretty nice.
S: Spicy, with phenolic yeast being slightly more predominant than the rye malt. Some raisin and apricot, too. Pretty pleasant.
T: Follows the nose - spicy rye malt, dry phenols, breadiness, and some dark fruits. Alcohol, herbal hop bitterness, and dry spice on the finish. Tasty enough, but a little harsh on the back end.
M: Lively, frothy, highly carbonated medium body. A bit over the top.
O: Pretty decent Tripel, with the rye malt really standing out nicely. The alcohol drowns out the hoppiness, sadly, and overall it's not terribly exciting. Like many Two Roads beers, it's perfectly acceptable but entirely forgettable.
Cheers!
807 characters
Rye 95 from Two Roads Brewing Company
3.66
out of
5
based on
201
ratings.